Why Philly Is (Duh!) Way Better Than Pittsburgh
Because there's nothing quite like a good old-fashioned fight, it's Rivalry Week. Keep tabs on simmering feuds across the country right here.
Any true Philadelphian will gladly tell you all the reasons Philly is better than NYC, mostly, if we're being honest, because we love underdogs. Except one: Pittsburgh. Seriously, every once in a while you hear someone suggest that the other city in Pennsylvania might be the best in the state, an assertion so absurd -- so infuriating -- we actually had trouble narrowing down all the reasons it isn't true. Somehow though, we managed to come up with 10 reasons Philly is, like, infinity times better than Pittsburgh...
Location. Location. Location.
Get in a car/on a train in Philly and a few hours later you can be in New York, DC, etc. (you know, civilization!), or the Shore, where there's actual ocean wooder! Drive a few hours out of Pittsburgh and you're in... Ohio. Or West Virginia. Or somewhere else you want to be even less than Pittsburgh.
Wawa
The touch-screen mecca that is Wawa is a Philly staple the likes of which no number of Sheetz locations can compete. In fact, simply thinking of going to a Sheetz is giving me the... well, you know.
 
We invented freedom
Ask any of the dozens of Benjamin Franklin impersonators haunting Old City and you'll see that not only did we totally invent freedom, but electricity too. Okay, that may be a bit of an exaggeration, but the Liberty Bell, the Constitution Center, the Betsy Ross House, etc. all attest to Philly's role in the birth of America.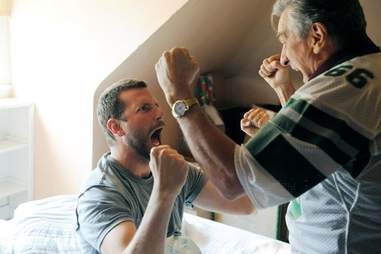 Courtesy of The Weinstein Company
Philly fans are the most dedicated sports fans
Sure, it's easy to be a fan of your city's sports teams when they win fancy things like Super Bowl rings or whatever, but consider how much pain zealous Philly fans have suffered at the hands of all FOUR of our major sports teams (that's right, we even have basketball, Pittsburgh). Philly fans are the loudest and proudest, even when we go into every single season pretty sure we shouldn't get our hopes up, as evidenced by the Eagles' start this year.
We've got some of the world's best art
Pittsburgh has a museum in honor of glorified misogynist Andy Warhol, and we're really happy for them. If we haven't gotten a chance to check it out, it's probably because we got lost in the art palace that is the Philadelphia Museum of Art, or we're still wandering the Barnes Foundation, or we're checking out new artists lining the cobblestone streets of Old City every first Friday, or we're at a private exhibit in someone's Fishtown loft. Sorry bro.
 
Thanks to Will Smith you can mention West Philly to anyone, regardless of if they've ever been here, and there's a decent chance they will all start singing the Fresh Prince of Bel-Air theme song. And we haven't even mentioned Rocky, or that show that makes everyone think it's hilarious to ask if it's "always this sunny...?". Meanwhile, Pittsburgh's claim to fame is basically Groundhog Day, which is great, but... um, doesn't actually take place in Pittsburgh.
Reading Terminal Market
You can grow up in Philly and still have a tough time maneuvering your way through the options at Reading Terminal. Sure, the Pittsburgh Public Market is OK, but as when comparing the cities themselves, size matters: Reading Terminal has the 'Burgh's market beat, clocking in at 78,000sqft.
 
One word: cheesesteak
Philly rocks a long list of essential foods, but no city boasts a signature food item as good/iconic as the Philly cheesesteak, especially when you compare it to, like, the pierogi or sandwiches filled with coleslaw they've got out West.
Philly chefs > Pittsburgh... err, almost any place's chefs
Speaking of food, lucky for us Philly has even better options than a 3am trip to Geno's. Stephen Starr, Jose Garces, Kevin Sbraga, and countless others have made Philly home to some of the best restaurants in the country, and who could forget the legendary 43-year stint of Georges Perrier's Le Bec-Fin?
 
Public transportation
Admit it: when whatever you've got is worse than SEPTA (?!), you've got some serious problems.
Sign up here for our daily Philly email and be the first to get all the food/drink/fun in town.
Marielle Mondon is a Philly-born writer and editor who recently spent two weeks deciding which discounted Phillies T-shirt to purchase. Follow her @MarielleMondon on Twitter and Instagram.