Photographing Philly: 5 Years of Street Art, Abandoned Buildings & Green Spaces
The view at the top of the Divine Lorraine | Conrad Benner/Thrillist
If there's one thing I can attest to, it's that Philadelphia is by far one of the most Instagrammable cities in America right now. From its burgeoning street art scene, to its quaint, brick row houses, to its ever-growing array of exciting public spaces, Philadelphia is a photographer's dream -- and I'm living it! After five years of documenting the streets of Philadelphia for my photo blog, StreetsDept.com, I am more in love with my hometown than ever before. And I've got the photos to prove it.
My adoration for photographing Philly stems directly from my enthusiasm for the city's lively street art and graffiti scene. (Modern-day graffiti, it should be mentioned, began in Philadelphia -- not New York or LA -- in the '60s with a writer named Cornbread.) During the past five years, some of my favorite street artists have used this medium to call attention to a number of the city's ills.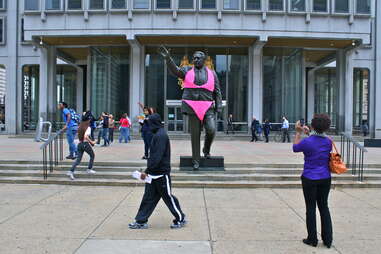 Ishknits once yarnbombed a pink bikini on the statue of Frank Rizzo that stands across the street from City Hall. The installation quickly reminded people that Mayor Rizzo was... let's say, the Donald Trump (of sorts) of Philly mayors: openly sexist, racist, homophobic, etc. And that maybe he wasn't entirely deserving of such a prominent memorial.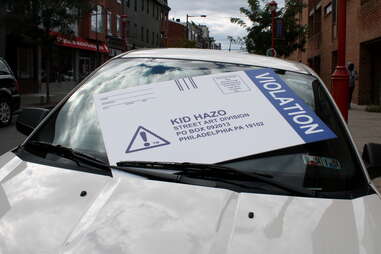 Kid Hazo once mocked the notoriously aggressive Philadelphia Parking Authority by ticketing one of their fleet's cars, which was ironically (but not purposefully) parked illegally, with an oversized "Kid Hazo Violation."
Amberella was one of the first street artists in America to create a series of wheatpastes addressing street harassment back in 2011. These, of course, are just a few of the countless artists who make the streets of Philadelphia all the more interesting to wander.
An insatiable curiosity of Philly street art and graffiti quickly led me to exploring abandoned spaces, where artists plaster their work on our city's countless empty buildings. For a good part of the 20th century, Philly sat as a center for industry and manufacturing. Those days long gone, our city is left with a lot of scars, including a sea of abandoned buildings, shells of a past economy. Shells which many creatives, including myself, have come to view -- and use -- as blank canvases. As I soon found out, the interiors of these "blank canvases" often held even more treasures than their exteriors.
The crown jewel of abandoned buildings in Philadelphia is, without a doubt, the Divine Lorraine. It also happened to be one of the very first that I ever explored, escorted by two artists, Lies and Get Up, back in February of 2012. The outside of the building was one I had seen many times throughout my life. I was born and raised in Philly (Fishtown, to be exact), and I went to high school on North Broad St, which the Divine anchors, towering ever so eloquently in its beautiful decay.
Still, nothing could prepare me for what was inside. The first few floors, a complete darkness. And a refuge, as many of these spaces are, for the city's homeless. The higher levels were increasingly void of any semblance of a floor -- some near the top held together by only a handful of support beams, guaranteed to hold your weight and not much else.
After a steep climb up an old wooden ladder, we were on the roof. A breathtaking view of the city's skyline loomed in front of us, a wholly unique perspective of the iconic "Divine Lorraine" sign, and a front row seat to the works of dozens of taggers and writers who risked their lives on that uncomfortably slanted roof to scratch their artistic itch.
My drive to photograph inspiring vistas of Philadelphia certainly doesn't stop at the abandoned. One of the things I've been most proud of about my hometown is the growing investment in public spaces. From Spruce Street Harbor Park, to Dilworth, to the Schuylkill River Boardwalk, our "City of Neighborhoods" is beginning to give us more and more dynamic public areas where we can come together.
The latest of which, and maybe my favorite (shh!), is Cira Green. Cira Green is a little more than an acre of a green-roof oasis -- hands down, one of the best views of the Center City skyline -- perched 11 stories above the Schuylkill River atop a University City parking garage.
One of the oldest cities in America, Philly's new and updated public venues are stunning contrasts to those long-standing. Old and new. Our history alongside our future. These spaces aren't just great Instagram images, but permanent previews of what's to come. (Spoiler alert: the Viaduct Rail Park, the Discover Center, and Bartram's Mile are indeed coming!)
Perhaps I'm biased -- after all, I've been a proud Philadelphian my whole life. But I've also traveled a lot across America, and in my experience, Philly stands alone. This is a city of entirely genuine experiences. Easily one of the most walkable cities in the US, I have spent (literally) thousands of hours traversing Philadelphia's streets. I don't think I'd be the person I am today without this city's unending inspiration.
Here's to another five years!
Editor's Note: Join Conrad as he celebrates the 5th anniversary of StreetsDept.com along with 10 of his favorite street artists at Paradigm Gallery (4th and Fitzwater) Friday, January 22, from 5:30-10pm. Details here.
Sign up here for our daily Philly email and be the first to get all the food/drink/fun in town.
Conrad Benner is a photographer and the Founder/Editor of StreetsDept. He knows gauc is extra. Follow him as he discovers art of the streets: @StreetsDept.