Every Philly Location From the 'Rocky' Movies Worth Visiting
There's arguably no film (or character) as iconically "Philly" as Rocky. Sylvester Stallone actually spent his formative years in our gritty city, and his screenplay captured the neighborhood-centric, working-class Philly that isn't ashamed to root for an underdog.
Since the original movie's release in 1976, the Rocky franchise has become synonymous with the City of Brotherly Love and its landmarks -- so what better way to get to know the city than to follow in the Italian Stallion's footsteps? From the Art Museum steps to the Italian Market, here's everywhere you need to go for a true taste of Rocky's Philly.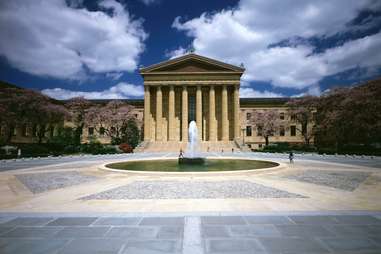 Art Museum
Even locals can't help themselves: When you're at the Philadelphia Museum of Art's 72 stone steps, you run up them just like Rocky does in the training montage. You hum "Gonna Fly Now," and you raise your fists in the air at the top. It's just what we do here.
Art Museum
At the bottom of the Rocky steps, towering nearly 10 feet tall, stands the triumphant Rocky statue that was originally commissioned for Rocky III. Line up to get your picture with the champ.
South Philly
When Rocky opened his restaurant "Adrian's" in Rocky Balboa, he borrowed an actual, 84-year-old Italian restaurant in South Philly. One of the oldest restaurants in town, Victor Cafe is known for the operatic arias that its servers frequently perform throughout dinner.
Bella Vista
Rocky runs through the nation's oldest and largest working outdoor market during his training montage, as vendors waive and toss him fruit. Not much has changed in the last 40 years, as the Italian Market is still full of butcher shops, produce stands, cheese shops -- even the fires burning in trash cans remain.
East Falls
Spoiler alert: When Rocky visits Adrian's grave in Rocky Balboa and Creed, he's at Laurel Hill Cemetery (a National Historic Landmark). Many notable Philadelphians are buried there, including David Rittenhouse and legendary Phillies broadcaster Harry Kalas. Quirky tours -- like a St. Patrick's Day tour with beer and Irish fare -- are offered regularly, with especially popular events at Halloween.
West Philly
Rocky is at peak-cute when he takes Adrian the zoo and asks her "What do you think you're doing for the next 40 or 50 years? I was wondering if you wouldn't mind marrying me very much." When she says "Yes," he yells "Hey we're getting married!" at the only creature out on a snowy day -- a nonchalant tiger.
America's first zoo continues to delight young and old alike, albeit with some unique upgrades. Today, Rocky's tiger friend and its fellow big cats roam freely through an overhead mesh pathway, a first-in-the-world system of trails that allow animals to travel aerially through the zoo.
Penn's Landing
When Rocky ran through Penn's Landing in the first two movies, it was an industrial area along one of the country's top shipping routes. Today, waterfront entertainment is the focus: a family-friendly beer garden with two-person hammocks, an outdoor bar with dancing on the docks, yoga on the pier, and standup paddleboarding. That said, there's still a path for runners willing to get up before the crowds arrive.
Fishtown
In Creed, Adonis Johnson's love interest Bianca performs at Johnny Brenda's in Fishtown. The bar, restaurant, and performance space is one of the city's most popular live music venues, and home to one of the best sandwiches in Philly (that isn't a cheesesteak). Live acts are scheduled every day, in both the upstairs and downstairs venues, and there are often a few per day.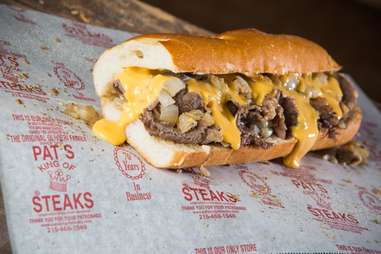 South Philly
The first cheesesteak appearance in Rocky happens when loan shark Tony Gazzo and Rocky eat at Pat's in the original movie. Pat's, which claims to have invented the cheesesteak, is one half of "Cheesesteak Vegas" with Geno's across the street. Get the real experience -- or at least the most entertaining one -- by going after the bars close on a weekend.
North Philly
Adonis and Bianca head to Max's Steaks in North Philly to get their first-date cheesesteak fix in Creed. Take the extra long, 100% sirloin steak sandwich next door to Eagle Bar where you can wash it down with an adult beverage of your choosing. The spot is cash only, and while it's not exactly in the best neighborhood, it is easily accessible via the subway.
Center City
In Creed, Adonis trains on one of Philly's newest and best attractions, Schuylkill Banks Boardwalk. The 2,000 foot-long pathway juts out as many as 50 feet from the shore, giving walkers, runners, and bicyclists a unique perspective on the city.
Center City
After Rocky and Adrian find out they're going to be parents in Rocky II, they walk and talk through Rittenhouse Square, arguably the most popular square in Philly. The park draws a diverse crowd: socialites who live nearby, bike messengers, babies out with nannies, students, and picnickers.
Center City
In Rocky Balboa, Rocky's son Robert (who, for the record, sucks) hangs with friends at Irish Pub while watching his dad's computer fight. It's still a popular spot to grab a pint and a bite, even though it's got one of the least Google-friendly names ever.
The Old Neighborhood
Kensington
South Philly seems to be associated with Rocky -- maybe because he's Italian, or because it's where he and Adrian live in the later movies (2313 S. Lambert Street). Whatever the reason, the original Rocky actually takes place several miles north in Kensington.
A neighborhood in constant flux, Kensington has gone from the working class enclave in the original movie, to one of the city's most dangerous and drug-ridden sections, to a major gentrifying area today. None of the Kensington businesses seen in Rocky are still in operation -- some never were actual businesses, just filming locations -- but you can check out the iconic storefronts and buildings from the films, though. Just keep in mind this can be a rough part of town, and try not to be too touristy:
Sign up here for our daily Philly email and be the first to get all the food/drink/fun in town.
Sarah Maiellano is a Philadelphia-based freelance writer. She can't stop girly-giggling when Rocky takes his shirt off and talks about the turtles with Adrian in his apartment, but her feminist side keeps worrying about the consent issues the scene brings up. Follow her on instagram @sarahmaiellano.