Dear SEPTA: Here Are All the Ways We Wish You Would Fix Yourself
<a href="http://www.shutterstock.com/gallery-611893p1.html?cr=00&pl=edit-00">f11photo</a> / shutterstock
Unless you live in a bubble of valet service and private parking, you may have noticed SEPTA has been particularly mind-numbingly terrible this summer. This isn't all by accident, of course, as SEPTA -- which notably ranks sixth nationally when it comes to the number of regional commuters that use its service -- suspended 120 trains to make way for improved safety standards and new train implementation. The loss of the cars, it turns out, has only exacerbated SEPTA users' long-running complaints about the transit system's laundry list of shortcomings. Though there's constant buzz in the news about improvement initiatives and what we can expect in the years to come, we have to wonder: what are the chances SEPTA will deliver on these lofty promises? Will it ever have what we want? We dove into the numbers to determine the outlook for some of Philly's deepest SEPTA desires.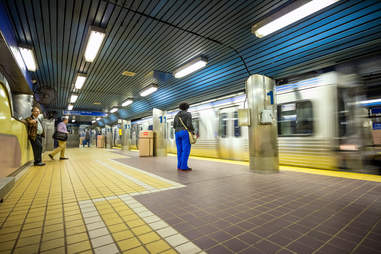 <a href="http://www.shutterstock.com/gallery-611893p1.html?cr=00&pl=edit-00">f11photo</a> / shutterstock
Trains that actually show up on time
It would be unfair to say that this summer's service is representative of SEPTA's usual performance, but the rate of delivering trains on time has nonetheless declined in the last three years (2015 was its "worst performance of the decade" with almost one in five trains running late), only worsened by an inability to bounce back during bouts of severe weather. In September, 10 trains will be reintroduced every week to make up for the 120 we lost during the summer, reportedly getting back to a regular schedule by October. Even with these plans, though, will SEPTA ever be able to get back to the 93% on-time rate the Philly Inquirer reported in 2013?
The answer, of course, is complicated, because as improvement projects are underway, the rollout and shiny new end product could still take years. A combination of old equipment, staff shortages, and the day-to-day unexpected issues that arise leave passengers -- and probably SEPTA, too -- longing for the days of 2013.
Likelihood: Somewhat likely, if you have lots of patience -- and time to wait.
An app-based payment system
SEPTA still sells COIN TOKENS in PLASTIC BAGGIES at one of the system's most major hubs, 30th St Station. If you're riding the regional rail and happen to be short on cash, or mistakenly thought you could pay by card, it's not impossible that the conductor will boot you out at the next stop (speaking from personal experience). SEPTA will begin introducing SEPTA Key smartcards throughout the next couple of years, complete with modern payment methods across all transit and train lines, regional rail included. Presumably this would include paying through a smartphone, but SEPTA has been mostly hush on the details of that phase thus far.
Likelihood: Ask again in 10-15 years.
Reloadable cards
OK, it's understandable that we'd a long time to wait before we can expect an app-based payment option. But what about a refillable card we can add money to at a kiosk, like they have in New York and DC? No more fishing for exact change on the Norristown High Speed Line, no more standing in line to buy a monthly or weekly pass from a window teller, no more accidentally spending too much in the middle of a transfer. You've probably seen those new-ish silver kiosks in some SEPTA stations reading "Just testing…" or the gleaming turnstiles at Dilworth Plaza that are prepped to accept SEPTA Key smartcards.
What you might not know, however, that SEPTA has *just* started rolling out phase two of the transition to smartcards, with a limited number of these flimsy icons of modernity sold in early August. SEPTA also reported that throughout August and September, more stops along the El and BSL will include fare kiosks for riders to reload passes onto a SEPTA Key card. It's all still for early adopters, and though it's been a seemingly slow crawl to these cards, they do raise hopes of a smartcard future in Philly.
Likelihood: Pretty damn likely, though with, again, a lot of patience.
Better co-existence with Amtrak
For most commuters waiting for a regional rail train, it's very possible you've been at the mercy of Amtrak more than once. A number of SEPTA lines share tracks with Amtrak, and in places like New York, conductors from Amtrak and the commuter rail will coordinate the arrivals and departures of trains side-by-side. SEPTA has no such advantage. This also means that if there is an Amtrak delay, it's not unlikely that a SEPTA train trying to hustle will also be delayed. SEPTA has been mum on details about what a better system might look like, though since a recent delay on the Paoli/Thorndale line last March due to a disabled Amtrak train, it has promised that "action meetings are planned with Amtrak" to "continue to coordinate with them." That delay was not a stand-alone event, however, with similar Amtrak outages and subsequent delays continuing intermittently throughout the summer.
Likelihood: We can keep dreaming.
More staff
One reason for all of these delays is that there simply aren't enough people around to get faulty trains back into action, especially as ridership has ballooned over the past few years. Each train should have one engineer who acts as the resident expert of the train, aware of the routes ins and outs (plus a head conductor and two assistants). According to the Inquirer, there are currently 192 engineers when ideally, there'd be 213. To align with the new train rollout, SEPTA has promised to up the engineer number, and is currently in the midst of training new engineers and continuing the process in the coming months.
Likelihood: This one is pretty realistic. Yay!
Better, nicer, cleaner facilities
I once had a moment of desperation wherein there was no choice but to take a deep breath and use the bathroom at the 69th St terminal. On my way in, I was greeted by a SEPTA employee who was literally giving out sheets of toilet paper to people as needed -- there wasn't any toilet paper left in stalls. Aside from the bathrooms, getting change (to break your bills into exactly $2.25, since nobody will give you change if you pay extra to get on the El or BSL) isn't always easy thanks to broken change machines or out-of-order token machines. SEPTA's 2016 budget allocates $35.5 million to the Infrastructure Safety Renewal Program, which includes revitalizing station facilities (including bathrooms), but will also be used to pay for track replacements, better signal systems, rehabbing the electric power system, and day-to-day maintenance. While it's still a hefty chunk of change, it's unclear whether SEPTA would be able to focus on revitalizing all of the major station stops.
Likelihood: Eh.
An updated SEPTA app and useful social media presence
Chances are that after you've found yourself duped by the incoming train sign when it suddenly reads "20 minutes late" or, worse, "Canceled," you've taken to checking SEPTA's app or social media page for any train information. Sadly, even those won't always steer you in the right direction. SEPTA's Twitter has been known to report erroneous train info from time to time, or nothing at all, even when you attempt to vent your rage by yell-tweeting (all caps, of course) them for train updates from your account. Likewise, SEPTA's app usually doesn't know that its own lines are delayed, and presents the real-time map as if all is harmonious on the Philly rail system. The TransitView option claims to update bus and trolley whereabouts every three minutes, and SEPTA continues to urge customers to check Twitter for up-to-the minute updates. Besides making the erroneous assumption that everyone riding SEPTA has a smartphone, it also can leave customers bottlenecked with conflicting info.
Likelihood: Prolly not.
Sign up here for our daily Philly email and be the first to get all the food/drink/fun in town.
Marielle Mondon is a writer from Philadelphia who doesn't know how to drive, so she and SEPTA know each other verrrrrrrry well. Follow her on Twitter and Instagram @MarielleMondon.