Pennsylvania's Suburbs Are Bursting with Big Personality
Eleven suburbs in Pennsylvania that are perfect for an easy weekend getaway from Philly.
Photo courtesy of Michener Art Museum
Photo courtesy of Michener Art Museum
We'll be the first to admit it: sometimes, the suburbs get a bad rap. The stereotype that the 'burbs are full of minivans and strip malls is all but a huge misconception—especially for those nearby Philly. Philly is Surrounded by lively towns and beautiful sights in both Pennsylvania and New Jersey all within a short drive or SEPTA/PATCO ride.
From quaint main streets with top-notch restaurants to picturesque orchards and gorgeous natural wonders, these Philly-adjacent suburbs check all the boxes whether you're a thrift shopper or are a die-hard craft beer fan. They're so great, we won't judge you if you love them enough to stay for good. So whether you're looking for a quick weekend getaway or want to stay a while, here are 11 suburbs of Philadelphia that are absolutely worth a visit.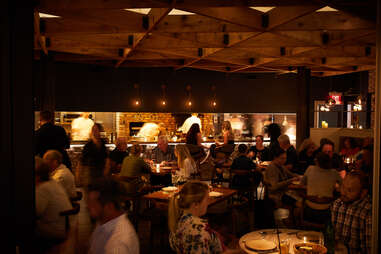 Distance from Philly: 15 minutes
How to get there: PATCO
A short trip over the bridge, Collingswood is a small town nestled within a network of nearby South Jersey communities. Haddon and Collings Avenues boast many of the town's shops and restaurants, like home products and houseplant store Bespoke Home + Life, Bobby Chez Crab Cakes, Clutter Vintage, Hearthside BYOB, Sagami Japanese Restaurant,Indiya, and delicious Lebanese BYOB Li Beirut. For outdoorsy adventures, take a walk through Cooper River Park, which runs through Collingswood, Pensauken, Cherry Hill, and Haddon Township—follow the paved path around the park for a nice three-ish mile jaunt.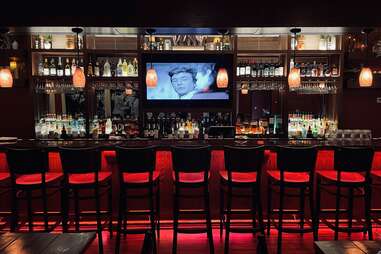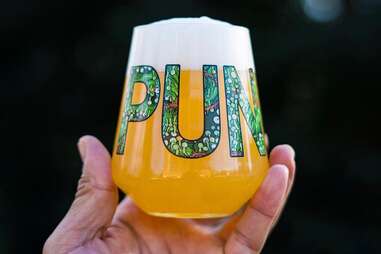 Distance from Philly: 30 minutes
How to get there: Paoli/Thorndale line
Amid this town's main street and ritzy homes is its open air shopping center, Suburban Square. Complete with retailers like Lululemon, Gap, Sephora, Apple, plus dining options like HipCityVeg, Cava, and DiBruno Bros., the community center is a one-stop shop for your suburban shopping needs. Another popular visitor destination is Lancaster Avenue, where you'll find the music venue Ardmore Music Hall (there's a show or event pretty much every night of the week), Mexican restaurant El Limon, Tired Hands Brewing Co., Calliope Music Store, glass art and clothing boutique Free Will Collective, and whiskey bar Ripplewood Whiskey & Craft.
Distance from Philly: 35 minutes
How to get there: Media/Wawa Line
Media really knows how to show off when it comes to nature. Spend your time among the flora and fauna at Tyler Arboretum and the nearby Ridley Creek State Park, which is home to 13 miles of hiking trails. Perfect year round, but especially lovely in the fall for apple and pumpkin season, Linvilla Orchards offers pick-your-own produce, hayrides, a beer garden, and market for some laid back farm times. For downtown happenings, catch a show at Media Theater, and sample the Crab and Pork Soup Dumplings at Tom's Dim Sum, modern Asian fare and sushi at Azie, and locally sourced small plates at Rye BYOB. Don't leave without picking up some pottery and crafts from Earth & State for souvenirs.
Distance from Philly: 45 minutes
How to get there: Lansdale/Doylestown Line
At less than a square mile, Ambler is incredibly walkable, which means you can hit all the must-sees on foot. The town's commercial hub of Butler Avenue features a few theaters—Act II Playhouse and Ambler Theater—and plenty of shopping at home decor shop Antique Garden Cottage and clothing store Free Shop, to name just a few. When you're not giving standing ovations, get to grubbing at any number of dining locations, such as Dettera Restaurant and Wine Bar (New American and wine), From The Boot (Italian), The Lucky Well (Memphis-style ribs), La Provence (French), Buutchiis Grille (African and Caribbean), or Pie and Plate Cafe.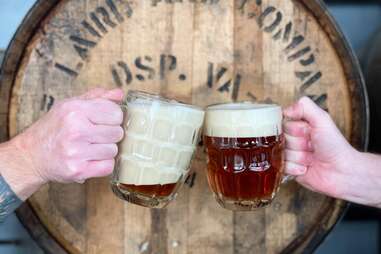 Distance from Philly: 45 minutes
How to get there: 1-76 West via car or bus
Breweries are in no short supply in Phoenixville. DIY your own brewery crawl and sample the offerings at Root Down Brewing Company, Iron Hill Brewery,Conshohocken Brewing Company Rec Room, Rebel Hill Brewing, Sly Fox Brewery, Steel City Coffeehouse & Brewery, Stable 12—and one distillery for good measure, Bluebird Distilling. If you don't care to imbibe, the historic movie theater Colonial Theater hosts an annual event dedicated to the movie The Blob and screens new, cult, and historic films. Or hit the great outdoors at Phoenixville Stand Up Paddleboard and Kayak Rental or the Schuylkill River Trail (yes, this is the same SRT that connects with Philly). It sounds like all of these will leave you with a worked-up appetite, so go for seasonal new American spins at Paloma's; Greek delicacies at Avlo's Greek Cuisine; pupusas and tacos at Guatemalan Kitchen; or grab breakfast and sandwiches at Your Mom's Place.
Distance from Philly: 1 hour
How to get there: I-95 North via car
A two-for-one deal, these riverfront communities are on opposite sides of the Delaware River, but mere feet apart. On the Pennsylvania side is New Hope, a lively destination full of art, theater, and local businesses. See live theater at the Bucks County Playhouse or check out galleries like The Creeper Gallery, Arete Gallery and Red Tulip Gallery. For pick-your-own apples, blueberries, cherries, and flowers, don't miss Solebury Orchards. Between wineries like New Hope Winery and Buckingham Valley Vineyards and eateries such as Stella and Triumph Brewing Co. it might be hard to pull yourself away and wander over the bridge into New Jersey—but you should. In Lambertville, get your antique needs fulfilled by the famed Golden Nugget Antique Market, Antiques Center at the People's Store, and A Touch of the Past Antiques (among many others). Elsewhere on the Jersey side of the river, dine in a restored 19th century train station at the Lambertville Station Restaurant, sip New Jersey wines at Tomasello Winery Tasting Room, or sample authentic Peruvian fare at El Tule. In the summertime, make a point of tubing down the river and biking, running, or strolling down the towpath trails.
Distance from Philly: 1 hour and 10 minutes
How to get there: Lansdale/Doylestown Line
Home to actual castles, exciting museums, and a picturesque main street, Doylestown is as well-rounded as they come. Speaking of that castle, Fonthill Castle was the home of archaeologist, anthropologist, ceramist, and antiquarian Henry Chapman Mercer. Take a tour and see his hand-crafted ceramic tiles before heading to his other castle, which is now the Mercer Museum, to explore a collection of 50,000 pre-Industrial tools that are often suspended in mid-air. Spotlighting Bucks County artists—and beyond— the Michener Art Museum has a robust collection of Pennsylvania Impressionist work. Satisfy those hunger pangs with Italian fare at Bocelli's, family-style American at Honey, or Peruvian Mexican at Quinoa. During warmer weather, don't miss a photo op at Peace Valley Lavender Farm when the fields are in full bloom, and shop all year for soothing lavender bath and body products. As for more shopping, pick up retro-inspired sports gear at Monkey's Uncle, women's clothing at Shop Sixty Five, gifts at Allora Gifts & Home Decor, and books at Doylestown Bookshop.