The 7 Coolest Jobs in Philadelphia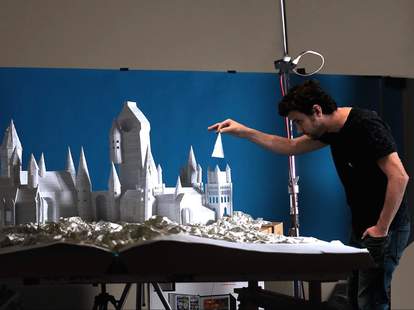 Courtesy of Peter Heacock
Hate those people that constantly tag their Instagram posts with #ilovemyjob? Odds are, their jobs really aren't all that cool and probably aren't a lot better than yours. But these people who work in Philly -- they might take the SEPTA every day just like you, but yeah, their jobs are definitely much cooler than yours...

Peter Heacock, founder and creative director of unPOP
Olde Kensington
How he got the job:
"I got the job by accident! Early in 2014, I started making
vines
and discovered hundreds of creative, funny people on the web. I had an idea to bring all of my online friends together under one title: Unpopular Now. We earned some buzz from Mashable, and continued to make work and have fun. One day, someone from Twitter emailed and asked, "Who are you guys?!" That lead to some brand work, more brand work, and eventually a career. I operate as a production company that makes stop motion social videos for brands. I also represent over 50 artists and personalities with an audience that reaches over 50 million people across all social platforms. unPOP makes good work, and we know how to make the work go viral."
What he does: "I wear two different hats at unPOP. I act as creative director of our talent agency, which houses some of the biggest makers of social video. In addition, I make things move, frame by frame. I bring the inanimate to life in surprising ways. I work with clients to create clever, creative content for the people of the Internet. My favorite subjects are toys, paper, nature, and people. I work with brands to make their products move as well. In the last two years, I've worked with Best Buy, Target, Armani, Coke, Verizon, and many others. In the future, I would like to create more short films and, eventually, features."
Kris Magyarits of Alkemy-x Productions
Anthony Del Vecchio, scouting producer for Food Network's Restaurant: Impossible
Washington Square West
How he got the job:
"In my youth, I never wanted to have a 'regular' job, so I graduated from Philadelphia University with a degree in digital animation. While I loved the creative aspect of design, I also soon realized I hated the isolation of working alone at a computer all day. At the time, a friend of mine was working her way up at a local production company, Marc Summers Productions, and encouraged me to apply for an unpaid internship. Not happy with where I was, I took the chance, and immediately fell in love with the industry. At that point, I knew I wanted to be a television producer, and with a little hard work, things fell into place from there."
What he does: "As the scouting producer for Restaurant: Impossible, I'm responsible for researching, scouting, and booking all of the restaurant locations being considered for an episode. Essentially, I travel the entire country looking for failing restaurants that not only need help, but that will also make for entertaining television. The process begins with a thorough evaluation of applications submitted by the restaurant owners, or their friends and family. After I narrow down the restaurants I am actually going to visit in person, I travel to the restaurant, and spend the entire day scouting them on film. This involves surveying the space, interviewing the owners and staff, observing a service, and even trying the food. In a nutshell, I'm trying to get to the bottom of why they're failing, and figure out if and how this translates into a solid show. I then compile all of the footage to bring back to Philly so we (myself and the executive producers) can decide the best course of action. It's a grueling process, and although we can't help all of them, it's an amazing feeling connecting with these restaurant owners on a personal level. It also doesn't hurt that I'm playing a hand in making some dynamite television."
Courtesy of Yards Brewing
Northern Liberties
How he got the job:
"When I got married, my friends gave me a homebrew kit as a wedding present. I fell in love with brewing, and quit nursing school to attend brewing school at Brewlab in England. When I got back from England, I contacted a brewer who I had volunteered with before I left for school whose brother worked at Yards. He sent my résumé down, and I got hired. Within three months, I had worked my way up from cellarman to brewer."
What he does: "I make beer. I work with a team of brewers, and we handle everything in the brewing process from brewing the beer, to monitoring the fermentation process, and filtering the beer. Along with brewing, I also get to specialize in anything we age in a barrel. This ranges from our bourbon barrel-aged porter called Washington's Reserve to our experimental sour beers, like the one we brewed last year to celebrate Yards' 20th Anniversary."
Neal Santos
Neal Santos, freelance photographer
Every neighborhood in Philly
How he got the job:
"I started off as a newspaper web editor for the beloved-yet-now-folded alt-weekly, Philadelphia City Paper. As budgets shrank, I made photography a part of my job. I worked for that paper for seven years covering news, sports, arts, and food. Philadelphia's food and restaurant industry matured in that timeframe, and I've since been able to meet and work with some of the best chefs, farmers, suppliers, bartenders, cooks, bakers, and managers in the business. I've been a full-time freelance photographer, and love every day when I can take pictures and tell stories through food and the people who make it."
What he does: "[I try to] make people hungry as much as possible. Tell stories through food. On any given day, I'm seeking out high-end restaurants, mom-and-pop shops, food trucks, neighborhood eateries, corner delis, and more, taking pictures for newspapers, magazines, billboards, or Instagram."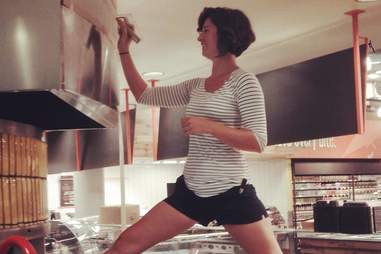 Courtesy of Kelly Franklin
Kelly Franklin, chalkboard artist, muralist, and painter
Center City
How she got the job:
"I started making chalkboards by working for Whole Foods Market as a full-time employee. They had a position at the time that was called store graphic artist, and I worked for both the Plymouth Meeting and Glen Mills stores. I learned how to write with chalk markers on various surfaces, developed multiple styles of writing, and honed my illustration ability with the material. In 2013, I left Whole Foods and became a freelance artist, and coincidentally, they are now one of my clients as a freelancer."
What she does: "As a freelance artist, I do chalkboard work, murals, and I am a painter. The chalkboard work is mainly menus, events lists, and advertisements for restaurants, cafes, events, fitness studios, grocery stores, weddings, etc. I've done work for many businesses in and around Philadelphia and beyond to New York, New Jersey, Delaware, Virginia... I even have chalkboard menus in the cafe of the Pérez Art Museum Miami. My first large client as a freelancer was Serpico -- the Stephen Starr restaurant on South St -- that was quite lucky because I began to work for many of his restaurants, cafes, and events. As a muralist, I have worked with restaurants, community groups, and galleries to produce large-scale paintings inside and outside. And as a painter, I try to show work in galleries in Philadelphia when I can -- I had a show at the Paradigm Gallery on 4th & Fitzwater this past June. And I currently have a few pieces hanging at the Chaddsford winery in their tasting room -- I've also done a lot of chalkboard work for the Chaddsford Winery, so my worlds often collide."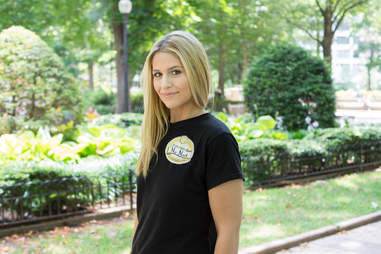 Courtesy of Danya Henninger,&nbsp;<a href="http://ImagicDigital.com" target="_blank">ImagicDigital.com</a>
Marti Lieberman, Mac Mart food truck owner
Center City
How she got the job:
"I created it! When I graduated from Drexel in 2011, I quickly realized my dream job in fashion PR was not going to be all red carpets and photoshoots, so the next best thing for me was working for myself. While I had a few ideas in mind, the mac 'n' cheese concept stuck out the most because I'd be bringing something to the city that had never been done before and that people would want. Thanks to our AMAZING customers, just three years and 53 macs later, our truck is doing great, booking up solid for 2016 events, and I am opening up my first (of many!) grab 'n' go restaurants late winter with a dream team by my side!"
What she does: "I own and operate [Mac Mart], Philly's first and only mac 'n cheese food truck. We also have a fast casual restaurant coming soon."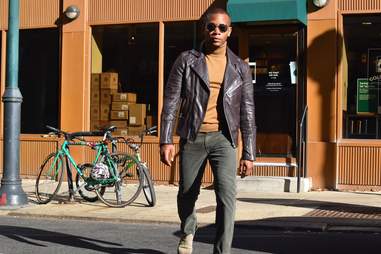 Marina T. Peele
Sabir Peele, freelance brand consultant and founder & creative director of Men's Style Pro
Collegeville
How he got the job:
"In November 2010, I founded Men's Style Pro after being in Esquire as one of the 5
Best Dressed Real Men in America
(selected as fan favorite). That really means I appointed myself to this position."
What he does: "Men's Style Pro was created as menswear editorial blog to show guys the 'How-To's' of men's style. There will be features that I style, write, and am often featured where I show guys how to style pieces in their wardrobe or things they might be interested in purchasing in a variety of ways. What I've learned is that guys are intimidated by clothing, especially when it comes to trying something new, so I wanted to help alleviate that stress. The site content has expanded to fitness, food, and overall lifestyle, but with a focus on the men's style perspective. "Over the years, I've had the opportunity to partner with several clothing brands to create editorial and social media campaigns, design products (suits, shirts, and custom shoes), host events, and travel the world as a brand ambassador. Each fall and spring, I travel the US co-hosting Simon Mall's look book for GQ (they also named me their Fall Best Dressed in 2013). Outside of working with GQ, I contribute on features with AskMen.com, Philly Mag, Philly Style, and Men's Health. From time to time, I model and help style lookbooks for a variety of brands too. One of my favorite Philly style moments is when I helped open the new Century 21 Store on Market Street. Styling the windows that faced Market Street and having my own installation in-store are moments that I'll never forget."
Sign up here for our daily Philly email and be the first to get all the food/drink/fun in town.
Dan McKay is a writer for Thrillist. Follow him on Instagram or Twitter @dannypageviews.