32 Reasons to Drive to Lancaster, Pennsylvania
Amazing shopping, art galleries, and craft breweries galore.
Lancaster—the land of sprawling farms and horse-drawn buggies. Not so fast. While the culture of the Pennsylvania Dutch threads through much of the area, there's more to the city than meets the eye. Hip shops pepper downtown corridors, fine dining captures the attention of The New York Times, and, of course, the scenery is unparalleled. Just over 90 minutes from Philly, if you're feeling the itch to get out of town, Lancaster fits the bill for an easy, yet exciting, road trip. Here are all the best reasons to visit.
The best part of hanging in a new place is trying all the food you can't get at home. Make a reservation at Luca, the Italian eatery with wood-fired pizza, seasonal pasta dishes featuring local farm-sourced ingredients, and Italian wines. Seafood lovers shouldn't miss Gibraltar, with their raw bar, shellfish sampler, and mains ranging from branzino to New York strip. Down an alley and up a flight of stairs is Horse Inn, a one-time speakeasy serving locally-sourced American (the Horse Fries, topped with house-made sausage, parmesan, aged provolone, and garlic heavy cream are a hit).

Named after a tobacco inspector, John J. Jeffries serves farm-to-table fare sourced from Lancaster farms with beef tartare, pheasant, and more on the menu. Utilizing Pennsylvania spirits in their cocktails and lots of vegetarian and vegan options, Shot and Bottle is great for dinner and brunch. Trinidadian spot Callaloo offers crowd pleasers like fried chicken bao buns, buss-up-shut (a flatbread) with curried beef, and doubles (a Trinidadian street food of fried bread, chickpeas, cucumber chutney, tamarind and cilantro sauce).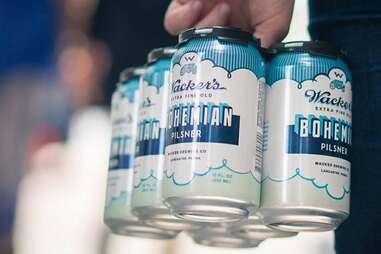 You'd be remiss to visit Lancaster without trying beer from its namesake brewing company. Lancaster Brewing is home to the Hop Hog IPA, Lancaster Lager, and seasonal brews like Baked Pumpkin Ale and Blood Orange Tart Ale. Elsewhere in town, Spring House Brewing Company has a mix of three year-rounders, seasonals, and limited releases at their brewery and taproom and Wacker Brewing Company is known for their kolsch and dunkelweizen. Or if mead is more your jam, swing by Meduseld Meadery.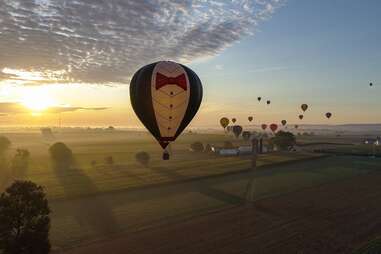 You didn't pass through all that farmland without wanting to frolic in nature, did you? For adventurous types, there's Refreshing Mountain where you can try one of three zipline courses. Get a bird's eye view of Lancaster County with a hot air balloon ride, boating scenes of Amish farms, small towns, and rolling hills. Or if you'd like to stay on solid ground, there's Conestoga Greenway Trail, a paved path which runs along the Conestoga River for just over two-and-a-half miles out and back. Lancaster County Central Park has nine trails ranging from just over a quarter mile to nearly four miles. For a shorter jaunt, the Windolph Landing Nature Preserve has a .7-mile loop trail that also features views of the Conestoga River.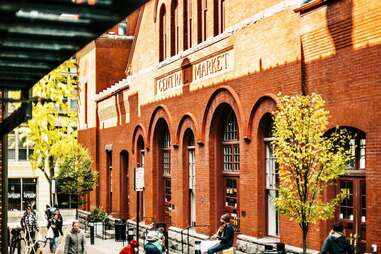 Markets and local delicacies to fulfill every need
You can't come to Lancaster without sampling fare from the Pennsylvania Dutch. Right in downtown Lancaster is the Lancaster Central Market where vendors sell specialty cheeses, homemade jams and sauces, empanadas, quilted home goods, art and much more. While you can get an Amish County whoopie pie at Lancaster Central Market, it's worth the quick drive out to Shady Maple, a farm market selling locally sourced goods, plus a buffet featuring Pennsylvania Dutch fare. If you're looking to get your hands dirty, dig into sticky buns at Mr. Sticky's where you can get your buns in a number of varieties (with walnuts, with cinnamon, with cream cheese icing). For your candy, small-batch local ice cream, and Stroopwafel needs, don't miss Lancaster Sweet Shoppe.
In the city's downtown area are loads of adorable boutiques selling one-of-a-kind goods. Go wild on vintage clothing at Redeux Vintage or quirky, antique home goods at Space. Records, vintage cameras, and knick-knacks galore line the walls of The Scarlet Willow. For unique souvenirs, stop by Madcap & Company for greeting cards, t-shirts, totes, notepads, posters, and more. And while you're there, explore any of the other neighboring shops on the 300 block of North Queen Street for local shopping.
A can't-miss arts district
Lancaster's Gallery Row on Prince Street is home to half a dozen local galleries. From the Freiman Stoltzfus Gallery, featuring work of the namesake artist (a Lancaster native) to Lancaster Galleries, there are plenty of opportunities to check out contemporary art. While temporarily closed for the moment, sister museums The Demuth Museum, housed in painter Charles Demuth's former home and studio, and the Lancaster Museum of Art, which features local and regional artists, are worth a visit when they reopen their galleries.
Caffeine is a necessity no matter where you go. Fuel up at Prince Street Cafe, where you can get your lattes, coffee beans, smoothies, and delicious breakfast burritos. Start your day at Cafe One Eight with cinnamon French toast, a macchiato, and a smoothie for later. Stock up on specialty coffee and tea to take home from Passenger Coffee (and grab a fresh cup while you're at it). For crepes for any time of day, stop by Rachel's Creperie, where you'll find both sweet and savory crepes and beverages (like Nutella hot chocolate).