Hit The Slopes and 12 Others Ways to Enjoy The Poconos This Winter
From socially distant chairlifts to outdoor breweries.
Considering we've all been in hibernation mode since March, the approaching winter may not lift your spirits. For a wintery city escape to snowier, more placid pastures, consider a drive up to the Pocono Mountains, where lots of fresh air awaits, along with even more COVID-compliant activities. Whether you're in the mood to ski, snowboard, hit up a brewery, or do very little, the two-hour drive will satisfy the winter adventurer and the lazy vacationer alike.
Check out amazing Airbnbs in the Poconos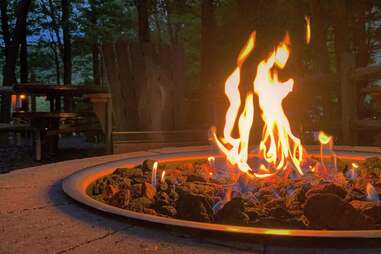 Sample the region's craft beer
A place known best for its forests is also home to a burgeoning collection of beermakers, and the Poconos does not disappoint for those in need for a drink. The aptly named Pocono Brewing Company is currently open for sit-down service on the outdoor deck (reservations recommended), where you can try the spot's signature Wally Wilson American IPA, or a winter pilsner inspired by the Pocono pine trees. Even better, you can order artisanal pies and handmade pasta alongside your beer flights, as well as wine from local vineyards. Barley Creek Brewing Company is another go-to option, where you'll find socially distant outdoor dining in a heated tent, as well as indoor options. You'll also find a collection of housemade brews as well as regionally made guest taps.
Don't skip out on the wineries, either
The Radical Wine Company specializes in creating small batches of special edition wines using grapes from around the world, and you can get your own with indoor/outdoor dining or carryout options. Sorrenti Family Estate is another great stop because, in addition to serving wines inspired by founder Dominic Sorrenti's Italian upbringing alongside brick oven pizza and wine-infused dishes, the spot offers hyper-seasonal specialties in wine and beyond, because sometimes entire weekend of food and drink centered on cranberry is exactly what you need to forget the realities of 2020. Both wineries are part of the greater Pocono Wine Trail, filled with worthwhile stops throughout the area.
Hit the slopes
COVID-19 has many of the area's favorite snowy destinations rethinking how to welcome guests safely. Jack Frost Big Boulder Pocono Resort is one option with new safety protocols in place to make welcoming guests safer, with everything from socially distant chair lifts to cashless transactions and relaxed cancellation charges. Once you have the logistics sorted out, day tickets usually go for around $50-$60, or you can stay overnight.
For any lifelong city dweller, Jim Thorpe looks about as foreign as a cattle farm. A small mountain town in every sense of the word, Jim Thorpe is nestled in the mountains with commercial real estate huddled around its main strip. In the colder months, it's an idyllic winter wonderland. With COVID-19, this year's traditions may look a little different, but the town will still be turning out winter wonderland ambiance like nobody else.
Check out amazing Airbnbs in Jim Thorpe
Pack your bags and forget the foibles of city life at Skytop Lodge, where winter is in full swing and you can luxuriate all day in your room to a cozy snowy view -- or even venture outside to take advantage of the outdoor adventures still available on site. 5,500 acres of land seems like the perfect place to spread out for a while.

Take a more active approach to the snow hills
If you're more in the mood for outdoor skating, snowshoeing, or other winter-friendly outdoor adventures that get your blood pumping, limited outdoor reservations are available at some of the region's state parks, including Hickory Run State Park and Promised Land State Park.
Splurge on a dinner from one of the Poconos' great hidden chefs
Urban food snobs may not want to admit there's an explosion of culinary masterpieces going on in the Pennsylvania mountains, but their loss is your gain. For starters, the Delmonico Room at Hotel Fauchere plates high-end American fare inspired by the chef's long history working in French and European kitchens—the lobster Newburg is truly not to be missed, available for on-site dining with a new COVID-19 safety protocol in place. For a slightly more casual atmosphere, head over to the Hotel Belvidere for retro-tinged American dishes at The Ridge Restaurant, including baked clams and grilled rack of lamb, available for onsite dining and takeout.
The Deer Head Inn calls itself the home of jazz in the Poconos, and with good reason: Stop in on the weekends for inexpensive shows featuring jazz groups, with free shows on Thursdays. In light of Covid-19, The Deer Head Inn recommends reservations for one of the two weekend night seatings that will allow you to enjoy the music during your dinner.

Go antiquing, BYOB-style
If you like to search for buried treasure, look no further than Der Jaeger, a hybrid antique store and BYOB restaurant that ensures you'll never go hungry in your hunt for a valuable find. You can still visit during Covid times with required reservations for outdoor dining reservations and shopping. Outside you'll find the year-round BBQ pit, serving grilled classics—pork ribs, burgers, bratwurst—fresh from the grill, no matter the weather.
Taste the Poconos, one farmers market at a time
Mask up and explore the Poconos' huge volume of farm-made delicacies, available year-round throughout the region's numerous markets. The Monroe Farmers Market and The Cooperage Project offer weekly chances to get fresh produce and other items, even when it's icy outside. Also, don't skip the Pocono Bazaar Flea Market, where you can get truly exceptional funnel cake from Sho-Nuff Delights (which also has fried Oreos, Snickers, and Twinkies on the menu).
Stroudsburg has a cute Main Street filled with historic architecture, all just a stone's throw from any-pace hiking and bike trails. Though some of its small businesses may not be able to fully serve during the pandemic, you can still find The Hideaway Cocktail Bar at Newberry's Yard of Ale, acting as the "speakeasy" of this craft beer destination. Show some love to the Pocono Cinema & Cultural Center, the town's indie movie theater that has implemented COVID-friendly seating restrictions to stay open yet safe.
Check out amazing Airbnbs in Stroudsburg
Bundle up for a dog sled tour
Friendly and adorable (and rescued!) Alaskan and Siberian huskies will be happy to meet you at Pocono Manor Resort & Spa, where you can learn to mush the dog sled and have the pups take you on a tour of the snowy landscape. You can also choose to either stand on the sled or sit in the basket, whatever suits your pace best. For COVID-19 compliance, guests are required to wear masks and have their temperatures taken. Tours have a six-person maximum, and everyone must be from the same group/family.
Sign up here for our daily Philly email and be the first to get all the food/drink/fun in town.