If you have to see one more post inundating social media with an "epic upstate" weekend, you're going to freak the eff out. Amirite? Where is your #humblebrag? Meet the Poconos -- a mountain range in Northeastern Pennsylvania. They're notoriously the ugly stepsister of the Catskills, the diva that hogs the spotlight. But that's kind of unfair to the Poconos, which, while perhaps less glamorous, are filled with equally stunning nature, outdoor adventures, and kitschy history that warrant at least a weekend of your time.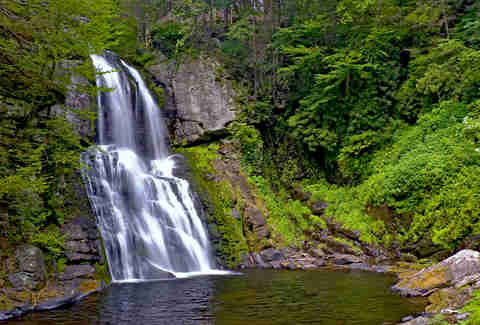 Niagara? Pssh, New York can keep it. The Poconos are home to their own gushing set. Bushkill Falls is a 300-acre park with eight separate waterfalls and more than two miles of trails, bridges, and walkways. The drop of the Main Falls is about 100ft (OK, so maybe not quite the same as Niagara, but still pretty impressive). Other vacation-y attractions in Bushkill Falls include mini golf, paddleboat rides, and fishing.
Crash an indoor water park
A veritable kingdom of seasonal fun, Camelback (not to be confused with the water bottle) is a word that is likely to awaken your inner child, thanks to its indoor waterpark, ski resort, and (regular) waterpark. Since it's now pumpkin-flavored everything weather, let's start with what might be most appealing: the indoor waterpark.
Camelback Lodge & Aquatopia Indoor Waterpark is a 125,000sqft aquatic empire with the accreditation of the largest indoor waterpark in the northeast (that deserves a #humblebrag), complete with park water rides, swimming pools, FlowRider surfing, and more. Should you prefer to stay on dry land, consider the mega-arcade, laser tag, and ropes course. And if your inner child suddenly undergoes a growth spurt, the adult version of you will love the restaurants, bars, and spas.
Once pumpkin season inevitably swirls into ski season, check out Camelback Mountain, with its 34 trails, 16 ski lifts, and seven restaurants. Camelback is also home to the biggest snowtubing park in America, with 42 lanes. And once summer rolls back around again (only 260 days, but who's counting?), you can take advantage of the outdoor waterpark, with its 37 rides and other H2O-soaked debauchery.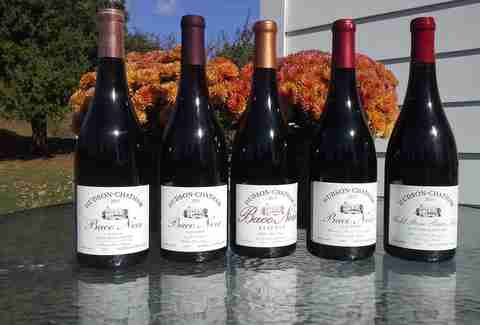 Roam Tannersville
In case you decide to pursue anything Camelback, you'll be staying in the town of Tannersville. In addition to laying claim to the Camelback sovereignty, the town has lots of other things to keep you occupied. Camp out at the Barley Creek Brewing Company for its collection of house-brewed beers and and local taps. After getting a good buzz on, head over to The Crossings Premium Outlets to score some sweet, sweet retail deals.
Voyage à Jim Thorpe
Jim Thorpe, aka the "Switzerland of America," (no, really -- the Swiss Tourism Board actually gave it that name) is about 80 miles north of Philly and a heck of a lot closer, and cheaper, than Switzerland. It attained that lofty title because of its quaint scenery, mountainous location, and its European-style architecture. The historic town has a great mix of activities for all kinds of people, with an opera house, concert venue, handful of breweries, wineries, hiking, biking, and whitewater rafting. In one day, you can hike to some rapids, careen down them, and grab a beer (or wine) just in time to settle in for some dope opera.
Live like a cowboy
Near Milford, which is also the home base for the Delaware Water Gap National Park, is Malibu Dude Ranch, a real-life lodge that lets you get that whole Hey Dude experience without having to go west. The 800-acre working ranch lets you try your hand at horseback riding, rifle range shooting, skeet shooting, fishing, and archery. There is also paintball, ATV tours, snowmobiling, zip-lining, and a spa for when you're done with the Wild West life and ready for some good old-fashioned pampering.
Live out your Mad Men-era fantasies
Perhaps you've heard the stories about the Mount Airy Casino Resort from years past. (Remember this commercial??) And what you've heard is true. The Poconos were a popular honeymoon destination for city slickers of the '50s and '60s who were drawn to its various cheesy hotels with heart-shaped jacuzzis and vibrating beds. But before you roll your eyes, hear us out. This is a slice of classic Americana! (And also the resort underwent a major renovation a couple of years ago to undo its old image and bring it into the 21st century.) Today, the resort has a casino, nightclub, pool, spa, and golf course, and is one of the premier attractions in the Poconos. You wouldn't want to be judged for your past, so give Mount Airy the same courtesy.
Sign up here for our daily Philly email and be the first to get all the food/drink/fun in town.