Separated only by the Delaware River, the waterside towns of New Hope, Pennsylvania, and Lambertville, New Jersey are both bristling with colorful storefronts, eclectic dining options, open-late bars, and scenic views, and a visit to one wouldn't be complete without a walk across state lines to the other. With all its small-town quirks, the area remains greatly progressive -- it's home to one of the biggest LGBTQ parades around -- and attracts its fair share of artists and tourists alike. For every quaint artisan's shop, though, there's also a hidden watering hole, an all-night dance party, or even a high-end sex shop around the corner to keep things interesting. Take a look at all the essentials on your visit to New Hope and Lambertville.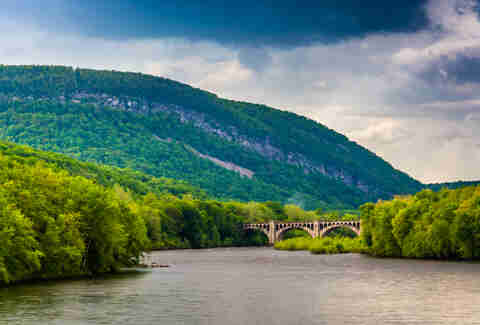 Float down the Delaware River
The stretch of Delaware River between New Hope and Lambertville is a completely different story than when it's running between Philly and Camden, so make the most of the scenic views and spend a lazy day on the water. Tubes, canoes, kayaks, and rafts are all available in the area.
Explore the area's rich art scene
In many ways, New Hope and Lambertville are artist villages, with numerous venues and events catering to the creative community fostered there. To get the most of it during your visit, a show at the Bucks County Playhouse is a must; the former gristmill was converted in 1939 and has produced professional new and old shows ever since, ranging from musicals to dramas to cabarets. You could also easily spend a day exploring the area's art galleries, starting with all the strange, unique findings in Lambertville at River Queen Artisans. In New Hope, the Bucks County Gallery of Fine Art offers a lot in the way of paintings and sculpture, while you can score vintage art and posters at Manifesto Vintage Art.
Shop your way through Main Street...
New Hope's Main Street thoroughfare is crammed with picturesque shops selling exactly the sort of unique items you didn't know you deeply needed. Stop by the Soap Opera Company for uniquely scented bath bombs, and don't skip Farley's Bookshop for an eclectic selection of both new and used books. If you're feeling kitschy and witchy, look no further than Mystickal Times, where you can expand your collection of moonstones and cauldrons while getting your Tarot card reading. Don't overlook Celt-Iberia Traders either, where you'll find authentic Irish and Spanish gifts -- everything from claddagh rings to wool sweaters.
... while also snacking your way through Main Street.
You may not be ready for a sit-down meal yet, but there's plenty of snacking to be done as you weave in and out of New Hope's shops. To stay fueled, try Clusters Popcorn for fresh batches of caramel popcorn and all the other traditional (and addictive) flavors you can't stop eating. For something even sweeter, head to Nina's Waffles and pick up some tantalizing dipped cones and waffles a la mode; there are over 100 hand-crafted ice cream flavors to choose from, plus macaroons, pastries, and just about everything else you can think of. Save room for yet more dessert at Blue Penguin Yogurt, where you can make up for your calorie-conscious froyo choice by tacking on 8 ounces of candy.
Take a second to straddle the state line
Take a break from conquering the artisanal soap and used books of Main Street and walk across the bridge that connects New Hope to Lambertville, the sister city that just so happens to put you in a separate state. The bridge has a clear marker to signify when you're technically in Pennsylvania or New Jersey, and there's nothing like remaking that scene in A Walk to Remember by being in two places at once.
Spend a day or two tasting local wine
There are a couple perfect spots to sample wine, starting with the Main Street Wine Cellar, where you can opt for a $15 tasting as the experts craft the perfect selection for you, plus there's plenty to explore in the cavernous wine cellar downstairs stocked with a diverse selection of bottles. For a true winery visit, though, you'll want to venture off Main and explore the Bucks County Wine Trail: wineries like Buckingham Valley and Wycombe Vineyards are only around 15 minutes away, and offer the full tasting/tour experience.
Get your pride on
New Hope and Lambertville are well known for their LGBTQ-friendly communities, hosting special events throughout the year like the annual Pride Week and parade. You don't have to wait until May to celebrate, though: October hosts an annual high-heel drag race, and a ton of New Hope restaurants are known to be especially accommodating for everyone, including the boutique hotel The Raven, music club John & Peter's, and European-inspired restaurant Karla's.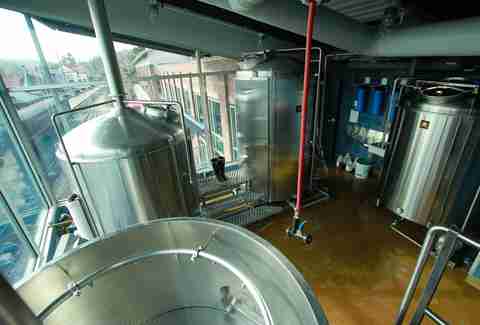 Sample New Hope's beers and spirits...
Triumph Brewery has a New Hope location (a foil to its Princeton outpost) where you can sample what's on tap, check out live music, and stock up on much-needed Triumph merch. If you'd prefer something a bit stronger, Hewn Spirits takes private parties for tours and tastings of its rum, whiskey, and moonshine.
... and search for other spirits, too.
Whether it's Halloween time or you're just in the mood for a spook, New Hope is home to a lot of "haunted" attractions, so take a look with a lantern-lit ghost tour of the town, running June through November. New Hope's Logan Inn, which predates the Revolutionary War, is also a popular attraction for those looking for ghosts, and it's believed that no less than eight spirits still haunt the rooms there. Obviously, New Hope also makes a great destination for Halloween: not only is the town's charm extra heavy during the ambiance of fall harvest season, but there are also Haunted Halloween Rides, pumpkin picking, performances of the Rocky Horror Picture Show, parades, and so many more events.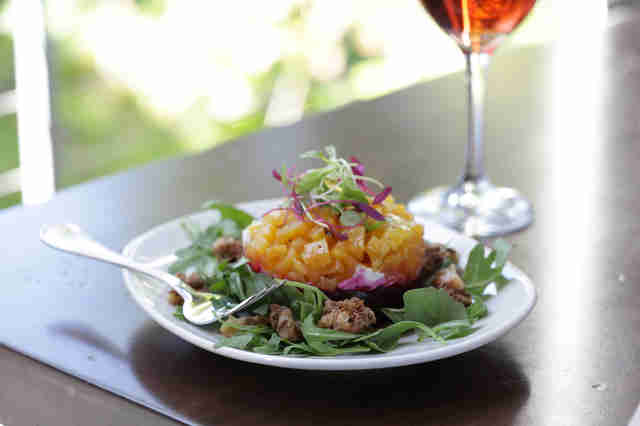 People-watch at the most bustling New Hope restaurants
Speaking of the Logan Inn: besides being potentially haunted, it also happens to be one of the best restaurants in New Hope -- though the options seem unending. You could also go for the open-air ambiance at Nektar, the Creole-Southern fare at Marsha Brown, or the actually great vegan food at Sprig & Vine, or head to Martine's Riverhouse Restaurant for higher end meat and seafood dishes.
Fuel up for drinks and dancing
There is no shortage of good bars in New Hope. The Dubliner on the Delaware is the perfect Irish pub, and you can even hear live Irish music. On the other side of the river in Lambertville, Boat House is a cozy, quaint bar that seats about 30 total and can instantly relax you with its rustic interiors and well-made cocktails. Save energy to end the night at New Hope's Havana, where you should grab a seat at the sprawling wrap-around outdoor bar when it's nice out. If there's no room, you can still head inside and wander through the rooms to find different live music and plenty of other accommodating bar stations.
Top it off with never-ending brunch and a waterside view
If you're staying for a weekend, stop by for brunch at the Lambertville Station Restaurant & Inn before hitting the road. Opt for the Riverside Buffet Brunch on the Delaware, which gets you every breakfast food you can imagine -- and some you can't -- for just $30 a plate, all-you-can-eat style. The rate also includes a glass of champagne, as well as all coffee and juice. Best of all, the airy brunch space sits just beside the Delaware River, offering tranquil views as you reminisce your weekend in town.
Sign up here for our daily Philly email and be the first to get all the food/drink/fun in town.