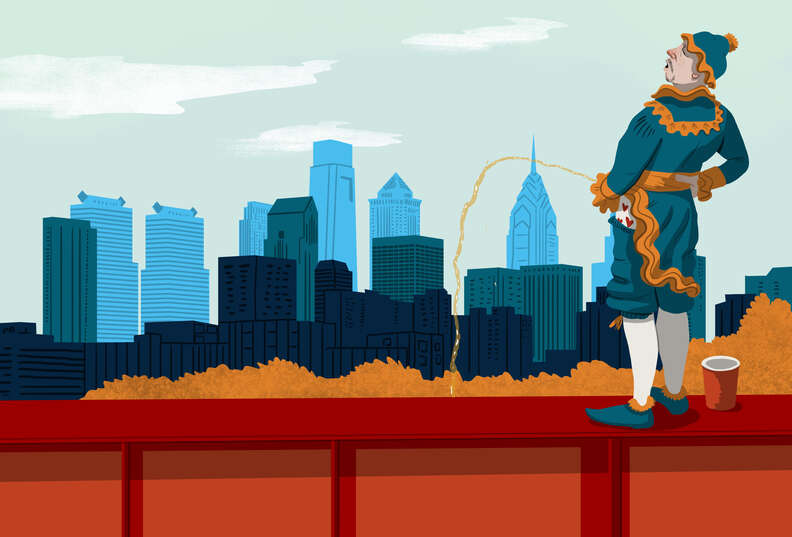 Jason Hoffman/Thrillist
Jason Hoffman/Thrillist
Why Philly Is America's Greatest (and Worst) City
My neighborhood is among the oldest in Philadelphia. Queen Village was one of the town's first suburbs. It was originally known as Southwark and folded into the city proper in the mid-19th century. It sits just south of historic Old City, where tourists snap photos of the bell with the famous crack, or gawk in the summer heat at the spot where the founding fathers finally and officially flipped off Mother England. It is bordered on the east by the Delaware River, not far from where William Penn made his landing and eventually lent his name as a prefix for the state. Around the corner is the Sparks Shot Tower. It was erected in 1808 and used as a munitions plant during the War of 1812. Today it's a community center with an indoor basketball court and a playground. When the weather warms, the people who run it set up projection screens and families bring their kids to watch free movies under the night sky.
Queen Village is fantastic. If you've lived here, you can't imagine living in any other place. Even when someone comes along and pisses on your house, or your neighbor's house. Then it's not so fantastic. Then you can imagine living in lots of places, places where house-pissing is frowned upon. Maybe even places outside of Philadelphia.
***
With the exception of eight years in professional exile -- a kind of prison sentence divided into separate four-year stretches in penitentiaries known as "Dallas" and "Boston" -- I've spent most of my life in Philly. Grew up just outside the city. Went to college in the city. Met my wife in the city (in a super-romantic place: the Eagles locker room). We built a life here. I walk our dogs near Independence National Historical Park. I shop in the Italian Market. The produce is fresh, and you can't beat Esposito's when you need a butcher. I read in Washington Square. I run along the Delaware.
Philly is home. It's a terrific city. A vastly underrated city. The best city. The problem is Philadelphians. Not all of them, but a lot of them. Enough of them to create an image of who we are in the national imagination. Something on the order of abrasive, boozed-up barbarians. Abrasive, boozed-up barbarians who love Rocky. And have a jail in their football stadium. That is the reputation. And that reputation is not wholly unearned.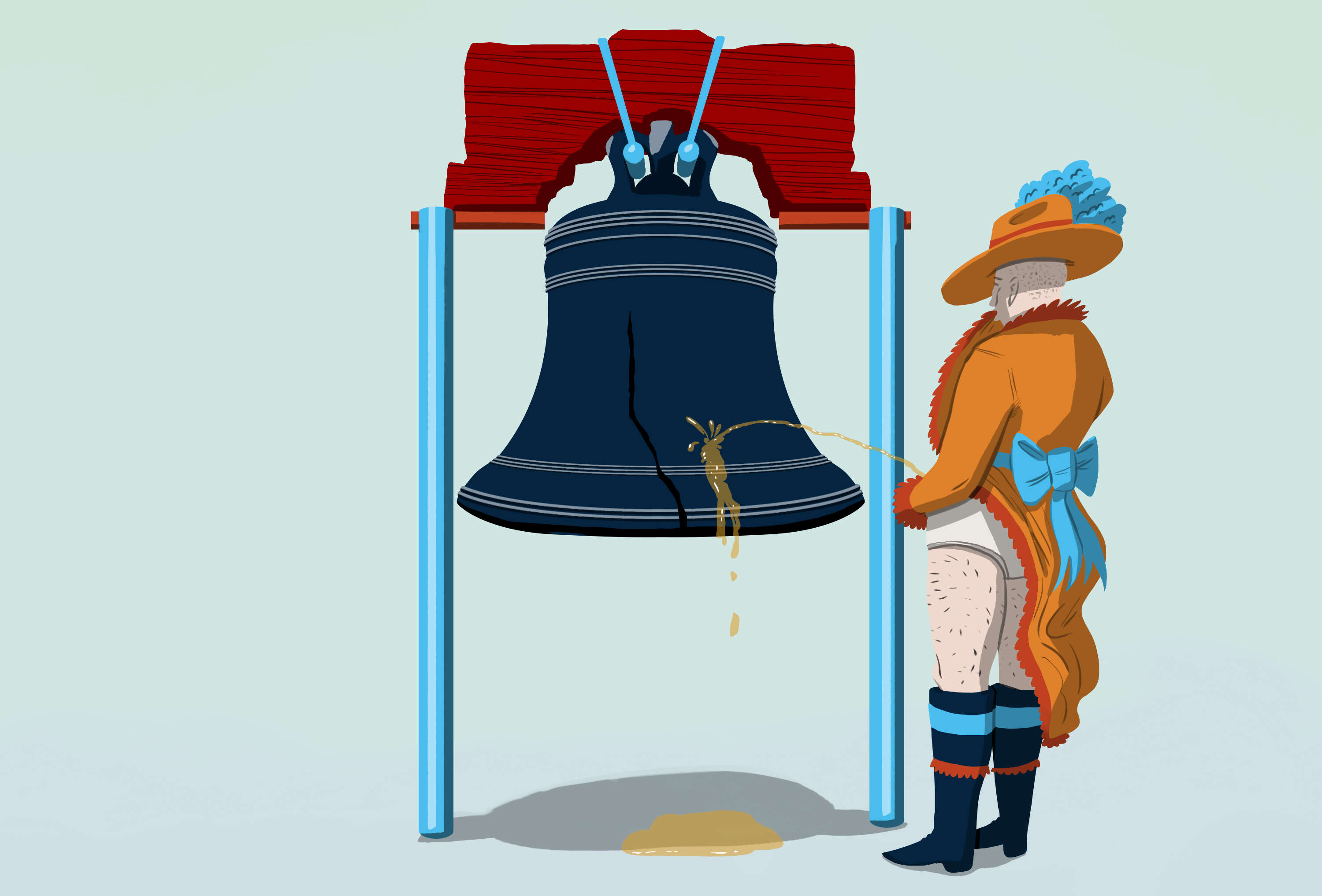 It happens every year -- the house-pissing. In addition to being a wonderful residential area lined with quiet cobblestone streets and historic red-brick buildings, Queen Village also has the misfortune of butting up against Pennsport. That's where the Mummers have their clubhouses and prepare for the annual New Year's Day debacle. The Mummers are a local institution -- sort of a cross between a provincial circus and Mardi Gras, with string bands, colorful outfits, lots of makeup, full bladders, and a nasty, longstanding tradition of overt racism, misogyny, and homophobia.
During this year's parade, which was broadcast on local television and picked up by national media outlets, one Mummers brigade centered its act around a disgusting and mindless attack on Caitlyn Jenner. Later that day a 28-year-old man was walking his dog when he was allegedly set upon "by a group of drunk Mummers who punched him in the face and called him 'f----t.'"
When the proper parade is over, the Mummers march back from Center City and head down Second St -- colloquially known as "Two St" -- and the house-pissing begins, abundant and sometimes en masse. On my way to a friend's party this past New Year's Day, I saw a Mummer who had separated from his pack. He stopped to relieve himself on my neighbor's house. I tried to appeal to his sense of reason, shouting something about how he shouldn't do that because someone lives there, and he wouldn't want someone pissing on his house (which I assume is just a soggy cardboard box behind the Acme on Passyunk Ave). And besides, not pissing on a house really ought to be a prerequisite -- perhaps even the prerequisite -- for living in anything remotely resembling a society. He was unmoved. He kept right on pissing, but he multitasked by cursing me out over his shoulder. At least he didn't turn around. That's what passes for decorum among Mummers, and I was grateful for it.
No one seemed surprised when a living Cabbage Patch doll deliberately vomited on a little girl at a Phillies game.
It isn't that the Mummers couldn't exist anywhere else. Maybe they could. But they don't exist anywhere else, which is probably better for all those other places than it is for Philadelphia.
There is obvious irony in the city's nickname, an appellation rightly mocked by the same people who are amused by Baltimore calling itself Charm City. It's long felt like Philadelphians want to carve out a niche by offending outsiders (or, failing that, pissing on where insiders live). It's why we have the Mummers. It's why the Wing Bowl exists, an event where 20,000 people pack the Wells Fargo Center on the Friday before the Super Bowl each year to watch fat men gorge themselves on chicken wings while strippers with meth teeth parade around with dead eyes and scant clothing. It's why no one seemed surprised when a living Cabbage Patch doll deliberately vomited on a little girl at a Phillies game. It's why a bunch of meatheads whipped batteries at a baseball player when he refused to sign here. It's why It's Always Sunny in Philadelphia, a show about surly, slow-witted, self-interested drunks, is set here. Of course it is. And it's why, after writing something recently that I can't even recall, one Twitter follower tweeted: "I hope Donald Trump deports your ass back to wherever." (But, please, enough with the business about throwing snowballs at Santa. It's tired. The guy who played him that day is dead. RIP. Pour out some milk and cookies for him and let him be.)
One more example: a few years back, not long after I returned home, the UFC had an event at the Wells Fargo Center. My buddy Luke came to town to cover it. On the way to the fight, we saw one man chasing another man down Broad St. Not the sidewalk, but the center of the street. The chasee looked concerned, perhaps because the guy doing the chasing was carrying what appeared to be a length of pipe. Luke asked me if "beating pipes" are standard issue in Philly. I could not definitively say no. He still says it's the best undercard he's ever seen.
Like it or not, the knucklehead minority too often serves as an avatar for the otherwise pleasant majority. There was a time, for instance, when there was a jail in the concrete underbelly of infamous Veterans Stadium, longtime home of the Eagles and Phillies (and some of the supposedly worst sports fans in America). There was a need for it, I suppose, but the hilarious part was the almost perverse civic pride in it, as though the makeshift jail underscored just how tough Philly is, and how tough you needed to be to live here, or at least go to Eagles games here. I passed through that jail once when I was in college after trying to sneak the better part of a case of beer into a game. There were a handful of drunks down there and it smelled of vomit and that was it. It was hardly Midnight Express. I was in and out in about 15 minutes. But the truth about the jail mattered less at the time, and certainly in retrospect, than what it said about us.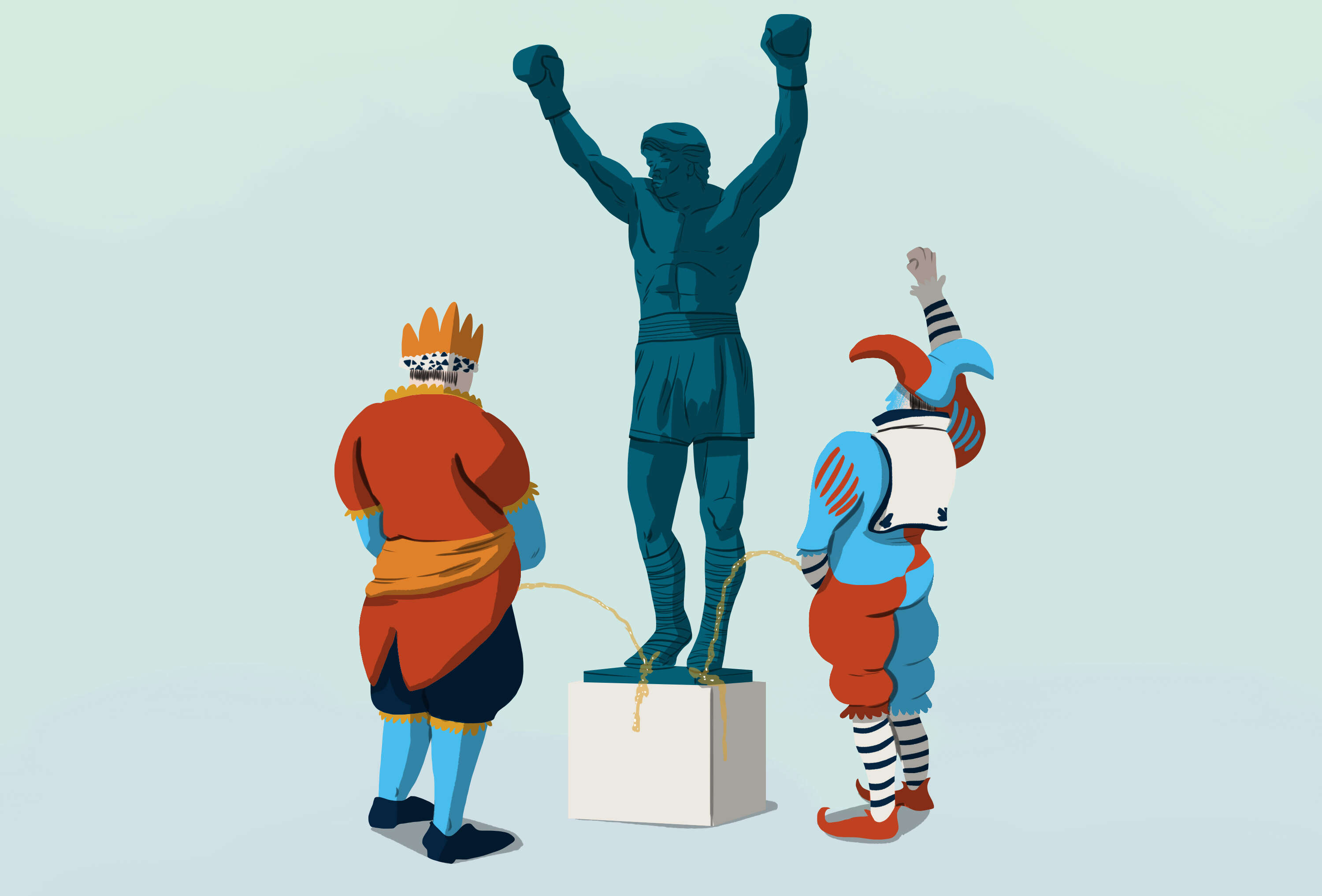 Reputation is the key to understanding Philly. How we perceive ourselves and how others perceive us. It's telling that Philly is tougher for outsiders to comprehend and embrace than the city's most recognizable totem. Almost everyone knows Rocky, and his backstory, and where to find the infernal statue -- at the foot of the Art Museum steps, a physical affront to the actual art housed inside. Tourists stop to take pictures with it all the time -- a giant sculpture of an overdrawn fictional character who lost his first fight and has haunted the city like a mush-mouthed poltergeist ever since.
There's a longstanding hot/cold relationship between the movie franchise and the city -- mention Philly to someone not from here and you're headed straight for a mind-numbing conversation about Rocky, or cheesesteaks, or both -- but there's also an unbreakable bond. If Rocky is a science-fiction movie, as Chris Rock rightly joked at the Oscars, then Philly is the planet that spawned the brain-damaged alien. It's hard to imagine him being from anywhere else. The image of the scrappy underdog who gets knocked down and gets back up is precisely how so many people here see themselves.
Long after the Navy Yard in deep South Philly closed, and well after factories shuttered and moved elsewhere, so many Philadelphians I knew thought of (and still think of) the town as rough and blue collar. It's the gray and dreary image of Philly presented as a backdrop in Trading Places -- as opposed to the more cultured city it's actually become. And indeed, those post-industrial days of the late '80s/early '90s were difficult. Buzz Bissinger perfectly explained the anger and angst in his great book, A Prayer for the City. The city hemorrhaged people who fled looking for work somewhere else. It hollowed out. Many who remained behind endured protracted economic hardship.
"Schadenfreude" might be a German word, but it's functionally Philadelphian.
Those were tough times, but from the soil of that struggle grew an an intense civic pride, and a collective kinship rooted in strife and adversity. Thus, you never feel like more of a Philadelphian than when things are going poorly. On the Monday after the Eagles lose, the back page of the Daily News usually shouts some gloomy headline, and sports talk radio is generally overrun with depression and madness. It's unifying and cathartic. (Schadenfreude might be a German word, but it's functionally Philadelphian.)
Somehow, that's still how Philly operates -- even though it long ago developed into a trendy, urbane place that gets positive attention from hipsters and mainstream media alike. Nothing made locals madder than when the New York Times tried to paint Philly as "the Sixth Borough." Any association with New York is bad enough, but accepting the would-be compliment would have first required stripping away the old, hardened self-perception. It was easier for a lot of us to just get defensive about it and threaten to throttle the next New Yorker who came along. Whaddya mean Philly is a nice place people should visit? I'll show you. That kind of thing.
Geography plays a big part too. While many second- and third-tier cities have chips on their shoulders, ours is greatly aggravated by our proximity to DC and New York -- the political and cultural capitals of the country, if not the world. This has created a latent inferiority complex in Philly that manifests itself in many weird ways.
For example, every East Coast city has its stereotypes: DC is controlled by soulless, self-interested political carpetbaggers; New Yorkers are notoriously surly navel-gazers who frequently fail to acknowledge a world beyond the city limits; Boston is overrun by Massholes who won't shut up about how facking wicked ahhsome Tahm Brady is. But where deflecting or ducking those stereotypes is easy enough for those cities, it can feel as though Philadelphians willingly indulge theirs just to get a little attention, just to stand apart. Better to be lampooned and loathed than overlooked. Better to swat away a compliment than to have people think you're fishing for one. Whaddya mean it's a nice place...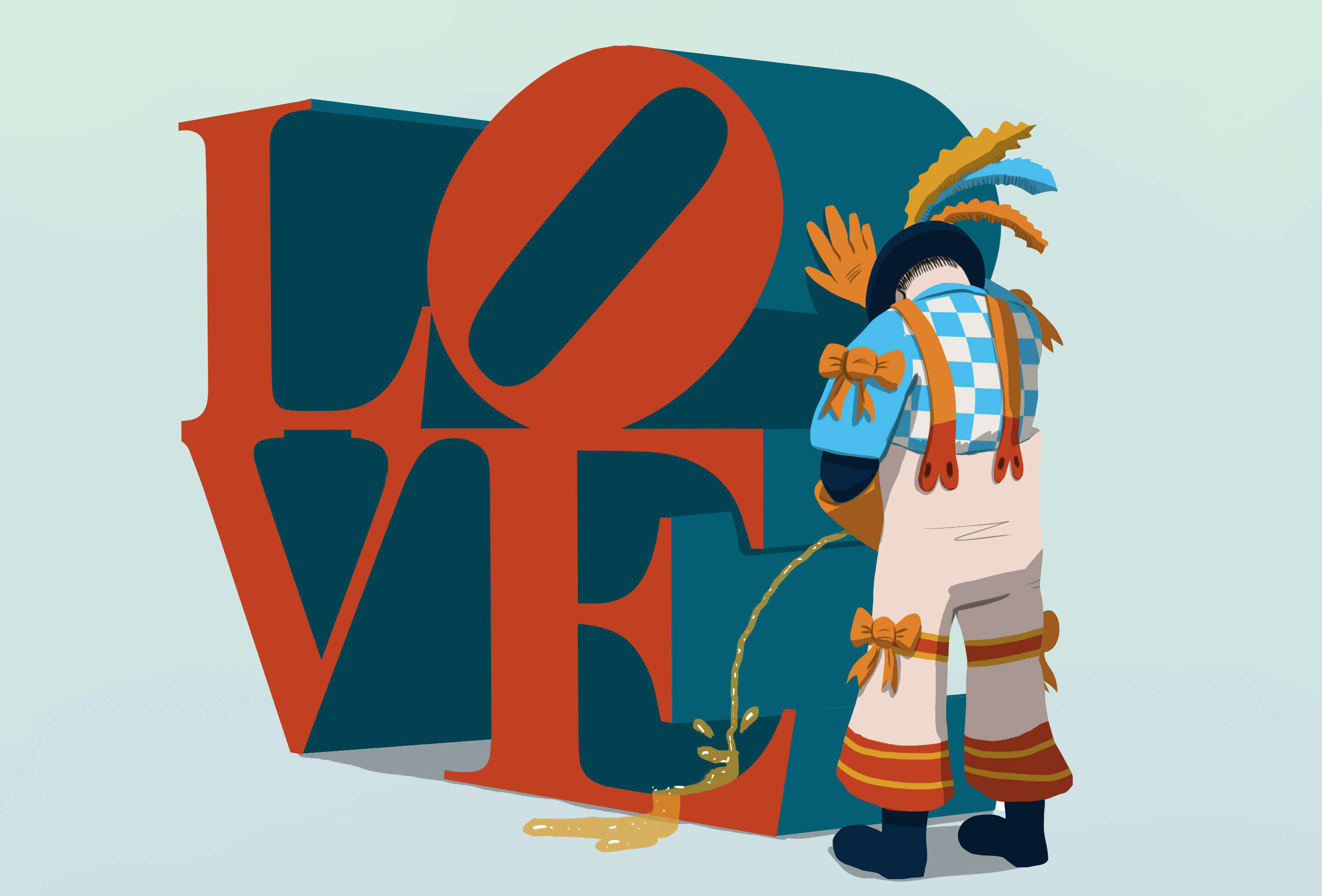 But it is a nice place. A great place. And it has a lot going for it these days. Aside from the usual American history tourists, Philly was a site for the NCAA Tournament this month. Later this summer, the Democratic National Convention will play a different sort of game on the same Wells Fargo Center floor.
If you need a drink, Philly is the unofficial BYOB capital of the country. If you'd prefer not to schlep your own booze around, the citywide special is a good deal on offer in countless pubs. Speaking of bars, one, Mac's Tavern, was opened by Always Sunny creator and St. Joseph's Prep alumnus Rob McElhenney. (I visited it once but didn't stay long. A different friend was pretty hammered. I got him into an alley around the corner where he vomited before I loaded him into a cab and sent him off into the evening. Good times.)
You can save a lot of money here (with the exception of vomit cabs for worthless friends). Compared to other major metropolises, the cost of living is reasonable (as much as 75% cheaper than New York) and the housing market is relatively affordable (as much as 294% cheaper than Boston). It's walkable. You can cross Center City on foot from the Delaware River on the east to the Schuylkill and beautiful Boathouse Row on the west -- home of the Dad Vail Regatta -- without much trouble. Along the way, you can stop at Wawa, which is unquestionably the world's best convenience store chain, and grab a made-to-order classic Italian hoagie and a Tastykake, which is unquestionably the world's best prepackaged dessert snack.
Being from Philly means not just tolerating the house-pissers and all the other assholes, but defending them and even embracing them.
If you dig music, Philadelphia gave the world The Roots and Patti LaBelle and Oates and Hall (though that order remains in dispute), and each summer the Ben Franklin Pkwy is mobbed for Jay Z's Made in America festival. If you dig art, the city boasts an unrivaled mural program that attracts some of the best artists in the world. The Walnut Street Theatre is believed to be the oldest continually running theater in the English-speaking world. If you're into something stranger and more macabre, the Mütter Museum is home to slides of Einstein's brain. And the Philadelphia Museum of Art is the third largest in the country. The Rodin Museum has one of the biggest collections of work by Auguste Rodin in the world. And the Barnes Foundation features 181 Renoirs, 69 Cezannes, 59 Matisses, 46 Picassos, and seven van Goghs.
Fun fact about that last part: Albert C. Barnes -- namesake of the Barnes Foundation -- was a stuffy, wealthy dude described as an "omnivore art shopper." He kept his collection outside the city on the stuffy, wealthy Main Line, partly because he openly hated Philadelphia. He reportedly called the city "a depressing intellectual slum" and described the Philadelphia Museum of Art as "a house of artistic and intellectual prostitution." Jolly fellow. He died in a car crash in 1951. Despite his wishes, his collection, valued at approximately $25 billion, was moved into a new home in 2012 -- just down the Ben Franklin Pkwy from the "house of artistic and intellectual prostitution" he so loathed. Over his dead body, as it turns out. As Philly stories go, that one is close to perfect. Fuck him.
***
If Philadelphians have a chip on their collective shoulders, it's always been more endearing than off-putting to me. There is a real sense of community, an us-against-the-world (or at least an us-against-the-rest-of-the-East Coast) mentality. Being from Philly means not just tolerating the house-pissers and all the other assholes, but defending them and even embracing them. Because they're ours. Because being from Phillly means acknowledging and willingly accepting the fact that even if you aren't a house-pisser, you'll be lumped in with them by the outside world anyway, so fuck it. That's fine. Because whatever people think about Philly and Philadelphians -- positive or negative -- they'll never truly understand or appreciate the place the way the natives can, and do.
My wife and I were in Greece last summer. We went to Athens, and Santorini, and then Mykonos for a wedding. The islands are staggering in their beauty. We stayed at a place in Santorini that was nestled into the cliffs and overlooked the bright-blue Mediterranean below. It was breathtaking. On our way back, at the airport in Athens, we talked to a random couple from Philly. I met the guy in line while buying wine for the plane. He was easy to pick out -- a Phillies hat and a distinctive accent. They told us they had also been in Santorini. We all agreed how marvelous it was. But mostly we talked about our favorite places in Philly, about grabbing burgers at Royal Tavern or beers at New Wave, or watching the fireworks over Penn's Landing on the Fourth of July. We had just spent more than two weeks in an approximation of paradise, but the conversation was almost entirely about our affection for Philly. It should have been a strange conversation, or at least ill-timed. But it wasn't. It made sense to us. Because, really, where else would we want to be?
Sign up here for our daily Philly email and be the first to get all the food/drink/fun in town.
John Gonzalez is a columnist and commentator for Comcast SportsNet Philadelphia. He has written for the
Philadelphia Inquirer
,
Boston Magazine
,
Philadelphia Magazine
,
Men's Journal
, and a host of other publications he either can't remember or would like to forget. He also ran for US Congress once and lost. Follow him: @gonzocsn.