Any Philly tourist loves to flock to the Avenue of the Arts (I mean, have you been in that new Wawa?) to get a fair share of culture and ritzy foods (minus said Wawa). While locals also love all that Broad St has to offer south of city hall, we know the area stretching north is just as deserving of a day of exploration. North Broad St has been revitalizing for years and, with even more recent developments, the area is slated to be Philly's next go-to neighborhood. From the mayor's new project to a soon-to-open brewery and one of our favorite pizza spots for almost a decade, here's a look at some of the reasons everyone should head north.
SOUTH settled up north
SOUTH (address and info)
Spring Garden
It's almost a reflex to assume a Philly restaurant called SOUTH would be located on South St, but quite the contrary. The new eatery, located just by Mount Vernon St, not only brings new Southern comfort food to the North Broad scene, but also a healthy dose of live music, as it doubles as a jazz venue.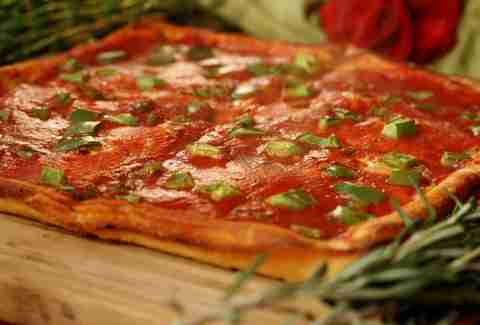 Your favorite square pizza has also found a new home
Santucci's (address and info)
Poplar
Santucci's is known for no-nonsense pizza crust that can withstand any number of toppings you wish and put any Chicago-style pizza to shame. The local square-pizza chain has added a new location not far from SOUTH, bringing the Italian specialities, which have always been synonymous with South Philly, up north with a menu that includes way more than just pizza, from savory crepes to homemade cannoli.
Mayor Nutter is illuminating it
The simple issue of lighting has always been a contributing reason the top half of Broad doesn't get much foot traffic. Unlike the dizzying bulbs adorning the theaters and concert halls southward, North Broad can get a little eerie. A few months ago, however, Mayor Nutter announced a portion of North Broad St will get 41 55ft-high light fixtures, reaching from Hamilton Ave all the way to the North Philly Amtrak station, making your walk to Alla Spina, not to mention Temple's campus, all the clearer.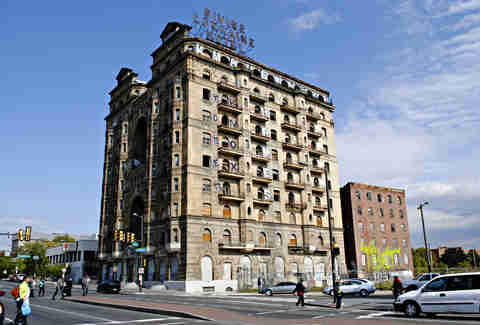 The Divine Lorraine will be divine once more
The Divine Lorraine's time as one of Philly's coolest abandoned spaces is (finally) nearing the end of its 16-year run. The space at N Broad & Fairmount is slated to start renovations that will bring the hotel back to its former glory, and thanks to those light poles, you'll be able to see all the magic happen, anytime of day or night!
In fact, now there's even a Lorraine bar
Lorraine (address and info)
Francisville
This hidden speakeasy, located just a stone's throw from the hotel, was revived earlier this year, creating the perfect spot (with an outdoor space) for a quiet cocktail in an area otherwise seeing a lot of construction. The no-frills bar is a great edition to Francisville, bringing more craft beer to the neighborhood.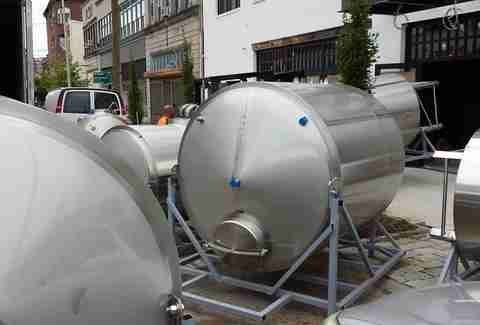 Earth Bread + Brewery will be available even closer to Center City
Bar Hygge (address and info)
Fairmount
Bar Hygge, a brewpub from Mt. Airy's Earth Bread + Brewery, will be pouring beers near North Broad St at 17th & Fairmount before 2015 has wrapped. The menu will feature American fare paired with, of course, the beer that makes the brewery one of Philly's best.
And let's not forget these established standbys...
Alla Spina (address and info)
Fairmount
While the influx of new business is helping to make Avenue of the Arts North more of a thing, there are a few locations that have been killin' it up there for years, and are bound to get even better thanks to their new neighbors. For an Italian gastropub experience look no further than Alla Spina, the space harkening back to Philly's industrial past and serving brunch, dinner, and happy hour at Mount Vernon St.

Osteria (address and info)
Fairmount
Osteria's North Broad location isn't far from SOUTH, and, following its 2007 opening, quickly became one of the city's best Italian restaurants -- a well-deserved status that hasn't changed much over the years. The open kitchen makes it ideal for scouting out when your Neapolitan pizza is headed your way.

Sign up here for our daily Philly email and be the first to get all the food/drink/fun in town.

Marielle Mondon is a Philly-born freelance writer. Follow her on Twitter and Instagram.