Phoenix is big. And while that's not exactly a secret, it does mean that this town is pretty much guaranteed to have quite a few of its own. After doing a lot of homework, we tracked down all our city's secrets that are worth discovering. The best way to start? Go find the mystery room at the Arizona Biltmore and start drinking. Trust us.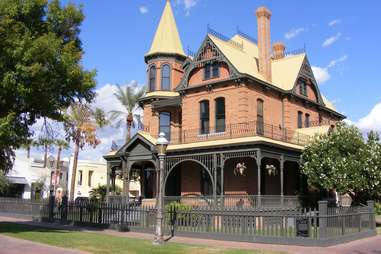 You can tour a haunted house
Phoenix
The Rosson House on Block 14 doesn't really look like it belongs in contemporary Phoenix. The Victorian-era home dates all the way back to the late 1800s, and the gothic-style mansion is rumored to be haunted, and we all know that pretty much makes it a fact. But don't let a few ghosts keep you from touring the Heritage Square property. Today it's fully restored and is open to braver guests as a museum.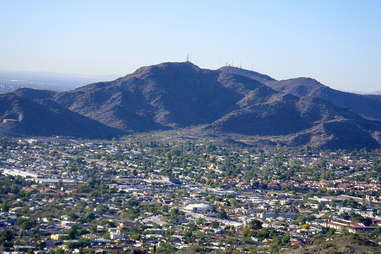 There's a vault in the side of North Mountain
Phoenix
Essentially, it's for the super rich, the super secretive, or the super paranoid. The company has been in business since the early 1980s, and the vault itself is a 6,000lb steel door that opens to a vast complex with 12in steel walls & floors, which in turn are all surrounded by tons of steel, concrete, and rock, plus 24-hour armed guards.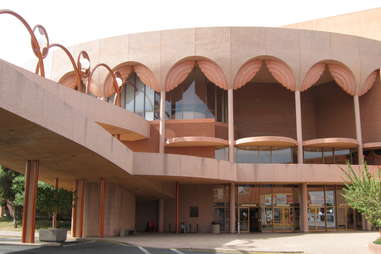 We have the last non-residential project by Frank Lloyd Wright
Tempe
Wright and Grady Gammage, Arizona State University's president at the time, were bros. When plans fell through for the original blueprints, Grady kindly asked his pal to modify and build an auditorium on campus. Construction started in 1962 and it took 25 months to build. Today, ASU Gammage is one of the most successful Broadway houses on the tour.
The Desert Botanical Garden is always 10 degrees cooler than the city
Phoenix
This Phoenix spot might just be the best place to check out on a hot day. Thanks to carefully placed water features, it's about 10 degrees cooler than the rest of the city. Plus, it's free! Here's a list of other free things to do in Phoenix. You're welcome.
Arizona State University has a hidden underground tunnel system
Tempe
Word is that this tunnel system, nicknamed ASU Underground, connects to about 80% of the buildings on campus, minus the newer buildings. Facility managers of the past say there's nothing interesting happening under there, but we're still curious...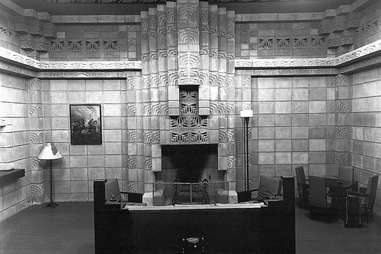 You can drink like it's 1929 at the Arizona Biltmore in the super-secret mystery room
Phoenix
The secret room used to be a speakeasy where high-society partygoers could drink their hooch during the days of Prohibition. It might not be serving hooch anymore, but you can still order a cocktail. The room isn't exactly easy to find, and you have to ask the front desk for the spoken code (try "rays of illumination," or check the hashtag "#Speakeasy" on the hotel's Twitter page if its been changed).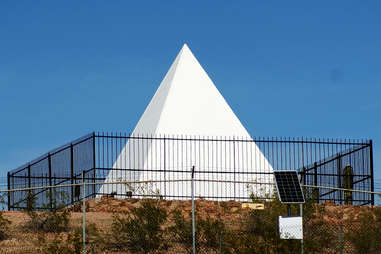 Arizona's first governor is buried in Papago Park, in an amazing tomb
Phoenix
Hidden in plain sight is the final resting place of George Hunt, Arizona's first governor. This guy wanted to be buried at the top of Papago Peak -- not just to creep out tourists, hikers, and people checking out the park -- because of its amazing 360-degree view of what he called "the splendid valley." And yes, it's "splendid" indeed. You can see Downtown Tempe, Camelback, Scottsdale, South Mountain, and Mesa from the site of the pyramid grave.
The historic building that houses Four Peaks wasn't always a brewery
Tempe
Before the 42-barrel brewhouse took over the space in 1996, it was many things. The building, constructed in 1892, was erected before Arizona was even a state. For Phoenix standards, that's pretty old. The building used to be a creamery, ice house, and even a "photography" studio (aka porn studio). Think about that next time you're sipping an 8th Street pale ale.
Arvizu's El Fresnal Grocery Store might have doubled as a Masonic temple
Phoenix
The abandoned Downtown Phoenix building sitting on Buchanan St within the warehouse district was rumored to be a secret fraternity meeting place. On the back of the building, its bricks are painted with the insignia of the Masons: a "G" symbol and an upside-down five-pointed star. In 1985 the building was added to the National Register of Historic Places, and today it's privately owned -- possibly by the Masonic Order, but we don't know for sure.
Sign up here for our daily Phoenix email and be the first to get all the food/drink/fun in town.
Lauren Topor is a Phoenix writer who is pretty sure they store the speakeasy password in that mountain vault. Follow her on Twitter at @LaurenTopor.