9 Must-See Abandoned Places to Explore in Arizona
Some of these are pretty freaky.
Living through a global pandemic might be post-apocalyptic enough for some, but if you want to add an extra layer of creepiness to your life, traipsing through abandoned (and likely haunted) places might be for you. Plus, there's nowhere better for social distancing. To help you find the state's most fascinating abandoned spaces, we've rounded up our top picks to explore.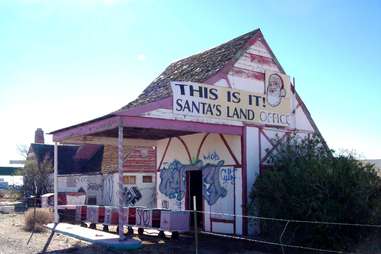 Christmas Tree Inn
Santa Claus Acres
When you were a kid and you wrote letters to Santa, they probably ended up here. But a jolly old man in a red suit wasn't on the receiving end of your Christmas wish list (that's why you never got what you asked for). Originating in 1937, Santa Claus gained popularity as a tourist spot, but by the '70s business had started to decline, and by 1995 the town was empty. Today you can still see Santa's face plastered around town, accompanied by a lot of graffiti.
The Lisa Frank Factory
Tucson
This one might not be completely abandoned—rumor has it a single employee still frequents the decrepit office space—but what was once a colorful tribute to a '90s school supply empire is now a mysterious relic from another time. We don't recommend scaling the fence that surrounds the building, but even from the street the colorfully painted warehouse, shimmering wall of windows and striking horse statue are worth a peep.
The Domes of Casa Grande
Casa Grande
The super-creepy, super-cool Casa Grande Domes were first built back in 1982 by a California-based tech company. But, when the company went bankrupt more than 30 years ago, they abandoned ship. The domes attract quite a few interesting groups of people, from paranormal enthusiasts to ritualistic covens, and of course teenage punks who raided their parents' liquor cabinet. Today, the domes have started to crumble, so you're only able to see them from the road—no trespassing allowed!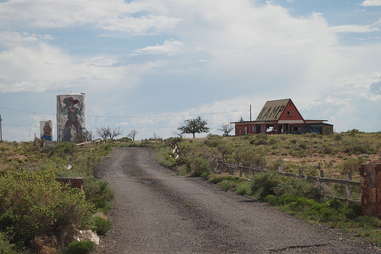 KOA's desolate campground
Two Guns
East of Flagstaff, Two Guns was once a booming tourist stop off of Route 66 outfitted with a gas station, souvenir shop, and even a zoo that housed bobcats and panthers. The destination didn't close down because one of the cats escaped its cage and had a tourist for dinner. Like many Route 66 stops that were bypassed by I-40, it died a quick death and today it's in ruins.
Empty jailhouse
Salt River Canyon
There's something really creepy about abandoned jails and prisons—Alcatraz, anybody? So, the empty jailhouse in Salt River Canyon didn't actually house any Wild West outlaws, notorious killers, or criminals, it was just built as a fun spot for tourists to take photos while fueling up their cars. But it's still pretty creepy.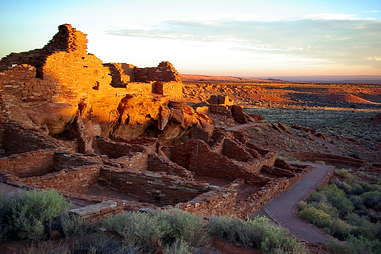 Wupatki National Monument
Flagstaff
The protected site located near Flagstaff is home to a number of sandstone dwellings that were built by the Pueblo people. Evidence of the first inhabitants date way back to 500 AD. Wupatki is the largest building on the site, with more than 100 rooms. In the late 1960s it was added to the National Register of Historic Places to ensure that what's left of the ancient site is preserved.
Twin Arrows trading post
Twin Arrows
The Twin Arrows trading post is just another abandoned pit stop along historic Route 66. Towering 25ft faded red and yellow arrows constructed from telephone poles neighbor the gas station, diner, and empty curio shop today. Twin Arrows is owned by the Hopi tribe and there's been talk about restoring the area, but it still remains boarded up and in decay, overcome by Arizona's harsh elements and weeds.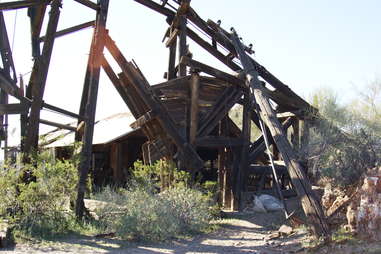 Vulture Gold Mine
Wickenburg
Vulture City was established at the height of the California Gold Rush in 1863. After several years of success, Vulture Mine was shut down temporarily by a regulatory agency in 1942, and permanently soon after. The site is no stranger to legend and urban myths. Some say the property is haunted, and we'd take their word for it. Over a dozen men met their fate at the hanging tree, an old ironwood for theft during the mine's heyday. Today you can check out the mine for yourself for $15.
Tumacacori Mission ruins
Tumacacori
Made up of adobe, wood, and plaster (Hey! This must be where modern-day architects found inspiration to build the entire city of Phoenix!) the Tumacacori Mission ruins have been a Southern Arizona landmark since 1691, when the village was established. Missionaries, settlers, and soldiers have all passed through, making their mark on the rich culture that exists there presently. Not much remains of the early settlements, but today the historical site is preserved and protected by the National Park Service and it's open to the public.
Lauren Topor Reichert is a Phoenix-based multimedia storyteller, photographer, and content creator. Her work has been featured in travel guides, national publications, and the social feeds of some stellar local restaurants. Follow her around Arizona, and beyond, on Instagram
@hungryinphoenix
.
Jamie Killin is a Phoenix native and Arizona State graduate who specializes in lifestyle and features writing. You can usually find her at the spin studio, a concert, or trying new restaurants across the Valley. Follow her at @jamiefayekillin.