Arizona's a pretty weird place. From a thousand-pound statue of a hobo to a compound of concrete dinos, these 14 things make it exponentially weirder. Whether you're a lifelong AZ native looking for something to do or just passing through the desert, it's worth taking a drive just so you can stop at one of these weird Arizona roadside attractions.
Towering concrete teepees make up the Wigwam Villages, a Holbrook hotel that was built back in the 1950s adjacent to historic Route 66. Closed in 1982 after the death of its creator, Wigwam Villages opened up again in 1988. Pull up alongside the vintage cars and stay a night amid the full Nifty Fifties vibe.
Resembling the 1970s more than the Stone Age, William's Flintstones' Bedrock City serves as a 365-day campground and odd stop for passers-by. Painted with garish, bright colors, the 30-acre site includes replicas of a volcano, salon, post office, police station, character homes, brontosaurus, and other relics of the campy TV series. At publishing time, the family-owned business is up for sale for $2 million.
Standing at 25ft tall and weighing over 1,000lb, Buckeye's giant Hobo Joe is weird enough on its own, but it has a story to match. The statue is not an original (there are two of these guys out there, folks!), and, on top of that, nobody really knows where this Hobo Joe came from. One rumor states that it's a replica of an original that was built for Hobo Joe's Coffee, which is now out of business, by an ex-Disney designer. Or, some say that the man who designed it made extra, thinking he could make a buck off of them. We say that when you're talking about a 25ft tall, thousand-pound statue, the origin story becomes pretty irrelevant.
In 1967, London sold its most famous bridge to Lake Havasau City founder, Robert McCulloch, for $2.46 million. And the buyer was 5,400-miles away. Lake Havasu City founder, Robert McCulloch was the buyer, paying $2,460,000 for the bridge. When the London Bridge was disassembled, each brick was labeled with a number, making it (maybe) easier to put back together in its new home 5,400-miles away. Today, the bridge is one of the largest tourism attractions in the state, only behind the Grand Canyon. And the vacation spot is driving distance from Phoenix, at just three hours away.
Arizona isn't exactly a place where you regularly come across castles in the sweeping countryside, but we've got at least one that's right in the middle of our biggest city. Phoenix's Tovrea Castle, a historic landmark, was built in 1928 by Italian-born Alessio Carraro. His grand plans for a resort were short lived, possibly because luxury vacations and the Great Depression were a poor mix. You can take a tour of the last remnants of his big idea, but you have to book in advance. The castle is all that remains of his big idea today.
While some are less-scary looking than others, and every last painted cement giant is weird, the giant dinos in Holbrook will get you your Jurassic Park fix if it hits while you're passing through Arizona. Bonus: you get a great photo opp without worrying about escaped dinosaurs from the Aviary scooping you up when your back's turned.
Located outside of Winslow, Arizona, the 550ft deep Meteor Crater is one of the best preserved meteorite impact sites in the world. Scientists believe the meteor slammed into the Earth 50,000 years ago, and its impact is said to be equal to 20 million tons of TNT. Passing through? The area offers RV campsites and other touristy stuff.
If you've ever wanted to spend the night in an authentic 1940s or 1950s Airstream, dreams do really come true: Shady Dell RV Park is full of restored trailers, giving visitors their pick from the 1947 Tiki Bus or the 1957 Airfloat. Or stay the night in The Yacht. Why? Because you can. Opening up in 1927 off of Highway 80, the vintage-themed RV park can take you back to the days of pin-ups, classic cars, and black-and-white TV, if that's you're thing.
Jackrabbit-printed billboards along Arizona's stretch of Route 66 give regular reminders of exactly how many miles you have until you hit Jackrabbit Trading Post, which just might be the most offbeat curio shop along the famous road. The convenience store is filled with everything you typically find at kitschy gas stations, only here, the underwear and T-shirts are, well, jackrabbit themed. If you don't want to scoop up a hare-emblazoned shot glass, you can still take a picture store's giant saddled jackrabbit. And don't worry: you can't miss the thing since those billboards end in front of the store with a very helpful "Here It Is" sign.
Frankly, we didn't know that you could have a ranch full of ostriches. Apparently you can. Located just off of I-10 is Rooster Cogburn Ostrich Ranch, Located just off I-10, has garnered some fame for years with appearances on Extreme Roadside Attractions and other shows. While a ranch full of ostriches isn't exactly "extreme," "feeding the critters" or taking a round in the ranch's monster truck ride is worth the drive.
While you won't be eating your own "roadkill" -- that rumored tradition ended in the 1980s -- this historic Route 66 cafe is fully decked out with taxidermied heads, dead animals, and dollar bills. The food is regular char-broiled burgers and chicken fingers, but the item names, like Fender Tenders and Splatter Platter carry on the roadkill theme.
Located at the base of the Santa Catalina Mountains, this giant experiment houses seven model ecosystems, earning it the title of the world's largest earth science lab. It's run by the U of A for research purposes, but you can tour Biosphere II or even host a conference there.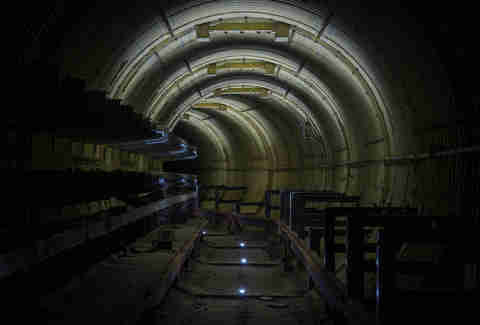 Green Valley's Titan Missile Silo was once a top-secret Cold War-era silo, but now functions as a museum and info center that offers guided tours underground into the launch duct and through the tunnels.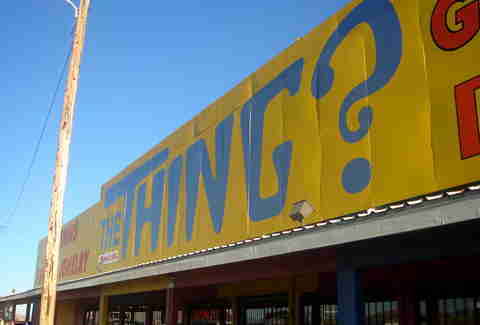 After driving through Arizona's desert highways for hundreds of miles, the building curiosity of tons of billboards (247 of 'em, seriously) hyping The Thing is almost welcome relief from boredom. Which is why we don't really want to give it away, so you'll just have to go to Dragoon, AZ yourself.
Sign up here for our daily Phoenix email and be the first to get all the food/drink/fun in town.
Lauren Topor is a Phoenix writer who is definitely considering staying a few nights in one of those weird vintage Airstreams. Follow her back to the Nifty Fifties on Twitter and Instagram.