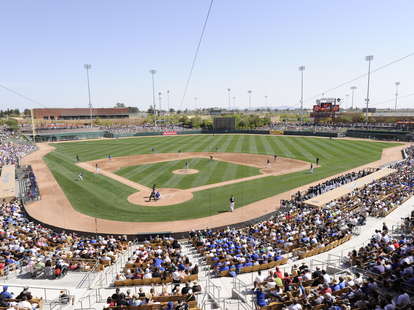 Courtesy of Ron Vesely/Chicago White Sox
If you're one of those people who think baseball season is a never-ending abyss of strikeouts, innings, and guys who get paid way too much, we've got news for you: here in Arizona, we actually get an extra month of America's favorite pastime. But you won't hear baseball fans complaining. In fact, we'll take any excuse to get outside and throw back a few beers... even if it's before the official season kicks off. Our Valley is home to Cactus League spring training, with ballparks from Goodyear, to Mesa, to Surprise playing host. And if you're in AZ, there's no better time than right now to catch a game. So here's our ranking of the best ballparks around town, based on a few very important deciding factors (translate: food, drink, and convenience).
Surprise
Located almost 40 miles north of Downtown Phoenix, Surprise Stadium is likely the least accessible ballpark. It's home to the Texas Rangers and the Kansas City Royals during spring training, both of which have made recent appearances in the World Series (the Rangers in 2011, and the Royals in 2015). But that doesn't help the ranking on this list. Honestly, we don't have much love for Surprise: the teams draw a crowd comprised mostly of serious fans and snowbirds, and the stadium's proximity to the city is just too far away.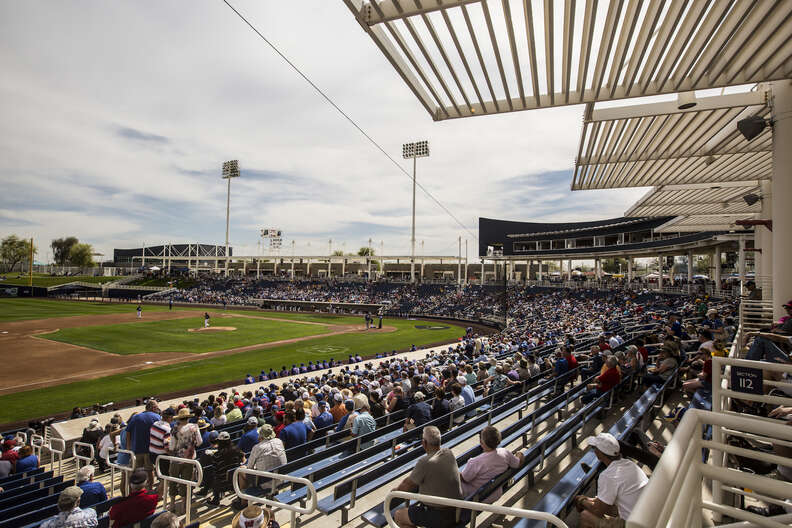 Phoenix
Just over 10 miles from the heart of the city, Maryvale hosts the Milwaukee Brewers for the month of March. Many of the Cactus League spring training ballparks have undergone renovations and updates over the years, but this place is dated and there's really not many things to do nearby, which explains the No. 9 ranking here. Having said that, one of the few good things going for it is that it's one of the largest facilities, with seating for up to 10,000 people. So if you love the Brewers, maybe you should catch a game. At least you'll feel at home: the ballpark houses Milwaukee's famous Klement's bratwurst and a selection of beer from Leinenkugel.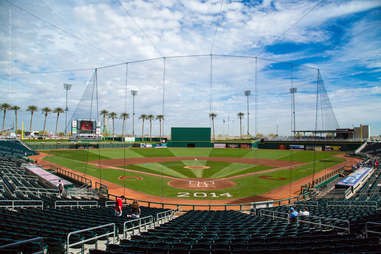 Goodyear
Located about 25 minutes from Downtown Phoenix is Goodyear Ballpark, home to the Cleveland Indians and the Cincinnati Reds for training. The food options here are pretty limited, but the hot dog does reign supreme: grab your choice of Arizona-, New York-, Chicago-, Cleveland-, or Cincy-style. Parking costs $5, but we'd honestly rather spend that money on beer. Plus, it's a pretty kid-focused place. If you don't have kids, skip it.
Phoenix
Since 2009, this $100 million stadium has been home to both the Dodgers and the Chicago White Sox, and is the largest facility in the Cactus and Grapefruit Leagues. It's also a place that has pretty much no shade whatsoever. Unfortunately, the developers didn't quite factor that in, and while the stadium is impressive (they even have a pond out front!), there's absolutely no hiding from the sun. So if you're headed here, make sure you bring the sunscreen, a bucket hat, and sunglasses. The good things: you can grab yourself a piping-hot Dodger or Chicago dog (under the already piping-hot sun) or be at a nearby restaurant in just a quick Uber ride. And honestly, given the unimpressive beer list and standard food, you're going to want that restaurant.
Peoria
Home to the Seattle Mariners and San Diego Padres, Peoria Sports Complex is about a 25-minute commute from the city's center, and draws a wide range of fans, from ASU coeds, to seasoned sports fans, to residents from both Seattle and San Diego. It offers cheap lawn seats (starting at $7) -- easily the cheapest in the league -- and a beer garden with a nice batch of local and regional beers on tap, from Arizona, California, and Washington. The food isn't too bad either: fried Twinkies and Oreos galore are offered on top of the horde of food trucks that post up from game to game. So, what's the downside? That damn drive to Peoria.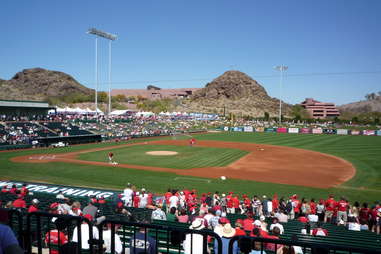 Tempe
Traffic is going to be t.e.r.r.i.b.l.e getting to this place on whatever day you decide to catch a game. Because of that, take a trolley from Mill Ave to the ballpark. It's about a 15-minute ride, plus you can drink before boarding (and maybe even brown bag it to the game… not that we're suggesting you do that). Also, did we mention the trolley on the corner of 5th and Mill is free??
Tempe Diablo has been around since the late '60s, but has undergone renovations to keep it current. If you're looking for lawn seats, get there early, because not much green space is available. A lot of food is offered, but really only one thing matters: nachos. Get yourself a life-sized helmet filled with chips, guac, sour cream, jalapeños, and all the necessary fixings. And definitely visit the beer tent.
Scottsdale
Salt River Fields at Talking Stick hosts Arizona's favorite home team, the Diamondbacks, as well as the Colorado Rockies. Both teams are far from good (although our D-Backs have seen a resurgence in recent years), but this ballpark still draws crowds from all corners of the Valley. On any given day, you can see a bikini-clad woman laying out on a towel in the lawn, a guy more than likely double-fisting beers, and a retiree keeping tabs on the game with his scorecard. Local restaurants like Salty Senorita and Crust have set up shop in the ballpark, and feel free to get draft beer and cocktails at multiple locations throughout the concourse.
Mesa
The former home of the Chicago Cubs now houses the Oakland Athletics. Recently renovated, Hohokam Stadium reaches our top three spots for good reason: we can't get enough of the Northern Cali sandwich shop, Ike's Place. And because of that, we've become A's fans. Here, you can sip Lagunitas IPA and spread out on the lawn. Shade cover is decent, and this is one of the best ballparks to get an autograph.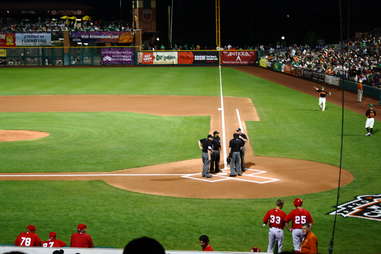 Old Town
The Giants have made a handful of World Series appearances in the last decade, and their winning record has drawn baseball fans out of the shadows to come catch a game in Scottsdale. San Francisco most certainly packs the house, making this by far one of the most rowdy and party-centric ballparks in the league -- which could also have something to do with the fact that it is mere steps away from the Old Town bar scene. So come by, grab a lawn seat and a beer, and enjoy the game.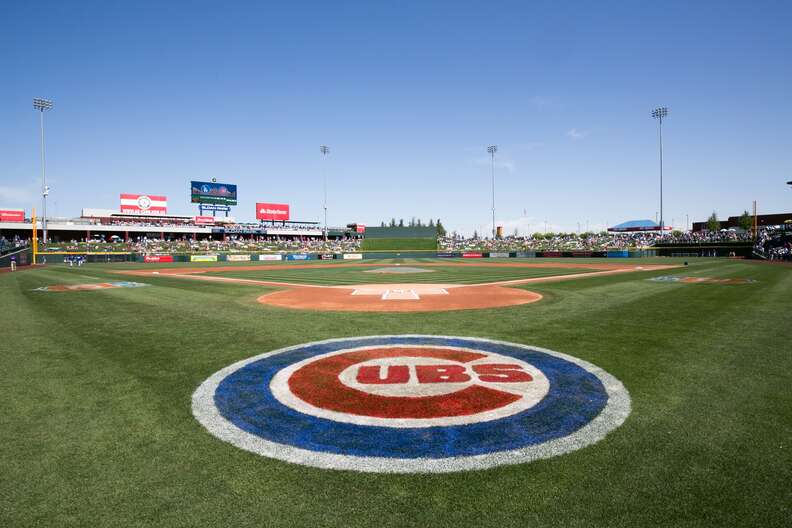 Mesa
Vaguely reminiscent of Wrigley Field in Chicago, Mesa's Sloan Park is like a second home to Cubs fans. (Seriously, everyone we talked to here has Chicago ties). The ballpark itself is filled with nods to the city, like that hard-to-miss red "Wrigley" sign. In fact, people are so proud here that it's taken on the name "Wrigleyville of the West." Food trucks and beer go for days at this place. Our favorite has to be Huss Brewing's Magic in the Ivy... which, yes, has Chicago roots. There's plenty of lawn space to go around, and even a bar out in center field. And best of all: you'll never have to wait in line for the bathroom. A plumbing parts company actually owns the ballpark, so there's literally a bathroom, like, every 15 steps. Which is important if you're spending the day drinking (which you probably are).
Sign up here for our daily Phoenix email and be the first to get all the food/drink/fun in town.
Lauren Topor is a Phoenix writer and baseball fan. You can find Lauren at the beer garden during the seventh-inning stretch. Follow her to the shortest line on Instagram and Twitter.