Fun Things to Do During Spring Training 2023 in Arizona
We've got insider tips on everything from the best hotels and bars to the best stadiums to visit as 15 MLB teams descend upon cities like Scottsdale and Phoenix for Spring Training 2023.
Photo by Bill Fink for Thrillist
Photo by Bill Fink for Thrillist
There's no better sign that the end of winter is near than the start of Major League Baseball Spring Training in Arizona. Beginning February 24 and lasting through March 28, you can enjoy an early summer experience in the warm desert sunshine.
Sit back in the stands to soak in the smell of freshly mown grass and barbecue simmering on the grill with a cold beer in hand as you listen to the crack of the bat and the cheer of the crowd as your favorite midwestern and west coast baseball teams take the field.
Arizona's preseason Cactus League hosts 15 teams playing games in 10 stadiums across the Phoenix metro area. Spring Training game tickets are cheaper than the regular season and the vibe is more relaxed. Even fans of last year's "cellar dweller" teams are full of optimism with new young players to watch and an even 0-0 record.
The Phoenix area provides a wealth of non-baseball activities to enjoy, too, making Arizona Spring Training a worthwhile trip even for non die-hard baseball fans. We'll run down some of the best ways to enjoy the Arizona Spring Training experience.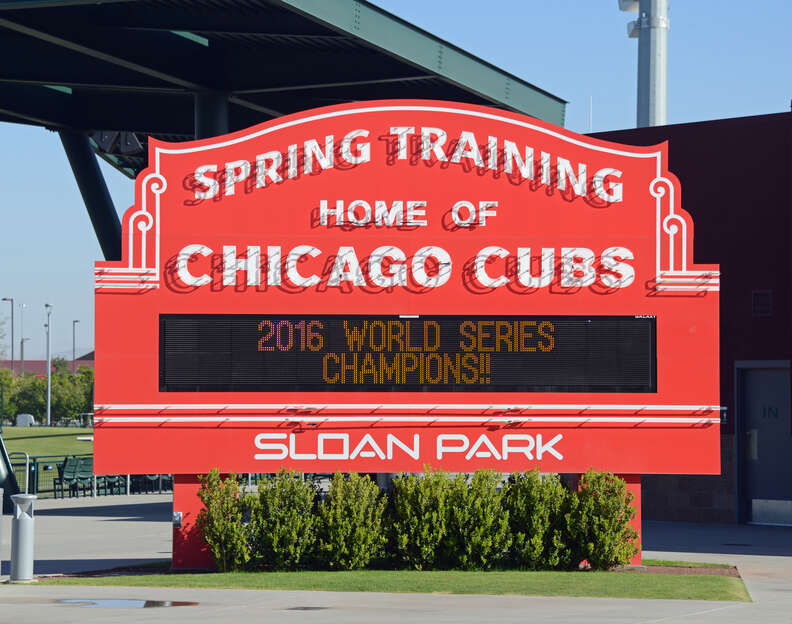 Spring Training Overview: The Cactus League Experience
With 15 teams playing at 10 ballparks in 8 different cities, trying to manage a spring training trip might seem intimidating. But given the huge selection of hotels and restaurants, and the fact that the stadiums are all within an hour's drive from each other, it's hard to go wrong.Fans typically will book a hotel close to their favorite team's ballpark, whether it be in Phoenix, Scottsdale, Tempe, or elsewhere. But I've found it fun to take a "hub and spoke" approach: Find somewhere nice to stay in a hub (my favorite area is downtown Scottsdale), then drive to see games at the spokes of different ballparks (in my case, wherever the Cubs are playing that day).
While tickets are normally easy to buy day-of-game, popular teams like the Cubs, Dodgers, and Giants may sell out at their home fields, so purchase those tickets early to ensure good seats. A pro-tip for fans of popular teams is to watch your team at "away" games at other stadiums for better (and cheaper) seat selection.
Another tip for those new to Spring Training is to realize most star players will see limited playing time, particularly at the early part of the spring season. A big part of spring training is giving rookies and aspiring minor leaguers a chance to audition. So don't spend top dollar for an Angels game, for example, expecting to see Trout or Ohtani for a full nine innings.
The roster of teams in the Cactus League are the Arizona Diamondbacks, Chicago Cubs, Chicago White Sox, Cincinnati Reds, Cleveland Guardians, Colorado Rockies, Kansas City Royals, Anaheim Angels, LA Dodgers, Milwaukee Brewers, Oakland A's, San Diego Padres, San Francisco Giants, Seattle Mariners, and Texas Rangers. Visit the Cactus League website for schedules, maps and activity guides, and the MLB.com spring training website for tickets and team information.
The Ballparks: How and Where to Best Catch a Spring Training Game
Cactus League ballparks have undergone a renaissance in recent years, with new fancy full-service stadiums built to replace sleepy minor league parks of yesteryear. So expect ballparks with comfortable seats, concession stands stocked with fun treats, and diversions like kids' play areas and autograph booths, as well as expansive souvenir shops.
While I'm obviously biased as a Cubs fan, I do think their home field at Sloan Park in Mesa is one of the best places to catch a spring training game. It's the newest and the largest park with a capacity of 15,000, with a lively atmosphere. An outfield lawn area is perfect for families—or if you're working on your tan—as you can bring blankets, towels and stadium-style seats to relax on the grass. Stop by adjacent Riverview Park to cool off in their splash pad, or hang out at the open-to-the-public practice fields where you can watch your favorites work out.
Scottsdale Stadium in the city's downtown is a great park to see the Giants play ball from your view from tree-lined outfield lawns and the awning-shaded upper decks—or box seats if you've packed your sunscreen. For a taste of home, the stadium serves SF's Anchor Steam beer, garlic fries and beef brisket. Free parking and free city shuttles nearby help reduce your costs.
For a one-stop resort experience, you can base yourself at a desert oasis by Salt River Fields at Talking Stick. Home to the Diamondbacks and Rockies, the stadium is built on native tribal lands. If you're hungry at the game, try the stadium's signature Sonoran Dog: a quarter-pound hotdog with hickory-smoked bacon, pico de gallo topping, pinto ranch beans and a mayo drizzle. You can stay at nearby Talking Stick Resort, play at the adjacent Great Wolf Lodge Water Park, shop in the Pavilions Center, gamble at the resort casino, and play golf on the resort course.
Where to stay around Arizona
There's no shortage of lodging options in the greater Phoenix area, from five-star resorts to budget motels and AirBnb-style rentals.
While staying at a hotel closest to your favorite team's ballpark is convenient for managing game day commutes, if you want to immerse yourself in the local experience, then there's no better place to stay during your Spring Training trip than in Scottsdale's Old Town district. Its walkable neighborhood streets feature a diverse collection of restaurants, bars, shops, galleries, and more than a dozen hotels.
The Hotel Valley Ho on the outskirts of Scottsdale's Old Town is a stylish upscale mid-century modern retreat with great food, and a fun pool scene where you can sit in a cabana sipping a Sunsetter cocktail. (Imagine bumping into some of the movie stars and ballplayers who stayed here in the late 1950s.) The hotel is offering a Play Ball Package through March 31, with 20% off room rates, a souvenir baseball, a free burger or sandwich and $50 daily poolside food and drink credit, plus half-off daybeds and cabanas Monday through Thursday.
For more of a Wild West resort experience, stay at the edge of the desert in Peoria northwest of Phoenix at the Cibola Vista Resort. The villa-style complex with swimming pools and a spa is a quick commute to Peoria Sports Complex for Brewers and Padres games, and also hosts Cowboy Cookouts and horseback trail rides.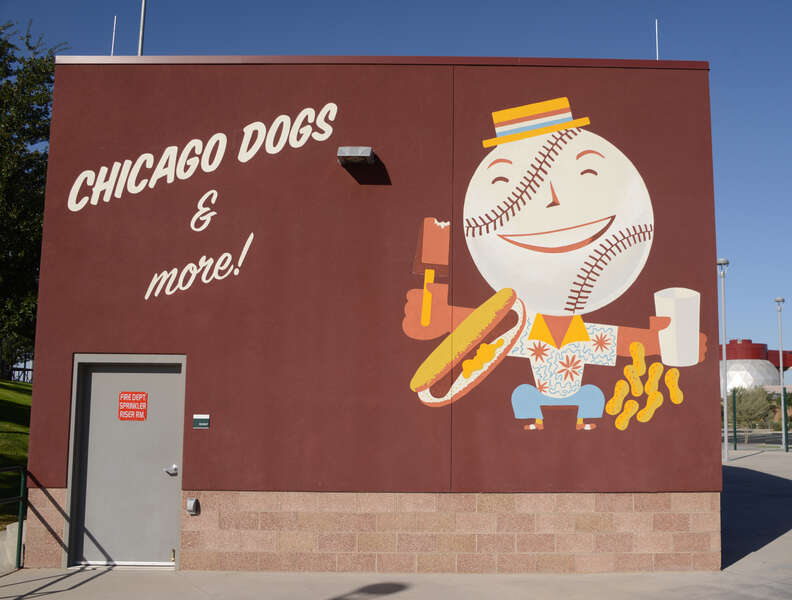 Where to eat and drink around Arizona (besides stadium hotdogs)
Food and drink at Arizona Spring Training has come a long way from the old days of stale hotdogs and flat beers in dusty old stadiums. The modern parks offer gourmet menus and microbrews on tap (with upscale prices to match).
Plenty of great food and drink options are located near the stadiums. If you're looking for an old-school baseball vibe, visit an outpost of Chicago's Portillos' near Sloan Park in Tempe, as well as locations in Scottsdale, Glendale, and Avondale for a hotdog with all the fixin's.
Many Giants fans gather near Scottsdale Stadium for meals at the RnR Gastropub. Start your pregame party with Keep 'em Coming mimosa and bloody mary brunch drink specials, and soak up the alcohol with breakfast burritos or pulled pork sandwiches.
After the game, get some grandstand seats for amazing Arizona sunsets with cocktails at Scottsdale's 7th floor Outrider Rooftop Lounge at the Canopy. Firepits (and prickly pear margaritas) warm you up on chilly desert nights as you recount the day's game action and plan for tomorrow's ballpark visit. Those looking to extend the night can party late with drinks and live music at the long-time Scottsdale institution, the Rusty Spur Saloon.