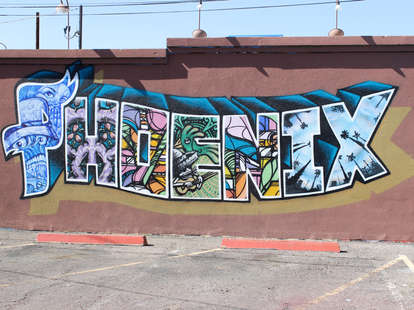 Jamie Killin/Thrillist
Jamie Killin/Thrillist
Street art is a phenomenon in Phoenix, particularly in the recently revitalized artsy and eclectic Downtown Phoenix area -- which, in addition to beautiful murals, hosts more and more art galleries, bars, restaurants, and record stores. While strolling down Roosevelt Row, it's hard to make it 10ft without seeing a mural, but we've rounded up the best of the best for your viewing pleasure.
Phoenix
Artists: Colton Brock, Lalo Cota, Angel Diaz, Pablo Luna, and JB Snyder
2814 North 16th Street (Behind Barrio Cafe)
One of the Calle 16 Mural project murals, this piece was created by five notable Phoenix artists to showcase some of the best (and more diverse) aspects of the city. The fun block style is unique, and the various styles of its artists make the mural stand out from the other pieces around town.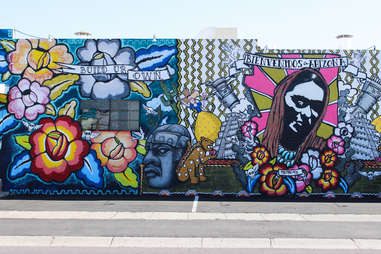 Bienvenidos a Arizona
Artists: Gennaro Garcia and DOSE
2822 North16th Street
Local restaurateur/chef Silvana Salcido Esparza brought several artists together for the Calle 16 Mural project (an arts, food, and culture district on 16th St). Bienvenidos a Arizona, by Gennaro Garcia and DOSE, was the first of these murals, and was created to inspire Phoenix's Latino arts community. The piece features an outline of the state of Arizona and boasts the sentiments Bienvenidos a Arizona and Build Your Own.
Untitled
Artists: Lalo Cota and Thomas "Breeze" Marcus
East McKinley Street at North 2nd Street
Commissioned by Angel's Trumpet Ale House, this mural was created by renowned street artists Lalo Cota and Thomas "Breeze" Marcus. Marcus was introduced to graffiti at the age of 13 and has been creating murals ever since; Cota has worked on countless murals, such as Phoenix and Find Your Direction, that can be found across the city (and in this article).
Tribute to Margaret Kilgallen
Artist: Carrie Marill
821 North Third St, on Roosevelt Row
This homage to renowned street artist Margaret Kilgallen is so iconic, it even has its own Downtown Phoenix Snapchat filter. It was also Marill's first piece of street art, and she decided to draw inspiration from Kilgallen, whom she admired. The painting also incorporates nearby businesses: the books represent the library, and the flowers represent the (now-closed) Dougherty Wholesale Flower Co.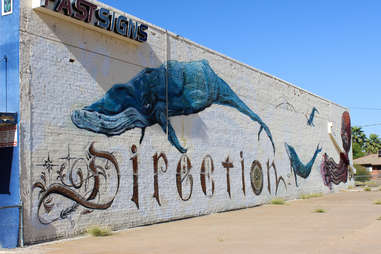 Find Your Direction
Artists: Isaac Caruso and Lalo Cota
2517 North Central Avenue
You might not expect to see a whale in Downtown Phoenix, but these two renowned street artists brought one right to you. The mural is on the side of the more-than-100-year-old FastSigns building. We like this piece because it stands out on its spot on Central Ave, and is stylistically different from many other murals in town. It's even different than either artist's traditional style.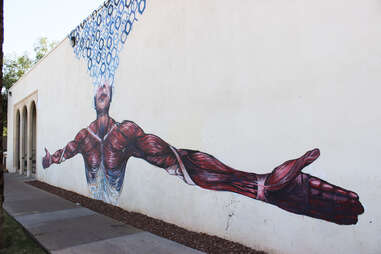 Untitled
Artists: Bishop Ortega, Larry Valencia, and Anthony Vasquez
924 North 1st Street, Roosevelt Row
Not much is known about this mural, which adorns the side of the stunning Roosevelt Community Church and was created by a congregant. But despite that, it still manages to be an integral part of the Downtown street art scene.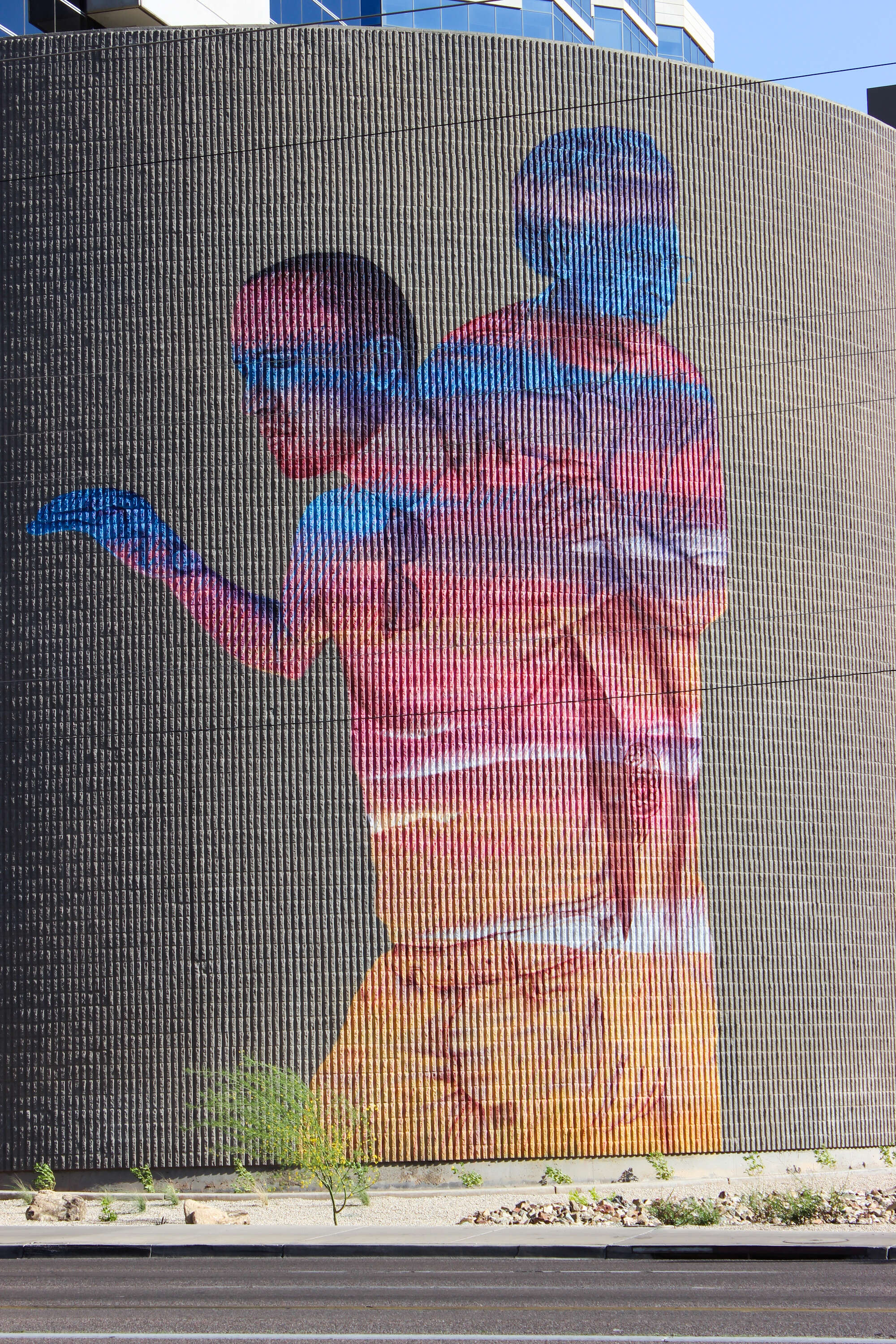 Generations
Artist: JBAK
West Thomas Road at North 1st Avenue
Jbak is a street art duo composed of James Bullough and Addison Karl. The masterpiece created by this duo is six stories high and the tallest mural in all of Arizona. Generations depicts Arizona native Chris Nieto (who commissioned another street art piece), as well as Addison's grandmother, also a Phoenix native.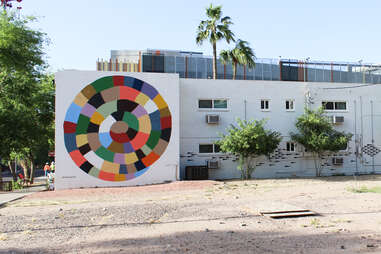 For the Love of Color
Artist: Carrie Marill
821 North 3rd Street
Carrie said she drew inspiration for For the Love of Color from a crochet decorative art piece on her wall. She added that she loves the symbolism of the spiral, which represents both entropy and growth.
Untitled
Artist: Tyson Krank
914 North 5th Street, Roosevelt Row
This piece was created during Paint Phoenix and lives on the back wall of Lost Leaf. Tyson Krank, who's been creating street art for about two years and also works at Lost Leaf, said he painted it on a whim without much of an outline or concept. The result was a beautiful yet simple portrait, with clean lines that make it stand out amongst many of the other pieces in the area. Krank, who also does studio painting, sculpture, and leather work, said he enjoys street art because the painting process often becomes a kind of community event.
Sign up here for our daily Phoenix email and be the first to get all the food/drink/fun in town.