This area certainly has no shortage of great hikes. Whether you venture to North Scottsdale or South Phoenix, travel east to Apache Junction, or even head out west, you'll find miles and miles of hikeable, bikeable, walkable, and horse-able (read: horseback riding) trails in the area. So pack your bag, bring a lot of water to balance out the triple-digit temperatures, and get ready to kick off summer in the Valley.
 
Superstition Wilderness Area
Apache Junction
Located east of Downtown Phoenix is the Superstition Wilderness Area. For decades it's been said there's buried treasure hidden in the mountains. While there's no guarantee of finding riches, you will find plenty of stunning views once you reach the top of Flatiron, a moderate hike with a 1,020 total elevation gain that's accessible from Lost Dutchman State Park. If you opt to trek the Superstition Ridgeline -- a difficult, inconsistently marked trail around 13-miles long -- you'll have a view that stretches all the way to the horizon. (Warning: we probably wouldn't recommend this one if you're either (a) inexperienced, or (b) terrified of heights.)
McDowell Sonoran Preserve
Scottsdale
This Scottsdale-area preserve is comprised of 27,800 acres of protected land with hundreds of miles of accessible multi-use trails. Tom's Thumb Trail, East End Trail (the highest peak in the McDowell Mountains), and Marcus Landslide are just a few of the accessible hiking and biking trails on the preserve. And apart from being a beautiful day trip, this place also offers possible glimpses of the Four Peaks mountain range in the distance if the weather is right.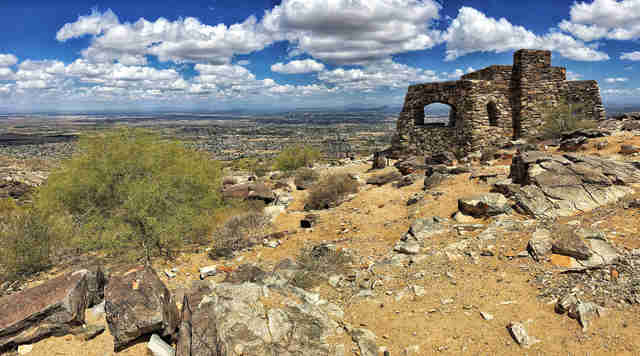 South Mountain Park and Preserve
Phoenix
It's one of the largest municipal parks in the country, and it's right here in our backyard. This Phoenix Point of Pride is comprised of 16,000 acres of land with dozens upon dozens of hiking trails winding through its peaks and valleys. Dobbins Lookout is the highest point in the park accessible via trail or by car (though Mount Suppoa takes the title of highest point, it's not reachable). If you're looking to check out Fat Man's Pass or Hidden Valley, both can be accessed via Mormon Trail.
White Tank Mountain Regional Park
Phoenix
West of the city is White Tank Mountain Regional Park. This area offers trails for biking, hiking, and even horseback riding. From base to peak there's a climb of nearly 4,000ft, but you don't have to make it all the way to the stop to enjoy the wilderness. There's plenty of hiking areas in the lower elevations that provide picturesque views and scenery (see: Waterfall Trail, Ford Canyon, Mesquite Canyon Loop). Pay close attention to your surroundings while you're here; this site is filled with ancient petroglyphs left by the tribes who once lived in the area.
Sunrise Peak
Scottsdale
This trail, a 9.3-mile loop, provides views of Four Peaks, Phoenix, Scottsdale, and nearby Fountain Hills. The hike takes about two hours to complete, so be sure to bring plenty of water to stay hydrated in the desert heat (seriously, it's summer). Compared to some of the other hiking spots around the city, this place is considerably low-use, making it one of the most underrated hikes in Phoenix. It's definitely worth checking out if you're willing to accept the challenge.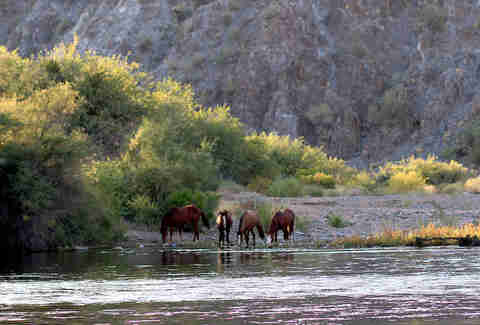 Phon D Sutton Recreation Area
Lower Salt River
Mesa, Arizona was recently ranked third in the country for "Best Places for Outdoor Lovers." The area is home to dozens of trails, leaving no shortage of opportunities for an outdoor adventure. One of the must-see spots is the Phon D Sutton Recreation Area located 16 miles northeast of Mesa, off the Salt River. This Lower Salt River spot is a great stop-off point while tubing down the river. It also offers plenty of opportunity to see some wildlife. Who knows, you might even spot a herd of those famous Salt River Horses.
Usery Mountain Regional Park
Mesa
Just north of the Phon D Sutton Rec Area is another Mesa hiking spot: Usery Mountain Regional Park. It's not only a popular hiking destination with easy-to-moderate trails (Vista and Merkle), but it's also a well-known spot for explorable caves and towering cacti that line the landscape. Not to mention its various campgrounds and picnicking areas.
Saguaro Lake
Tonto National Forest
Saguaro Lake is located just 40 miles outside of Downtown Phoenix, and it's the closest lake to the city. Lovers of the outdoors can set up camp or set out on foot on one of the many trails. We'd recommend Butcher Jones Trail: a six-mile, easy-rated, scenic route that extends to the northern arms of the lake. Since it's located inside the Tonto National Forest, a pass and a fee are required to visit this spot.

Sign up here for our daily Phoenix email and be the first to get all the food/drink/fun in town.