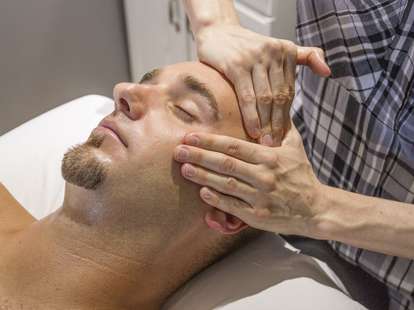 Photo provided by Jordan Moore of Panacea Media
Photo provided by Jordan Moore of Panacea Media
You might think that, with a name like We Do Men, there's some debauchery going on behind the walls of this "for men only" spa in Scottsdale. (The guys who secretly try to snap photos of the signage outside certainly think so.) We assure you, there's nothing raunchy or illegal happening. But that doesn't stop Stacey Grondahl, aka "The Boss Lady," her staff, or frequent spa goers from joking about happy endings.
(Spoiler alert: you're not getting one here.)
So, what's really going down inside this place? I'm not a guy, but I was granted special, one-time-only, high-clearance access to find out what it's truly all about. So here's (almost) everything happening at Scottsdale's very own just-for-dudes spa, We Do Men.
Guys get manhandled by a pro
Stacey is the ultimate manhandler -- again, in a legal way. We're talking beards, brows, mustaches, even that gross ear hair you have. Whatever part of your face needs some (or a lot of) work, she's got you covered with a fresh manscape.

They put booze on your face
Remember that sake bomb you took like a champ that one weekend? Turns out it isn't just useful for a good time; it's also great for your face. The Boss Lady says that sake is basically the secret to eternal youth. Japanese geishas take a shot every night and drench their faces in sake to look young. Apparently it works. (The more you know!) You'll notice the spa menu has a lot of booze-inspired offerings listed. And who knows, your favorite cocktail might be a great way to freshen up your face. But that alone shouldn't be a reason to try it at home. Let Stacey do it for you.
You can buy some cool shit... like ball wash
Given that Stacey and the staff of We Do Men know their stuff, you can rest assured that everything in the shop is on point. From soaps and perfumes, to organic deodorant, to things like ball wash (yes, ball wash), to products from Indie Lee and RA, everything is sourced from great local shops around the country.

They treat your sunburn
Many of us have been there: it's 2pm on a midsummer Saturday; you may or may not have had (but probably did have) a few too many, and you're passed out poolside. You wake up three hours later and, oh no, you can't feel your face! Well, this is Arizona, friends: it's hot, and the sunburns are unforgiving. If it looks like you've got a third-degree burn on your forehead at the end of the day, do yourself a favor and don't try to treat the mess. We Do Men handles bad burns with a soothing, replenishing, and repairing treatment that'll have your burnt-up mug looking good as new.
To better help you avoid that look next time around, Stacey says ALL men should have three things in their bathroom: a good cleanser, a solid moisturizer, and a facial sunscreen (especially true for the guys here in Phoenix).

Deodorize more than just your body
Think your au naturel home fragrance is just fine? Well, it's probably not. Sorry, nobody likes the smell of musty gym clothes and three-day-old take-out boxes. So stop by We Do Men, pick up a man-scented candle from 1820 House's Rust Belt Collective, and burn the hell out of it. Trust me, your dating prospects will appreciate it.

Take a nap at your own risk
Hey, there's nothing wrong with a little mid-afternoon shut-eye. The spa has a nice private back patio with all the fixings to keep you comfortable. But remember: if you fall asleep, we can't guarantee your friends won't Snap it. That's on you.

Drink some stuff that's good for you
So, you've decided to do something good for your face. Great! Now drink something good for you, too. We Do Men has a case full of cold-pressed Karma Juice, which is both local AND organic, ready for you to try out during your stay.

Join the staff for happy hour
Grab a facial, then get your drink on at either a nearby bar or the spa itself, and indulge in their happy hour specials. They're open until 7pm on weekdays and 4pm on the weekends. Plan accordingly.
Sign up here for our daily Phoenix email and be the first to get all the food/drink/fun in town.
Lauren Topor is a writer living in Phoenix who never leaves the house without sunscreen. Be like Lauren. Follow her outside of her house and around the Valley on Instagram and Twitter.