The holidays are here again, and just because there is no snow on the ground doesn't mean you can't get your ice skating fix. The saguaros are decked out in string lights, cocktails are pouring, and there's plenty of holiday spirit (and spirits) to go around. We made a list and checked it twice -- now get your winter coat, crank up the Christmas tunes, and get ready to light the menorah at these can't-miss holiday events.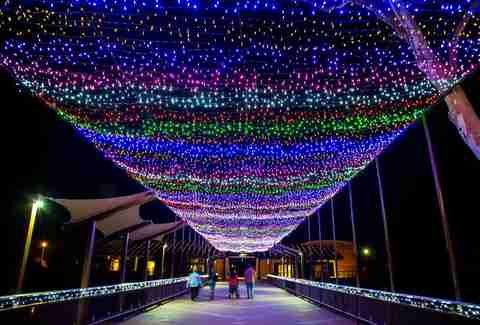 Phoenix
The brightest lights in Phoenix are sure to be brighter than ever this holiday season as Zoo Lights celebrates its 25th year. Running throughout the month of December until Jan. 6, Zoo Lights is one of the largest holiday light shows in the country. The zoo will be decorated with millions of lights, hundreds of light displays, and lakeside music-in-motion shows to get you in the holiday spirit.
Phoenix
Enjoy a southwestern tradition that includes American Indian live music and dance performances at the museum's Steele Auditorium, Dec. 26 - 30. Hungry? There will be fry bread and fry bread tacos onsite everyday from 11 am until 3 pm. Santa won't be there, but by this time you'll already have had enough of traditional holiday celebrations.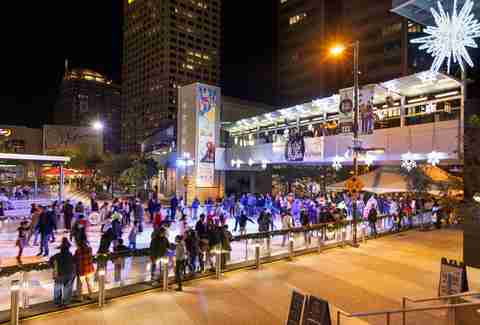 Downtown Phoenix
Not only does Downtown Phoenix's Hotel Palomar have a great bar and restaurant in Blue Hound Kitchen & Cocktails, it is just steps away from all of the festive excitement happening at CityScape. There, you'll find the Valley's most popular (and largest) outdoor ice skating rink. And lucky for your out of town guests, the hotel is offering up admission to the rink as well as skate rentals with the room. Part of that holiday package also includes a free in-room holiday movie rental and hot toddies in the hotel's "living room" each night from 5-6 pm.
Old Town Scottsdale
Single? Jewish? Put Mazelpalooza on your calendar for Christmas Eve. The annual event draws thousands out on Christmas Eve, and this year Maya Day and Night Club in Old Town Scottsdale will be hosting the epic gettogether. Beer, wine cocktails and the signature Mazelpalooza drink will be served, just don't overly imbibe and end up in Maya's pool -- we know you don't want to ruin your holiday sweater. Tickets to the event benefit the Jewish Federation of Greater Phoenix and can be purchased online.
Downtown Tempe
This might be one of the coolest light parades in the Phoenix area, it is certainly the most unique. Downtown Tempe's 17th annual boat parade on Dec. 10 draws crowds from around The Valley, and it's the only time that motorized boats are allowed on the Tempe Town Lake. This year there will be live music, beer, wine, food, and a fireworks show to wrap up the floating parade.
Old Town Scottsdale
If you're searching for a little Christmas cheer to go with you cocktail, don't pass up this spot. At Scottsdale's oldest tavern, which is also among Phoenix's best dive bars, Coach House decks the halls, ceiling, walls, and everything else in between with stockings, lights, bows, ribbons and ornaments. We really don't know how Coach House doesn't blow an electrical circuit every December. Need to escape the relatives? The tavern opens up their doors at 6am on Christmas Day.
Get festive with Hornitos® Black Barrel® Tequila
If experimenting with your cold-weather cocktail lineup is your idea of festive good times, try mixing in this premium aged Añejo further matured in deep charred oak barrels for four months to get a rich smoky flavor, and another two months in specially toasted barrels that add more depth and distinct complexity.
Mesa
Get your holiday shopping done at the Mesa Arts Festival. On Dec. 10 and 11, the Downtown Mesa event will showcase original works from local, regional, and national artists. There will be live entertainment, including music, as well as live artist demos. Both admission and parking are free to this festive art gathering.
Phoenix
Throughout the month of December, the gardens will be illuminated in true southwest fashion to celebrate the season. Enjoy a range of live music, from classical to mariachi, spiked cider, and hot cocoa amongst a backdrop of native southwestern botanicals while 8,000 hand-lit luminaries and thousands of string lights twinkle at Temper's DBG. Las Noches de Las Luminarias is already sold out on Christmas and the day after, but you can still get your mitts on general admission tickets for Dec. 9-11, 16-18, 20-23, and 27-31.
Downtown Chandler
Only in the southwest can you find a giant tree made of tumbleweeds. Yes, tumbleweeds. It's a tradition that dates back 60 years, and today Chandler is the only city in the southwest that has such a tree. Standing at 25 feet tall, it takes 20 gallons of white paint, 25 gallons of flame retardant, 1,200 lights, and 65 pounds of glitter to make this thing resemble a Christmas tree. More than 1,000 tumbleweeds are needed to build the tree, which are collected from the outskirts of the city throughout the year by park crews.
Downtown Phoenix
Who doesn't love a good holiday classic? Grab a blanket and cozy up in Patriots Park on Dec. 9 to catch a double-feature of Home Alone 2 and Elf. It's free, plus there are giveaways. Need plans after the credits roll? Some of Phoenix's best bars are downtown and within walking distance from the park.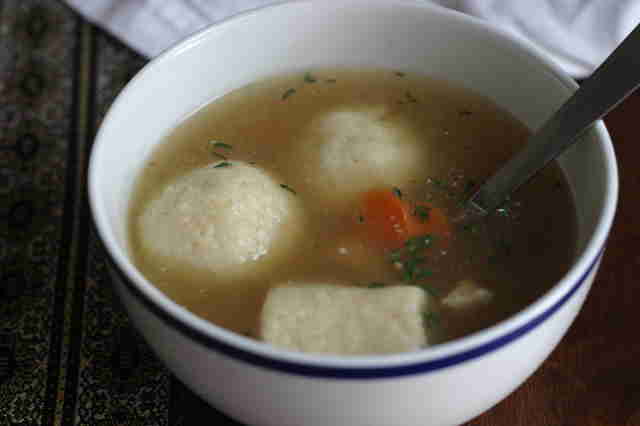 All locations: Phoenix, Tempe, Scottsdale, Chandler, Glendale
The Valley's favorite deli will be offering Hanukkah dinner for the eight days of Hanukkah, which runs Dec. 24 through Jan. 1 this year. The festive holiday feast includes salad or soup, an entree such as stuffed cabbage rolls or chicken schnitzel, two sides, house-baked rolls and dessert. The bagel makers even offer a take-home version, in addition to other holiday staples like challah bread and matzo ball soup.