The Biggest Differences Between Phoenix and Scottsdale
<strong>Phoenix, Arizona |</strong>&nbsp;<a href="http://www.shutterstock.com/pic-112000655.html" target="_blank">Andrew Zarivny/Shutterstock</a>
If you look at a map of Arizona, Phoenix and Scottsdale are right next to one another. Yet the fact that they're in the same state is probably one of the only things the two have in common. Full disclosure: we're not even sure if Scottsdale is its own city, or just part of Phoenix and too ashamed to admit it. What we're trying to say is that they're both unique in their own way. Scottsdale is probably -- OK, definitely -- the more upscale of the two, while Phoenix is more of the everyman's city. But what are the real differences between these two cities (or two parts of one big city)? Read on.
Phoenix: Knows shopping choices are slim. Sure, there's Biltmore Fashion Park and CityScape, but it's fully understood that both aren't really worth it. Not even Paradise Valley Mall.
Scottsdale: Realizes it has the best shopping scene in Arizona, and doesn't have to say much more than "Scottsdale Fashion Square" or "Kierland Commons" to make a solid argument.
Phoenix: Knows that it's home to the Arizona Diamondbacks' stadium, and is damn proud of that -- largely because the team won the 2001 World Series (and probably because the stadium isn't in Scottsdale).
Scottsdale: Gets a lot of city pride from a lesser-known team: Scottsdale Community College's Fighting Artichokes. And yes, an artichoke is really the mascot.
Courtesy of Phoenix Art Museum
Phoenix: Is proud of the class and culture that is The Phoenix Art Museum.
Scottsdale: Would gladly put The Museum of Contemporary Art up there as the true picture of class and culture. Plus, the city knows it gets extra credit for housing the Musical Instrument Museum.
Phoenix: Loves that it's home to some of the best quick & easy food in the state (lookin' at you, food trucks).
Scottsdale: Doesn't care about quick food, and would rather have people dine out at one of the more upscale, expensive establishments around town.
Phoenix: Is the capital of Arizona.
Scottsdale: Isn't. 
Phoenix: Has a reputation for having the nicer city dwellers in Arizona, but also the ones who most likely came up with the "Snobsdale" moniker.
Scottsdale: Is totally cool with having earned the "Snottsdale" and "Snobsdale" nicknames.
Phoenix: Is rising above the old cowboy stereotype and gaining notice from the rest of the country, mainly for having hosted the Super Bowl back in 2014.
Scottsdale: Apparently has the nickname: "The West's Most Western Town."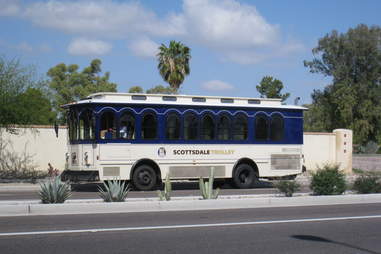 <a href="https://flic.kr/p/6eCJsM" target="_blank">Flickr/Dru Bloomfield</a>
Phoenix: Knows the public transit system isn't much to brag about, but loves that there's a functioning light rail.
Scottsdale: Has a super cute trolley system.
Phoenix: Only needs craft beer and live music for a great night out.
Scottsdale: Will probably require a weird mixture of DJs, fake boobs, and a lot of vodka to have some real fun.
Sign up here for our daily Phoenix email and be the first to get all the food/drink/fun in town.
Jamie is a Phoenix native who has experienced the highs and lows of Phoenix and Scottsdale. Follow her adventures around the Valley on Instagram @jamiefayekillin.