If there is such a thing as a perfect season, it might just be autumn. It's the time of year when The Valley comes back to life after a sleepy summer, bursting forth with festivals and celebrations of all kinds. Want to taste through a multi-course menu at a new restaurant? Make a reservation during Arizona Restaurant Week. Craving German food? Satisfy your cravings for Bavarian eats at an Oktoberfest celebration. Maybe you want to get reacquainted with the local businesses in your neighborhood? The Arizona Fall Fest can help you do just that. So, go ahead. Get out there and enjoy everything that Phoenix's best (and most perfect) season has to offer. Here's everything you need to do in Phoenix this fall.
Friday, September 20 - Sunday, September 29 
Various locations
Bring your appetite to one (or several!) of the 183 restaurants participating in this season's Arizona Restaurant Week. Presented by the Arizona Restaurant Association, this culinary event encourages people to support the restaurants in their neighborhoods and beyond. Browse the full list of participating restaurants here. Reservations are encouraged, but not required.  
Cost: Prix fixe menus available for $33 and $44
Friday, September 27 
Comerica Theatre
Funnyman Tom Segura is bringing his hilarious Take It Down Tour to Comerica Theatre. Snag your ticket while you can. The one-night-only show starts at 7:30 pm. Can't make it out? His latest comedy special Disgraceful is streaming on Netflix right now. And you can always get your laughs at Your Moms House. 
Cost: Tickets start at $59
Friday, September 27 - Saturday, September 28
Rawhide Western Town & Event Center, Chandler
These two EDM hitmakers aren't the only artists who will be playing at Gold Rush Fest. Alison Wonderland, Bijou, DJ Diesel (Shaq, baby!), Don Diablo, Ghastly, Shek Wes, and TroyBoi -- to name a few -- will also be performing sets at the thumping two-day music festival. Get all of your Gold Rush news here.   
Cost: $99-$399 per day or $160-$649 for a weekend pass
Saturday, September 28 
404 S. Mill Ave., Tempe
Live music at Hayden Square Amphitheatre is back after a too-long hiatus. The Mill Avenue site was once an epicenter for live performances back in the '90s and now the Hay Day Music Festival will reignite the venue with a daylong music fest featuring Roger Cline & the Peacemakers, The Pistoleros, and Las Calakas. Drinks including craft beer and cocktails will be provided by Pedal Haus and Ted's Refreshments. 
Cost: $40-$120
Saturday, September 28 
Civic Space Park
Need an excuse to drink beer and feast on Bavarian food? Downtown Phoenix's Oktoberfest celebration is the excuse you've been searching for. The fest will have all of the merriment that Oktoberfests are famous for, plus a brat-eating contest and a stein-holding competition. There will be traditional live polka music, too. Bring your dancing shoes and, of course, lederhosen!  
Cost: $10-$30
Saturday, September 28 
Nile Theater, Mesa
Happening at The Nile Theater in Mesa, this independent pop culture music fest will bring out national and local artists alike. Mystery Skulls, Armors, and Phangs will be there. Peep the entire artist roster here. 
Cost: $20
Ongoing
Worldwide
Getting treated like a VIP takes any beer festival, barbecue showdown, or sporting event to epic levels, and as a Marriott Bonvoy member, you'll be able to cash in on luxury experiences across the globe with points. Marriott Bonvoy offers benefits and endless experiences at more than 7,000 hotels worldwide, so whether you're into live music, Michelin-star restaurants, or box seats, you're bound to find a perk that fits your lifestyle. Of course, they have you covered on where to stay if you want to make a weekend of it, too. 
Cost: Free to join
Saturday, September 28 - Sunday, September 29 
Queen Creek Olive Mill, Queen Creek
Get a taste of the freshest garlic in town at the Queen Creek Olive Mill Garlic Fest. Garlic lovers can pick up four different varieties of fresh, organically grown garlic at the two-day fest. Snag some garlic olive oil while you're at it, and you can't leave without tasting their iconic garlic gelato or garlic cupcakes.  
Cost: Free
Tuesday, October 1 
Comerica Theatre
This live concert experience from acclaimed composer Ramin Djawadi (the same composer from Westworld) will bring the world of Westeros to The Valley during the Game of Thrones Live Concert Experience. The show will take fans on a visual and musical journey through the Seven Kingdoms spanning all eight seasons of the award-winning series in an immersive experience like no other. The show begins at 8 pm.  
Cost: Tickets start at $39.50
Friday, October 4 - Sunday, October 6
St. Katherine Greek Orthodox Church, Chandler
Bring your appetite to this food fest. Dolmathes, spanakopita, gyros, Greek fries, flaming cheese, and baklava are just some of the fine Hellenic cuisines you can sample at A Taste of Greece. In addition to the Greek eats, the Chandler festival will also have a marketplace brimming with Greek imports, traditional folk dancing, and performances that highlight Greek culture.   
Cost: $5
Friday, October 4 - Sunday, October 27 
1826 W. McDowell Rd.
Where else can you get deep-fried Twinkies and funnel cakes covered in mountains of powdered sugar goodness, all in one place? There's absolutely no arguing it. The Arizona State Fair is a Mecca for all things deep-fried and covered in sugar. After you've stuffed yourself silly, go for a leisurely ride on the Ferris wheel or see a show. Mega artists like The Cult, Lee Brice, Billy Currington, Trace Adkins, and Lil Pump are just some of the musical acts that will take the stage over the nearly month-long extravaganza. 
Cost: General admission tickets start at $6
Saturday, October 5 
Tempe Beach Park
Taking over Tempe Beach Park, this festival will see live music, entertainment, games, food, and of course, plenty of beer. New Belgium Brewing Company's Tour de Fat is in its 20th year and has raised close to $6 million for bike-related non-profits since its start. The bike parade starts at 11am and the other festivities (including a dance contest) will be happening from 1pm to 6pm.
Cost: Free
Thursday, October 10 
Phoenix Zoo
If you've ever thought that drinking beer at the zoo sounds like a pretty fun thing to do, this event is for you. Roars & Pours is a happy hour experience at the Phoenix Zoo that not only features beer and wine but entertainment, games, and animal shows. Get your tickets and see the full lineup of entertainment here.  
Cost: $10 
Friday, October 11 - Sunday, October 13
Tempe Town Lake
Congratulations: You now have another excuse to devour schnitzel and drink a stein or two of some fine German-style bier. The 47th annual Four Peaks Oktoberfest celebration will offer Bavarian-themed eats and yes, lots of beer. There will also be live music across three stages, a dachshund race, a kickball tournament, and even a carnival. Prost!
Cost: Free admission (VIP options available)
Saturday, October 12 - Sunday, October 13
WestWorld of Scottsdale
This OG taco festival is back for its 10th year. And this year promises to be bigger and tastier than ever. Taco teams from more than two dozen restaurants and trucks from around the region will be dishing out all types of tacos over the course of the two-day festival. There will be live music, lucha libre wrestling, eating contests, and one taco team will take home a taco crown and prize money. There's even a chihuahua pageant on the schedule. See the full lineup of events here. 
Cost: Free-$220
Friday, October 18 - Saturday, October 19 
Apache Lake Marina & Resort
The 10-year anniversary of the Apache Lake Music Festival is happening this October. The two-day music fest features a lineup of more than 25 bands from around the state of Arizona. There are also first-come, first-served primitive camping options up for grabs around the marina at Apache Lake. Get the answers to all of your fest-related questions here.   
Cost: $60 
Saturday, October 19 
Cider Corps, Mesa
Happening at Cider Corps in downtown Mesa, Arizona's first (and largest) craft cidery, this all-things-cider festival brings out cider makers from all over the Southwest region. The fest will include samples of both regional and locally made ciders plus food trucks and live entertainment. Can't make it to the fest? You can try Cider Corps' unique craft ciders (or cider slushies) anytime. After all, it's one of the best places to drink at in Phoenix right now. 
Cost: $35-$50 
Saturday, October 26 - Sunday, October 27
Mesa Arts Center
Held over pre-Halloween weekend, the Mesa Arts Center's Día de los Muertos festival is a celebration of the increasingly popular Mexican holiday. The free Day of the Dead celebration will feature artist demos, altars created by local artists, more than a dozen live performances, and a marketplace. 
Cost: Free
Friday, November 1 - Sunday, November 10 
Harkins Shea 14 Theatre & Scottsdale Center for the Performing Arts
This year, the Scottsdale International Film festival is celebrating its 19th season. Taking place over the course of 10 days, the film-focused event showcases flicks from an array of genres from lighthearted comedies to period dramas chosen from around the world. You can take part in the screenings or additional events at two Scottsdale locations: Harkins Shea 14 Theatre and the Scottsdale Center for the Performing Arts.  
Cost: Ticket prices vary by event
Saturday, November 2 
Hance Park
When you show support for local businesses, you're also pumping dollars into the local economy and keeping jobs in the local community. This November you can show your love to more than 200 local businesses at Arizona Fall Fest, a free community-driven event developed by Local First Arizona. In addition to vendors ranging from coffee roasters to breweries to food trucks, the fest will also feature live music from Arizona musicians and cultural performances from groups around the state. 
Cost: Free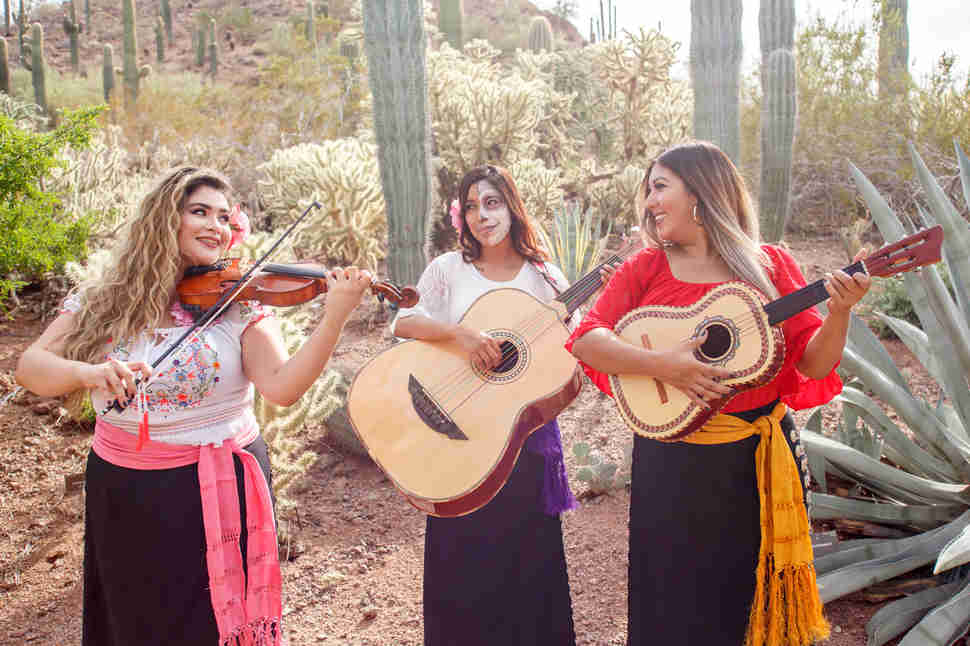 Saturday, November 2 - Sunday, November 3 
Desert Botanical Garden
This two-day festival at the Desert Botanical Garden will be filled with dance, music, and storytelling. Each day of the Día de los Muertos celebration ends with La Procesión, a procession of audiences and performers through the garden with a traditional burning of the troubles, from 5-6pm. Learn more about the Day of the Dead celebration and the ofrenda exhibit at DBG here. 
Cost: Included with garden admission
Sunday, November 3
6th Street Park, Tempe
With the return of the semi-cooler weather, seasonal markets return too. Which means it's prime time to shop and explore downtown Tempe's 6th Street Market. This carefully curated market highlights unique Arizona-made goods ranging from artwork to edible goodies, opening for the season on November 3 and running Sundays through April 5, 2020.
Cost: Free
Friday, November 8 
The Duce
What happens when you combine pancakes, booze, and bodypainting? You'll have to head to The Duce to find out. The pop-up Phoenix Pancakes & Booze Art Show will see more than 300 unique works of art from more than 75 local artists. In addition to artwork (and lots of it), there will be a free pancake bar as well as interactive art experiences and live bodypainting.
Cost: $10-$13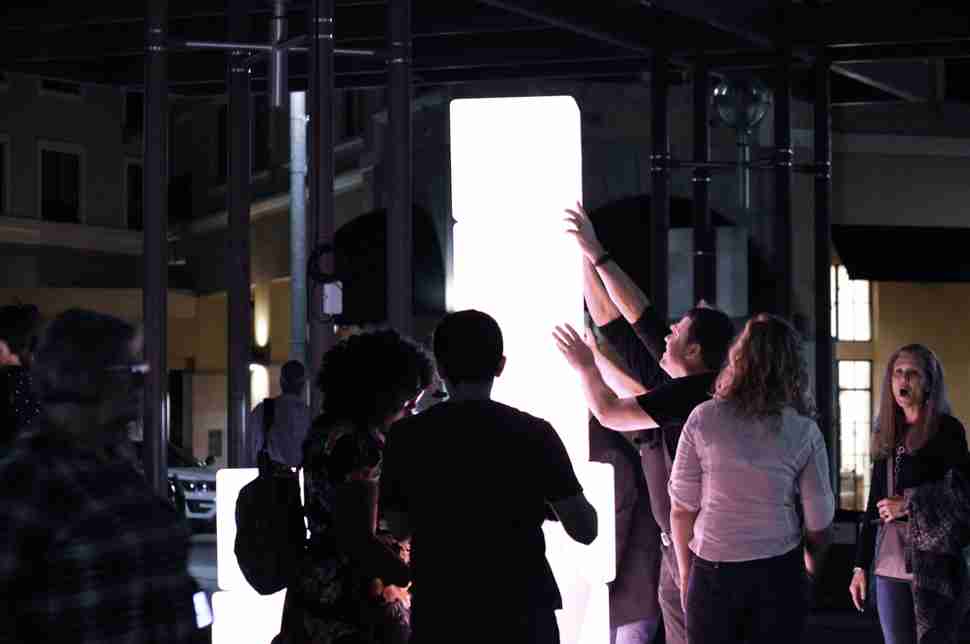 Friday, November 8 - Sunday, November 17 
Scottsdale Waterfront
Canal Convergence returns to the Scottsdale Waterfront this November. Presented by Scottsdale Public Art, The City of Scottsdale, and SRP, Canal Convergence features large-scale and interactive artworks, live music, dance performances as well as hands-on activities like workshops and artist talks across 10 days. The multi-day event is free and open to the public.
Cost: Free
Saturday, November 9 
Grand Avenue from the I-10 overpass to Van Buren St.
Presented by Grand Avenue Arts & Preservation, this anything-but-traditional walking festival spotlights area business and features art exhibits, tours, performances, craft-making sites, music, demonstrations, food trucks, vendors, and more. Learn more about the efforts of Grand Avenue Arts & Preservation here.  
Cost: Free
Saturday, November 16
Desert Botanical Garden
Hounds, mutts, and tail waggers are all invited to the Desert Botanical Garden for Dogs' Day in the Garden. Benefiting the Arizona Humane Society, this one-day event gives pups and their owners the opportunity to explore the garden trails and learn about local dog-related non-profits. And yes, there will be plenty of opportunities for photos.
Cost: Included with garden admission plus $4 per dog
Saturday, November 16
Hance Park
Exhale negativity, inhale pizza. The Phoenix Pizza Festival is back for another delicious year and we are so here for it. Here's the deal: the fest is basically all things pizza, which means you can get your fill of all the 'za your pizza-loving heart desires. More than 20 of The Valley's finest pizza makers will be there slinging slices. And there will also be live music, beer and wine, lawn games, and did we mention, pizza?   
Cost: $10
Saturday, November 16 - Sunday, November 17 
Scottsdale Civic Center Mall
The Arizona Asian Festival is a celebration of Asia's diverse cultures. More than 20 Asian food vendors will be offering up a taste of their cuisines including dishes like takoyaki, a Japanese snack that's typically filled with octopus, pickled ginger, tempura, and green onion. There will be cultural performances, dance and martial arts, plus a mix of exhibits meant to educate and inform visitors about Asian cultures. 
Cost: Free
Saturday, November 23 - Sunday, November 24
2nd Street between Goldwater & Marshall Way, Scottsdale 
Old Town Scottsdale is going to the dogs, literally. Dozens of doggos will fill the streets for Pet-A-Palooza, a two-day event dedicated to dogs with weiner dog and chihuahua races, dock diving for dogs, and more canine-friendly festivities. You'll even have the chance to do yoga with adoptable puppies. The festival is free, and of course, pet-friendly.
Cost: Free
Sign up here for our daily Phoenix email and be the first to get all the food/drink/fun in town.