The Coolest Events Happening in Phoenix This Winter
Sure, you could absolutely visit one of these cold-weather destinations this winter. Or you could stay put and stay warm (you can keep your Polar Plunge, New England!) We're embarking full-speed ahead into a new decade and the next couple of months are jam-packed will all types of events, which is more than enough reason to keep things local (in addition to the weather, obvi). Here's all the can't-miss wintertime stuff happening around Phoenix that you should probably add to your calendar. Seriously, add 'em.
Now through Tuesday, December 31 
Various locations
There's no snow on the ground, but who needs it when you've got a lineup of festive holiday traditions and events to get you into the Christmas spirit? Want to drink in a dive bar decked out in twinkly colored lights and kitschy holiday decor? There's Coach House, a Scottsdale watering hole dating back to 1959 that's been decking their halls for as long as we can remember. Around this time of year, you can also see Chandler's giant tumbleweed tree or take a stroll through Las Noches de las Luminarias at the Desert Botanical Garden. Who wouldn't be feeling festive after all of that? 
Cost: Varies
Thursday, December 19 
Phoenix Public Market
Listen up, procrastinators! If you haven't checked off all the names on your holiday gift list, let's be frank: you're pushing it, and time is ticking. Thankfully, the second running of Phoestivus is happening in Downtown Phoenix. Gourmet edible gifts and artisan goods are just some of what's up for grabs from the more than 200 vendors who will be in attendance at this annual outdoor holiday market. 
Cost: Free
Monday, December 30-Tuesday, December 31 
Rawhide Event Center, Chandler
Dubbed Arizona's largest NYE party, Decadence has exactly what you'd imagine the state's biggest New Year's celebration would have such as carnival rides, aerial performers, and some of the biggest names in electronic music, naturally. EDM superstars Dillion Francis, Diplo, Illenium, and Zeds Dead are all playing the two-day bass-thumping music fest. Peep the full artist lineup here. 
Cost: Tickets start at $129
Tuesday, December 31 
Roosevelt Row Welcome Center
Skip the sequins and dapper dress shoes and pull on your favorite flannel shirt instead. Such is the dress code for Flannel Ball, the Roosevelt Arts District's annual New Year's Eve celebration. There will be beer, live music throughout the event, an art show, flannel clothing available for purchase (for those who didn't get the dress code memo), lawn games, food trucks, a midnight countdown, and a pinata drop. Sounds pretty fun, right? And just think about how comfy you will be in your most cherished flannel. 
Cost: $15
Tuesday, December 31 
Various locations
We're headed into a brand new decade. And it seems more than necessary to celebrate this momentous occasion with not just one, but multiple New Year's Eve parties. The folks from Crescent Ballroom thought so too, so they're bringing revelers an unmissable NYE block party. There will be a '70s-inspired disco at The Van Buren and a rock planetarium inside of Crescent Ballroom, while the Blunt Club is taking over the streets for a hip-hop dance party. Plus, The Walter Show will be there with Kalliope to set the scene as DJ Sean Watson and some special guests spin along 3rd Avenue. Now that's what we call a party. 
Cost: $20
Barrett-Jackson

| Halie Sutton
Saturday, January 11 - Sunday, January 19
WestWorld of Scottsdale
In previous years, this annual auto auction has seen some pretty sweet rides including the original 1966 Batmobile, which rolled into a new bat cave after the highest bidder put up a cool $4.2 million. Barrett-Jackson brings out the big spenders to North Scottsdale each January, and this year is no exception. It's quite the spectacle, even if you don't have an extra $4 million just lying around. 
Cost: $21-$80 per day or $190-$195 for an all-event pass
Saturday, January 25 
Steele Indian School Park
Adorable puppies and kittens will be up for adoption at Steele Indian School Park during the fifth annual Phoenix Doggie Street Festival, the West's largest adopt-a-thon and pet celebration. In addition to the cute adoptable pets from local rescues, the fest will feature special guests and speakers, live music, eats for four-legged friends and people, contests, pet products for sale, plus vet tips and services. The Doggie Street Festival is pet-friendly, of course. 
Cost: Free
Saturday, January 25 - Sunday, January 26
Heritage Square 
So here we all are, more than halfway through January. How are those resolutions coming? If you resolved to drink more local wine, the Arizona Wine Festival is the fest for you -- offering no shortage of wines from around our great state's wine regions. The two-day celebration of all things Arizona wine will feature 25 Arizona-based wineries pouring more than 200 wines. The fest will also have live music, a vintage marketplace, and a short list of food trucks on site to hit up when your hunger strikes. 
Cost: $20-$25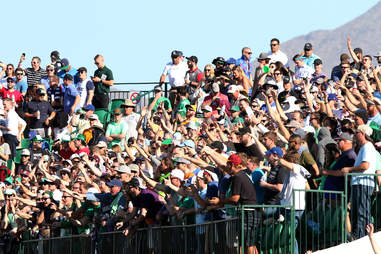 Waste Management Phoenix Open
Monday, January 27 - Sunday, February 2
TPC Scottsdale
Let's be honest. The Waste Management Phoenix Open is really just an excuse to day drink. Last year the PGA named it the best tournament of the year, which is nice. And between your trips to and from the beer garden, you might actually get to see some of the action on the course. All kidding aside (mostly), WMPO is a pretty great experience. If anything, it's awesome for people watching. Also, this year artists including Kygo, Miranda Lambert, G-Eazy, and Arizona's own Dierks Bentley will all be headlining the Birds Nest over the course of the tournament from Wednesday-Saturday. Secure concert tickets here. 
Cost: General admission free Monday & Tuesday; $45-$60 per day Wednesday-Sunday
Catch the big game at a local Valley hotspot 
Sunday, February 2
Various locations
Wait, is there a football game today? Kidding. Miami is hosting Super Bowl LIV but if you're not planning on jet-setting your way out to Hard Rock Stadium this February, you can certainly catch the big game without ever leaving town. (Even though Gronk Beach seems like it would be a really, really good time.) Tune in with millions of other football fans at Pedal Haus, The Park, or Whiskey Row, where the game will likely be the only thing on the televisions. 
Cost: Varies
Thursday, February 6 - Sunday, February 16
Various locations
Arizona sure loves its beer. In fact, we've got an entire week dedicated to drinking it. Produced by the Arizona Craft Brewers Guild, this annual celebration encourages beer lovers to raise a glass of their favorite pale ale, stout, or lager from one of the more than 100 breweries participating in 200+ events across the state. Events include pairing dinners, informative workshops on all things beer, and community-focused mixers happening at said breweries from Flagstaff to Tucson and the places in between. See the entire lineup of events here. 
Cost: Varies
Friday, February 7 - Sunday, February 9
Margaret T. Hance Park
This three-day festival features a series of educational, cultural, and social events that showcase the culture of China. This year, the 30th annual Chinese Culture and Cuisine Festival is celebrating the Year of the Rat with live entertainment including dragon and lion dances, martial arts demos, folk and traditional dancing, musical performances, and plenty of Chinese eats to feast on like steamed buns and noodles, plus beer and tea gardens. 
Cost: Free
Strong Beer Festival

| Lauren Reichert
Saturday, February 8 
Steele Indian School Park
Local breweries and brewmasters from around the country will be pouring their strongest beers for the 20th annual Arizona Strong Beer Festival. Whether strong in flavor or just in character, there will certainly be no shortage of brew here. The fest is set to see more than 130 breweries, so start "working out" now.
Cost: $15-$100
Saturday, February 8 - Sunday, February 9 
Desert Botanical Garden
Name a more picturesque spot to drink wine than the Desert Botanical Garden. We're waiting… Boutique wine and desert beauty are in bountiful supply at Corks & Cactus, where wine aficionados and, you know, regular wine drinkers can sample a selection of 40 wines against a backdrop of desert-dwelling plants and cacti. You can also see the latest garden installation, Wild Rising by Crackling Art, with your wine glass in hand. 
Cost: $40-$45
Saturday, February 8 - Sunday, February 9 
Civic Center Mall, Scottsdale
Arizona is made up of 22 Native American tribes, many of which will be in attendance at the Arizona Indian Festival. Held in conjunction with Scottsdale Western Week, the weekend-long festival highlights the customs, culture, cuisine, and traditions of Arizona's tribes. Native chefs and food professionals will also be sharing their culinary traditions at the Arizona Native Edible Experience, where guests can sample dishes prepared with indigenous ingredients. 
Cost: Festival free; Arizona Native Edible Experience $25
Saturday, February 15 - Monday, February 17 
Various locations
Maybe beer isn't your first drink of choice. For you, there's Arizona Cocktail Weekend. The President's Day weekend-long event features three signature events: The Cocktail Jam (February 15 at The Van Buren), Top Bars (February 16 at The Croft), and Last Slinger Standing (February 17 at Young's Market Company). There's also a bunch of smaller scale (but equally fun!) events happening, too. See the full event schedule here.  
Cost: Varies
Devour Culinary Classic

| Desert Botanical Garden
Saturday, February 15 - Sunday, February 23
Desert Botanical Garden
Come hungry, Phoenix! Devour Culinary Classic at the Desert Botanical Garden is the Southwest's premier culinary event. The two-day food festival brings out chefs and restaurateurs from some of the best restaurants in Phoenix and from around the state. Hungry for more? Don't forget to add Devour the World and the James Beard-hosted Seven Chefs Dinner to your feasting itinerary. 
Cost: Admission $25-$30 per day (does not include special events)
Monday, February 17 - Saturday, February 22
Various locations
This six-day event takes place in three different locations across The Valley and provides education, connection, and support to budding entrepreneurs. Learn something new at one of the more than 50 sessions or network like a pro at one of the happy hour mixers. 
Cost: $25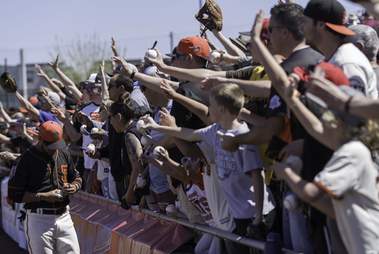 Cactus League Spring Training

| Kerrick James for Experience Scottsdale
Saturday, February 22 - Sunday, March 22
Various locations
Play ball! Cactus League Spring Training is officially underway. The Chicago Cubs, Texas Rangers, Seattle Mariners, San Francisco Giants, Los Angeles Dodgers -- and of course, the Arizona Diamondbacks -- are just some of the MLB teams that will be playing across The Valley this spring. Each spring training ballpark has its own hometown flair, like Sloan Park with its replica marquee and Wrigley Field facade or Hohokam Stadium where you can pick up some Bay Area favorite nosh from Ike's Love & Sandwiches through the seventh-inning stretch and find Lagunitas at every beer window. Snag your tickets.
Cost: Varies
Celebrate Mardi Gras and Fat Tuesday...without leaving town
Tuesday, February 25 
Various locations
A number of Valley bars and restaurants are celebrating Mardi Gras by offering up delicious eats like shrimp rolls, gumbo, king cake, and other authentic dishes with a Southern kick. So go ahead, satisfy your cravings for all things Cajun this Fat Tuesday along with everyone else who's indulging. Spots like chef Justin Beckett's Southern Rail, Creole Cajun Bistro, and Baby Kay's Cajun Kitchen are all solid options. 
Cost: No cover
Saturday, February 29 - Sunday, March 1
Tempe Beach Park
Once Cactus League Spring Training starts, baseball fans will be flocking to Phoenix. Instead of cursing the influx of traffic and obviously longer lines at the bars, embrace all that spring training season has to offer...like the Innings Festival. Happening at Tempe Beach Park, the baseball-themed fest draws headliners from all music genres and includes some must-do activities and experiences, including appearances from current and former players, a food court with Southwestern-style eats on deck, and a pop-up from Zia Records. Dave Matthews Band, Weezer, Portugal. The Man, and Death Cab for Cutie are just a few of the artists who will be rocking the two-day event. 
Cost: Tickets start at $99
M3F
Friday, March 6 - Sunday, March 8
Margaret T. Hance Park
A Valley tradition since 2004, M3F draws festival-goers from all over and musical acts from around the world to Downtown Phoenix. In addition to the three days of music performances, the fest has live art experiences, a marketplace where you can shop for unique goods, outdoor yoga sessions, and group drum circles led by AZ Rhythm Connection's Frank Thompson. Indie folk rockers Bon Iver and house music trio Rufus du Sol are headlining this year's event, with all of the proceeds benefiting local nonprofit organizations. Secure your tickets here. 
Cost: Tickets start at $65 
Saturday, March 7 
7th Avenue, Melrose District
Hundreds of booths are taking over 7th Avenue in the Melrose District for the annual Melrose on 7th Avenue Street Fair. The award-winning fair offers all sorts of stuff you can buy, from indie crafts to artwork. There's also a car show, farmers market, live music performances from local acts, and a craft beer garden along the half-mile stretch. 
Cost: Free
Friday, March 13 - Sunday, March 15
Scottsdale Civic Center Park
The Scottsdale Arts Festival is celebrating 50 years with three days of art, music, and food at Scottsdale's Civic Center Park. See local artists at work during one of the festival's workshops, hit up the food trucks and grab some mustache-shaped pretzels, or just kick back on the lawn and take it all in. Proceeds from the Scottsdale Arts Festival benefit local art initiatives and programs.   
Cost: $10 per day or $16 for a two-day pass
Go bottoms up at Phoenix's top Irish bars for St. Patrick's Day
Tuesday, March 17 
Various locations
Here in Phoenix, we might not turn the river green like they do in Chicago or have a parade that's been happening for more than 100 years like in Boston. But we've got our own type of traditions (none of which involve green beer, thankfully.) What are those traditions, exactly? Hitting up a finely curated list of the top local Irish bars when St. Patrick's Day arrives. Keep the tradition alive and go have a beer (or 17) at Casey Moore's, Rula Bula, or Chambers.
Cost: Varies
Sign up here for our daily Phoenix email and be the first to get all the food/drink/fun in town.
Lauren Reichert is a Phoenix-based multimedia storyteller and content creator who's definitely staying local this winter. Her work has been featured in local travel guides and national publications. Follow her on Instagram @hungryinphoenix.