12 Reasons to Drive to Sedona, Arizona
From stunning hiking trails to renowned psychics, there are plenty of activities to make this a weekend trip to remember.
In need of a post-holiday, pre-spring getaway? Us too. Use your weekends to your advantage with a quick trip to Sedona, a desert town of 10,000 residents that's one of Arizona's most scenic spots and under two hours from downtown Phoenix. You'll soak in the beauty of the red rocks, hike through a mystical vortex, dine by Oak Creek, and peruse the local, one-of-a-kind shops. Plus, you can even take a look into the future with one of the town's many psychics, if you're into that kind of thing. To help you plan the perfect trip to this relaxing New Age destination, we've rounded up a list of Sedona's can't-miss activities.
Sip your way through the Verde Valley Wine Trail
Love wine? Then it's worth trekking less than 20 minutes out of Sedona to explore the Verde Valley Wine Trail centered in the neighboring town of Cottonwood. As the center for Arizona's wine community, the trail offers more than two dozen wineries and tasting rooms, and you can even make a day of it by filling up your Verde Valley passport when you make 10 stops.
Find peace at Amitabha Stupa and Peace Park
Sedona is the perfect place for finding peace and tranquility, so it makes sense the town would have an entire park dedicated to inner calm. The space, which welcomes those of all faiths, is centered around the stupa, a sacred form of architecture that dates back 2,600 years that's rare to see in Western civilization and is said to offer healing and prosperity to its visitors.
Take a scenic drive
Not into hiking? You can still enjoy the beauty of Sedona. Take a leisurely drive on Red Rock Loop Road or the Oak Creek Canyon Scenic Road. Want a bit more of an adventurous drive? There's plenty of great off-roading spots like Schnebly Hill Road.
Vortexes are spots where energy is believed to project out of the earth. They're said to exist at a few sacred spots around the world, including Sedona. In fact, the entire city is considered a vortex. There are specific places where the energy is said to be especially strong though, like Cathedral Rock, Bell Rock, Airport Mesa, and Boynton Canyon. These are great places to meditate, practice yoga, or just soak up the vibes.
Dine at one of Chef Lisa Dahl's restaurants
Nationally recognized Chef Lisa Dahl is synonymous with Sedona dining as the mastermind behind favorites like Mariposa Latin Inspired Grill and Dahl & DiLuca. No matter what you're looking for, this diverse restaurant group has something for everyone—from stunning red rock views at Mariposa to casual dining at Pisa Lisa or an upscale vibe and great burger at Butterfly Burger.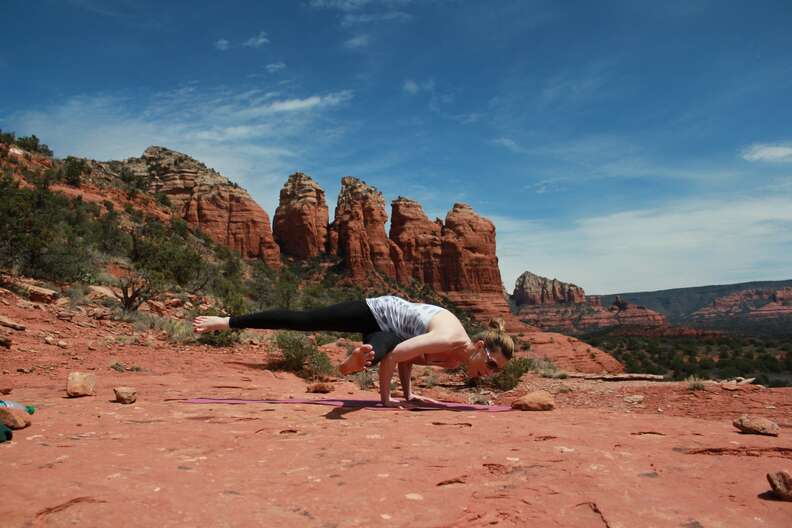 Connect your mind, body, and soul with a yoga class
Yoga is great no matter where you are, but in Sedona it can be a truly life-changing experience. We say you skip the studio and take an outdoor class, and at Vortex Yoga Hiking, you can check off three of our recommended Sedona activities in one go, with the help of an experienced guide.
See into the future with a psychic reading
Even if you're not totally sold on a psychic's ability to see into your future, stop by the Center for the New Age or Crystal Magic and see if one of their readers can change your mind. Whether it's an energy clearing, tarot card reading or even an aura reading—a dip into other realms is a right of passage when visiting Sedona.
Take a hike
You can't take a trip to Sedona without going on a hike. The hikes here range from extremely easy to somewhat treacherous, so there's no excuse not to give at least one a try. Devil's Bridge is great for photos, while the iconic Bell Rock is on the easy side and has great views. The best-loved Cathedral Rock hike is also short and sweet for the reluctant hiker. Want to check out a slightly less touristy hiking destination? Head to Boynton Canyon and hike up to the Subway Cave. For any hike in Sedona, arrive early, expect to waste time trying to find a place to park, and bring plenty of water and sunscreen.
Go shopping
There's plenty to shop for in Sedona—whether you're browsing local art at the iconic Tlaquepaque Arts and Crafts Village or finding your next crystal at one of the tourist-focused downtown boutiques. We're currently loving the new, more modern gems around town like SWHM, which is filled with aesthetically pleasing décor, wellness products, and apparel.
Treat yourself to a spa day
Sedona is a relaxation destination, so if you're not pampering yourself in this town, you're definitely doing something wrong. You can opt for a luxe experience at one of the town's luxury hotel spas like a creekside massage at L'Auberge's L'Apothecary Spa or making a day of your treatments at Sedona's New Day Spa. Take advantage of some of the unique treatments like the Reiki, a CBD massage, or a gemstone reading.
Slide down Slide Rock
Slide Rock, located in Slide Rock State Park, actually originated as an apple farm, but now you can take a trip down the natural slide into Oak Creek and splash around while basking in the surrounding beauty. You can also reserve a ramada, host a bonfire, and explore the surrounding canyon.
Check out Chapel of the Holy Cross
Whether you're religious or not, Chapel of the Holy Cross is a sight to see if you have any interest in architecture. The church, which is wedged between the Sedona red rocks, is truly spectacular and open for tours. It's even been named one of the seven man-made wonders of Arizona, which yes, that's a thing. And as with all great attractions, it has a gift shop.
Jamie Killin is a Phoenix native and Arizona State graduate who specializes in lifestyle and features writing. You can usually find her at the spin studio, a concert, or trying new restaurants across the Valley. Follow her at @jamiefayekillin.