Sedona Is More Than Just Red Rocks and Starry Skies
Epic natural landscapes, spiritually inclined spaces—this northern Arizona city contains multitudes.
Devil's Bridge in Sedona, Arizona

| Nikolas_jkd/Shutterstock
Devil's Bridge in Sedona, Arizona

| Nikolas_jkd/Shutterstock
Sedona is home to glorious canyons, ruddy hued peaks, and spiritual practitioners of various stripes. But the northern Arizona city can suffer from being pigeonholed into a place that it sometimes is, but not in it's entirety. See, any artist looking for inspiration can find it here. Ditto spiritual individuals looking for a deeper energetic connection and, perhaps, a like-minded community. The hiker finds peace and tranquility among the hundreds of trails. Amateur astronomers embrace the inky dark sky. Having lived in Arizona for over two decades, Sedona is easy to take for granted.
Still, locals and visitors alike, can revel in the buzz of a Saturday afternoon in Uptown. But I've walked through that very same neighborhood in quietude with only the red rocks for company. Because Sedona is really what you make it. Although most make it something artistic or hippiesque, to believe that's all it is would be a shame. It's a town set in one of the most pure and stunning sceneries on Earth—no matter how rich, poor, artsy or not you are, everyone can appreciate how lucky we are to have it.
So for a weekend getaway (or longer), Sedona is an ideal destination located a modest drive north from Phoenix that puts you among cooler temps, sweeping landscapes, and starry skies. It can be tricky to avoid throngs of tourists, especially during the summertime or in the fall when seeking golden foliage (try off-season or midweek when possible). Don't let that stop you.
Travel Time:
2 hours from Phoenix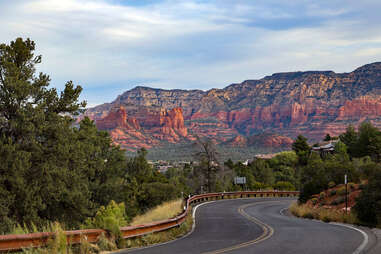 If you don't do anything else: Drive the Red Rock Scenic Byway
Either coming into and driving out of town—preferably both—take the Red Rock Scenic Byway. There are two ways to come into Sedona when driving north from Phoenix, either utilizing State Route 89A or Highway 179; the byway is on 179 and while it may be a little slower, it's worth the extra time. This is a great way for any first-time visitor to experience and soak in the red rock formations, as well as scenery loaded with colors during the fall. The drive also takes you through the Village of Oak Creek, Sedona's charming neighbor.
Fill the weekend with:
Things to do outdoors in Sedona
An off-roading jeep tour is almost a must - it's about the best way to see as much as possible of the rock formations and learn about some of the natural history of the area. Try the very popular PINK Jeep Tours, which offer several unique itineraries that run just a few hours and are easy to fit into a weekend trip.
If you're more hands-on when it comes to nature, head to Slide Rock State Park, where you can actually slide down the rocks in Oak Creek - a perfect way to cool off in the summer. During the fall, you can go apple picking from the historic orchards in the park. Of course, one of Sedona's biggest attractions is hiking, with hundreds of trail miles available. There are options available for hikers of all levels, like Bell Rock Path for beginners and the moderate Templeton Trail or Soldier Pass Trail.
One of Sedona's biggest draws are the vortexes that are dotted around the area. These sites of intense energy can be toured with groups or solo - some of the most popular are Bell Rock, Airport Mesa, and Cathedral Rock. Even if you don't feel the energy, they also happen to be extremely beautiful spots. Airport Mesa is also a spectacular location to watch the sunset, but get there early as the scenic overlook fills up quickly.
After the sun sets, take advantage of Sedona's designation as an International Dark Sky Community. Several hotels will offer guests stargazing opportunities but it's just as nice to head to one of the trailheads you may have hiked earlier (Fay Canyon and Baldwin are good options) and lay on your back to watch the stars. For a lesson from the pros, you can book tours with local operators; try Sedona Stargazing, which offers astronomers with telescopes, laser pointers, and a lot of knowledge.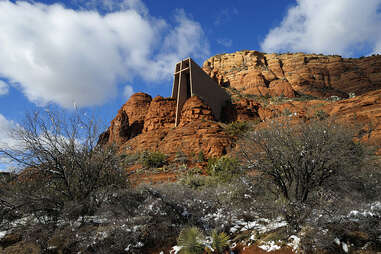 Cultural destinations in Sedona
Even if you're not religious, anyone can appreciate a visit to the Chapel of the Holy Cross. Built into the rocks in Coconino National Forest, the church is off of Highway 179, making it a quick stop in or out of town to see its remarkable architecture. For those inclined to the spiritual realm of crystals and psychics, Sedona is your epicenter. Try the Center for the New Age as a one-stop shop for books, jewelry, and home decor. Upstairs, the building houses tarot card readers, psychics, Reiki Masters and more, all available for bookings.
Across the road from the Center is the open-air Tlaquepaque Arts & Shopping Village. Built in the style of a Mexican village with stucco walls and peaceful fountains, the small side streets are easy to stroll as you bounce in and out of galleries and shops. There's even a year-round Christmas store with handmade decorations from around the world.
While Uptown Sedona's retail offerings are mainly aimed at tourists, it's worth venturing to the area to check out the Sedona Heritage Museum. The exhibits help to provide insight into the town when it was filled with orchards and cattle, as well as its early success as a location for Western films.
Eat, drink, and sleep:
Where to eat and drink in Sedona
It's worth booking the necessary reservation ahead of time to dine at Elote Cafe, with items like Duck Carnitas and Smoked Brisket Enchiladas—and yes, the elote is also rather good. If you find yourself craving some can't-go-wrong classic cuisine, stay in Tlaquepaque for dinner at René. The restaurant has been serving guests for 45 years with everything from a veal ossobuco to a lobster seafood risotto. For upscale patio dining, try Mariposa Latin Inspired Grill on 89A, one of the half-dozen restaurants around Sedona pioneered by Chef Lisa Dahl. The tapas menu is a perfect accompaniment to an evening outside watching the night fall. If you find yourself in the heart of Uptown and want to indulge in some Wild West themed dining, head to Cowboy Club Grille & Spirits. It's a great spot for lunch or a casual dinner and here's where you can load up
on cactus fries, bison, rattlesnake, and more. For a unique twist, book a seat for a Cloth & Flame dinner. The company hosts events in Sedona throughout the summer; dining at their open-air venue on the mesa during sunset is a stunning experience. Once the sun rises, get one of the 101 omelettes at the Coffee Pot Restaurant for breakfast, a local joint that's been slinging hash for decades.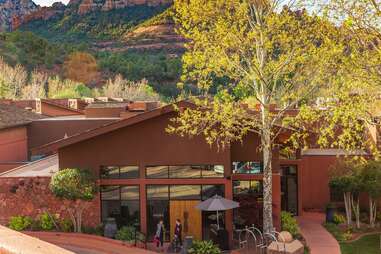 Where to stay in Sedona
To be in the heart of Uptown, head to Amara Resort & Spa, tucked behind the myriad of shops and restaurants. Recently renovated, the laidback property offers great views, even at night, when you can catch weekly stargazing in the courtyard. For easy access to a myriad of trails, stay at Enchantment Resort. Nestled into the red rocks of Boynton Canyon, it's the perfect jumping off point for hiking, biking, or even rock climbing adventures. And for the luxurious with an eco-conscious core, stay at the new Ambiente, an adults-only hotel. Guests stay in Atriums with sweeping views and private stargazing terraces; it's a unique way to experience Sedona, even for seasoned visitors.
Asonta Benetti is a Phoenix-based freelance writer specializing in travel, food, and beverage. Her credits include
Food & Wine
, VinePair, AFAR, Eater, and
Bon Appétit
, among others.