New York has Times Square. San Francisco has the Golden Gate Bridge. Sure, you'll spot celebrities in Los Angeles. In Austin you can taste Texas' unrivaled barbecue. When in Portland, you can sip what some call the best beer in the nation. And in Phoenix... it turns out you can get some pretty amazing stuff too. Here are just 12 reasons why Arizona's Urban Heart is one of America's most underrated cities. Check it out.
1. There's no such thing as winter
Well actually there is "such thing" as winter. Does it ever drop below 20 degrees? No. Wait, it did in 1913, but that doesn't really count. Sucks to be you, East Coast.
Recommended Video
This Chinese Festival Is Like 'Frozen' Come to Life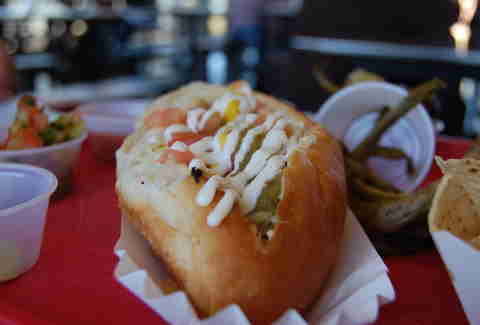 2. We have the Sonoran dog
It's Arizona's take on the hot dog. And local joints like Mickey's and Nogales Hot Dogs do it best. Baseball fans can even get the bacon-wrapped dog at D-Backs games. You can keep your sauerkraut and mustard, New York. We prefer salsa, mayo, and ranchero beans.
 
3. We don't do daylight savings
And we haven't since 1973. It's called Mountain Time.
 
4. We have ALL the sports
The Arizona Diamondbacks, Cardinals, Coyotes, and the Phoenix Suns all have the home court advantage in the Valley. Yay sports!
 
5. Speaking of which, Phoenix hosts the biggest (and most fun) PGA tour
The beautifully named Waste Management Phoenix Open averages 500,000 golf fans annually, and the beer never stops flowing.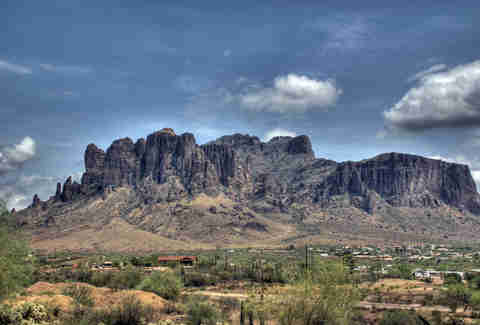 7. If you like to hike, you don't have to go far
The Valley has a ton of underrated urban trails to explore. If you think Central Park is big, think again. Our South Mountain is the largest municipal park in America.
8. Frank Lloyd Wright lived here
And he built his winter home Taliesin West and a lot of other cool stuff here, too.
 
9. We actually have a food scene
Contrary to popular belief there's more to Phoenix than strip malls and chain restos. Sure, we have those things... but our food scene is a notable up-and-comer. Check out these essential Phoenix restaurants.
 
10. Phoenix hosts Cactus League spring training every year
Arizona is the only place other than Florida to host MLB's spring training. But who really wants to go to Florida? Phoenix wins.
11. There's a castle in the middle of the city
You can see Tovrea Castle if you're driving on the Loop 202 or see it up close by taking a tour of the historic Phoenix landmark.
 
12. We have one of the best (if not THE best) craft breweries in the country
Our very own Four Peaks Brewing was voted best craft brewery in America by YOU guys.
Sign up here for our daily Phoenix email and be the first to get all the food/drink/fun in town.
Lauren Topor is a fiercely proud Phoenix writer, who loves the fact that she can bake cookies on her car any day of the year here. Follow her at @LaurenTopor.