12 New Year's Resolutions Everyone in Pittsburgh Should Make
After we've rung in the New Year with thousands of our closest friends Downtown, it'll be time to evaluate the benchmarks we've "promised" to ourselves in the year to come. Like any January 1st, the expectations will start lofty. Come April, we'll inevitably be kicking ourselves for signing up for the marathon in May since the only training we've stuck to is eating our way through PGH's best burgers. Alas, we only set these goals to become better Pittsburghers... so maybe after crossing off the 10th best-of burger from the list, "running" the marathon might not seem so terrible of an idea after all.
 
1. We resolve to run the Pittsburgh Marathon.
Maybe not in its entirety. And maybe "running" will be more like speed-walking with lots of heaving. But we're gonna cross that finish line.
Courtesy of TJ Ladner/Meat & Potatoes
You're an athlete now. Athletes need protein.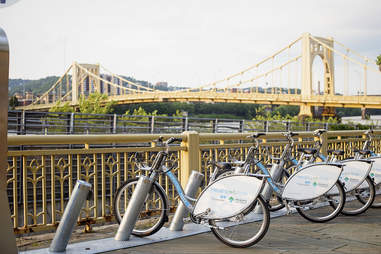 Courtesy of PGH Bike Share/ Erin Potts
3. We resolve to actually use PGH Bike Share at least once.
Time to take a (small) break from Uber, our personal cab service.
 
4. We resolve to go on a real date.
It's time to retire the weekend routine of falling asleep on the couch with the TV on and take our SOs out on a date that doesn't suck. Unlike Netflix and chill, these might actually result in you having sex.
5. We resolve to start eating more food while standing.
While we're on the topic of things that don't suck, let's resolve to start eating more food that comes from a restaurant on wheels with disposable cutlery. The best part? Every food truck is dog-friendly, so you can eat well AND spend more time with your canine friend(s).
 
6. We resolve to leave the city.
Not, like, forever or anything. Just to breathe in fresh country air, possibly even go on a hike. This list of day trips will put you on the right path.
7. We resolve to get into one of those kayaks everybody keeps talking about.
This doesn't mean we plan on going out on the rivers anytime soon. But, y'know, come spring. We would like to keep all of our limbs in 2016.
 
8. We resolve to become more self-sufficient.
We'll start by taking the TechShop class 'Build it, Don't Buy it!' We're breaking up with you, Ikea.
9. We resolve to avoid any altercations with a Port Authority bus driver.
Even if our bus is 45 minutes late and it's 15 degrees outside. And the bus driver snubs us when we greet them. And then they pass our stop. Just breathe.
 
No. More. Chipotle.
 
11. We resolve to climb all 712 sets of steps in Pittsburgh.
Aka 44,645 treads, aka 24,108 vertical feet. After our Mexican food bender, we're gonna need the exercise.
12. We resolve to soak up our liquor with something other than pierogies.
The next time we're half a bottle deep into some whiskey (it is now April, and we still haven't started training for the marathon), we're going for a new late-night bite. We'll never forget you, pierogies. You're part of our lifeblood.
Sign up here for our daily Pittsburgh email and be the first to get all the food/drink/fun in the Steel City.
Julianna Bagwell is a writer, editor, and, as made evident in these resolutions, someone who likes to yell at bus drivers and pretend she's going to be in the marathon. Also, her love for waffles is reaching Leslie Knope levels and the fear is real. Follow her starchy journey @JuliannaLocal