Pittsburgh may not get the national attention of some other US cities, but it boasts some beautiful bars, a burgeoning brewing scene, and houses that don't suck for less than $100k. Take that, New York and San Francisco. Real estate aside, you can even go out and have a really great time in Pittsburgh with essentially pennies. Get cracking on this list of 40 things without breaking out more than a Hamilton.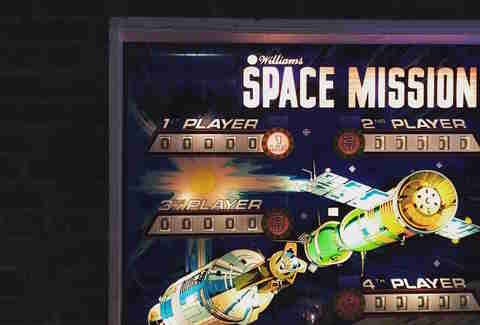 Lawrenceville
Price: $0.25-$10
Grab some quarters and conquer space or ping balls towards KISS.

Dormont
Price: $8
A couple dollars more to score yourself some buttery popcorn.

3. Explore your creative side on a gallery crawl
Downtown
Price: Free
Pittsburgh Cultural Trust hosts a quarterly crawl of all things arty.

Hill District
Price: $10
The time is now to pretend you made it as a pro hockey player.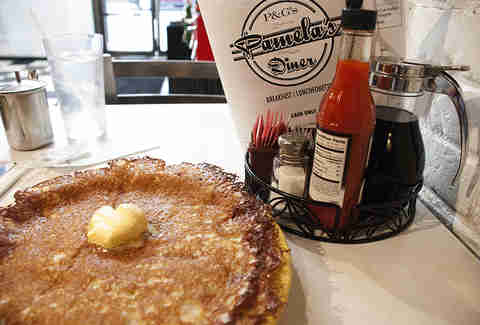 Various locations
Price: $5.95
Best diner in Pittsburgh yields the biggest after-eating regrets.

Station Square
Price: $3.75
Peep the views on Mt. Washington before riding back down.

Strip District
Price: $5.50
Frozen confections and nostalgia aplenty at this pharmacy turned creamery.
Bethel Park
Price: $6
A bucket of 34 balls costs $6 to hit off a two-story driving range.

9. Rent a bike and go for a ride
Various locations
Price: $2.50-$10
Healthy Ride bike stations are located throughout the city and cost $2.50 per half hour. Get pedaling.

10. Feast your eyes on epic laser action
North Shore
Price: $8
Carnegie Science Center has laser shows with themes like Queen and Michael Jackson. If the King of Pop in laser form doesn't get you excited, what will?

Downtown
Price: $8
Cartoons play the role of fine art in this funky, small museum.

13. Gulp a cocktail then hit the dance floor
Oakland
Price: $0-$10
Peters Pub plays host to the Hot Metal soul dancing crew every Thursday night. Experience and partners aren't required to groove.

Northside
Price: $4-$10
The cost of a beer or a cocktail equals a great concert almost every night of the week.

Northside
Price: $2-$10
Wednesdays are bluegrass nights at Park House, one of the oldest bars in the 'burgh, with $2 Yuengling draft specials. And always free popcorn.

Shadyside
Price: $5
View the work of the most creative folks in town.

Lawrenceville
Price: $3.75-$9.95
Theme nights bring the best value at Arsenal with All-You-Can-Bowl after 9pm every day but Tuesday.

Lawrenceville
Price: $3-$10
Spirit has the most hipsters and great slices of pizza. On Sundays, play bingo for free while downing your slice.

19. Snap a selfie the old fashioned way... in a photobooth
North Shore
Price: $5
The Warhol has an old-school photo booth that produces strips made with chemicals.
Lawrenceville
Price: $6
A cake shop that is open past 9pm on the weekends. Hallelujah.

Squirrel Hill
Price: $4-$6.50
Zip around the outdoor ice rink and be careful with that toe pick.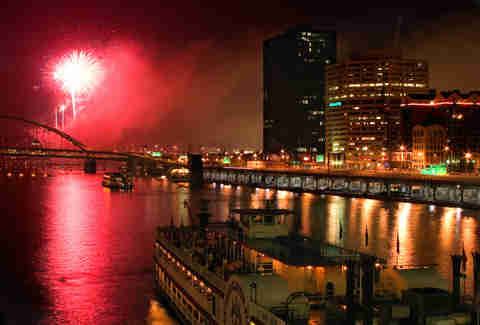 Station Square
Price: $10
The Gateway Clipper typically costs a pretty penny for a ride, so catch it as a shuttle to and from the North Shore stadiums on game and concert days for a quick and cost effective river ride.

Downtown
Price: $10
Hilarity always reigns supreme at the improvisational shows each weekend.

24. Get cultured at a City of Asylum reading or concert
Northside
Price: Free
Poetry readings, jazz concerts, and more flow from this organization dedicated to exiled writers.

25. Drink a cosmo and eat some bacon
Shadyside
Price: $7
Tuesday night is bacon night at Harris Grill. Cocktails come with a side of free bacon at the bar.

26. Buy a $10 bottle of wine at Union Grill
Oakland
Price: $10
There is a $10 wine bottle list at Union Grill. Game over.

Strip District
Price: $10
This members-only BYOB outdoor club has select events that non-members can attend for small fees. Be on the lookout to hang out.
Lawrenceville
Price: $6-$10
Bread gets the gourmet treatment at this hip haunt.
29. Pick pumpkins, berries, and apples at Soergel Orchards
Wexford
Price: $2-$10
Price is per pound, so be stingy if need be.

30. Down a beer and a hot dog at D's Six Pax and Dogz
Regent Square
Price: $10
Pay attention to the specials to get these gourmet dogs and a handful of fries for a low price.
Northside
Price: $0-$10
Admission to this crazy haven of bicycles and memorabilia is free, but consider throwing some bucks in the donation box on your way out.

Downtown
Price: $7
Learn about the French and Indian War at the heart of Point State Park.

Southside
Price: $2 - $10
Duckpin bowling for $2. Holla!

34. Quiz yourself at pub trivia
Various
Price: $3-$10
Put your smart hat on and head out for pub trivia at bars across the city like OTB Bicycle Cafe on the Southside and Mario's in Shadyside.

35. Climb to the roof for a movie
Downtown
Price: Free
Pittsburgh Downtown Partnership hosts Rooftop Shindigs in the warm months and screens movies on the top of parking garages, because, Pittsburgh.

Braddock
Price: $5
Make that cat T-shirt you want.
North Shore
Price: $10
Bet or just throw your money in the garbage.

North Shore
Price: $6-$10
Pack some PBR and don the black and gold to cheer before the Steelers even take the field.

Various
Price: $10
Take a themed hike, like a meteor shower viewing, through some of Pittsburgh's great wilderness.

40. Live music for dancing or just gentle swaying
Various
Price: $0-$10
Plenty of low key music venues call the 'burgh home. Try to catch a cheap show, often for less than $10, at Thunderbird Cafe, Howlers, or Club Cafe.
Sign up here for our daily Pittsburgh email and be the first to get all the food/drink/fun in the Steel City.
Laura Zorch is a big fan having fun but keeping cash where it belongs -- in her wallet. Follow her food exploits at @eatpgh.