The Best Day Trips From Pittsburgh
Cucumber Falls in Ohiopyle State Park

| Caleb Foster/Shutterstock
Cucumber Falls in Ohiopyle State Park

| Caleb Foster/Shutterstock
When the stifling Pittsburgh humidity is too much to bear, and you're sick of the endless Parkway traffic, it's time for a break from the city. Luckily, Pittsburgh is within a few hours of the beach, an architectural masterpiece, underwater caves, a mysterious roadway, and plenty of outdoor activities that make these 10 spots ideal road-trip destinations.
Seven Springs Mountain Resort
Distance from Pittsburgh: 59 miles; 1-hour drive
Why it made the list: Adrenaline junkies will fit right in at Seven Springs Mountain Resort. With a mile of zip lines that pass from tree to tree and across a valley, the Laurel Ridgeline Canopy Experience is next-level zip-lining. For more heart-pounding thrills, the resort's downhill bike park boasts exciting trails with berms, banks, and 20ft jumps. Once the snow falls, come back to ski or snowboard 33 slopes and trails, plus seven terrain parks.
Pro tip: A range of overnight options is available on the resort, including standard hotel rooms, condos, and cottages.
Fallingwater
Distance from Pittsburgh: 68 miles; 1.25-hour drive
Why it made the list: Take a cue from Pittsburgh's prominent Kaufmann family and escape the city for a summer retreat at architectural masterpiece Fallingwater. The Kaufmann family's mountain home, designed by Frank Lloyd Wright in the 1930s, is built over a waterfall -- hence, the namesake home. Today it's a National Historic Landmark open for tours; take a glimpse inside a home that exists among the falls. Pay for the guided house tour, not just the grounds pass.
Pro tip: Kentuck Knob, another Frank Lloyd Wright home, is a 15-minute drive from Fallingwater.
Ohiopyle State Park
Distance from Pittsburgh: 70 miles; 1.5-hour drive
Why it made the list: Within an hour and a half, you can go from downtown to the wilderness -- 20,000 rugged acres at Ohiopyle State Park. The park offers whitewater boating, rock climbing, natural water slides, picnic areas, 80mi of hiking trails, 27mi of biking trails, and the chance to see waterfalls.
Pro tip: The Youghiogheny River Gorge passes through Ohiopyle State Park. Pronounce it like a local -- that's "yawki-gay-nee" or "The Yough" (yawk) for short.
Gravity Hill
Distance from Pittsburgh: 98 miles; 2-hour drive
Why it made the list: In rural Bedford County you've got the chance to defy physics. At Gravity Hill, appropriately located on Gravity Hill Road, cars appear to roll uphill. A quick how-to: look for the spray-painted "GH Start" line on the roadway, check for traffic, shift your car into neutral gear, take your foot off the brake, and your car will roll itself up the hill to the finish line. For more mysterious Gravity Hill fun, bring along a ball to see it roll up Gravity Hill, or pour water on the roadway and watch it trickle uphill.
Pro tip: The historic Old Bedford Village is about a half-hour from the hill. If you're staying overnight in the area, stay at the luxurious Omni Bedford Springs Resort.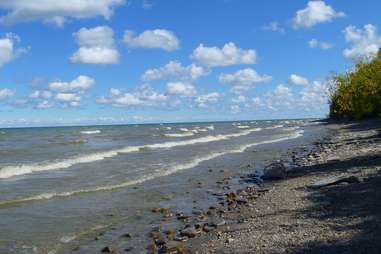 Erie, Pennsylvania
Distance from Pittsburgh: 127 miles; 2-hour drive
Why it made the list: It's not quite the Caribbean, but sandy beaches, blue waters, and hours of sunbathing are just two hours from Pittsburgh at Lake Erie's Presque Isle State Park. The park is home to several beaches, including sand volleyball courts and concession stands. In case it rains on your visit, swim instead at Splash Lagoon Indoor Water Park Resort, with seven water slides, two hot tubs, a lazy river, and the East Coast's largest indoor wave pool.
Pro tip: There's plenty to do in Erie for a weekend trip for those both artsy (see the Erie Arts & Culture "Cultural Loop") and adventurous (the 118-year-old Waldameer amusement park). Stay at the Sheraton Erie Bayfront Hotel, located on the waterfront.
Chautauqua, New York
Distance from Pittsburgh: 133 miles; 2.25-hour drive
Why it made the list: Chautauqua County, home to both Chautauqua Lake and the Chautauqua Institution, dubs itself "The World's Vacation Learning Center." Daily seminars range from topics of arts and politics to creating livable communities to literacy. If summer school isn't your thing, there are many other options -- beaches, guided kayaking tours, an aerial adventure course and zip lines at Peek'n Peak Resort, and the Lucy Desi Museum & Center for Comedy.
Pro tip: Make dinner plans at the regal Athenaeum Hotel.
Penn's Cave
Distance from Pittsburgh: 155 miles; 3-hour drive
Why it made the list: Tour Penn's Cave by boat. Gawk at stalactites and stalagmites during a 45-minute boat trip through Penn's Cave, which bills itself as the nation's only all-water cavern. Remember a jacket; the cave is about 52 degrees.
Pro tip: Penn's Cave is about 30 minutes from Penn State University with plenty of options for lodging and dining (including some of the nation's best ice cream at Berkey Creamery).
Cleveland, Ohio
Distance from Pittsburgh: 160 miles; 2.5-hour drive
Why it made the list: For a moment, yinz, forget your feelings about the Cleveland Browns and consider a trip to our Midwestern neighbor, Cleveland. It's among the nation's best drinking towns, and its food scene is impressive. Whether you're into sports or art or amusement parks or rock and roll, Cleveland has more than enough to hold your attention for the whole weekend.
Pro tip: Don't miss the house from A Christmas Story. You'll even get a chance to hold a Red Ryder BB gun (unloaded, of course).
Pennsylvania Grand Canyon
Distance from Pittsburgh: 200 miles; 3.25-hour drive
Why it made the list: Who said you have to go all the way to Arizona to see the Grand Canyon? Pennsylvania's Grand Canyon, also known as Pine Creek Gorge, is a lot closer (also a lot smaller, whatever) and it's still awe-inspiring. The Grand Canyon, located within the Tioga State Forest, charts some depths of more than 1,000ft and widths greater than a mile.
Pro tip: With an elevation of 1,883ft, Leonard Harrison State Park, located along the Grand Canyon, is a good spot to take in the view.
Sign up here for our daily Pittsburgh email and be the first to get all the food/drink/fun in the Steel City.
Rossilynne S. Culgan (@rossilynne) is a Pittsburgh native who's still working up the courage to try the intense zip-lining experience at Seven Springs. Wish her luck.