Local Pittsburgh Businesses You Should Support in 2017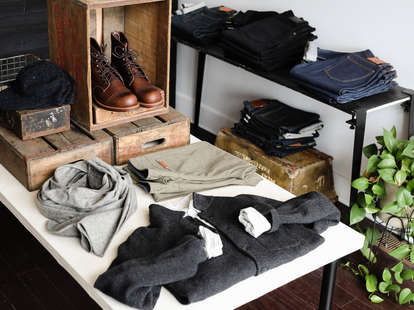 So this is the year you've decided to ditch the big box retailers in an effort to shop more locally. While it might be tough to cut out the major corporations entirely, new Pittsburgh businesses and startups are constantly popping up to alleviate sore spots in your life, whether it's nailing your cast when you're fishing on the river or finally having a bra that's comfortable and fits right. Get out there and discover these locally owned businesses where it's worth spending your hard-earned money this year.
One of the few local boutiques that specifically carries men's clothing, the Kinsman Shop in Lawrenceville flaunts an apparel collection that promotes a lifestyle that is minimal, authentic, and functional. Its values are an homage to the blue-collar spirit of our city while at the same time pushing the simplicity of contemporary fashion. With the storefront appropriately located in what used to be an old-fashioned barber shop, the store also carries a line of American-made grooming supplies.
After a long day of fishing along the Allegheny River in July 2015, a group of friends sat around a campfire and developed the initial plans for Anglr, an app that record casts, retrieval behaviors, and catches by using sensors. The goal is to help fishermen vastly improve their technique without having to keep a handwritten log. Anglr has distributed its rod-mounted technology with big-box retailers like Dick's Sporting Goods and Cabela's, and is working on expanding its platform to other fishing and hunting sore points.
In March, Pennsylvania (not just the 'Burgh) will get its first-ever local craft spirits store. Penn Ave and 21st St will be home to Pennsylvania Libations, a retail shop where Pittsburghers can first taste, then buy more than 30 varieties of exclusively PA-made wines and liquors. The storefront will have mixologists and sommeliers on site to help customers and local business owners navigate their way through Pennsylvania's growing array of craft spirits.
BigBurgh is a mobile-optimized web app that connects users with various no-cost resources in the city of Pittsburgh. For example, the app could help find clinics, food pantries, shelters, and other free services for low-income and homeless populations. The app also serves as a valuable tool for anyone who encounters someone in need. Although the app only covers the city, BigBurgh expects to expand to surrounding areas in Allegheny County over the next year.
Since 2014, Carnegie Mellon University graduates Sophia Berman and Laura West have been revolutionizing the undergarment industry with bras engineered for comfort and ultimate support. Trusst makes bras using Breast Advanced Support Technology (BAST), a system they created that places support around the core rather than the straps which helps alleviate back pain. After a successful product launch last year, Trusst now has its first brick-and-mortar location in Garfield.
Aimed specifically at those of us who spend far too many hours sitting in front of computer and phone screens (*raises hand*), Phonetic Eyewear creates affordable glasses with a coating that deflects portions of that blue computer light that gives you pounding headaches. Unlike other computer eyewear that is notoriously ugly and overpriced, Phonetic's products are stylish and come in a variety of styles including reading glasses and sunglasses.
Last year, Olivia Ciotoli and Indigo Baloch created a Kickstarter to open Pittsburgh's first-ever cat cafe. The feline-loving duo quickly exceeded their goal of $20,000 and are now steadily approaching a mid-2017 open date for Black Cat Market. Partnering with Animal Rescue League, this cafe will include a full-service coffee bar and a cat colony room where customers can get their daily dose of cat cuddles and potentially adopt some of their newfound feline pals.
This maker's space in North Oakland originally started as a personal studio for Erin Oldynski and E.Louise Larson, but it has since turned into a creative hub dedicated to supporting women. The studio gives individuals of all income levels the opportunity to learn new skills, ranging from hands-on things like screen printing to techier stuff like graphic design. The $25 introductory rate guarantees 10 hours of studio access per week for six months. Prototype will also be offering scholarships and pay-what-you-can options for access to its tools and workspace.
Philly transplants, John Shortino and Allison Mosher, opened Nine Stories in Lawrenceville in September 2016, a bookstore named after after a collection of short stories by J.D. Salinger. More than 2,000 new and used books fill the 900sqft space shared with Caffe d'Amore. Sip on a cappuccino while browsing a curated assortment of books, writing accessories, apparel, and North Ave Candle's banned book collection.
This April, a new brewing company will be coming to McKees Rocks and it's already repping its new 'hood with the McKees Rocks Community Development Corp. After years of homebrewing, co-owners Tom Glover and Dave Hallam launched an IndieGoGo to help them fund their taproom, which will be located inside the Parkway Theatre. These self-proclaimed science geeks will be using a one-barrel system to create small experimental batches and will share all of their recipes on their website for others to replicate (or at least attempt). More open sourced beer projects, please.
Pittsburgh is rapidly becoming a homebase for tons of nonprofits and grassroots organizations. Until recently, finding a place to gather folks together for lectures, service projects, and other large events was rather difficult and required organizers to have an in-depth knowledge of local venues. But Room Leopard is here to make these speed bumps a thing of the past. CEO Mike Schiller and COO Michael Sobkowiak, who have both run Pittsburgh-based nonprofits in the past, partnered to create a website that allows hosts to list all types of venues available for use, including coffee shops, art galleries, and playgrounds.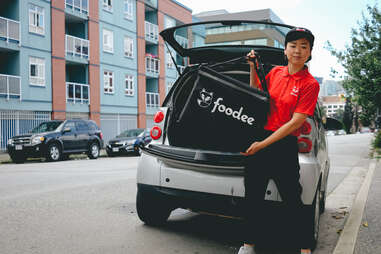 If you have decided there's no way you could possibly tolerate one more corporate catered lunch of lukewarm tuna hoagies and limp crudite, Foodee is the superhero you've been waiting for. Although it's originator, Ryan Spong, hails from Vancouver, Canada, Foodee is the refreshing take on catering that Pittsburgh has been searching for and we welcome it with open arms. After spending more than a decade on Wall Street, Spong decided to shake up the catering industry without ever having to cook a single dish. After realizing that most restaurants have a big lull between breakfast and lunch, Spong created a website that gives local restaurants an opportunity to take huge business lunch orders and cater food that is far superior to the kinds of catered lunches we've all come to dread.
No one is a stranger to standing at a crowded bar attempting to make eye contact with the bartender so you can somehow telepathically communicate your drink order through a sea of other desperate drink-seekers. Belvedere's general manager Lee Selkowitz and tech entrepreneur Sachal Lakhavani have come together to alleviate this struggle with Srvd. The app pulls up detailed menus that let users order and pay for their drink orders digitally and alerts them when their drink is ready for pickup. Over the last year, the app has been adopted by Belvedere's Ultra-Dive, Mixtape, Dad's in Monroeville, and Rivertowne on the North Shore.
Sign up here for our daily Pittsburgh email and be the first to get all the food/drink/fun in the Steel City.
Julianna wrote this while draped in velvet with a bottle of Krug Grande Cuvée at her side. Actually, the velvet was flannel and the champagne was San Pellegrino. Close enough. Follow her @JuliannaLocal.