Then and Now: What New Pittsburgh Bars, Restaurants & Hotels Used to Be in Their Former Lives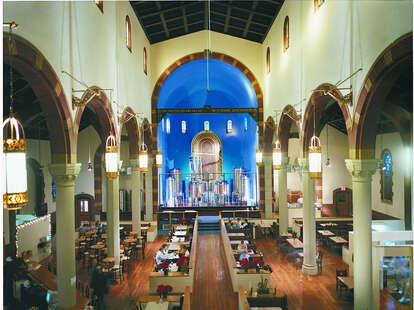 Photo courtesy of Church Brew Works
Photo courtesy of Church Brew Works
If you're a Pittsburgher giving directions, you know the drill: "Go to that place that used to be that other place." Pittsburghers are notorious for directing people according to former landmarks. (But not as notorious as they are for employing the Pittsburgh Left.) There's a reason for that: As the city has evolved, many popular businesses in Pittsburgh led previous lives as a completely different kind of establishment. So to get you on the same page as everybody else, here are some of the spaces that were formerly banks, churches, and bygone fraternal orders, among others.
Lawrenceville
What it used to be: A bank
For most of its life, the Arsenal Bank Building served as place of tender, from the time it was built in the 1870s to 1943. Even when it became a real estate office, it still retained six safes in the building. In 2013, when the building was in the process of transitioning into a Gatsby-style cocktail bar, a construction worker discovered 500 checks dating back to the 1890s. Tender, the bar, not only hints at the history behind the building, but it also describes the gentle way one drink affects you with its old-timey buzz.
Lawrenceville
What it used to be: A private event facility
In the spring of 2014, the Moose Lodge in Lawrenceville gained local notoriety when police received noise complaints and discovered YouTube videos revealing scantily-clad women dancing around poles for money at the former fraternal order and event space. Fast forward to 2015 when the establishment would be turned into Spirit Lodge and become notorious for hipsters, secret Mac Miller concerts, and In Bed By Ten dance parties.
Monaca
What it used to be: A bank
High ceilings. Lots of space. A vault in the back for an extremely private table. Banks are perfect for being converted into restaurants, and Sakura Japanese Steakhouse in Monaca, Pa., is yet another great example of this transformation. It formerly served as Huntington Bank before being renovated in 2014 and given a new name, which means "blooming cherry flower."
Lawrenceville
What it used to be: Granite & marble manufacturer, a foundry, and funeral home
The Abbey, in fact, led multiple lives before it became a drinking hot spot in Larryville. Dating all the way back to the 1800s, it was first part of the Laughlin Estate before being purchased by a granite and marble manufacturer. In 1913, Wayne Foundry purchased it for aluminum and brass casting, and then from 1930 to 2008, it operated as a funeral home. Before its opening in 2016, The Abbey underwent a complete decor overhaul, with unique lighting, exposed brick, and an outdoor patio area with a cast iron fountain.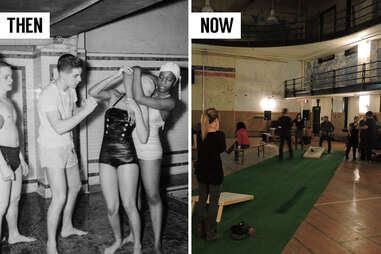 East Liberty
What it used to be: A YMCA
The marriage between the Ace Hotel and Pittsburgh is true synergy, as Ace frequently restores historic buildings into its brand boutique hotels. The East Liberty YMCA is nearly 100 years old and used to be a place where people could take swim lessons and build a greater sense of community just hanging out. Today, in addition to being a swanky place for visitors to stay and eat (shoutout to The Whitfield), Ace Hotel hopes to continue the communal effort the historic building was known for, with events like game nights every Tuesday and open gym on Friday nights, with ping pong, cornhole, and other low impact sports.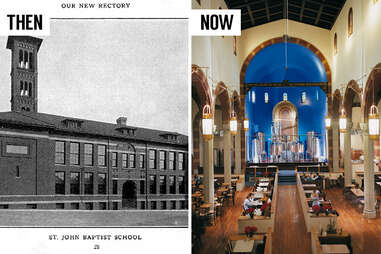 Bloomfield
What it used to be: A church
Some may call it sacrilegious. Others call it a spiritual dining experience (especially the pizza). For decades, Church Brew Works was St. John the Baptist Church before it was turned into a restaurant in 1996. And although there's wine on the Church's menu, the real specialty is the beer. In fact, you can check out the brewery vats on what used to be the altar, with brews like Pipe Organ Pale Ale and Pious Monk Dunkel.
Downtown
What it used to be: A law firm
Before the Ace Hotel, San Francisco-based Kimpton Hotels came to Pittsburgh, converting the James H. Reed Building downtown into one of its boutique hotels. For many years, this building was home to the Reed Smith global law firm. Today, it's become somewhere young professionals go for rooftop happy hours during warmer weather -- the Biergarten is nine stories up and has a breathtaking view overlooking the city.
Sign up here for our daily Pittsburgh email and be the first to get all the food/drink/fun in the Steel City.