All of the Things You'll Miss if You Leave Pittsburgh
City of bridges, Steeler nation, college town, multicultural hub. Whatever title you've given to Pittsburgh, you've probably realized by now that our city is home to families that have been here for decades as well as a forever-rotating slew of college students from all over the world. As a result, Pittsburgh is a mixed bag of traditional working-class Americana and diverse cultural influences that make us a little odd but unforgettable. And whether you've been here for three decades or six months, know that leaving the city is sure to leave a pierogi-shaped hole in your heart that's missing all of these pieces of Pittsburgh:
The food scene
Pittsburgh's food scene is more than new trendy restaurants and food trucks (not that we have any issue with those; I would live off of PGH Taco Truck if it was socially acceptable). But this city has some deep foodie roots, with institutions like Wholey's Fish Market in the Strip, and neighborhood bakeries and delis that have been going strong for decades. Any true food lover in Pittsburgh knows that our food culture runs deep and isn't afraid of mixing tradition and innovation.
The views (both the good and the bad)
While your office view of a pothole-laden side street with plastic bag tumbleweeds may not seem picturesque, it's the cityscape and the views of the city that unfold when you emerge from the Liberty and Fort Pitt tunnels that you'll be hard pressed to find elsewhere. Not to mention the breathtaking fall foliage you'll see on a country drive in October and the uniquely beautiful urban decay that you'll find in the Rust Belt region.
The low cost of living
Where else can you get a Victorian for less than $100,000? Don't think our "livability" suggests we aren't hard workers. Pittsburgh defines itself as working-class, and residents old and new pride themselves on their devotion to hard work and entrepreneurship.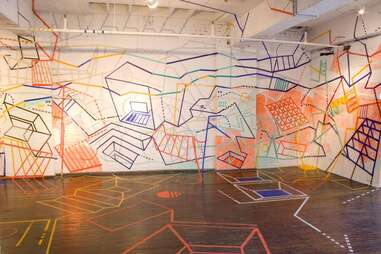 The arts
Few cities of our size have so many nationally recognized art museums. Institutions like the Andy Warhol Museum, Mattress Factory, and Carnegie Museum of Art, just to name a few, all serve as a reminder of how much our city values both classic and contemporary regional artists. Pittsburgh's growing dedication to the arts is one factor that sets it apart from other working-class cities. Community-created music, theater, and visual arts are all central to the 'Burgh's identity.
Friendly locals
Perhaps a bit of a cliche at this point, but it's true that Pittsburghers are notoriously helpful and kind to both tourists and their local brethren... that is, until you move that lawn chair they were using to save their parking spot. Prepare for your untimely demise.

"Pittsburghese"
The Pittsburgh accent and distinct dialect may not be very pleasing to the ear, but there's something beautiful about a whole city coming up with their own names for everyday items. When you leave Pittsburgh, a shopping cart will no longer be a buggy, a rubber band will no longer be a gumband, and your beloved hoagie will be referred to as a lowly sub.
The really good, super-great air quality
Haha, just kidding... although, you do get used to the former factory town smog after a while. Some may even call it "charming" or "nostalgic." I may be one of those people.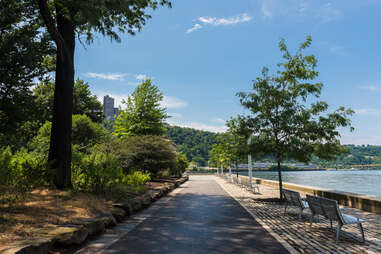 Access to green space
While we're joking about air quality, let's not forget to mention the massive amounts of green space Pittsburgh has -- no sarcasm. Very few places can boast having a 644-acre park in the midst of the city that, aside from a few trails and rest stops, is virtually untouched. Take a 10-minute walk into Frick Park and you'll completely forget that you're still in the city of Pittsburgh (and you'll probably breathe better).
Small-town vibes in a big city
Few (semi-) major cities can simultaneously feel like a thriving metropolis while also constantly reminding you that you're within a close-knit community that's been here for generations. Whether it's that neighborhood bookstore that's been open for as long as you can remember, or running into that one guy's sister at Giant Eagle, Pittsburgh will always have the heart of a small town.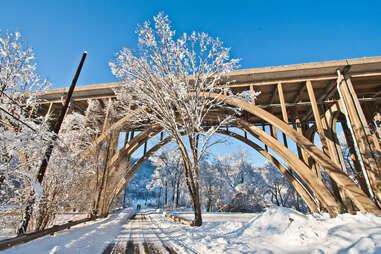 Winter
I know what you're saying to yourself right now ("Pittsburgh winter is a shit show"), and you're right. But even on the most unpleasant, icy-wind-that-goes-right-through-you kind of days, Pittsburghers manage to rally and wholeheartedly embrace the chill. Sure, we all complain as we wait at our bus stops for 45 minutes, slipping around on the unsalted sidewalk in a negative-10-degree windchill. But that doesn't stop any of us from braving the cold for events like Light Up Night and outdoor holiday markets. Basically anything that gives us an excuse to take a shot of whiskey "for warmth" before heading outdoors is a go.
Neighborhood pride
We've been called "the next Portland" and "the next Brooklyn" plenty of times, but Pittsburgh is really just an eclectic collection of little neighborhoods, each with their own unique communities and local business districts. And the people who live in those neighborhoods, more often than not, take a lot of pride in their little sections of the city. Year-round, you'll find that each neighborhood celebrates its individuality with events like the SweetWater Music Fest in Greenfield, the Highland Park House Tour, or the Dream City Art Walk in Wilkinsburg, each highlighting that neighborhood's unique contributions and accomplishments.
The dress code
… meaning that there isn't one. Other than NYC, I've never seen such an eclectic assortment of styles and varying levels of dedication to fashion. You can walk down Smithfield St in Downtown Pittsburgh and, in the space of 30 seconds, see a businesswoman in 6in heels, a crustpunk kid, a clan of UGG-wearing freshmen, and a yinzer in a black & gold windbreaker struggling to send a text on a flip phone.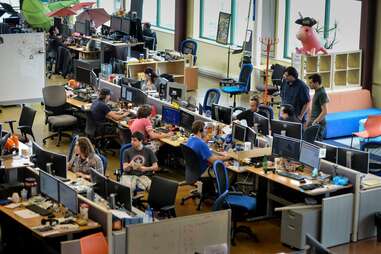 The startup culture
Pittsburgh is home to a rapidly growing number of startups, and unlike other cities, locals actually have a chance of working there. Carnegie Mellon University has been leading the way in technological innovation for more than 20 years, and many of its alumni are responsible for locally based startups that are pushing technology to new levels. Everything from compact 3D printers to completely re-engineered bras to sufficient ticketing systems are coming out of Pittsburgh. And while many of these startups are admittedly technology-heavy, there's plenty of room in this city for those looking to push the artistic envelope. You, too, can have a workplace with therapy dogs and cereal walls.
All that sports stuff
I know I'll get an earful if I didn't include something about sports in here. Even I, a militant non-sportser, can admit there is an unspoken bond between Pittsburghers and their teams. More often than not, you hear about Steelers fans beating up Browns fans or setting couches on fire. But on a day-to-day basis, you see sports are foundational in Pittsburgh and inspire a camaraderie between the old Pittsburgh and the new.
The quirks
You may not think you'll miss how some streets come to a sudden end (or just turn into a different street entirely), getting directions entirely through locations of landmarks, or fireworks at 4am in March, but it's all these little quirks that give Pittsburgh its odd intrigue. Our deep love for Mr. Rogers, our penchant for putting French fries on salad (and just about everything else), and the Pittsburgh Left are just a few of the little oddities you won't even know you'll miss until you're gone.
Sign up here for our daily Pittsburgh email and be the first to get all the food/drink/fun in the Steel City.
As a Pittsburgh transplant of nearly six years, Julianna may not have the yinzer accent, but she certainly has the Pittsburgh bug. That is to say, she has fallen deeply in love with all that Western Pennsylvania has to offer, and finds herself sometimes uttering the phrase "needs cleaned." This both terrifies and excites her. Follow her as she eats all the pierogies in sight: @JuliannaLocal.