TV Shows and Movies That Take Place in Pittsburgh (& How to Watch Them)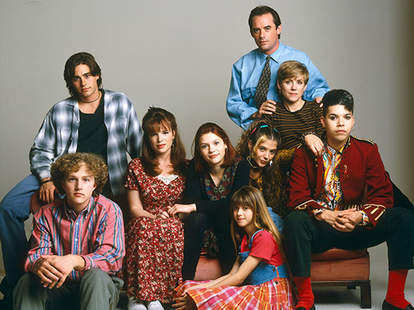 Airing this fall on ABC, Downward Dog is a television series that follows a lonely dog and his owner (Allison Tolman of FX's Fargo). Not only is the show set in Pittsburgh, but it's also being filmed in the Steel City by Animal production company, a special effects studio that makes animals talk (like the Taco Bell dog! Haha, remember that? Man, what a throwback.). Though it may seem novel to choose our city as a film destination, Downward Dog actually follows a long line of television shows and movies that have been set in Pittsburgh, some of which you probably didn't even consider:
My So-Called Life
Before Claire Danes played CIA livewire Carrie Mathison on Homeland, she first came onto TV screens as Angela Chase, high school sophomore at Liberty High School in Three Rivers, Pennsylvania on ABC's short-lived teen drama. Despite references to Pittsburgh on the series, true Steel Town citizens know there is no Liberty High School, nor a Three Rivers suburb. Still, the high school landscape felt real enough for this show to become a cult classic.
How to watch it:Hulu, ABC.com
Mr. Belvedere
While My So-Called Life ignored Pittsburgh reality, Mr. Belvedere embraced it. This ABC show was set in the Pittsburgh suburb of Beaver Falls, and when a real-life tornado touched down in the spring of 1985, the writers of the show incorporated it into a Season 2 plot point in its second episode titled "Tornado." In the episode, the family heads to the basement to ride out the storm, where Mr. Belvedere (Christopher Hewett) and George (Bob Uecker) play a game of pool.
How to watch it:YouTube, baby!
The Fish That Saved Pittsburgh
This 1979 film is described as a "sports fantasy" and with good reason. In this movie, Pittsburgh has a professional basketball team named the Pittsburgh Pythons. (The last time the Steel City had a professional basketball team was in 1972.) As for the titular "fish," spoiler alert: it's the Pisces astrological sign. Stockard Channing's character comes up with the idea to create an entire team of Pisces players because Pisces is the sign of star player Moses Guthrie.
How to watch it:iTunes (though you'll have to cough up $9.99), rent it from YouTube, stream it from some sketchy third party site, or just raid your dad's VHS collection.
The Roller Girls
Nearly 10 years before Terry Kiser donned sunglasses and played dead in Weekend at Bernie's, he managed a fictional roller derby team called the Pittsburgh Pitts on this very short-lived NBC sitcom. The funny thing is that today, roller derby is alive and well in Pittsburgh in the form of Steel City Roller Derby. Obviously, this series is in serious need of a Netflix reboot!
How to watch it: Hope you recorded it when it aired because this one is tough to come by on any streaming service.
Lionsgate
The Next Three Days
The reason why you may have forgotten this film was filmed in Pittsburgh was probably because you've completely forgotten this film. It stars Elizabeth Banks as a woman convicted of murdering her boss, and her husband, played by Russell Crowe, is set on breaking her out of jail. In fact, if you mention Next Three Days, most Pittsburghers are probably thinking of the neighborhood festival.
How to watch it: Pay up on iTunes, or get your most Russell Crowe-obsessed friend to give you the detailed synopsis.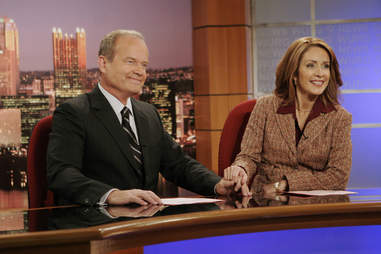 Fox
Back to You
For just one season on Fox, Kelsey Grammer and Patricia Heaton (a native Clevelander) played bickering co-anchors on this comedy set at fictional Pittsburgh news program WURG-TV News 9 (No WPXI, WTAE, or KDKA!). The news station may have been fake, but the talent on the series was real. Co-stars Ty Burrell and Josh Gad went on to have great success on Modern Family and in the film Frozen, respectively.
How to watch it: Pick up the DVD on Amazon or stream the three random episodes on Xfinity, depending on how big a Kelsey Grammer fan you are.
Only You
Star-crossed lovers Marisa Tomei and Robert Downey Jr. may have ended up meeting in Italy, but this movie starts in the 'Burgh where '90s Pittsburgh is on perfect, pristine display, when the Civic Arena and Three Rivers Stadium were still in existence and the foodie revolution was only a twinkle in the city's eye. Although be prepared to cringe at Fisher Stevens' Yinzer pronunciation of Italy ("It-ly!").
How to watch it: Rent it from Amazon or your friend who's deep into '90s rom-coms.
Stigmata
Patricia Arquette stars in this horror thriller as an atheist Pittsburgh hairdresser who receives rosary beads that cause her to receive crucifixion wounds. What's stranger than experiencing Stigmata? Apparently being an atheist in the Steel City -- Pittsburgh is tied with New York and Boston as one of the most Catholic cities in the United States.
How to watch it: Rent it from Amazon.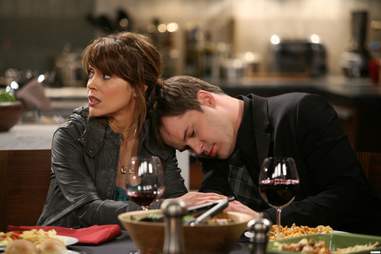 ABC
Romantically Challenged
In the late '80s, Alyssa Milano's connection to Pittsburgh was her romance with Pittsburgh Penguin forward Rob Brown. But in 2010, the Steel City was the setting of her ABC sitcom about a single mom dating for the first time in years. She may have been a kid on Who's the Boss?, but on this series, her character was a divorced lawyer with a 15-year-old son. How the tables have turned!
How to watch it: Honestly, these four episodes might be lost to 2010.
The Perks of Being a Wallflower
Logan Lerman and Emma Watson star in this coming-of-age darling Perks of Being a Wallflower, filmed in Peters Township. The suburb is where director and screenwriter (and author of the book the movie is adapted from) Stephen Chbosky grew up and went to high school, so the '90s-era Pittsburgh setting feels extremely authentic and nostalgic. Although the movie focuses on Charlie (Lerman), a troubled freshman who befriends two seniors while slowing dealing with demons from his past, Pittsburgh itself makes a starring role, with beautiful sweeping shots of the city and a pivotal scene in the Fort Pitt tunnel. -- Ciera Velarde, Editorial Production Assistant
How to watch it: YouTube, Amazon, Vudu, Google Play, iTunes.
Me and Earl and the Dying Girl
Unlike My-So-Called Life, 2015's Sundance darling took a page from real life with its school setting: Schenley High School. In the film, Thomas Mann plays a Schenley senior who befriends a girl who has leukemia. Novelist Jesse Andrews, who was born and raised in Pittsburgh (and a Schenley graduate), adapted his book by the same title for the big screen.
How to watch it: Another one with options! Stream it on HBO Go, YouTube, Amazon, Google Play, iTunes, and Vudu.
Sign up here for our daily Pittsburgh email and be the first to get all the food/drink/fun in the Steel City.
Megan McLachlan is a freelance writer who was once an extra in the movie
The Mysteries of Pittsburgh
. Her character fought Sienna Miller off-screen. Follow @heydudemeg on Twitter and Instagram.