With the soul-crushing stress of Pittsburgh's holiday season (and subsequent winter hibernation period) quickly sneaking up on us, let's not take a moment to remember the year that's passed us by. Instead, let's jump headfirst into this freezing season; despite the cold, there's actually lots of reasons to venture outside and brave the icy conditions. Navigate Pittsburgh's dreaded winter like a pro, with a collection of events ranging from live concerts and pizza parties to one of the biggest beer fests in the country.
November 23-December 30
Kennywood
With nearly 2 million twinkling lights, the return of The Gingerbread Express, and a choreographed light show on the lagoon, Pittsburgh's favorite amusement park has transformed itself into the winter wonderland of our childhood dreams. Every Friday, Saturday and Sunday in December you can check out the state's tallest Christmas tree, Polar Express 4D, holiday songs performed by local choirs, and all attractions -- including a tree lighting ceremony, Doc Dixon's interactive magic show, and a variety of rides -- are included with the price of admission.
Cost: Tickets start at $16.99
December 5
Market Square
Saint Nicholas is so last year. If you're looking to celebrate a truly European Christmas complete with an endless supply of Straub beer and everlasting fear, look no further! While good ol' santa hands out gifts to the good children, Krampus seeks out the bad and delivers them coal and ruten bundles. Pittsburgh's very own Krampus will appear at 7pm, when this horned, anthropomorphic figure will be ready for photo ops. Old world festivities will abound and Sleighed, the Krampus band, will perform at 7:30pm.
Cost: Free
December 6
August Wilson Center for African American Culture
91.3 WYEP's 11th Annual Holiday Hootenanny will be led by Nathan Zoob and Friends in a celebration showcasing local musicians with dozens of live performances and a dance party. Enjoy a silent auction and discover Pittsburgh's diverse music scene, all while helping benefit the Tree of Life Synagogue Fund.
Cost: $30
December 8
Carnegie Library Lecture Hall
Whether you've only seen the Disney remake of Hairspray or you own Female Trouble on VHS, there's a good chance that you'll want to spend a night with the legendary writer and director John Waters. His one-man show, "A John Waters Christmas: Holier & Dirtier," is an unapologetic and hilarious look at Waters' subversive and sensational comedy. Naturally, the night will be packed with crude humor and adult subject matter that manages to be both provocative and endearing, much like John Waters himself.
Cost: Tickets start at $25
December 8
Carnegie Museum of Natural History
Super Science Saturdays is a family-friendly program that will be highlighting the traditions of other cultures through a variety of crafts, food, and artifacts. The special holiday program will be led by museum experts from noon to 4pm, and its different holiday-themed stations will feature interactive activities and experiments for participants of all ages.
Cost: Free with museum admission
December 9
Mattress Factory
You thought it was finally time to rid your closet of that knitted monstrosity but Mattress Factory is here with Bed in Breakfast: Ugly Sweater Edition. Not only will you have a reason to wear something oversized and covered in rhinestones, but you'll also be able to donate a new or gently used sweater to Mister Rogers' Neighborhood Sweater Drive. While nestled in layers of tacky yarn you can have some brunch time appetizers, spiked hot apple cider, and holiday mimosas by Salud Juicery.
Cost: $30
December 10 - 11
Kimpton Hotel Monaco
In case you didn't quite get your fill of local shopping at Ace Hotel or you need to continue the spree, Wintermarket is here. The Hotel Monaco will be hosting this two-day-long event that will feature a selection of goods including glassware and jewelry from local makers, and LUXE Creative will be transforming the space into an envy worthy winter wonderland. Oh, and don't worry about getting famished in the midst of your shopping venture, because The Commoner will be serving up seasonal cocktails and some inspired bites.
Cost: Free to attend
 
December 11 - 12
Benedum Center
Set in 1980s Brooklyn, this modern reimagining of The Nutcracker features a dozen dancers, an electric violinist and DJ Boo who has created hip-hop inspired interludes that stem from Tchaikovsky's original score. The evening length production is family friendly and emulates E.T.A. Hoffman's original story with themes of love and community.
Cost: Tickets start at $30
December 12
The Oaks Theater
Perfect for those among us who love the more cynical and chaotic side of holiday cheer, the Oaks Theater will be throwing a National Lampoon's Christmas Vacation Ugly Sweater Party. Wrangle up your ugliest sweater and get there early for a special beer tasting from Hulton Liquid Work. Be sure to try the "Okamonter Stout" and get ready to party because, in the words of this movie's endearingly flawed patriarch, "Nobody's walking out on this fun, old-fashioned family Christmas!"
Cost: Tickets are $8 (but must be purchased in advance)
December 13 - 14
The Commoner
Tis' the season for pop-up bars! The Commoner at Hotel Monaco is channeling the modern classic holiday film Elf for a two-day experiment that's been dubbed "Buddy's Bar". Drinks will be inspired by Buddy the Elf's 4 essential food groups (candy, candy canes, candy corn, and syrup). The bar's decor will emulate Elf with nods to popular characters and famous lines. One of the drinks, Maple Syrup? It's Spaghetti?, featuring Parmigiano-Reggiano infused vermouth and maple syrup black pepper pasta water reduction, is guaranteed to be either completely disgusting or the best thing you'll ever drink.
Cost: Free
December 14
Carnegie Museum of Natural History
Get your toes wet (not literally, though) at this season's After Dark event that will explore the infamous Titanic. This sea worthy adventure will take place entirely on dry land and feature activities like a Race to Save Yourself scavenger hunt and the chance to learn about The Wonder Ship and how it's connected to Pittsburgh. And no Titanic-themed soiree would be complete without dancing an Irish jog and being drawn like a French girl.
Cost: $15
December 16
Ace Hotel
Whether you're just a sucker for regional wares or you kind of, completely forgot it was the holiday season, the Made + Found special holiday market is here to soothe your woes. With 50 vendors to choose from, hawking everything from vintage clothing to leather goods to skincare, you'll have trouble NOT finding what you're looking for. Bring your kids, bring your dogs, grab some brunch, go buckwild.
Cost: Free
December 20
Heinz Hall
Experience the 30 year old holiday classic, Home Alone, on the big screen surrounded by the beautiful interior of Heinz Hall. John William's original score, full of warmth and curiosity, will be brought to life right in front of you. The Pittsburgh Symphony Orchestra and choir will perform the entirety of the original score for all of those in attendance.
Cost: Tickets start at $25
December 20
Carnegie Museum of Art
CMOA is busting out all the moves for their What a Feeling! '80s party; pull out your oversized blazer, and empty a can of hairspray. The museum will be screening the cult classic Flashdance all night in the Music Hall foyer (where several of the movie's scenes were filmed), and dance troupes including courDANCE and Level Up Studios will be performing to classic '80s music, with attendees getting the chance to compete in a Flashdance-inspired dance contest. If you're not in the dancing mood, you'll still be able to show your '80s pride by bedazzling your very own sweatband and showing it off in the photo booth.
Cost: $10
December 31
Revel + Roost
Are you sick of spending New Year's Eve at yet another house party with a lukewarm Miller High Life in hand? Revel + Roost is here to give you the glamorous night of champagne toasts you've been dreaming of: for $50, you'll have full access to an open bar from 9-10pm, live music, giveaways, and a midnight breakfast buffet.
Cost: Starts at $50
December 31
Il Tetto
Okay, high rollers, here's your chance to have a New Year's Eve blowout guaranteed to make 2019 your most glamorous year yet. Party on the glass-enclosed rooftop of Sienna Mercato while enjoying a hor d'oeuvres buffet by Mezzo, free party favors, a photo booth, panoramic views of the city, and a midnight champagne toast. If that wasn't enough, you'll also get to listen to DEEJAYDEEZ while enjoying the pure decadence of a balloon drop.
Cost: Tickets start at $90
January 1 - 27
Benedum Center
Unless you've been sleeping under a cultural phenomenon-proof rock, you are likely well acquainted with the historical and musical mashup of the decade that is Hamilton. The touring production will be making an nearly month-long stop in Pittsburgh, where Lin-Manuel Miranda's imaginative retelling of the life of Alexander Hamilton will grace the stage at the Benedum Center.
Cost: Tickets start at $150.25
January 12
Uno Pizzeria & Grille
It's time to get your kids on the late '80s nostalgia train with a Teenage Mutant Ninja Turtles Pizza Party. Bring an impressionable child (or just yourself; no judgement) and make your own pizza creation. Kids will also get to delve into a make-your-own sundae bar and hang out with Michelangelo (aka Mikey) who will be making a special appearance.
Cost: $15
January 14 - 20
Various locations
The Winter 2019 Restaurant Week has returned, and will be filling our bellies with all of Pittsburgh's finest cuisine from January 14th to the 20th. Dozens of restaurants will be offering special menus to offer a unique experience for both new and returning patrons. You can check out a map of all the restaurants involved, and see new menu options as they become available.  
Price: Varies by restaurant
January 16 - 20
PPG Paints Arena
Amazing acrobatics hit the ice in Cirque du Soleil's Corteo. World class ice skaters and acrobats will be coming to PPG Paints Arena for a brand new ice skating experience that promises to be full of awe-inspiring choreography, Baroque circus acts, and dazzling lights.
Price: Tickets start at $49
January 19 - 20
Spirit Lounge
Support more than 75 local artists and musicians at the annual Pancakes & Booze Art Show. View over 350 pieces of pop art, fine art, and photography by Pittsburgh locals, or become a walking piece of art with live body painting, all while chowing down on a free pancake bar.
Price: $10 at the door, $13 for Line Jumper tickets
Advertisement
Between the holidays and finishing out the year at work, your calendar can fill up fast in the colder months. But whether your winter plans involve heading out to a new bar opening, onto the open road, or to the office, Wrangler has new styles and comfortable fits made for wherever life takes you -- so you won't have to think twice about what to wear.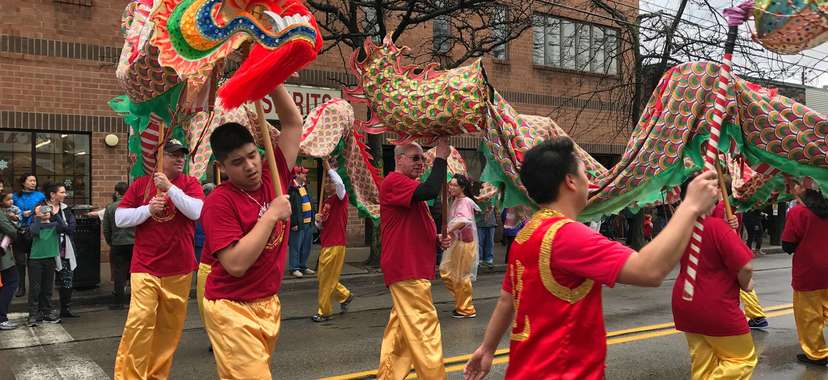 February 14
Children's Museum
If you're feeling a little bitter today, you can either spend the night glaring at couples sharing big plates of spaghetti, or you go to MAKEnight: My Snarky Valentine. The grown-up craft party that's more cynical than heart-felt is the perfect opportunity to make a sarcastic valentine's card, have a couple of drinks and down canapes while choking back your lonely tears.
Cost: $20
February 17
Squirrel Hill
2019's Lunar New Year Parade will be celebrating the year of the pig; the day long celebration will include appearances by dozens of groups in full costume and regalia. Come down to Murray Avenue for a chance to check out traditional instruments, Chinese folk dancing, and authentic food and drinks.
Price: Free
February 22 - 23
David L. Lawrence Convention Center
For the sixth year running, Pittsburgh Winter Beerfest returns to the David L. Lawrence Convention Center for two days of all things beer. One of the 10 largest craft beer events in the nation, this beerfest will feature over 400 types of craft beer from more than 125 different breweries, food trucks, free samples, appetizers, and much more. As always, all proceeds will benefit Animal Rescue Partners Inc and Biggie Bullies of Pittsburgh.
Price: Tickets start at $45
February 23
Heinz Field
The Pittsburgh Polar Plunge invites anyone and everyone to register for a dip into the Ohio River, for a minimum donation of $50 that will benefit thousands of Special Olympics athletes. If you're not feeling quite up to the below-freezing dip, you can still join in as a spectator with tons of family games, entertainment, free food, and hot beverages.  
Price: Free to spectators, $50 minimum donation to participate
February 23
Shady Lane School
If you want to support local art, small business, and education all in one stop, now's your chance. Shady Lane School's annual "A is for Art" fundraiser will feature a silent auction where attendees can bid on art from the school and surrounding community, as well as have the opportunity to win gift certificates and baskets provided by local small businesses. Drinks and a huge spread from Bistro To Go will be included with the price of admission, and all proceeds benefit scholarships for students.
Cost: Tickets start at $50
Sign up here for our daily Pittsburgh email and be the first to get all the food/drink/fun in the Steel City.