Happy St. Patrick's Day! Don't miss our explainers on Guinness, making green beer, find green food and more Irish traditions. Plus, check out our other St. Patrick's Day celebration guides for Boston, Chicago and New York.
Pittsburgh has celebrated (and sometimes not celebrated) St. Patrick's Day with a parade for nearly 150 years, through rain, shine, and of course, the infamous Blizzard of '93. This year, it's adding a new tradition to the annual event, with the introduction of a mascot named Finn the Irish Wolfhound, who'll be marching alongside St. Patrick himself during the parade (sorry, Pirate Parrot).
While we may not dye the rivers green like Chicago (can you imagine the work it would take to dye three rivers?), Pittsburgh's Irish celebration has grown in recent years; it's even believed to be the second-largest St. Patrick's Day parade in the United States (according to Pittsburgh's St. Patrick's Parade Committee, which is admittedly like a Pittsburgher saying the Steelers are the greatest NFL team, so take it with a grain of salt). Pittsburgh's parade includes 22,000 participants, 200 marching units, floats representing a variety of cultures and heritages, and also new this year, the Largest Potato in the World.
Here's everything you need to know to about Pittsburgh's St. Patrick's Day parade, from the history, to the parade itself, to the hot spots to hit up afterward.  
Recommended Video
France's Fête des Lumières Is a Light Festival Unlike Anything You've Ever Seen
How far back does Pittsburgh's St. Patrick's Day history go?
The first St. Patrick's Day in Pittsburgh was March 17, 1869; however, at the first parade, wagons being unloaded at the emporium of Joseph Liebler affected the flow, and the police wouldn't stop the delivery people because the Liebler business was so prosperous. Fortunately, the parade's a bit more organized these days.
While the motto is usually "rain, snow, or shine," the parade was canceled in 1903 due to snow and the next year, for some inexplicable reason, the parade was canceled again (not due to weather). In 1956, winter weather canceled the Saturday parade on a Friday, but on that Saturday, people stepped off anyway, with 9 inches of snow on the ground. At first, the rebel marchers were in trouble with the police, but eventually then-Police Chief Maloney gave in and even marched down Fifth Avenue with the group. Since then, weather hasn't stopped Pittsburgh from marching, even during the Great Blizzard of 1993. For 2018, the Pittsburgh St. Patrick's Day Parade Committee announced it will honor the late US Ambassador to Ireland and Pittsburgh Steelers legend Daniel M. Rooney by dedicating the 2018 Pittsburgh St. Patrick's Day Parade to him, with this year's theme being "A Just Peace in the North of Ireland."
 
What time does the parade start? What is the route?
The parade starts at 10am on Saturday, March 17, 2018; parade formation will begin at the Greyhound Bus Station at the intersection of Liberty Avenue and 11th Street, and it's following the same route as last year's. The parade will go from that intersection to Grant Street to the Boulevard of the Allies, where it will turn right. From the Boulevard of the Allies, it will go to the Reviewing Stand to Stanwix Street, and then disperse at Commonwealth Place.
What's the best viewing spot?
Pretty much anywhere where you can pop a squat. It's not as extensive as other city's parades, but if you can find a spot on Grant Street, Boulevard of the Allies Downtown, or Stanwix, you'll probably be good to go. Bring your lawn chairs; this time you won't be saving spots for your car, but for your butts.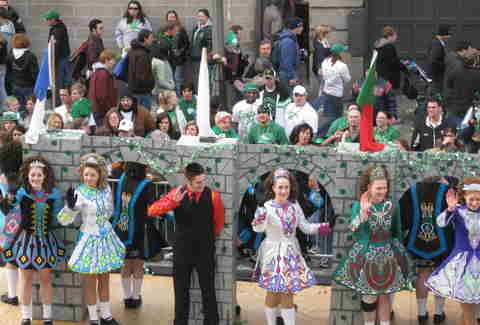 What are the rules?
Yes, there are rules for both attendees and participants. Here's what you can't do if you're watching the parade (these are as obvious as the garbage rules for Homer Simpson):
Have messaging other than the theme of Irish heritage and pride
Engage in a public protest or use the parade as a platform for something other than St. Patrick's Day (so basically, if you're hoping to use the parade as a Trump protest, it's probably not the best idea). Leave your issues/causes at home.
Throw beads, silly string, or candy (this isn't Mardi Gras).
Don't have signs with obscene language or run around naked (there will be children!).
Bring a gun (leave it at home, and take a cannoli from Colangelo's instead)
Start a fight (despite the phrase "Fightin' Irish," refrain from throwing punches)
Do drugs (there will be cops everywhere, dude!)
What will the weather be like?
While it's been cold in recent weeks, it has been gradually getting sunnier and warmer. Right now, it looks like it's going to be sunny and dry on Saturday, with a high of 46 degrees.
What should you wear?
Well, green, of course; you don't want to be the only person decked out in a different color (don't be that guy or girl). You might also want to wear layers, since it will start out cold and get warmer (especially if it's going to be sunny). Wear a hat and some sunscreen. Basically, go all out with green, but feel free to throw in some Pittsburgh sports teams, too (no one will object).
How do you get there?
If you live in the city neighborhoods, you'll probably want to Uber or take a bus (so you don't have to worry about traffic/finding a spot). If you live outside of the city, there are lots of public parking areas near the parade routes, but these will likely fill up fast, so get there early. Since the weather is going to be nice, you could also park somewhere in the South Side and walk across the 10th Street Bridge to Downtown. If you're coming from the South Hills, you could take the T in, too.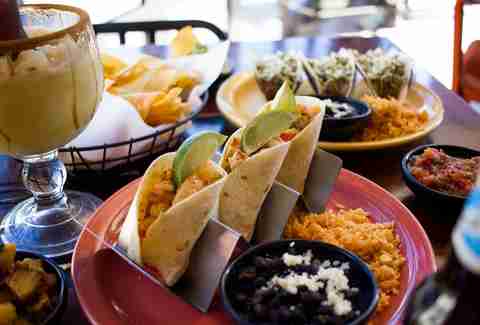 What else is there to do this weekend?
Of course, there are family-friendly St. Patrick's Day activities going on in Market Square, including live music. Mullaney's Harp & Fiddle in the Strip District will have live music starting at noon and going all day (they've actually been celebrating St. Patrick's Day all week long). Gaetano's Banquet Center and Restaurant on Banksville Road is having a murder mystery dinner, while Pittsburgh's St. Patrick's Day Bar Crawl will be taking place downtown. Of course, you could do your own bar crawl on the South Side, where a lot of the after-parade action will be -- you can purchase a Line Hopper pass for exclusive entrance into four Carson Street bars, including Local Pittsburgh, Steel Cactus, Diesel, and Skybar.
If none of these ideas strike your fancy, here are other fun things you can do around Pittsburgh this spring.
 
Sign up here for our daily Pittsburgh email and be the first to get all the food/drink/fun in the Steel City.