The word "Erie" might make you think of graveyards and old episodes of Eerie, Indiana, but despite its spooky name, Pennsylvania's fourth-largest city is packed with plenty of non-spooky attractions like historical landmarks, beautiful nature preserves, and the largest grape-growing region in the US (outside of California). It's also only a two-hour road trip from Pittsburgh, so you've got no excuses: Come for the food, the theater, and the many brewing operations, and stay for the sunset views on the lake that have earned Erie the nickname "Gem City." Here's all the best stuff you need to do when you're in town.
Recommended Video
Please Don't Hang Up: The Best Things to See, Eat, and Do in Seattle, WA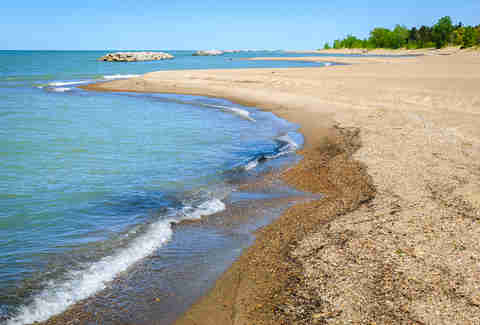 Explore the depths of Presque Isle
Around 3,200 acres of blue-water beaches and expansive shorelines make Presque Isle State Park the place to be if you're jonesing for a taste of Beach Blanket Bingo-esque good times. Even if you're not the choreographed-dancing-on-the-beach type, Presque Isle offers fishing, biking, in-line skating, and a variety of watersports like scuba diving and canoeing. Rest assured, you'll find plenty of reasons to spend an entire day here.
Get a bird's-eye view of your surroundings
For panoramic views of Presque Isle and Downtown Erie, you can climb the 200+ steps to the top of Port Erie Bicentennial Tower. The upper observation deck stands 138 feet above the ground, and and visitors have reported being able to see all the way to Long Point in Ontario, Canada (27 miles away). Port Erie is also home to Lampe Marina Campground where you can set up a tent and spend the night right along the waterfront.
Relive your childhood with thrill rides...
Waldameer Amusement Park & Water World is one of the best water parks in the country, evidenced by the variety of activities on offer here. You can ride a wooden roller coaster, hop into the tri-state's largest wave pool, or check out the brand-new park addition "The Battle of Lake Erie!": a water complex with seven slides and a 400-gallon tipping bucket. Continue living out your childhood dreams with a visit to Erie Zoo, where you can take a train ride through the 15-acre park to get up close and personal with over 400 different animals representing 200 distinct species.  
... then celebrate your adulthood with beer
Now that you've gotten your fill of wholesome activities, it's time to partake in some carbonated adult beverages The Erie Brewing Company, which recently reopened their doors at a brand-new location, offers six year-round brews as well as five rotating seasonal selections like the raspberry lemon Soleil Shandy. Join them in the Main Bar, Barrel Room, or the dog friendly Front Patio for brews and four local wines from 6 Mile Cellars. And be sure to grab some pizza from Pub & Pie, their collaborative on-site restaurant with Wildwood Pizzeria. If you're looking to add more variety to your tasting tour, hit up Voodoo Brewing Company, The Brewery at Union Station, and Sprague Farm & Brew Works.
Soak up all that booze with a food tour
Because most of us could take vacations consumed (pardon the pun) entirely by visiting restaurants, Erie Food Tours are not only convenient but necessary for the well-being of our guts. Try all of the best that the region has to offer in a three-hour, 2-mile walking tour through Downtown Erie. Get a taste of customizable treats at Little Shop of Donuts, Vietnamese coffee at Like My Thai, and a Pitboy (pork, brisket, and sausage sandwich) at Federal Hill Smokehouse all in one day.
Eat your way through more local classics
French truffles, caramel delight, fruit jelly slices, and the one-of-a-kind sponge taffy can all be found at Pulakos Chocolates, which has been churning out confections since 1889 and still preserves its four-generation-old recipes and techniques. Continue your nostalgic tasting tour with a visit to Lawrence Park Dinor, a seemingly misspelled restaurant made up of seven tables and a row of bar stools inside of an old train car. A local landmark in downtown Erie, this greasy spoon is perhaps best known for its Greek omelets and peanut butter pie.
Take a gander at Erie's old Hollywood
Commissioned in 1929 by the Warner Brothers themselves, Warner Theatre is both an immaculate venue and an important piece of Erie's place in Vaudevillian history. The theater's crystal chandeliers, marble archway, and art-deco interior have all been carefully preserved over the years, and the venue still hosts touring musicians and Broadway productions every year.
Enjoy some local theater
For a more down-to-earth experience, check out All An Act Theater Productions. This community-run troupe produces everything from classic Shakespearean plays to murder mysteries in an intimate theater setting. Alternatively, the Mercyhurst Institute for Arts & Culture has been showcasing plays and musicals from around the country since 2011; the program encourages discussions between patrons and performers, and presents a rare opportunity to see behind the artistic process.
Take a spin through Downtown Erie
In 2004, over 500 merchants came together to create the Downtown Improvement District. The historic area has seen a boom since then, and now houses a huge array of bars, boutiques, restaurants, and urban parks. Erie's free Cultural Loop trolley service is a great way to do your own downtown tour and quickly hit spots like Liberty Park, the Erie Playhouse, and the Erie Art Museum. The museum, which supports collections from both international and local folk artists, hosts a free admission day on the second Sunday of every month; patrons are welcome to participate in an exhibit-based art activity, work with visiting artists, and bring their creations home.
Do some Prohibition-style bowling
After all of that exhausting culture, treat yourself to an indulgent night of 1920s-era partying at Hooch & Blotto's Sports Bar and Grill. With an impressive craft beer list, an eight-lane bowling alley, and sports games projected onto practically every flat surface, there's something for just about everyone here, and on Tuesdays, anyone rocking a (real, full-on) mustache gets 50% off any entree. Of course, there's only one correct choice as far as entrees go: the Sonny Boy Burger, with cajun bacon, pepper jack cheese, tater tots, hot bacon dressing, and a sunny-side-up egg thrown in for good measure.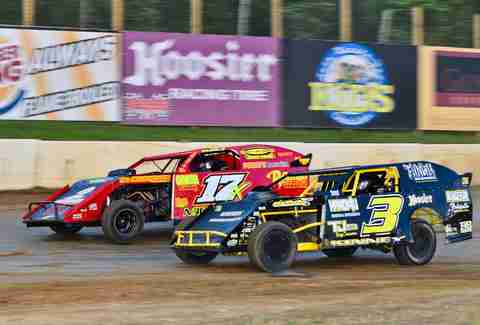 Get filthy at the racetrack
A night at Eriez Speedway is summed up best with two words: dirty, and loud. If you've never been to a live race, this self-proclaimed "best dirt racing track in the area" will give you an excellent introduction into the world of high-speed car racing. Best experienced with a hot dog and dirt goggles.
Actually learn some local history
By now, you've had the opportunity to soak up all the fun and booze your body could possibly handle, so why not soak up some knowledge for a change? The Erie Maritime Museum hosts a collection of historical artifacts, like the original GE steam-powered electricity generating system, and interactive exhibits that commemorate the 1813 Battle of Lake Erie. Commissioned in 1873, Erie's first fire station still stands to this day, and is now the Firefighters Historical Museum, which features displays of uniforms, a steam-driven fire engine, and an ancient four-wheel hose cart.
Sign up here for our daily Pittsburgh email and be the first to get all the food/drink/fun in the Steel City.