Pittsburgh is one of America's most livable cities, thanks to its affordability, low population density, and relatively low crime rates. When you're pitching Pittsburgh activities to out-of-town friends and family members, though, these aren't exactly the most fun reasons to come to the city (except maybe the affordable part). That's why we've put together a guide for things both locals and visitors will want to do in the 'Burgh that range from blissfully cheap (or even free!) to worth the price for the experience; some are classic bucket list must-dos, some may be things you've never heard of before, but all of them are sure to make for a fantastic stay in the Steel City.
Recommended Video
Brookfield Place Is Hosting the 5 Borough Challenge: Best Brews of NYC
Drive the steepest street in the United States
Free
Beechview
With a maximum grade of 37%, Canton Avenue has been featured in car commercials for its steepness. Take a drive up or down it, but we don't recommend cycling it unless you want to practice for Pittsburgh's dangerous Dirty Dozen race.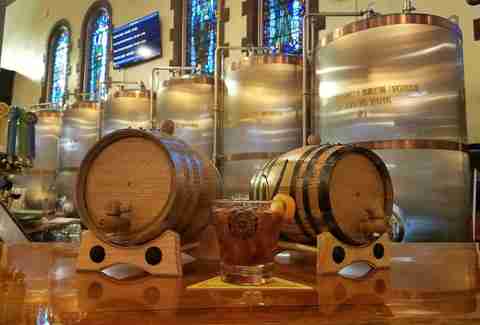 Feel like a naughty Catholic school kid at Church Brew Works
$$
Lawrenceville
Pittsburgh has a thing for turning old buildings into bars, whether it's a funeral parlor (The Abbey) or even a YMCA (The Ace Hotel). Church Brew Works was one of our first restaurants with a former history, as it used to be St. John's the Baptist Church; today, vats of beer sit on the used-to-be altar and you can dine where pews used to be.
Make it Christmas all year long at Bob's Garage
$$
Blawnox
Even though it's known as "the Christmas bar" thanks to its holiday lights and decor, Bob's Garage actually changes its theme with each season -- but everyone's favorite is probably Christmas. Come for the fun atmosphere, stay for the sandwiches and burgers.
See the most colorful side of Pittsburgh at Randyland
Free
North Side
Only in Pittsburgh would an artist invite you into his home as part of an art exhibit, but that's exactly what Randy Gilson -- a friendly, Mr. Rogers-type neighbor -- does with his colorful North Side house. He purchased "Randyland" in 1995 on a credit card, and today it has become the face of curb art in the city. The house is open seven days a week, 10am to 7pm (except December 24-26), so feel free to stop on by.
$$ - $$$
Various locations
While it might not have the culinary pedigree of an NYC, Pittsburgh's dining scene has come a long way in the last five years -- and what better time to splurge on a great meal than when people come to town? Whether you go for vegan eats at B52, traditional Sichuan fare at Chengdu Gourmet, or smokey wood-fired meats at Gaucho Parilla Argentina, Pittsburgh's got plenty of alternatives better than hitting up the ole Cracker Barrel.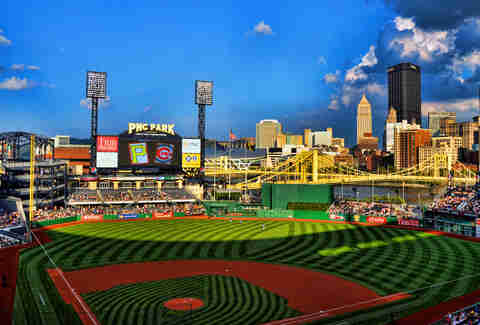 Go to a sporting event
$$ - $$$
Various locations
Between the Steelers, Pirates, Penguins, Riverhounds (soccer), Panthers (college basketball), Passion (women's football), and others I've forgotten to mention, you can probably see a sporting event at any time of year in the City of Champions. Plus, when you attend an event, you also get to experience landmarks like Heinz Field, PNC Park, and PPG Paints Arena.
$
North Shore
While he may be associated with New York's arts and film scene, Andy Warhol was a Pittsburgher, and this North Shore museum commemorates the avant-garde soup-can icon. With rotating exhibits and daily/weekly events, there's always something new and fun to do at the Warhol. Just make sure you go to "the cloud room," as it's a must-see.
Parade around Point State Park
Free
Downtown
On a sunny day in Pittsburgh (a rarity!), no one can resist a trip to Point State Park, especially for some reflection at the fountain, which is perfect for sitting and enjoying the confluence of the Monongahela and Allegheny rivers.
$$
Oakland
Phipps Botanical Gardens is an attraction that both tourists and locals can enjoy, with new exhibits and collections for each season. There are also events, like Party in the Tropics (with drinks, music, and food), on a weekly/monthly basis.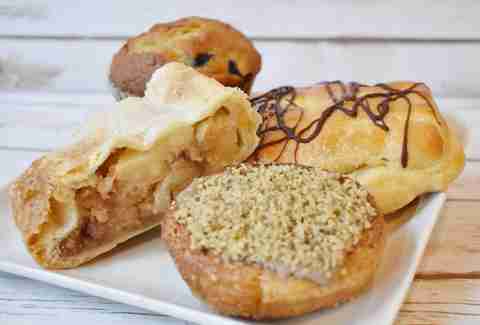 Stock up on cheat-day treats at Prantl's Bakery
$$
Various locations
Visiting sweet tooths can't resist "the Greatest Cake in America" -- the burnt almond torte -- and neither can locals, for that matter. You can't go wrong with whatever you eat here, and when your friends and family return to their homes, you can ship them sweets courtesy of Prantl's online store.
Take a trip up and down the Duquesne Incline
$
South Side/Mount Washington
Part historical, part fun, the Duquesne Incline fuses together the things that make Pittsburgh so special (and it's still used as transit even today). Take a ride up the incline and then a short walk to an overlook from Mount Washington, where you'll get a spectacular view of the city and its three rivers. To guests, a refreshing glimpse of Downtown; to you, a reminder of what you love about where you live in the first place.  
Experience a truly grand view at Grandview Park
Free
Mount Washington
If you can't get enough of the Pittsburgh landscape, then a trip to Grandview Park probably has the best view of the city. During the summer, the park hosts movies and music festivals, but even without these activities, the overlook is more than worthwhile.
Relive your arcade heyday at Games N' At
$
South Side
The tagline of this game emporium practically implores you to show up, whether you've got visitors in tow or not: "It's a Pittsburgh thing." Choose from duckpin bowling, video arcades, pinball games, foosball, skeeball, and more. Plus, it's BYOB as long as you're 21 or over.
Take a stand-up paddleboarding class
$$
Various locations
The Gateway Clipper Fleet is one (admittedly excellent) way to experience the three rivers, but another option for getting on the water is to stand-up paddleboard. SUP3Rivers, Surf's Up Adventures, and Stand Up Pittsburgh are just a few places to browse classes and options.
Shop in the Strip District
$
Strip District
The people. The smells. The food. Every Pittsburgher finds themselves in the Strip District at some point, whether it's for shopping (Penzeys Spices!), produce (outdoor markets), or black-and-gold memorabilia. A Saturday in the Strip is one way to experience a typical weekend in the 'Burgh.
Attend one of the city's unique events/festivals
$
Various locations
Pittsburgh also has a stacked calendar of festivals all year long, including cookie tours, Doors Open (a two-day event which gives you access to landmark buildings), Art All Night (a free community art event in Lawrenceville), the Three Rivers Art Festival, Pittsburgh Comedy Festival, Pittsburgh Pierogi Festival, Picklesburgh, I Made It Market... the list just goes on and on.  
Get plucked at Banjo and Bluegrass Night on the North Side
$
North Side
Banjo Night at the Elks Lodge is an institution, something that has taken place every Wednesday at 8pm (doors open at 7) for nearly 30 years. "Banjos," you might ask? Yes, banjos, and it's such a blast that you have to make reservations ahead of time to get a seat. Delicious cheap eats (fried shrimp) and drinks here make Hump Day a little easier to get through; after Banjo Night, the cool kids head around the corner to The Park House for a live bluegrass jam session (also every Wednesday).
Spend an evening at Kennywood
$$
West Mifflin
Sure, it's tradition to spend all day at Kennywood amusement park, but if you go after 5pm, not only is it cheaper, but most people are probably leaving by then, which means fewer lines for roller coasters. Plus, evenings at Kennywood are magical thanks to all of the lights and the classic atmosphere. Other than the spring and summer, Kennywood also has special holiday events, with Fright Nights in the fall and Holiday Lights in November and December.
Settle the Mineo's vs. Aiello's pizza debate
$
Squirrel Hill
They're just a few doors down from each other, but people couldn't be more divided on these two pizza places. It's a rivalry that's gone on for decades, and every Pittsburgher has an opinion on who's got the best pizza in town (including us). Weigh in on who comes out on top -- just don't weigh yourself afterward.
Find function at Construction Junction
$$
Point Breeze
Construction Junction is a large warehouse filled with recycled materials and appliances at reduced prices. Recycling isn't a glamorous activity, but this place is a wonder, with everything but the kitchen sink (oh wait -- they have that, too!), including doors, floors, hardware, glass, mirrors, and more. This place is a DIY enthusiast's heaven, but even if you're not the crafty type, Construction Junction is a sight to behold. Visitors will love the place too, but will undoubtedly be frustrated when they can't fly home with that clawfoot tub in their overhead compartment.
 
Stroll through Highland Park Entry Garden
Free
Highland Park
You could go to the zoo in Highland Park, but you could also spend some time at the Highland Park fountain and garden. Plants, flowers, benches, and a walkway line the fountain and make for beautiful afternoon.
Drink up at this Step Brothers-themed wine bar
$$
Lawrenceville
It's the friggin' Allegheny Wine Mixer, located in Upper Lawrenceville! From the outside (and maybe even the inside), it doesn't appear to be anything Step Brothers' Dale and Brennan would ever drink at, but there are little homages to the 2008 comedy, like the name of the establishment and the Incredible Hulk Hands above the bar. The cheese toasties complement the wine selection like, well, like Boats 'N Hoes.
Get starry-eyed at Mellon Park Walled Garden
Free
Mellon Park
Gifted artist, dancer, and ceramist Ann Katherine Seamans used to frequently visit the Mellon Park walled garden throughout her life, before dying tragically in an automobile accident in 1999 at the age of 19. A decade later, artist Janet Zweig paid tribute to Seamans with a special art installation that casts the pattern of the night sky on the day of her birth into the lawn through fiber-optic "stars."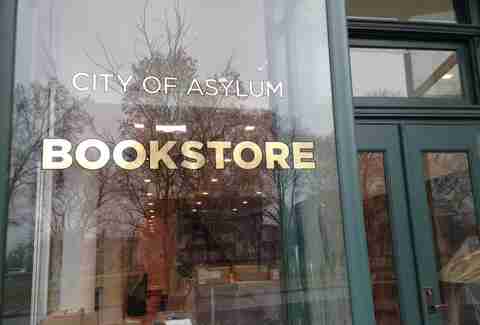 Support exiled writers and artists at City of Asylum
Free
North Side
The City of Asylum provides a sanctuary to endangered literary writers from around the world, so they can continue to write without being silenced or persecuted. The organization frequently puts on events like readings, poetry slams, concerts, and more at its location at Alphabet City on North Avenue, which includes a bookstore.
Sing karaoke with strippers at Tennyson Lodge
$
Bethel Park
There are plenty of Pittsburgh strip clubs you can visit, and there are plenty of karaoke bars as well -- but only Tennyson Lodge offers Bare-oke, which involves people singing karaoke songs while fully nude dancers do their thing (Fridays only). You'll never think of karaoke the same way.
Hit the roller disco at Belvedere's
$
Lawrenceville
Get your old roller skates out of the attic -- or rent them at the bar -- for Pittsburgh's premier roller disco (although it's rare that actual disco music is played). Once a month, Belvedere's bar clears out its tables and chairs and makes way for skaters. Check the schedule online before you show up in your skates, though.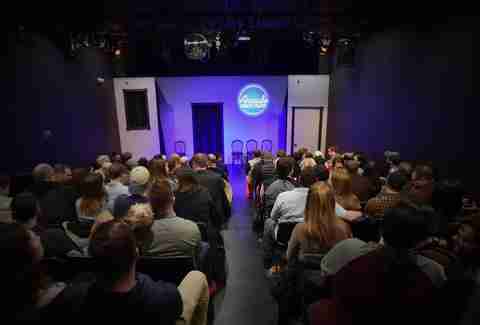 $
Downtown
Every weekend, Arcade Comedy Theater offers comedy shows in a variety of genres, from stand-up to improv to experimental -- it's also BYOB, which definitely ups the laugh factor significantly. Want to get in on the performing yourself? Every third Thursday of the month is Improv Pop-Up Night when you can take a two-and-a-half-hour class on the fundamentals of improvisational comedy.
Hit up one of the city's experimental food halls
$$
Strip District or North Side
Smallman Galley and Federal Galley (think food markets with collections of unique vendors) provide a variety of eating options, which is especially beneficial when you're accommodating families and friends with undoubtedly disparate dining tastes.
$$
Regent Square
We've spoken at length about Pittsburgh's best brunch options, but if you're truly unable to decide, you can't go wrong at this beloved Braddock Avenue diner, which features local artwork on the wall and ceramic square mugs for drinking delicious java. Unique dishes include smoked salmon crepes, lemon-berry ricotta pancakes, and brussel sprouts bowls.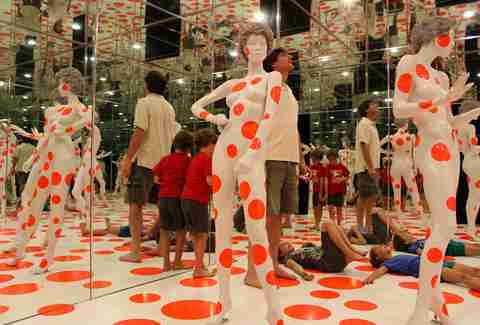 $
North Side
For more than 40 years, the Mattress Factory has gifted the city of Pittsburgh with experimental and site-specific art installations, including Infinity Dots Mirrored Room by Yakoi Kusama. The museum includes a main factory building, in addition to Victorian houses that also support exhibits.
Visit one of America's best record stores
$
Squirrel Hill
Rolling Stone magazine named Jerry's Records in Squirrel Hill "one of the best record stores in the United States," and for good reason: it's home to half a million albums. Even if you're not a vinyl enthusiast, it's worth taking a trip through the past with this expansive collection.
See most of Western PA in a matter of minutes at the Carnegie Science Center
$
North Shore
If you can't get to everything you want to hit with out-of-town friends and family, you can always walk through Western Pennsylvania when you visit Carnegie Science Center's Miniature Railroad & Village, which includes mainstays like Primanti's and Fallingwater, and former landmarks like Forbes Field and Crawford Grill.
Sign up here for our daily Pittsburgh email and be the first to get all the food/drink/fun in the Steel City.