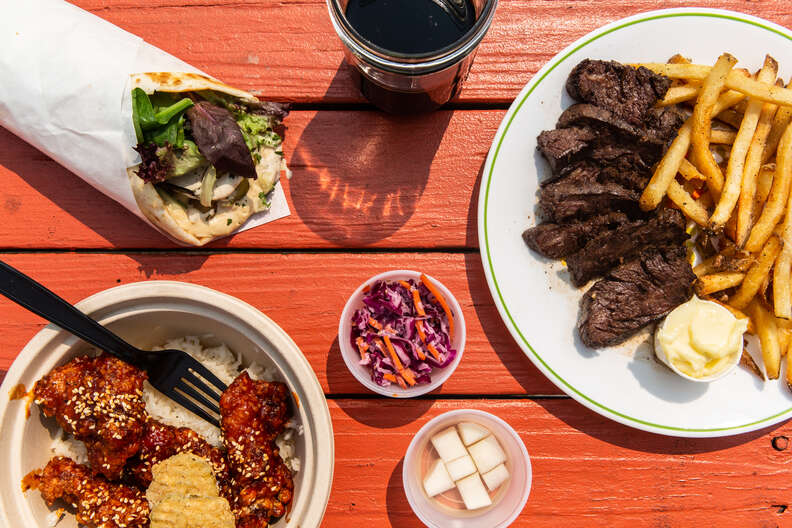 SE 28th & SE Ankeny Pod

| Cole Saladino/Thrillist
SE 28th & SE Ankeny Pod

| Cole Saladino/Thrillist
Portland's Most Delicious Food Carts and Where to Find Them
If you're even thinking of being in Portland, check out the rest of our DestiNATION Portland travel guide. It's stacked with expert advice from locals on what to eat, where to drink, and what to do in the City of Roses.
One of Portland's most well-known and sought-after quirks is its food cart culture. Born out of a need for a cheap culinary startup space after the 2008 financial collapse, countless iconic and mouthwatering meals have been served out of food trucks. The "truck" aspect, however, is somewhat of a misnomer these days, as the bulk of Portland's most popular operations are now clustered together in ad hoc outdoor food courts with cheeky names that folks here refer to as pods.
Here's your guide to the most essential food cart experiences in town, where to find them, and what to order when you get there. Almost all of them are located in popular pods with tasty neighbors, so there's a solid chance you and everyone in your party will find something good to eat, either in this list or at a cart adjacent to these researched and objectively good picks.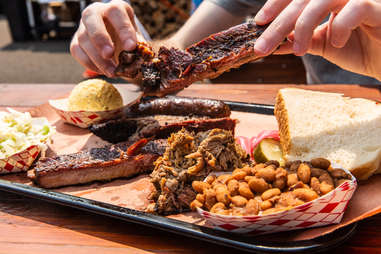 Boise
By the time Matt's BBQ abruptly got the boot in February from its lonely and unassuming spot in the parking lot of a pawn shop on MLK, its legendary status amongst locals had grown to the point where it would maintain a fervent customer base even if it was jettisoned to a stall behind an abandoned Kmart in Gresham. Thankfully, that's not the case. Now located in the white-hot pod behind beloved German beer bar/patio spot Prost, Matt Vicedomini is still slinging plates of snappy hot links; moist, chewy brisket; and Texas-style ribs that are the finest in the city. It's not yet the unearthly presence like Franklin's, but the lore of Matt's Austin-inspired classics has definitely gotten out, so expect to arrive early if you're hoping to sink your teeth into the ribs.
Where is it? On the corner of N. Mississippi Ave and N. Skidmore
Sunnyside
When the Good Food Here pod announced it was closing to make way for yet another housing development, the cult-like fanbase of this Norwegian food cart absolutely lost their shit. If you've tried their lefse -- a traditional Scandinavian wrap filled with salmon, meatballs, poached chicken mushroom, and hazelnut fritters -- you too would be enraged at yet another unique offering losing ground to the churn of gentrification. Luckily, the cart found a home across the street at the Bite on Belmont, keeping the fishy dreams of Viking Soul Food alive for the foreseeable future.
Where is it? On SE Belmont just west of SE 43rd
Hawthorne
Considering the inimitable satisfaction one gets from smashing a plate of fries topped in melted cheese curds and gravy while out on the town, it's shocking how few places in Portland offer a good plate of poutine. Then again, this legendary cart in Cartopia -- one of Portland's original food pods, at SE Hawthorne and 12th -- is so good at doling out sloppy, salty hits covered in pulled pork, palak paneer, and satay that it may be futile to compete in the first place.
Where is it? On the corner SE Hawthorne and 12th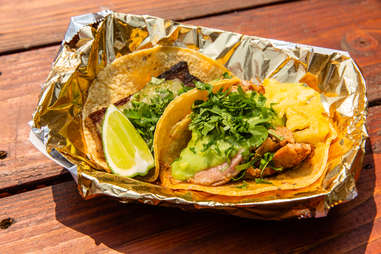 Boise
A fun game to play with visiting Californians is to feed them tacos and get a kick out of their reactions. Prior to this July, one had to go all the way to Vancouver, Washington, to find tacos that would truly impress a SoCal sightseer. But now there's Couve's taco-and-queso powerhouse Little Conejo, also located in what's all of a sudden one of the best food pods in Portland. Snatch up some of their fantastic al pastor and carnitas tacos on tortillas made from hand-ground masa.
Where is it? On the corner of N. Mississippi and Skidmore
Hawthorne
You won't find any guns at Dustin Knox's Chicken and Guns, but you will find a roasted chicken recipe so addictive and deceptively simple that it probably should be regulated by law. Inspired by a soul-seeking sojourn in Mexico after his Chinatown bar Central went under, the Perierra Crêperie co-founder returned to Cartopia in 2016 to give the beloved pod a tasteful overhaul and a new spin on an old-world classic, offering Portlanders whole chickens served with double-fried potatoes and a creamy green Peruvian-inspired sauce you'll want to order by the gallon.
Where is it? On the corner SE Hawthorne and 12th
Boise, Downtown
If authentic Korean food is something you hold in high regard (which you should), it's best to look away while throngs of Timbers fans stuff their faces with kimchi quesadillas and bulgogi burritos at the the Koi Fusion cart near Providence Park. Inspired by a working-class American upbringing where he was left alone to cram Korean soul food staples into dishes no child (or adult) could resist, Bo Kwon took a cue from LA's popular Kogi truck and quickly established an empire with staples built on the same crowd-pleasing mishmash of sweet, salty, and melty textures that makes Taco Bell so appealing to folks who've been overserved. It's perfectly fine when you're sober, too, but the fact that his most successful locations enjoy a remora-like state outside of popular drinking destinations is certainly no accident.
Where is it? There's one on the corner of N. Skidmore and N. Mississippi and one on Burnside and SW 20th
Downtown, Boise, Buckman
You'll find plenty of falafel on the sun-warped photo menus of the millions of Mediterranean and Middle Eastern carts scattered throughout Downtown, but what you won't find is a fritter as flawlessly executed as that of Wolf & Bear's. The basic falafel wrap -- which comes topped with hummus, grilled eggplant, onions, and roasted red peppers -- is a marvelous commingling of texture that comes together perfectly in a warm, fresh pita. Everything is vegetarian, and most items are easily made vegan, making this an essential stop that's appreciated by omnivores just as much as their meat-adverse counterparts.
Where is it? You'll find it in an unnamed food pod on SE 28th between Ankeny and Ash
Richmond
Our first pick on the list is actually a lone food cart that exists outside the pod culture. After his first iteration of Kim Jong Grillin' caught fire and shuttered in 2011, owner Han Ly Hwang just barely lost to Nong Poonsukwattana of Nong's Khao Man Gai on Food Channel's Chopped. Ly Hwang finally got back in the cart in 2014, and the results have been nothing but sublime. The feature dish here is the bibimbap box, a hangover-crushing pile of tangy kimchi, marinated bulgogi, and the creamy drizzle of a sunnyside-up egg binding it all together. It's some of the best Korean food within Portland proper, and the diminutive menu (smaller appetites will enjoy the hot dog as well) makes for a streamlined experience with minimal FOMO.
Where is it? On SE Division between 45th and 47th
Montavilla
All the proof you need of this famous Compton-based food carts' success can be found on Instagram, which features a mind-boggling gallery of celebrity cosigns from the likes of Kendrick Lamar, Dave Chappelle, Kanye, and Jay Z. It's old-school comfort food cooked in the engine compartment of the truck that owner Malachi "Spank" Jenkins fashioned into a 40-gallon drum cooker of sorts. And though their barbecued ribs and chicken are amongst the best in the city, it's their signature dish -- a carved-out pineapple filled with rice, steak, and shrimp -- that's the main reason people line up on Stark Street in the pouring rain to get a taste of what Spank is cookin'.
Where is it? On Stark between 85th and 86th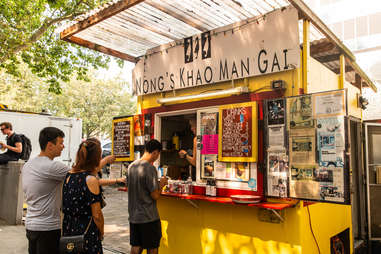 Downtown, Buckman
Since leaving the kitchen of Andy Ricker's now-famous Northern Thai restaurant Pok Pok, chef Nong Poonsukwattana has hit paydirt with a concept that's the highest ideal of what a Portland food cart can and should be. It all started with the titular poached chicken and rice dish that's topped with a magical pickled ginger sauce you have to taste to believe. And although Nong has since been featured on Chopped -- as well as every relevant best-of list -- her ability to remain humble and keep things simple is a trait that all but guarantees success for her modest operation, which now includes stripped-down brick-and-mortar shops in Inner Southeast and Downtown.
Where is it? Right there on Ankeny and 6th
Boise
It's fitting that Portland's most authentic East Coast-style pastrami sandwich is found in a food cart that's branded with kitsch and colorful gore. Owner Melissa McMillan, who also runs the brick-and-mortar Chicago-style sandwich shop Sammich in Kerns, is a rockstar at smoking meats. Her knack for blending textures between bread is displayed perfectly on the cart's eponymous sandwich, which features tender and smokey Montreal-style pastrami topped with smooth melted Swiss and crisp, briny sauerkraut.
Where is it? Find it at the intersection of N. Skidmore and N. Mississippi
Downtown
Bing Mi, on SW Ninth & Alder, is exemplary of the Portland food cart experience, offering a few iterations of a classic street food staple that's been honed to a venerable art form. In this case it's jianbing, a Chinese crepe that's folded, fried, and stuffed with ingredients like black bean paste, chili sauce, and pickled vegetables. It's simple on paper, yet bold and complex as it crackles in your mouth. And the line that almost always eclipses that of other carts in this teeming micro-universe of food carts should tell you all you need to know.
Where is it? Find it on SW Ninth and Alder
Sign up here for our daily PDX email and be the first to get all the food/drink/fun Portland has to offer.
Pete Cottell graduated in 2007 with a journalism degree from Ohio State University. He visited Portland in the fall of 2012 and decided to pack up his station wagon and head west. Since then, he's written an award-winning column about living in a van, had a Reddit page devoted to what an asshole he is, and has come to the realization that none of this would be worth unit without such primo access to beer, food and nature. He prefers food carts with only two items on the menu, but will always have a soft spot for Arby's. Follow him on Instagram at @VanifestDestiny for photos of vans, surf trips gone awry and the occasional Oregon mountaintop moneyshot.