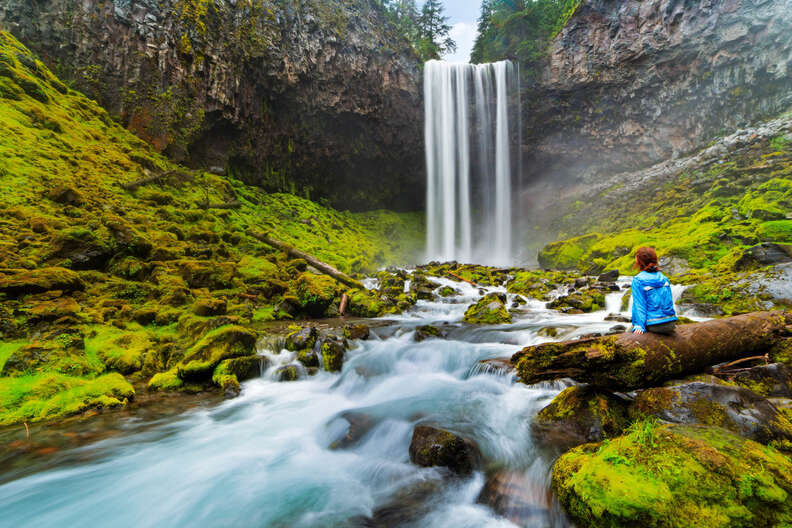 Tamanawas Falls, Oregon

| Anna Gorin/moment/getty images
Tamanawas Falls, Oregon

| Anna Gorin/moment/getty images
As the grip of COVID-19 loosens, Portlanders find themselves facing an unexpected quandary. What does one do with all this free time now that things are starting to return to normal? Summer is here, so the answer is obvious: Go outside! Temperatures may be in the triple digits as you read this, but the many wooded trails within just a couple hours of the city proper provide respite from the crowds that materialized overnight outside your favorite restaurant once it abruptly reopened in some semblance of normal capacity. While the threat of COVID is allegedly on the wane, wildfires are as pressing a concern as ever, so be sure to keep an eye on local news outlets for up-to-date reporting on which section of the state is a blazing hellscape before you pack up the Subaru and head out for the day. With all that out of the way, read on for a handy rundown of our favorite places to earn your paces just outside of Portland.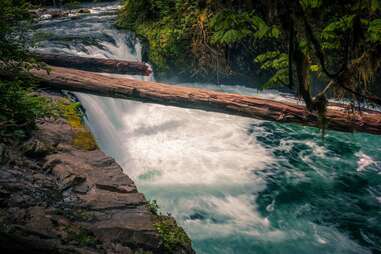 Distance from PDX: 40 miles; 40 minutes of driving
Hike distance: 13.1 miles
2021 has been the year of silly "nature is healing" memes, but the return of one of the most beloved Columbia River Gorge hikes after a devastating fire torched the Eagle Creek area back in 2017 is no laughing matter. A series of butt-busting inclines wind high above the titular creek down below until the tail lets up and brings you back down to Punchbowl Falls, which is arguably one of the most iconic nature selfie spots within a 60-mile radius of Portland. The glacier melt from nearby Mt. Hood that feeds the falls is as cold as you'd expect, but it's great for cooling off and splashing around after the trail leads hikers through several high-elevation spots with very little tree cover. The creek bed is covered in smooth rocks, so you may want to bring a pair of Keens or Tevas if you plan to wade out towards the falls. Keep an eye on Gorges Beer Co., which broke ground on an expansive facility in nearby Cascade Locks that's expected to open at some point this summer. Until they open their doors their local mainstay neighbor Thunder Island Brewing is a dependable stop for a post-hike pint or two.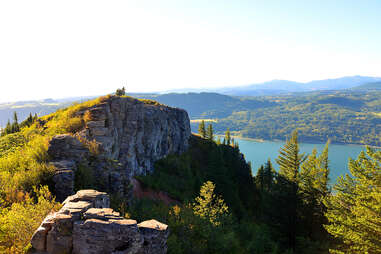 Distance from PDX: 27 miles; 27 minutes of driving
Hike distance: 8 miles
The hike that leads up to Angel's Rest is a perfect medium in terms of proximity to Portland, effort and reward. Located about half an hour away from Downtown, Angel's Rest is a popular diversion among locals who want to reward visitors with an epic view at the terminus of a hike that's sure to burn off that 1,500-calorie breakfast they just scarfed down. The ascent checks all the boxes when it comes to the scenery one would expect in the PNW, and the awe-inspiring panorama at the top is a great way to provoke thoughts of quitting the day job back home and moving out west in order to be closer to this type of action. This one gets a bit packed on weekends and late afternoons, so you may want to show up early after a trip to the nearby Shari's, which is the regional equivalent to Denny's that offers local farm-fresh breakfast 24 hours a day. Level Beer isn't terribly out of the way on your return trip, and we can't say enough good things about the extremely pleasant experience of enjoying a pint of ESB or hazy IPA in the sprawling backyard of this old greenhouse/produce stand-turned-brewery that's just a few miles east of the airport.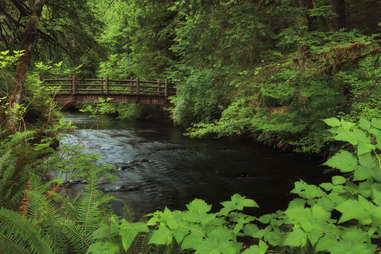 Distance from PDX: 66.4 miles; ~1 hour of driving
Hike distance: 7.9 miles
If you follow any svelte yogi-influencers from Oregon on Instagram and get serious FOMO every time they post a photo of themselves doing Tree Pose amidst the spray of an epic waterfall, it's highly likely at least a few of their jaw-dropping photos were staged in Silver Falls State Park. The Trail of Ten Loops boasts 1,100 feet of elevation gain and views from above, behind and besides 10 different waterfalls, making it one of the most majestic hikes available in the entire state. A series of truncated trails are available if you insist on bringing your dog or your kid, but you're much better off hiring a sitter and plowing through the 7.9 mile trail in one session. Be sure to stop in Woodburn on the way back for a pint of IPA at Crosby Hop Farm's new TopWire Hop Project, which offers a bucolic brewpub experience amidst the very same hops that were used to brew your beer.
Distance from PDX: 55.1; ~1.25 hours of driving
Hike distance: 7.7 miles
The sheer convenience of access to this trail's starting point—the Mirror Lake Trailhead, located right on US-26 a few miles before the split for Government Camp—can make finding parking tricky, but the incredible scenery offered by this 7.7 mile hike make the hassle of waking up early enough to snag a spot well worth it. Sweeping vistas of the Cascade Mountain Range in the distance and Mirror Lake below are complemented by the pervasive scent of pine needles toasting in the sun, making it a classic Mount Hood hike with the added bonus of a few walk-up campsites near Mirror Lake available in case you brought a tent or a hammock. If you'd rather not stay the night, you're just a few minutes away from Government Camp, Mount Hood's premier (and only) apres-ski village that's home to a small klatch of cafes and bars that should be back in business by mid-summer. Charlie's Mountain View is the quintessential dive bar experience in Govy, while The Ratskeller is a tad more family-friendly and appealing for bigger appetites.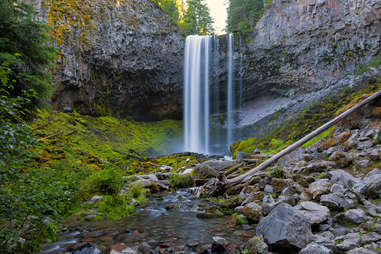 Distance from PDX: 87.6 miles; ~1.5 hours of driving
Hike distance: 3.3 miles
Located on the eastern base of Mount Hood, Tamanawas Falls is a quick and classic waterfall hike that's far less crowded than those of the Columbia River Gorge. If you're in serious need of some fall scenery that's sometimes rare in the coniferous environs of the Pacific Northwest, the foliage that lines the East Fork of the Hood River is surprisingly diverse and especially vibrant well into early November. Take the long way home through Hood River so you can check out the "Fruit Loop," which is a stretch of OR-35 between Mount Hood and the Columbia River that has a fruit stand, winery, or alpaca farm at seemingly every other mile marker. If you roll through in the off-season you can make beeline to Hood River instead, which is where you'll find top-tier breweries like pFriem, Ferment, and Double Mountain selling to-go beers that are actually legal to drink in the streets of this rad little riverside town.
Distance from PDX: 88.5 miles; ~1.5 hours of driving
Hike distance: 4.8 miles
Oregon's Coastal Range certainly has no shortage of awesome hikes with stunning views, but few pack as big of a punch in such a short distance as the Cape Falcon hike. Located in the truly epic Oswald West State Park, this 4.8 mile out-and-back hike starts in Arch Cape and wriggles its way through an old growth forest that's at times perilously close to the jagged, salt-battered shoreline that give way to the bosom of the Pacific down below. The trail's terminus offers a breathtaking view of Neahkahnie Mountain and the town of Manzanita to the South, and an endless expanse of massive trees teetering on cliffs is visible to the north. On the way back you're better off ditching the crowded tourist trap that is Cannon Beach and heading 30 miles south to Tillamook instead. Here you'll find legendary wild ale brewery de Garde Brewing, which is now open for both onsite consumption and to-go bottles.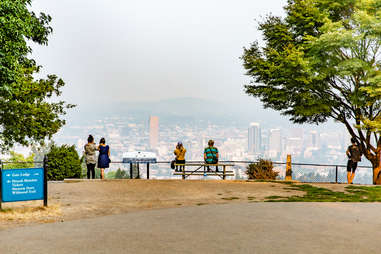 Distance from PDX: 3 miles; ~10 minutes of driving
Hike distance: 5 miles
Boasting 5,100 acres of lush second growth forest only 3 miles from Downtown, Forest Park is the sole reason that being without a car or the time to delve into the deep wilderness surrounding Portland is no excuse for skipping out on a solid hike. Walk, bike, bus, or Uber your way to the Lower Macleay Trailhead, then enjoy an explosion of scenery that includes bridges, a mini-waterfall, an old brick hut littered with graffiti and other detritus of illicit teenage activity, ferns as far the eye can see, and the occasional sunbeam puncturing the misty canopy above. Just when you've forgotten you're still within city limits is when you'll arrive at Pittock Mansion, a beautifully restored mansion that's been converted from the home of an Old Portland alderman to the site of the city's most iconic east-facing viewpoints. When you're done snapping selfies to prove to your friends back home that you stopped swilling beer and enjoyed some physical exertion for a few hours, head back down the hill to grab an award-winning IPA on the patio of Breakside Brewing's awesome new two-story location in the nearby Slabtown neighborhood.
Distance from PDX: 88.3 miles; ~1.75 hours of driving
Hike distance: 3.1 miles
Most people in search of a proper photo of Mount Hood's reflection in an alpine lake are content with a trip to the ever-popular Trillium Lake, but the extra 30 minute drive to this gem near the southeastern base of the mountain is absolutely worth it once you finally see what awaits. The water is a tad too chilly for the casual swimmer, but Lost Lake Resort rents kayaks, SUPs, and the like if you're still itching to glide across those glassy waters and bake in the hot sun. Bring a tent or hammock on the off chance that a walk-in site just a ways up the Buck Peak Trail is available, then commit a few extra hours to exploring that and the Huckleberry Mountain Trail, which joins up with the legendary Pacific Crest Trail just a couple miles in.
Distance from PDX: 5.7 miles; ~15 minutes of driving
Hike distance: 5.7 miles
Much like Forest Park, Tryon Creek State Natural Area is a dense patch of misty forest that may as well be hundreds of miles from civilization. If it weren't for the park's steady stream of rich boomers and stoned youngsters from nearby Lake Oswego and Lewis and Clark College, respectively, it would be quite easy to spend a day here and wonder if you fell through a hole in the universe and wound up on your own episode of Lost at some point. The nearby strip mall on Terwilliger is where you'll find Chez José, a favorite of every alum of Wilson High School who thinks their stiff margaritas and bountiful to-go options are Southwest Portland's best-kept secret for no-frills Mexican fare. Now they're not. You're welcome.
Distance from PDX: 52.1 miles; ~1.25 hours of driving
Hike distance: 7.1 miles
The hike to Ramona Falls is not for the faint of heart, but a quick image search of this iconic waterfall located at the western base of Mount Hood will reveal why fording the Sandy River to get a peak is totally worth it. Anyone who grew up playing Oregon Trail should leap at the opportunity to ford an actual river in Oregon, and although you're likely to get wet while doing it, people have certainly done crazier things in search of nature's greatest attractions. That being said, wear a pair of river shoes and bring a friend, because dying while in pursuit of sick nature scenes is not the Oregon way. The openness of the various roadside dives that dot US-26 is a crapshoot at this point, but you shouldn't have too much trouble grabbing a quick bite on the way home at Wraptitude or Koya Kitchen, both of which are within just a few minutes of the trailhead in nearby Welches.
Pete Cottell
is a writer and barista who's been making fun of Portland since he emigrated here from Ohio in 2013. Follow his escapades at @VanifestDestiny.