Cities from coast to coast are trying to catch up to Portland's acclaimed food scene, but our proximity to incredible hiking trails is one thing most major metropolises will simply never be able to touch. A great number of adventures lie just an hour or two outside Portland city limits, and although the effects of the 2017 Eagle Creek Fire are still being felt in the form of multiple trail closures throughout the Columbia River Gorge area, the good news is that many of them -- most of which are accessible by the Historic Columbia River Highway, which is back in business -- are once again reachable by car. So you have plenty of chances to see the unrivaled beauty of the Pacific Northwest in all of its misty, verdant, and mysterious glory.
Any transplant you meet is bound to tell you they showed up for the beer and stayed for the nature, meaning if you want to do Portland right, you have no choice but to take advantage of its unrivaled access to towering waterfalls, lush old-growth forests, idyllic alpine lakes, sprawling coastal ranges with stunning views of the Pacific, and winding fir-lined mountain paths you won't find anywhere else.
Read on for a list of our favorite hikes within two hours or less of the city, with a smattering of details regarding what you'll hope to find and how long it should take you to find it. We've also ranked the hikes on a difficulty scale of 1 to 10, with 1 being a walk in the park and 10 being "you better stretch out and bring extra water for this one."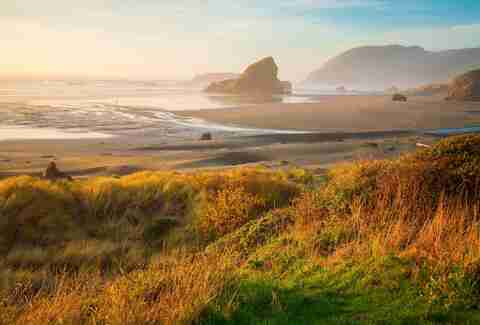 Distance from Portland: 57 miles
Difficulty: 7
Best for: Total seclusion, spooky railroad tunnels, and a moderately eerie feeling that lands halfway between Stand By Me and Deliverance
Anyone who's taken US-26 west has surely caught a glimpse of the old railroad trestles that criss-cross the highway en route to the coast. The long-defunct Port of Tillamook Bay Railroad has been little more than the potential setting of a B-horror film, until recently. The 6-mile hike starts at the dead-end of Beaver Slide Road and continues along abandoned tracks adjacent to the Salmonberry River. It's technically unauthorized, since the official development of the trail is still years away, but there's little to stop anyone who's willing to brave a few dark tunnels and mudslides -- the latter of which are best avoided by visiting in dry months. The trip back is a fine excuse to check out the abundance of great food in Beaverton, like fresh daily Japanese pastries at Oyatsupan, hand-torn noodles at Spring, or Korean seafood dishes at Nakwon.
Distance from Portland: 70 miles
Difficulty: 6
Best for: Seeing more waterfalls, mossy rocks, and mist-enveloped forest in one day than most folks will see in an entire year
When you see Oregon's svelte yogi-influencers doing Tree Pose amidst the spray of a majestic waterfall on Instagram, there's a strong chance the photo was taken in Silver Falls State Park. The Trail of Ten Loops boasts 1,100 feet of elevation gain and views from above, behind, and beside 10 different waterfalls -- making it one of the best hikes in the entire state. A series of truncated trails are available if you insist on bringing your dog or your kid, but the better move is to plow through the 8.7-mile trail in one session. Stop by Woodburn on the way back for a reward of outlet mall shopping and some unassumingly fantastic Mexican food at Guacamole's Market or Taqueria Los Laureles.
Distance from Portland: 54 miles
Difficulty: 5
Best for: Picturesque views of Mount Hood and Mount Jefferson, sunny switchbacks dotted with fragrant evergreens and wildflowers
Convenient access to this trail's starting point -- the Mirror Lake Trailhead, located right on US-26 a few miles before the split for Government Camp -- can make finding parking tricky. But waking up early to snag a spot is well worth it. The 5.8-mile trail is a classic Mount Hood hike, with sweeping vistas of the Cascade Mountain Range in the distance and Mirror Lake below, complemented by the scent of pine needles toasting in the sun. As an added bonus there are a few walk-up campsites near Mirror Lake if you brought a tent or a hammock. If you'd rather not stay the night, you're just a few minutes away from Government Camp, Mount Hood's premier (and only) apres-ski village that's home to Charlie's Mountain View -- a grimy, ski-bum bar that's popular with locals, lift operators, and tourists alike.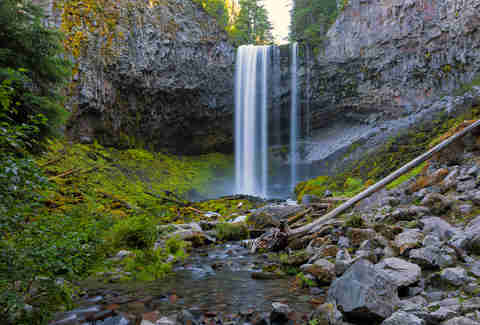 Distance from Portland: 86 miles
Difficulty: 4
Best for: Waterfalls, rivers, colorful lichens year-round, and deciduous tree leaves in the fall
Located on the eastern base of Mount Hood, Tamanawas Falls is a quick and classic waterfall hike that's far less crowded than those of the Columbia River Gorge. If you're in serious need of some fall scenery, which can be rare in the coniferous environs of the Pacific Northwest, the foliage that lines the East Fork of the Hood River is surprisingly diverse and especially vibrant in early November. Take the long way home through Hood River so you can check out the "Fruit Loop," which is a stretch of OR-35 between Mount Hood and the Columbia River that has a fruit stand, winery, or alpaca farm at seemingly every other mile marker.
Distance from Portland: 89 miles
Difficulty: 3
Best for: Towering old-growth redwoods, rocky cliffs high above the Pacific Ocean, views of the coastal range
Oregon's Coastal Range has no shortage of majestic hikes, but few pack as big of a punch in such a short distance as the Cape Falcon hike. Located in the incredible Oswald West State Park, this 4.8-mile out-and-back hike starts in Arch Cape and wriggles its way through an old growth forest that's at times perilously close to the jagged, salt-battered shoreline that gives way to the Pacific down below. The trail's end offers a breathtaking view of Neahkahnie Mountain and the town of Manzanita to the South, and an endless expanse of massive trees teetering on cliffs is visible to the north. Be sure to stop by Cannon Beach on the way home -- though it's teeming with tourists almost year-round, the malty, hoppy ales sold at Pelican Brewing's palatial new brewpub on the southern edge of town are worthy of a pit stop.
Distance from Portland: 3 miles
Difficulty: 6
Best for: Peace and quiet amidst the bustle of the big city, Instagrammable views of Portland and Mount Hood
Boasting 5,100 acres of lush second growth forest only 3 miles from Downtown, Forest Park proves that even if you are without a set of wheels, there's no excuse for skipping out on a solid hike. Walk, bike, bus, or Uber your way to the Lower Macleay Trailhead, then enjoy an explosion of scenery that includes bridges, a mini-waterfall, an old brick hut littered with graffiti, ferns as far the eye can see, and the occasional sunbeam puncturing the misty canopy above. Just when you've forgotten you're still within city limits, you'll arrive at Pittock Mansion, the historic home of an Old Portland alderman that's been beautifully restored and offers the city's best east-facing viewpoints. Then head back down the hill to grab an award-winning IPA at Breakside Brewing's awesome new two-story location in the nearby Slabtown neighborhood, or hit the many boutiques and restaurants that dot the impossibly quaint stretch of Northwest 23rd Street.
Distance from Portland: 86 miles
Difficulty: 6
Best for: Unrivaled views of the Pacific, glimpses of migrating sea mammals like grey whales, seals, and sea lions
Of all the hikes in the Tillamook Bay, the Cape Lookout trail is the best way to soak in a wide panorama of the area's scenery. You'll find stunning Sitka spruce and thick tufts of western hemlock and sword ferns, and if you're lucky you might spy migratory whales in the fall and spring. And then you have the town of Tillamook itself, which is home to the iconic (and recently renovated) Tillamook cheese factory, as well as one of the weirdest, nerdiest, and most celebrated barrel-aged sour breweries in de Garde.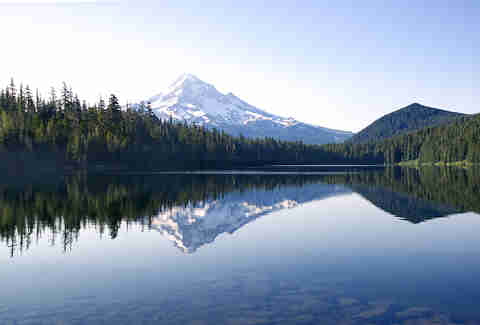 Distance from Portland: 87 miles
Difficulty: 5
Best for: Incredible lakeside views of Mount Hood without all the doofy tourists that have blown up Trillium Lake
If you want a proper photo of Mount Hood's reflection in an alpine lake, you could take a trip to the ever-popular Trillium Lake and call it a day. But the extra 30-minute drive to Lost Lake near the southeastern base of the mountain is absolutely worth it. The water is a tad too chilly for the casual swimmer, but Lost Lake Resort rents out kayaks, SUPs, and the like if you're still itching to glide across those glassy waters. Bring a tent or hammock on the off chance that a walk-in site just a ways up the Buck Peak Trail is available, then commit a few extra hours to exploring that and the Huckleberry Mountain Trail, which joins up with the legendary Pacific Crest Trail just a couple miles in. If you're planning on taking OR-35 back home, be sure to check out the aforementioned "Fruit Loop" for wine and fresh fruits and vegetables, as well as the bounty of excellent beer and food located in Hood River.
Distance from Portland: 7 miles
Difficulty: 2
Best for: Enjoying the damp, dewey splendor of a rainforest without leaving Portland proper, popping in and getting lost in your own head while the animals from Fern Gully scurry about in the periphery
Much like Forest Park, Tryon Creek is a dense patch of misty forest that might as well be hundreds of miles from civilization if it weren't for the park's steady stream of stoned college kids from Lewis and Clark. The nearby strip mall on Terwilliger offers a couple solid food and drink options in Tryon Creek Grill and Chez José, the latter of which every alum of Wilson High School thinks is Southwest Portland's best-kept secret for cheap Mexican food and massive margaritas. Now it isn't. You're welcome.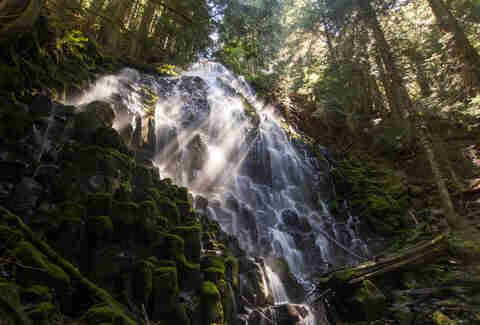 Distance from Portland: 52 miles
Difficulty: 8, but only because you may get wet while clambering across logs to make your way across the Sandy River
Best for: Views of the most incredible multi-tiered waterfall in the Mount Hood Wilderness, the chilling excitement of clambering across wet, shaky logs in pursuit of said view
The hike to Ramona Falls is not for the faint of heart, but a quick image search of this iconic waterfall at the western base of Mount Hood will reveal why fording the Sandy River to get there is totally worth it.  Besides, anyone who grew up playing Oregon Trail should leap at the opportunity to ford an actual river in Oregon. You'll probably get wet, so wear a pair of river shoes and bring a friend to spot you. Be sure to swing by Skyway Bar & Grill on the way home for a burger, a pint of Rainier, and a session from one of the many bluegrass, blues, or jam bands that uphold the famous roadhouse's reputation as being the area's premier IRL equivalent to The Chug Suckle.
Difficulty: 3
Distance: 28 miles
Best for: Checking out a waterfall that's close to Portland and not half as crowded as Multnomah Falls
Now that most of the Historic Columbia River Highway is open, it's pretty easy to find scenic hikes within just a few minutes of the tourist trap that is Multnomah Falls. Granted, it's a beautiful place that's definitely all it's cracked up to be, but if you're an able-bodied adult who had the wherewithal to show up with proper footwear and clothing rather than tube socks and Nike flip flops, you deserve something a little more interesting. Head back towards Portland on 30 until you find Guy W. Talbot State Park, park your car then choose your own adventure. The lower falls are right there in front of you, and the upper falls are just a couple miles up a relatively chill path that's popular with locals and their dogs, rather than the ill-prepared dweebs and busloads of geriatrics who are circling the parking lot just a couple miles west.
Difficulty: 8
Distance: 55 miles
Best for: Checking out wildflowers in the spring, enjoying panoramic views of the Oregon side of the Columbia River Gorge, testing the mettle of a potential mate who's made dubious claims about their hiking abilities
It's fairly common in Oregon to share the trail with gaggles of over-prepared noobs who bring trekking poles, crampons, and a shaggy Newfoundland outfitted like a Nepalese pack animal to even the most intermediate hikes. Chances are they hiked Dog Mountain once and decided right then and there that they'd never be unprepared for such an ass-burner again. This doozy of a trail isn't exactly a technical one, but the effects its immense incline has on hikers who are even in moderate shape cannot be overstated. Your dog will enjoy it a lot more than you, but you're out here for the satisfaction of busting your hump for that epic view and the natural high of accomplishment, right? If that's the case, then conquering Dog Mountain should be at the top of your list.
Difficulty: 5
Distance: 42 miles
Best for: Hiking a section of the PCT that includes lava boulders, waterfalls, and plenty of mossy old-growth
Logic would dictate that the further you travel from Multnomah Falls, the less crowded the trails will be, and the Herman Creek trail certainly proves this point. It's a mostly low-impact hike punctuated by just enough rocky switchbacks and muddy hills to give you the impression that you're burning some calories, which makes this a great way to walk off some of the beer you just drank in the nearby microbrew mecca that is Hood River.
Sign up here for our daily PDX email and be the first to get all the food/drink/fun Portland has to offer.