The 5 Portland Record Labels Making Waves in 2017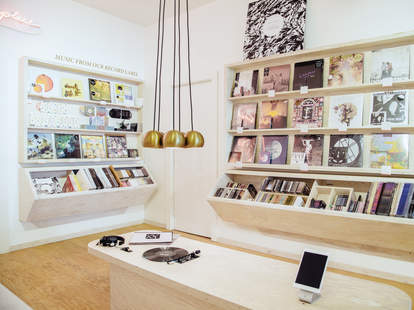 Although Seattle is allotted most of the fanfare when talking about the PNW music scene, Portland is on the rise. The Rose City boasts a burgeoning music culture that wouldn't be possible without the hard work, dedication, and talent that comes from our nationally acclaimed bands and the entrepreneurs who are providing the stage. We scoured the city to find the top five record labels of 2017 and got some insight into what their plans are for the future.
PDX influencer Kenny Fresh's label started as a blog and morphed into an independent label focusing on highly curated soul, R&B, and "everyday music." In 2017, they'll release at least 10 new full-lengths from artists including Iman Omari and The Last Artful, Dodgr. They'll also continue their weekly radio show, Tight Songs, on Portland's best independent station, XRAY.fm.
This young label is the epitome of the Rose City's DIY attitude. The two friends who started this label are working to build bridges between the various music scenes around town, while promoting their bands on the regional stage. While working with core artists like Cool American and Floating Room, they're also developing young talent like Turtlenecked, the solo project from 21-year-old Lewis & Clark student Harrison Smith, who plays, writes, and records everything himself. The music is immediate and contextual with a hint of punk for good measure.
Courtesy of Tender Loving Empire
Over the last 10 years, TLE has grown into one of the city's key independent labels. In mid-April, co-founder Jared Mees will be releasing a new album and later this year, they'll have albums from Dave Depper of Death Cab for Cutie, and the debut from dance upstart Chanti Darling. They're working on a new store at Portland's airport and to celebrate all of their success, they'll be throwing a festival in the fall and releasing a commemorative anniversary compilation.
This Northeast PDX label/studio hybrid focuses on more instrument-driven Americana-style releases from PDX mainstays like Nick Jaina and Richmond Fontaine. Their bands are on the road, hitting a number of small towns and carving their own trails with lots of twang and lots of PNW pride.
This label has built a nice following releasing everything from the avant-garde sounds of Dragging an Ox Through Water to the more radio-friendly sounds of And And And. Co-Founders Ben Hubbird and Casey Jarman are influential veterans of the Rose City music scene and continue to develop some of the best talent in town.
Sign up here for our daily PDX email and be the first to get all the food/drink/fun Portland has to offer.
Geoff is always up for a good challenge and a great hike. Whether it's running a cocktail festival in Los Angeles or soaking in the politics of soccer at the Euros, his passion for storytelling has always been a constant. You can follow his adventures @NVDEL.