Daniel Fishel/Thrillist
Daniel Fishel/Thrillist
With its lush and mossy forests, expansive beaches, and desert landscapes, much of Oregon's land is devoted to state parks. The state has only a handful more people than the city of Los Angeles, meaning there's a good number of small towns with the summertime pull of sunny brewery patios, river swimming, wine tasting, and a whole lot more.
Cannon Beach
Why it's great: The popularity of Cannon Beach has much to do with its close proximity to Haystack Rock, one of Oregon's most recognizable landmarks, and of course the ocean. Look past the gaggle of visitors, and you'll find a coastal town edgier than meets the eye. Take the Cannon Beach Hardware and Public House, a hardware store that also offers beer, cocktails, and food. You'll definitely want to hit up the beach, but when you finish that excursion, head over to the American Legion when doors are open to the public, the Cannon Beach Distillery tasting room, or Warren House Pub -- where you can meet the businesses' resident begging seagull, Crackers.
One thing you have to do: Hike from Ecola Point to Indian Beach: a 1.5 ­mile section of the Oregon Coast Trail connects Ecola Point (main viewpoint parking area) to Indian Beach.
McMinnville
Why it's great: McMinnville's well-preserved brick structures built between 1885 and 1912 add an element of small-town charm not found elsewhere. And the Historic District will be your go-to for all of your said charm finding needs. The District is made up of a nine-block area of 64 historic properties in 14 easy to walk blocks.The small town's location in the heart of wine country make it a hotspot for wine lovers based on its abundance of quaint wine tasting rooms. In addition to nearly a dozen tasting rooms, McMinnville offers dining options fit for the big city. Read: tapas at La Rambla or chile relleno at Pura Vida Cocina.
One thing you have to do: Just a short 15-minute car ride away is Erratic Rock State Park for a reminder of ancient floods, earthquakes, and volcanic eruptions.
Carlton
Why it's great: This little town located in Oregon's wine country has more tasting rooms per capita than anywhere in the US (with a total of 22). It's in this postcard town you can sip wine all day long or head out to Carlton's restaurants and shops. Don't miss the Republic of Jam, Wallow Gallery, or Honest Chocolates. Look to stay at the three converted grain silos that make up the Abbey Road Farm "Silo Suites" Bed & Breakfast.
One thing you have to do: Hammocks and outdoor patio areas at Anne Amie Vineyards are spot-on for summer sipping.
Astoria
Why it's great: What was once a city passed over for Cannon Beach is now a stop-off for weekend vacationers. Located on the Columbia River and just a few miles from the Pacific Ocean, Astoria was founded 200 years ago. The small town of around 10,000 people survived both the collapse of the Columbia River fishery and Oregon timber industry. These days you'll find breweries, affordable revamped boutique accommodations like The Commodore, craft cocktail bars (try a bloody at Inferno Lounge), atmospheric Buoy Brewing, and the like.
One thing you have to do:Rent a kayak and explore the Columbia River.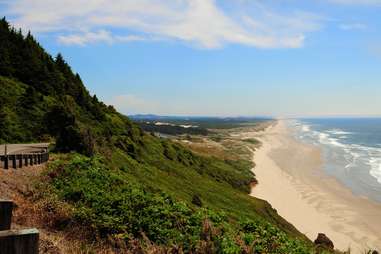 Florence
Why it's great: There are Oregon coastal towns like Seaside where boisterous children beg for elephant ears and more quarters for the arcade, and then there are the working-class coastal towns like Florence with roadside motels, beautiful bridges, and remnants of a milling past. Hint of blue collar maybe, but Florence isn't without sightseeing opportunity from the ocean, Siuslaw River, the Sea Lion Caves, or sand dunes.
One of the only ways to access the miles and miles of dunes near Florence is by dune buggy. You'll gain exclusive access to miles of nature, sands, and various wildlife areas that are otherwise inaccessible.
One thing you have to do: Sand dunes by way of dune buggy, duh.
Hood River
Why it's great: Patagonia and Keen sandals or not, Hood River is a destination for "foodies," outdoor sports fans, beer lovers, and adrenaline junkies. In the summer months, you'll know you made it to this small town on the Columbia River when you see the cacophony of kiteboarders. Mountain bikers, hikers, and waterfall chasers all convene in the town for beer, cocktails, pizza, and establishments like Solstice Wood Fire Cafe, Double Mountain Brewery, and Pfriem Family Brewers.
One thing you have to do: Learn to fly at Cascade Kiteboarding (lessons from $130 an hour)
Newport
Why it's great: While you could surround yourself in attractions of SW Bay Boulevard such as The Wax Works or Ripley's Believe It or Not! or Local Ocean Seafoods, we recommend instead heading to Nye Beach for a taste of the local scene. There's Sorella, a modern Italian joint with fancy cocktails, Nana's Irish Pub, or Cafe Stephanie. Just a few blocks from the beach is Uptown Pub, where locals demand delicious clams by the bucket.
One thing you have to do: For a bayfront hike, don't miss the Yaquina Bay Lighthouse Trailhead.
Rainier
Why it's great: For those in search of bit more grit, the tiny Rainier (population under 2,000) should hit the spot. Normally, a town passed through, Rainier is on the south bank of the Columbia River across from Kelso and Longview. Small town establishments like the Interstate Tavern serve up nachos in a pizza pan with an entire bowl of sour cream as a side and the iconic Ol' Pastime Bar, will make you rethink your usage of the word "dive." Unexpectedly, Rainier is also home to The Sloth Center at Zoological Wildlife Conservation Center, which you obviously need to see.
One thing you have to do: Stroll the docks for surly sea lions or launch your boat near the city park.
Sign up here for our daily Thrillist email and subscribe here for our YouTube channel to get your fix of the best in food/drink/fun.
Karen is a food and drink writer who believes the darker the bar, the better. She has written for​ ​various print and digital publications for the past seven years​. She has also spent quite a bit of time in distilleries ​while authoring "High-Proof PDX​,​"​ a guidebook to Portland distilleries.​ You can follow her drinking adventures on Instagram and Twitter.