Those who haven't visited Oregon or the surrounding area may not realize how varied and beautiful the state is. From snow-capped mountain ranges to high deserts, temperate rainforests to coastal geological wonders, the state offers numerous stunning displays of nature. Even long-time residents of the states or regular visitors may only know of its more famous icons: Haystack Rock, Crater Lake, Timberline, and Multnomah Falls tend to dominate discussions about Oregon's natural wonders. But there is so much more to the state than those famed locales, as these lesser-known locales demonstrate.
Oregon is beautiful, yes. But it's also fragile, and vulnerable, as these last few years have demonstrated. With back-to-back-to-back summers registering as the hottest on record, unprecedented heatwaves, drought, and the catastrophic wildfires, it all feels apocalyptic. Luckily, organizations like the Audubon Society, Friends of the Columbia Gorge, and Oregon Wild all work protect the incredible wilderness of Oregon. If you visit any of Oregon's most beautiful areas and want to see them maintained, consider donating or volunteering.
Suttle Lake
Part of the Deschutes National Forest, Suttle Lake is a remarkable, glittering lake covering more than 250 acres and surrounded by dense conifer woods. Filled with fish and waterfowl, the lake is open for fishing, canoeing, and water-skiing, with nearby trails and camping sites that are open mainly in spring and summer. However, those looking to enjoy the view with a bit more comfort should check out the Suttle Lodge, which includes a number of rustic furnished cabins just on the lake.
COVID-19 and wildfire info: Suttle Lodge is open and conforming with all state COVID-19 precautions including indoor mask mandates.
Painted Hills
Wheeler County
One of the more well-known locales on this last, but no less stunning for it, the Painted Hills are part of the John Day Fossil Beds in Eastern Oregon. These rolling hills boast colorful stratifications of reds, blacks, and golds, and change throughout the year based on light and moisture levels. The area is surrounded by hiking trails and other natural wonders like the Sheep Rock Unit. Unlike the common depiction of Oregon and the Northwest, this part of the state is high desert, rocky and dry rather than filled with forests.
COVID-19 and wildfire info: Visitors to indoor centers must remain masked. The Cant Ranch Historic Home and Museum is temporarily closed.
Secrets are great, when you're in on them. Luckily, it doesn't take an inside connection to get a great rate on insurance. State Farm® helps you keep more of your hard-earned dollars with surprisingly great rates. Getting the right coverage for your budget — with no secrets required — means more to spend on your preferred adventure. Like a good neighbor, State Farm is there.®
Cascade-Siskiyou National Monument
Southern Oregon
Where the Cascade, Klamath, and Siskiyou mountain ranges converge is an ecologically diverse wonderland. Conservationists call the Cascade-Siskiyou National Monument the "Galapagos of North America." Located along the southern border and crossing over into California, it's possible to explore multiple biomes on a single day's hike, passing through oak woodlands and conifer forests, grasslands that serve as migration corridors, interior deserts, wetlands, and meadows. Hundreds of distinct species of animals make their homes here, and visitors can hunt, hike, fish, and study the biodiversity of the wilderness.
COVID-19 and wildfire info: The Cascade-Siskiyou National Monument is open for visitors. The official website has more information.
God's Thumb
Lincoln City
Lincoln City is a popular coastal town for visitors and Oregon residents alike, but one of its most stunning features has flown under the radar for years. God's Thumb is a basalt ridge with an incredible view overlooking the coast, with a moderately steep and often-muddy climb to its peak. It can be difficult to find, with little signage or promotion from the town, but some recent changes from the city means you won't have to cross through any private property to make your way up, and it's worth the climb to access the sensational view of the town and ocean below. The Road's End parking lot is the best place to start, and a number of local travel guides have started detailing the path up.
COVID-19 and wildfire info: God's Thumb is open for visitors.
Hart Mountain
Lake County
Close to the southern border of the state, the Hart Mountain National Antelope Refuge spans more than 400-square miles of rugged high desert wilderness marked by wetlands, canyons, and gorges. It's a remarkable opportunity to take in the incredible landscape which is home to hundreds of different species of birds and mammals, including the signature American Pronghorn, the fastest land animal in North America. Roads are unpaved and activities like camping, horseback riding, and hunting are allowed at certain times of the year.
COVID-19 and wildfire info: Hart Mountain is open for visitors, but those interested in visiting should check the official site first.
Alvord Desert
Harney County
Hidden in southeastern Oregon next to Steens Mountain, the Alvord Desert is more Burning Man than Enchanted Forest. Forget everything you thought you knew about Oregon's lushness and its record-setting precipitation. The Alvord Desert is miles and miles of dusty mountain ranges, limitless sunsets, dry lake beds, and remoteness that will invoke a fear that you're the last man on Earth. And it's mesmerizing.
COVID-19 and wildfire info: Alvord Desert is currently open for visitors.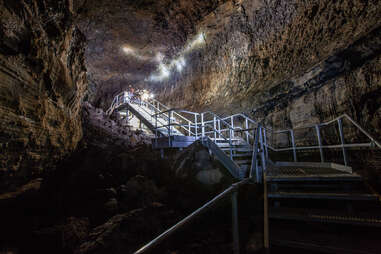 Lava River Cave
Bend
Formed from a volcanic eruption about 80,000 years ago, the mile-long Lava River Cave in the Deschutes National Forest allows for self-guided tours in a cold, drippy environment. Though spending an hour and a half walking several feet underground might sound eerie, it's definitely a unique and marvelous experience. To explore this cave, you'll need to descend 55 stairs to a combination of flat boardwalk, uneven surfaces, and more stairways. All that work isn't for nothing; once in there, you'll be rewarded with a picturesque sand garden and an array of ice crystals.
COVID-19 and wildfire info: The Lava River caves are currently closed for the season. Find up-to-date information here.
Stein's Pillar
Prineville
Oregon's all-natural, glorious beacon, Stein's Pillar is a more curious site than Multnomah Falls, and with far fewer tourists blocking the paths to take selfies. The 350-foot tall pillar has some fun history to it, as it was named for one Major Enoch Steen, whose name was so often misspelled that even the name on his pillar is incorrect. It's known to some as "nature's skyscraper," and you'll find this geological wonder right smack down in the middle of a lush forest. It also marks the trailhead of the Steins Pillar Hike, appropriately.
COVID-19 and wildfire info: Steins Pillar and the surrounding area are open for hiking. Wildfire risks, however, are currently in the "extreme."
Thor's Well
Yachats
The oceanic sinkhole on the Central Coast known as Thor's Well is both magnetic and terrifying. Visitors witness waves colliding, water shooting up, and a never-ending whirlpool of salt water, all glimmering in the Oregon sun. But take heed— it's also dangerous. The surrounding Yachats area is also a testament to the wild, anarchic beauty of the Oregon coast.
COVID-19 and wildfire info: Thor's Well is currently open for visitors.
Devil's Punchbowl
Central Coast
Similar in ways to Thor's Well, the Devil's Punchbowl is a red stone formation along the coast. Located along the Oregon coast between Newport and Depoe Bay, it's a fascinating, action-packed marine area with water rushing through the dungeon-esque punchbowl as the tide goes in and out. As waves rip through the devilish rock's cracks, salty seawater is launched into the area, misting and splashing everyone in the area. It's an unadulterated, chaotic look at where the land meets the sea, and a testament to Oregon's incredible volcanic geographic history and wild, unrestrained coasts.
COVID-19 and wildfire info: The Devil's Punchbowl is currently open for visitors.
Little Crater Lake
Mount Hood National Park
While every Oregonian, and most tourists, know of the gorgeous and inaccurately named Crater Lake (it's a caldera, not a crater), its smaller sister lake has far less notoriety. Crystal clear and nearly freezing at all times thanks to the spring that feeds it, Little Crater Lake has other great qualities such as its proximity to Portland and the smaller crowds. With trails left and right from the lake, there's plenty to do here, including camping at the nearby Little Crater Lake Campground. Located in Mount Hood National Forest, it's hidden by dense forest and offers seclusion to take it all in without all the tourists and commotion.
COVID-19 and wildfire info: Little Crater Lake is currently open for visitors.
Angel's Rest
Bridal Veil
The Columbia Gorge is one of the most stunning views in the entirety of the Pacific Northwest, a region absolutely stacked with beautiful competition. If you make it up this moderately difficult hike, you have a prize waiting for you: "Jaw-dropping" does not even begin to describe this incredible view of the Gorge. From Angel's Rest, you see the winding Columbia River, the near-infinite trees, and rolling mountain ranges including the Cascades beyond, all at an incredible height.
COVID-19 and wildfire info: Angel's Rest is currently open for visitors.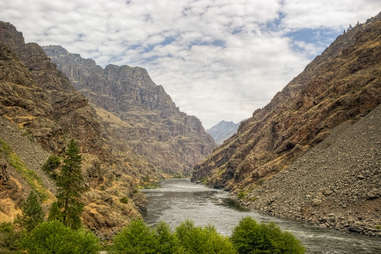 Hells Canyon
Baker County
Home to parts of the Snake River, Hells Canyon Wilderness area has North America's deepest river gorge at nearly 8,000 feet deep.That depth translates to wild river rapids and beautiful, distinct rock formations. Since this area is so remote, and the river gorge so deep, there's something to discover around every bend. Just don't wander off, get lost, and contribute to the place deserving its name. Bonus tip: Like Crater Lake, Hells Canyon also has a Little Hells Canyon, located in Washington County near Chehalem. It's not quite as impressive.
COVID-19 and wildfire info: Hells Canyon is currently open for visitors.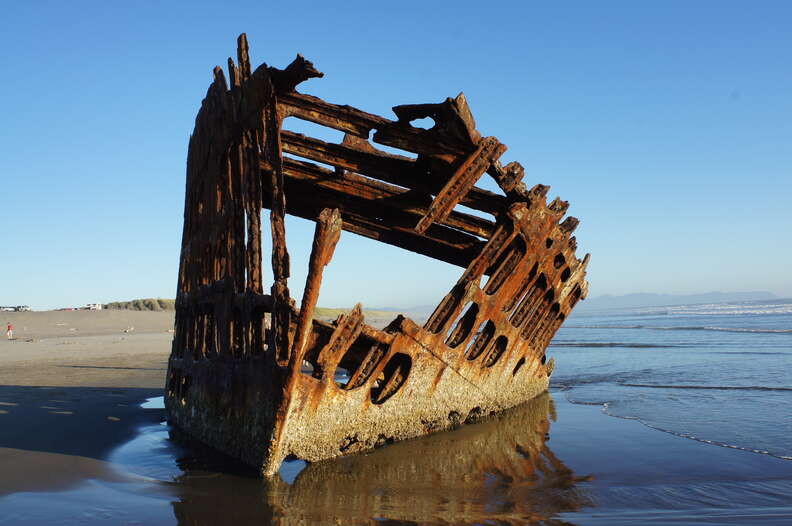 Wreck of the Peter Iredale
Warrenton
Oregonians pride themselves on being weird, and that goes for our idea of beauty, too. The Peter Iredale shipwreck, found right along the Oregon coast, is enchanting and mesmerizing. This is one of the shipwrecks of the "Graveyard of the Pacific," so ship enthusiasts and desperate Goonies fans can walk in and out of the ship that's still tilted up and appears to be bursting out of its beach grave. Just don't expect any buried treasure.
COVID-19 and wildfire info: Guided tours are cancelled, the beach is currently open for visitors.
Yaquina Head Lighthouse and tide pools
Newport
The Yaquina Head Outstanding Natural Area is fittingly named. Located in Newport—home of the fantastic Local Ocean tuna mignon—this Bureau of Land Management site is home to Oregon's tallest lighthouse (93 feet) as well as a vast array of tide pools. Driving up to the bluff, you might feel like you've seen this lighthouse before, as it was featured in the classic 2002 horror film The Ring.
COVID-19 and wildfire info: The Yaquina Head Outstanding Natural Area Interpretive Center and lighthouse remain closed due to COVID-precautions. Outdoor areas, including tide pools, are open for visitors.
Michelle Udem is a Portland-based writer who is keeping a couple places you've never heard of to herself, thank you very much. DON'T follow her to hidden gems @mudem.