The 7 Stages of Living in Portland
Jordan Siemens/The Image Bank/Getty Images
Though it's far from the days of being a well-kept secret, Portland is still a fantastic place to live. The beer scene is unmatched, it's a great place to be single, and our summers are an unparalleled dreamworld filled with festivals, floats, and concerts. But your idea of the fantasy life you'll have here is a little off. For a city that prides itself on a relaxed, supposedly stress-free lifestyle, graduating from a newly arrived drifter to a working person with a job and a home (an "adult," if you will) is a long, arduous process. Allow us to explain the seven stages of living in Portland before you point your Subaru westward in search of greener pastures.
Stage one: The "I visited Portland once and loved it so much I'm moving here now!" phase
Where you're living:
A third-tier metropolis in the Midwest that just opened its first brewery; a town in inland California that no one cares about
Where you're going out:
That weird corner of Downtown people refer to as the "hipster neighborhood" because it has a dive bar, a coffee shop, and a place that has a few used records and trucker hats for sale
Your mantra:
Random mumbled lines from the
Portlandia theme song
Go-to activity:
Lurking at the aforementioned bar or coffee shop and telling anyone who will listen about how uh-mazing your trip to Portland was. Want to see pictures from my trip on Instagram? Wait, where are you going?!
Congratulations: you've become the newest local "Screw this -- I'm moving to Portland!" person. You'll spend the months (OK, the year) leading up to your departure working weird jobs and living with your parents to save up cash for the big move. Between that and your endless evangelizing of the "West Coast lifestyle" you thought was unattainable until you visited Portland a few weeks ago, your friends have given up on socializing with you. It doesn't matter, though. You'll make a ton of new ones upon your arrival in Portland, or "PDX," which is what the locals call it. (No one calls it that.)
Stage two: The "I love Portland!" phase
Where you're living:
An endless chain of month-long sublets throughout the Inner Eastside
Where you're going out:
Between Division, NE 28th, Belmont, and the occasional slog up to Alberta, there's no shortage of highly crawlable bar districts within a short bike ride of your house... unless it's a Sunday night, in which case a Sunday Session at Rontoms is the premiere event for rubbing elbows with fellow transplants and what's left of the neighborhood's klatch of OG indie rockers.
Your mantra:
"YOLO," with no trace of irony whatsoever, because your life is
that
magical.
Go-to activity:
Ditching plans to find a job and a permanent abode in favor of boozy bike rides and day trips to Mount Hood and Sauvie Island.
Congratulations! You've completed the Oregon Trail, and have the bumper sticker to prove it! Your dreams of living in a purple bungalow in a bikable neighborhood have finally come true. You've befriended the barista at the coffee shop you walk to at the crack of noon every day; the bartender at the trendy spot with the neon "BAR" sign remembers your drink order (whatever's on tap from Double Mountain or Ninkasi); and you've staked out a handful of brunch spots that don't have oppressively long lines. The halcyon days of Portland Summer are limited -- why fritter them away creating a tenable future for yourself by looking for a job and a real place to live when you're having so much fun and making so many new friends RIGHT NOW?
Stage three: The reality phase
Where you're living:
In a basement somewhere in NE that you're told is "Alberta-ish," but is actually Cully
Where you're going out:
Mad Hanna, Spare Room; anywhere with cheap happy-hour food
Your mantra:
"Are you hiring?"
Go-to activity:
Bouncing from one terrible food service job to the next; scouring the "free" section of Craigslist for furniture that isn't covered in MRSA
After spending a few months flying high on IPA, legal weed, and #campvibes from your cool new Poler duds, you come to the sad realization that what goes up must come down. All those days of getting tan by the river and slacklining at Colonel Summers instead of working have left you flat broke, so you log on to Poached and take the first soul-crushing dishwashing gig at a popular brunch spot that's run by a tyrannical wannabe rockstar chef with a cocaine problem you can find.
You leap at the chance to live with a couple of the line cooks when a room in their crumbling flophouse opens up, but things get weird after you rage-quit halfway through yet another nightmarish Sunday morning shift. All is forgiven when you end up finding one of them a slightly better gig at your next shitty-yet-well-paying restaurant job, which becomes a vortex you realize 90% of your friends and acquaintances are forever stuck in. This is not the Portland lifestyle you were sold on, but you convince yourself (for what's likely to be the first of a million times) that it's still better than living back in Nowheresville.
Stage four: The vigilant local phase
Where you're living:
North Portland
Where you're going out:
Maui's, George's, the Alibi
Your mantra:
"Keep Portland livable! Stop the demolition of Portland homes!"
Go-to activity:
Posting depressing articles about gentrification and the lack of renters' rights in Portland on social media; complaining about development
After a string of occupational misfires and shaky housing situations, you finally settle into a respectable job and a house that's as clean and affordable as a hovel for service industry vagrants can possibly be. You buy yourself a nice bed and some framed prints to hang on your walls because you naively assume you'll live there forever. The influx of transplants has made Portland a nightmare for renters, however, and your world is turned upside down when the landlord decides to evict everyone and sell the property.
You move into a less desirable place that's somehow more expensive AND farther north up Interstate, but the current tenants assure you the landlord is chill and has no intention of selling the place. Three months later your stuff is in boxes again when he sells the place to a nice retired couple from Berkeley so he can fund a dubious startup venture that requires pricey office space in the Pearl to get off the ground.
You take to Facebook and Twitter to rage against the displacement of your neighborhood's longtime tenants even though most of them groan loudly every time you and your roommates have Game of Thrones viewing parties on your porch. You scan Zillow daily in hopes that your house isn't listed and decide it's best not to unpack any of your belongings because you don't want to jinx it.
Stage five: The everything sucks phase
Where you're living:
St. Johns
Where you're going out:
Slim's, Plew's Brews; an assortment of nameless dive bars and Chinese joints on Lombard that have popular video lottery rooms
Your mantra:
"Please don't move here!"
Go-to activity:
Day drinking; yelling at cyclists; telling the aloof middle-aged white people in Keen sandals and Patagonia-everything who you keep getting stuck behind in line at the New Seasons that just opened down the street to move back to California
With your glory days behind you -- those of riding bikes and going to shows with an endless procession of new friends you'll never see again in the trendier parts of Portland you've been priced out of -- you grow despondent and give in to the unpretentious allure of Portland's final frontier: St. Johns. The mellow Anytown, America vibe and the lack of gutter punks starts to grow on you, and within a month you sever all ties with everyone who lives east of Peninsular. You aggressively flame anyone who posts anything related to how cute and quaint Portland is on social media.
Stage six: The cohabitation phase
Where you're living:
The Alphabet District
Where you're going out:
You're not, unless you're able to trick someone into meeting you at Tony's or Joe's Cellar
Your mantra:
Leave me alone
Go-to activity:
Endlessly searching for a parking spot; fantasizing about buying real estate in Astoria, Boise, Missoula, or wherever else the "
next Portland
" is
You and the sassy bartender from the last tapas bar you were fired from find yourselves staring down rent increases/eviction notices at the same time, so you decide to get serious and move in together after three months of semi-regular conjugal visits. You've vowed to avoid the west side since the day you moved here, but you're shocked and disappointed to learn it's now cheaper to share a one-bedroom in the Alphabet District than it is in a more desirable part of the east side. The two of you wonder what the hell just happened when you realize you've talked yourselves into paying $1,200 a month for a cramped apartment with ratty carpet and the endless clatter of transients loitering in front of the McDonald's just outside your window. You never knew it was possible to hate Timbers fans more than you do now.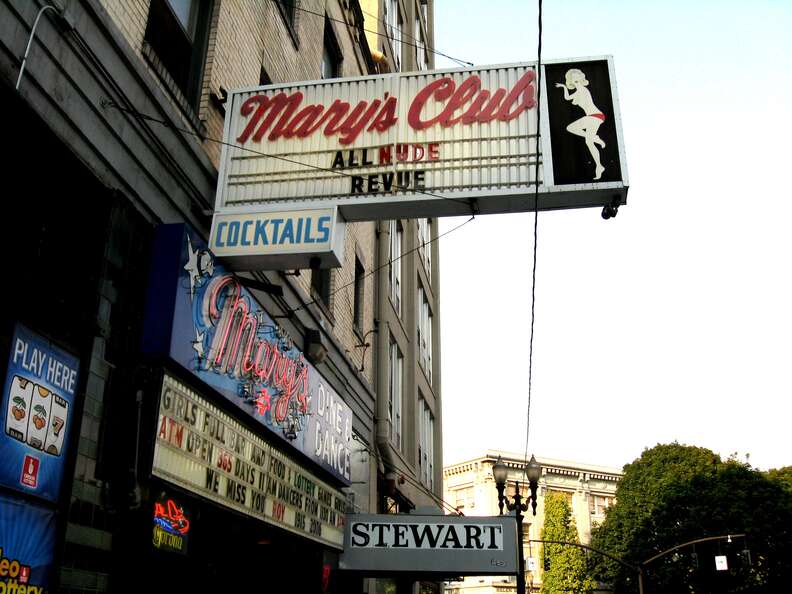 Stage seven: The adulting phase
Where you're living:
You tell people it's Montavilla even though it's too far east of 205 to qualify; no one calls you out or knows the difference
Where you're going out:
Various strip clubs, but only because they "have a great happy hour"
Your mantra:
It's not
that
far
Go-to activity:
Recruiting friends to join you on the dark side of 82nd with the promise of it being cool if EVERYONE moves there at once
Things were going smoothly with the bartender until they got it stuck in their head that the $1,200/month the two of you were splitting to be miserable in NW Portland could go towards owning something in a place like Boise or Astoria. A regular at your new gig regaled you with horror stories of what happened to the last person who tried to get in on the ground floor of Idaho real estate, so you bail at the last minute and figure it's finally time to strike out on your own.
A friend scores you a temp job in an office that's salaried, although it barely pays what you were making at your last bartending gig. The upside is that your income is finally verifiable enough to land you a place by yourself, although you're still too poor to ever move back to the part of Portland you once admired. You find yourself a decent two-bedroom behind one of those weird buy-here/pay-here car dealerships on the east side and immediately find yourself on a first-name basis with the clerk at the liquor store across the street. Save for the occasional Subaru break-in and suspicious "crunch" under your foot on the way to the Plaid Pantry for your daily breakfast burrito, it's still the Portland you know and love. And it's definitely still better than going back to where you came from.
Sign up here for our daily PDX email and be the first to get all the food/drink/fun Portland has to offer.
Pete Cottell is a real local who's been stuck between stages three and four for a few years now. He's still been here longer than you, though. Follow him to tales of service industry horror at @Vanifestdestiny.