Whenever you're strolling the Pearl, Division St, or the perpetually under-construction Williams Ave, stop for a moment and listen carefully. You may hear faint sobs and sniffles or muffled wailing coming from a nearby bungalow. That's someone who's lived in the Old Portland of the '90s, and can't help but be overcome with nostalgia about a city they once knew, a grungier Northwest town that never wanted fame or splendor or their beloved quirks to be showcased in a nationally renowned sketch comedy TV show.
 
We don't blame them for their sorrow. In fact, we'd like to lift their spirits by reminding them of the Old Portland relics that have resisted all the change. We've already covered the dive bars. Now it's time to get even grittier for the relics of "Old Portland." Maybe go to a dive bar before the porn theater though.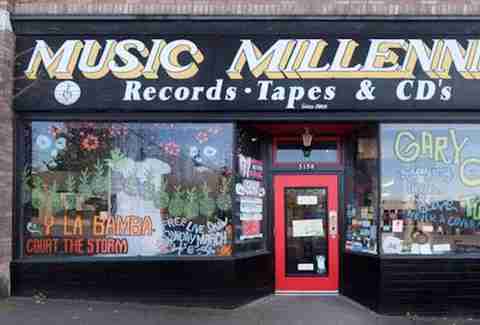 Laurelhurst
Any record store that is still around in today's musical climate of subscription streaming services is worthy of praise. How this 47-year-old shop -- whose brother in the NW is now a restaurant -- has continued to remain relevant to its customers is perhaps a mystery, but two things that keep us going back are the eclectic selection and, mostly, the free in-store performances from both local musicians and bands on the road. Take our advice and bookmark Music Millennium's events page. You never know who might be passing through for an uncommonly intimate show.
 
Sunnyside
Even more than music stores, video rental shops have gone the way of the VHS, but Movie Madness lives on as a true movie-lovers dream, bringing us everything from new releases to out-of-print art films to hard-to-find genres... sometimes on VHS (those require a big deposit). Add to that the extensive collection of memorabilia -- collectibles like a Young Frankenstein costume and the Fight Club soap -- and Madness is more of a film library and museum than a store
 
Downtown
Dante's in and of itself has become an icon of the weird, the unhinged, the debauched, and the talented. And Sinferno Cabaret, the Sunday night event that every Portlander must see, is a raucous gothic variety show and sickeningly scintillating strip tease complete with fire and cage dancers. Sinferno is frightening, unapologetic, sexy, and absolutely not for the faint of heart -- that's what makes it such an embodiment of this town's undercurrent, and a rite of passage for all Portlanders.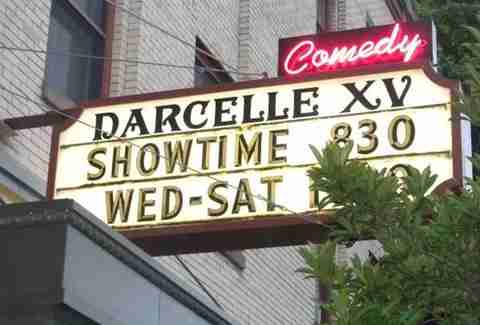 Old Town
Darcelle and Co have been entertaining Portlanders with their semi-nightly comedic drag show for decades. This is a live dinner performance that, initially, will make your heteronormative friends squirm in their seats, but once they've settled into the experienced hands of Darcelle, they'll be laughing happily, and by the end they just might be slipping singles in the garter on a strange man's hairy leg. Here's to hoping that a new luxury apartment building will never take over this longtime icon of Portland's open-mindedness for all things scantily clad on stage.
Northwest
Just before the start of the millennium, Tin House, whose headquarters is a revamped craftsman home, launched its first issue of refreshingly daring fiction and essays.  The magazine, from the content to the eye-catching design, promised that Portland would further establish itself as a literary hub. Now, after the addition of sought-after week-long writers' seminars and Tin House Books, this publishing house is an indie giant that will hopefully represent our town well for another few decades and beyond.
Hawthorne
One of the defining characteristics of Hawthorne is the thrift shops -- racks of pre-loved clothing one can compile into funky outfits that might span multiple decades of fashion styles. But these gems have been giving way to boutiques where a T-shirt costs more than three outfits and a pair of snakeskin boots at Red Light Clothing Exchange. This expansive space is especially bustling the week before Halloween, when outrageous old hats, canes, white gloves, furry boas, army fatigues, sailor suits, sequined vests, and anything else that might complete your costume line the walls.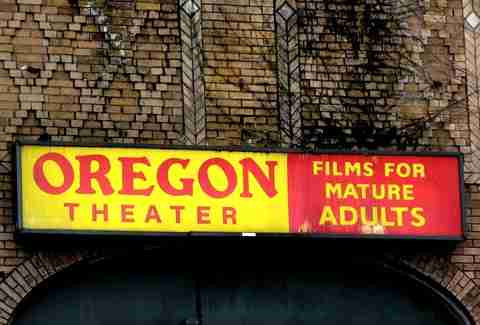 Clinton/Division
Even the formidable forces that have utterly transformed Division St in the past few years will not be able to take down the Oregon Theater. Why? Because every 'hood needs an unmarked porn theater (the sign above has since been gutted). Just two blocks up from the long line at Salt & Straw, you might see a middle-aged man appear from behind blacked-out doors in a bit of a daze, shirt untucked, squinting his eyes against the harsh streetlights. He checks his watch. Is it dusk or dawn? Eh, what's the difference, either way he's going home to finish what he started.
 
Mississippi
Why, of course one of the oldest surviving businesses in one of the most rapidly developing neighborhoods in Oregon is a place that sells light bulbs. LED bulbs! Edison bulbs! Black lights! You name it, Sunlan has it, offering up proof that Portland is a city that thrives on stores that sell one very specific thing (across the street? A synthesizer store!). The place is like a museum that draws humans like moths. And there's often a LEGO display in the window, too. Just for good, well-lit measure.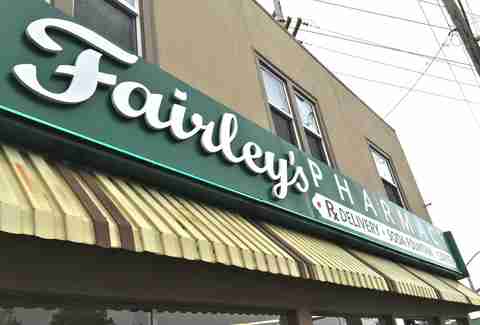 Roseland
Since 1913, from its odd triangular building on Sandy, Fairley's has provided prescription drugs and a family gathering place for coffee, malts, and soda out of an old-time soda fountain. You might find a few rascals spooning the last bit of chocolate shake from a steel cup and joking with the apron-clad proprietor like they've known each other all their lives. And then you suddenly feel Einstein's gravitational wave and realize you're in a 1950s Midwestern town straight out of a movie. Don't be scared, just take a seat and order a banana phosphate soda.

Independent Publishing Resource Center Hosford-Abernathy
This city has long been a champion of both literary and maker movements, and the IPRC fuses the two to create a welcoming and accessible space for budding writers and publishers to acquire resources that are otherwise too expensive or simply unavailable. Through classes on both bookmaking and the craft of writing, led by notable local talents, novice writers can transform scribblings in a notepad into polished essays and stories in a bound book. Are you ready to write that novel about the heartless transformation of a once-sleepy town by unseen corporate interests? Start at the IPRC.
 
Clinton/Division
Portland's not hurting for indie beer theaters, lord knows, but the Clinton's its own monkey, a 100-year-old landmark that just might contain the most gloriously schizophrenic programming in town. It's anchored by weekly Rocky Horror events -- the longest continuously running Rocky event in the country -- but after that, anything goes. Maybe you'll watch Blade Runner or roll in for the annual Christmas screening of The Big Lebowski (robes included). Maybe it's a jazz documentary, or a vampire film fest, or a secret debut of some crazy-ass new movie that hasn't even hit theaters. And if you still can't find something you like, well, you can rent it and show anything you want.
 
Sellwood
Contrary to what your neighbor who moved here from Minnesota in 1989 might have you believe via his "stop demolishing Portland" posts on Nextdoor.com, there was a Portland before he moved here. And it wasn't all strip clubs and punk rock. Since 1905, Oaks Park has been a landmark of unabashed, childlike fun, with rickety rides and an air of innocence we tend to forget about when we talk about old-school Portland institutions. But if you must prescribe some of that Portland stereotype, there's really nothing quite so ironic and old-Portlandy than going to the skating rink and pretending not to have fun.
Sign up here for our daily PDX email and be the first to get all the food/drink/fun Portland has to offer.
Dan Schlegel swears he's never stepped foot in the Oregon Theater.  Follow him to private rooms with '70s shag rugs @ddschleg.