Remember two months ago when you were praying for anything but rain? Your prayers have been answered, but the gods have punked us yet again, with 100-degree heat that not even denizens of brand new condos are equipped to deal with. That A/C unit you ordered off Amazon should be here in a few days (when it'll actually will cool down again)... but we'll prepare you for the next oppressive heat wave that's sure to come for us all.
All hail, the swimming hole. Below is a list of our favorite places within an hour-ish drive of Downtown to cool off, though a couple of them are easily accessible by bike or bus. It's worth noting we've removed two former favorites -- Kelly Point Park and Sauvie Island -- because you're no longer allowed to swim at the former or drink at the latter. A handful of our latest tips are yet to be corrupted by the kinds of dinguses who caused the aforementioned spots to be ruined forever, so do your part by packing out trash and being kind to the locals. Now, who's ready for a dip?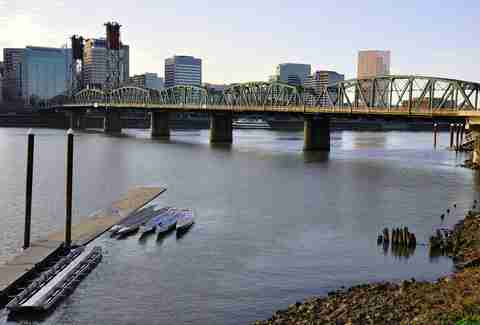 Hawthorne Boat Dock
How to get there: By car, head towards OMSI and park anywhere on Water Ave near the Hawthorne Bridge. By bike, take the East Bank Esplanade and hop off where Clay Street dead ends into the river. If all else fails, Google "Swim dock" and it'll get you there.
Cost: Free.
The scene: Part afterschool special, part Portlandia skit, "The Dock" is an access ramp for dragon boats and rowing clubs that's been overtaken by teenagers, hipsters and hippies. It gets a bit crowded around late afternoon, but most people there are too busy catching rays or cooling off in the river to harsh anyone's vibe for getting too close. Be nice to the overdressed adults with boats, as they are convinced they own the place and do not take kindly to the stoned 20-year-olds who use it to do cannonballs and post #vibes to Instagram.
Nearby: If you're thirsty for beer and still hard-up for sunshine, you'll find salvation in the form of German beer, heaping plates of nachos and a wonderful patio at Wayfinder Beer (about a mile away).
How to get there: Head east on I-84. Take exit 18 for the Historic Columbia River Highway. As you pass the Stark Street bridge, watch out for Dabney on your right.
Cost: $5 per car for parking.
The scene: A tad less crowded than nearby Lewis and Clark State Park, Dabney is a great place to splash around in the Sandy River without worrying about getting whisked away by the current. If that's what you're trying to do though, float from here to Lewis and Clark (the Sandy flows north), which takes about three hours depending on the current and how much beer is weighing down your flotilla. Be sure to pack a pair of river shoes or sandals, as there are small rock formations that could bust your toes if you're not careful.
Nearby: Just over a mile away in downtown Corbett is the Springdale Pub and Eatery, which checks all the boxes of a small town dive bar, without the sticker-shock you'll get at Shirley's Tippy Canoe.
How to get there: Head east on I-84. Take exit 25 and follow the signs to Rooster Rock State Park.
Cost: $5 per car for parking.
The scene: There are two very different vibes: the family-friendly riverfront park near the parking lot, and the clothing-optional beach on the other side of the woods. The latter is dubbed "cock rock," but hey, it's the year 2018 and it's hot as hell outside, so don't let the possibility of seeing a leathery old naked guy in the wild put you off -- it's a really nice party beach where anyone and everyone can let loose and be free.
Nearby: Level Beer is a craft brewery in an old produce market in far-out northeast Portland. The greenhouse has been converted into a gorgeous patio, and there's a couple of solid food carts out front.
How to get there: By car, head towards Oaks Amusement Park, then take a left into the parking lot once you turn off Tacoma Street. By bike, take the Springwater Trail south towards Oaks Park until you find a beach area you like.
Cost: Free.
The scene: Sellwood Riverfront Park is popular with kayakers, SUP-ers and yuppy families, who arrive in droves at the weekend and let their dogs and children run wild. It's easy enough to escape them though -- just amble north along the beach until you find a secluded spot. You'll never be completely alone, but most people give up well before they reach the dock, which is perfect for laying out and catching a tan between dips in the river.
Nearby: The downtown Sellwood/Westmoreland area is an unexpectedly poppin' respite from Portland proper when it comes to bars. Check out Kay's for a grade-A dive bar experience with cheap beer and fried food, or Laurelwood Public House for juicy burgers and an exemplary craft beer selection. You're also near a Columbia Sportswear Outlet in case you need a bargain-bin replacement for that Chaco you lost to the mud.
High Rocks
How to get there: Head east until you hit I-205 south, then take exit 11 towards Gladstone, turn right onto 82nd and the park will be on your left.
Cost: Free.
The scene: The clue's in the name: this suburban city park in Gladstone is a choice spot for cliff jumping. It's high on fun-factor but low on risk -- the rocks aren't crazy far from the water, and on busy summer afternoons there are lifeguards to keep watch. Pools are for suckers, right?
Nearby: After an afternoon out in the parking-lot sun, your car's gonna be baked -- come off the I-205 and reroute yourself to Happy Valley Station, a cart pod with 30 taps of cold beer and ice cream slathered sweets at Puffle Waffle.
How to get there: Head west on US-26 towards the coast, then follow signs for OR-6 towards Banks and Tillamook. 27 miles later you'll see the Tillamook Forest Center on the right, which is a good base for exploring the river.
Cost: Free.
The scene: If you've ever wondered how to access the river you drive along on your way to stock up on cheese in Tillamook, this is it. Swimming holes and cliff-jumping spots are all over the trail, so strap on some water shoes, pack a dry bag with jerky, and spend the day following the river through the old-growth forest.
Nearby: There's a vast tract of the suburban westside between the city and Tillamook State Forest, which means all manner of stripmall-bound ethnic eateries are well within reach. Check out Oyatsupan for grab-and-go Japanese baked goods (think black bean paste sweet rolls or curry karaage croissants), slurp a noodle-broth at Ramen Ryoma (inside the Uwajimaya grocery mall), feast on Korean barbecue at Nak Won, or load up on street tacos at Taqueria El Paisano.
How to get there: Take I-5 or I-205 north to WA-14 east for 33 miles. Turn left onto Salmon Falls Road, then right onto Washougal River Road. As soon as you pass Dougan Falls, turn right onto Rd W-2000. You'll eventually see the parking lot on your right.
Cost: $10 for a day pass permit, which you can purchase and print here or at Washougal River Mercantile.
The scene: Someone get Steven Epling a beer -- the local patron bought Naked Falls in 2017 and re-opened it to the public, to allow us all to enjoy it as he did when he was a child (for a small fee). Holy smokes it's beautiful here -- a series of sparkling falls gently cascade into crystal clear pools, with plenty of smooth, sun-soaked rocks for basking on by the side. The best way to brave the ice-cold water? No, not by edging in toe-by-toe like a grandma, but by leaping off one of the surrounding rocks.
Nearby: Thunder Island Brewing in Cascade Locks does slow-smoked ribs on Fridays, Saturdays and Sundays, best washed down with a glass of the chocolate stout. Cross the Bridge of the Gods and check out Walking Man Brewing in Stevenson or Backwoods Brewing in Carson -- both deal in cold beers and mighty burgers, which is just about the dream combination after a dip in the frosty Washougal River.
How to get there: Take the I-205 or 99E south to 224/212 east, then look out for signs for the park as you approach Estacada.
Cost: $5 per car for parking.
The scene: The Sandy River is great for families (and sissies), but to turn it up a notch, try taking the plunge in a chilly mountain runoff of the Clackamas River. Put in for a fast-paced float all the way to Barton, or just bomb the little section of rapids immediately downstream from the boat ramp and then jump out and do it all over again. And again, and again, until your mom calls you for dinner or your toes start going numb.
Nearby: Whether you end your float at Barton or just spend the day flopping around at McIver, be sure to roll through Bent Shovel Brewing on the way for a pint of One Wagon pilsner in the rustic backyard.
How to get there: Take I-84 east and get off at exit 69 for Mosier, which is just a few miles past the Hood River. Park at the Mosier Plateau Trailhead on US-30 if you're up for a quick hike to earn that dip in the water, or park on 3rd Avenue and scurry down the hill if you'd rather cheat and head straight to the falls. Search "Mosier Falls Swimming Hole" on Google Maps if you get lost.
The scene: It's a small cluster of pools and waterfalls at the base of a (by the way spectacular) trail to Mosier Plateau. Laying around and cliff jumping are, not surprisingly, the top two activities -- you can just about cannonball into the top pool, but the lower one is deeper, and you'll have the bonus satisfaction of silencing all the kids who talk trash until you jump in.
Nearby: Mosier Company is a cute little pub next to the trailhead, with a sunny patio, farm-to-table food, and local craft beers on tap. You're also going to pass Hood River on the way back to the city, so you've got every excuse to stop at top-notch beer spots like Double Mountain and pFriem.
Sign up here for our daily PDX email and be the first to get all the food/drink/fun Portland has to offer.