How hot is it in Portland this summer? So hot that there's actually a line outside of Salt & Straw, presumably to trick the mind into thinking it's January, when there's also a line outside Salt & Straw. For a less psychological cool down, though, nothing beats a nice plunge. And while the mountains and coast are full of amazing lakes and beaches, they don't account for laziness. None of the swimming spots on this list are more than an hour away. Hell, some are right in town. Even better, there are no lines! And you can always bring a cooler of ice cream.
Recommended Video
There's a Stock Market-Themed Cocktail Bar in Hong Kong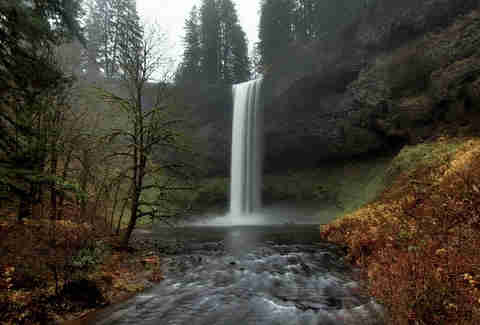 Silverton
Remember that movie where Benicio Del Toro was out in the woods killing deer hunters for using scopes? Of course you don't. But it was filmed in Silver Falls, a sprawling state park south of Stumptown that offers tons of opportunities to get wet that include wading in the pools of the namesake waterfall, flopping around in the cool river, or walking behind the falls themselves. Don't worry, Benicio left a while ago.
Troutdale
A gigantic, usually warm hole at the mouth of the Sandy River, Glenn Otto's the go-to spot after a tubin' trip down the Sandy. And sure, the main hole is usually overcrowded with families and folks who boast more than one pair of truck nuts, but if you're arriving by tube, that just gives you even more incentive to stop at one of the various sandy beaches before you get to the park itself.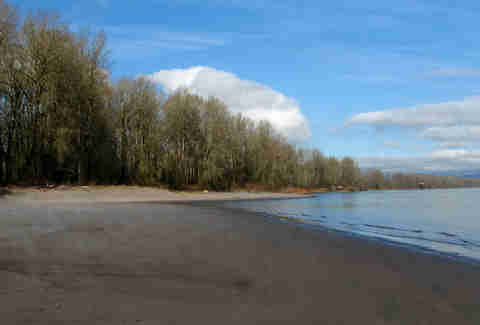 NW Portland
This big-ass island just NW of Downtown is the constant victim of misplaced apostrophes, sure, but it's also home to incredible farms, sprawling natural areas, and, most importantly, amazing beaches. Take your pick: clothed or nude. (Please pick clothed.)
North Portland
The magical place where the Columbia and Willamette converge is often overlooked in the conversation about Portland's best parks. Which is a good thing for folks who don't mind swimming in a sandy river spot with the backdrop of gigantic industrial boats cruising by, kicking up waves. It's a completely different world from the city you barely have to escape to utilize it.
Columbia River Gorge
For folks who are down for a little extra credit and a lot more privacy, there's a secret spot right near Oneonta. But I'm not telling you about that. I'm telling you about the main attraction which, just east of Multnomah Falls, remains one of the most stunning sights in an area full of stunning sights. To get there, you have to climb over a long jam consisting of both actual logs and slow-moving people. Then, you wade waist-deep through the junk-numbing gorge. Finally, you hit a secluded waterfall perfect for swimming and cliff diving. When the sun hits it just right, you'd be hard-pressed to find a more surreal and beautiful swimming hole.
The go-to spot for amateur cliff divers (and we stress the word "amateur"), High Rocks on the Clackamas just south of PDX offers a huge spot for casual swimming and daredevilry. These days, the place actually has lifeguards, too. Don't be an amateur and make them get wet.
Troutdale
Because it's the closest taste of the gorge you can get to Portland, Oxbow's often considered the lazy person's park. Well, it's hot, so screw you. Just because you want to go swimming doesn't mean you're looking to get a workout.
The middle of freakin' Portland
Contrary to popular belief, swimming in the Willamette won't make your skin peel off or give you hepatitis P. Need proof? Look at the folks braving the waters at the Eastbank Esplanade, the South Waterfront, or soaking it up during the Big Float (taking place July 26th, by the way). Those folks have plenty of skin, and probably only familiar strains of hep. Dive in! The water's just fine.The DEQ even says so.
Sign up here for our daily PDX email and be the first to get all the food/drink/fun Portland has to offer.
Andy Kryza is a senior editor at Thrillist. His favorite swimming spot is one he's not going to tell you about, because he hates truck nuts. DON'T follow him to his favorite oasis @apkryza.