So you've just moved to Portland. Or maybe you've been here for years, perhaps, unlikely as it is, since you were born. But you still haven't explored everything there is to do in town. For such a little city, there's a surprising amount to do here. To help you out, we've developed this bucket list of the things you need to do in Portland before you die (or, more likely, move away to escape skyrocketing rent costs).
Recommended Video
You Can Fit This Grill In Your Backpack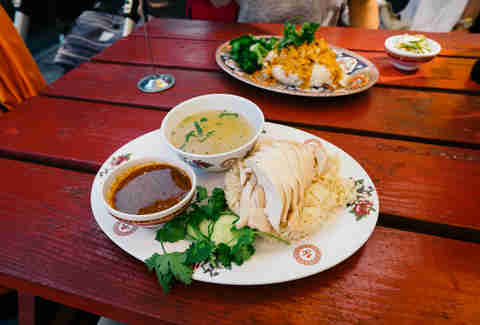 1. Eat at a food cart
Preferably Nong's. Or any of these places.
2. Get caught in a downpour on your way home
Because it was 70 degrees and sunny when you left, and some website told you that you're not supposed to carry an umbrella in Portland.
3. Float the river
Clackamas, Sandy, Willamette, it doesn't matter. Just do it while it's still actually hot.
4. Swim in the Willamette
Just make sure it hasn't rained recently.
5. Hike to the top of Multnomah Falls
Or try one of the many other, less trafficked hikes in the Columbia Gorge. You're not a tourist.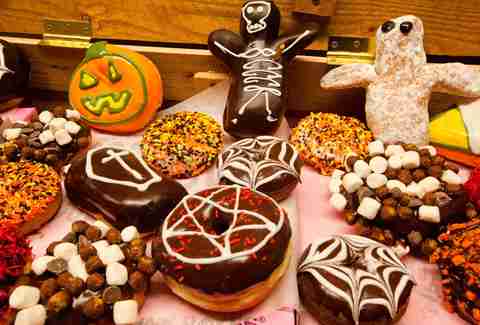 6. Eat at Voodoo Doughnut
Complain the entire time you're in line about how you should have gone somewhere else instead.
7. Have a Spanish coffee at Huber's
Drive out the encroaching winter chill with Portland's own pyrotechnic boozy coffee drink.
8. Go skiing in the summer
It's not just a good date idea, where else can you take a quick trip to a glacier?
9. Watch the sunset from the Bluffs
You're absolutely not allowed to drink beer in a public place like the Skidmore Bluffs, and we would never condone or encourage such irresponsible behavior.
Find your way out by following a bunch of kids dressed like the X-Men.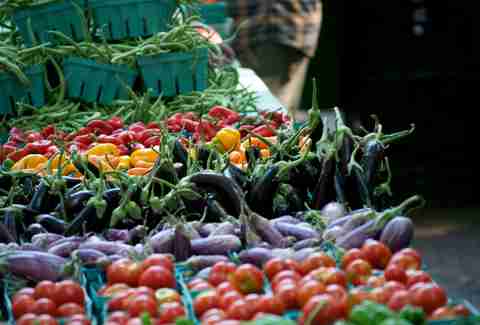 End up composting most of it at the end of the week.
12. Wake up hoarse
And barely remember yesterday's Timbers match. But they probably won! The songs will be stuck in your head for weeks to come.
13. Yell at a car
You're a cyclist now, and legally, that whole lane is yours.
14. Understand, conceptually, how to make beer
You've toured every brewery, so you can totally make your own suds at home, right? Right?!
15. Complain about gentrification
During a dinner party at your new high-rise apartment.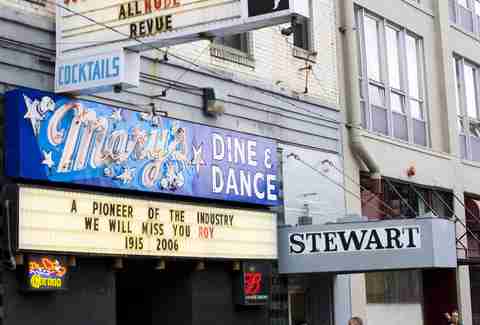 Don't be stingy, tip those ladies! And remember, no touching!  
22. See the West Coast's oldest drag queen
At 87 years old, Darcelle XV still brings it on a weekly basis.
23. Talk your way out of getting fined on the MAX
Just pretend you're not from here.
24. Believe this is the Blazers' year
Oops, we mean believe that NEXT year is the Blazers' year.
25. Read an entire book on the floor of Powell's
It's a bookstore, not a library, but it doesn't count if you don't leave with it…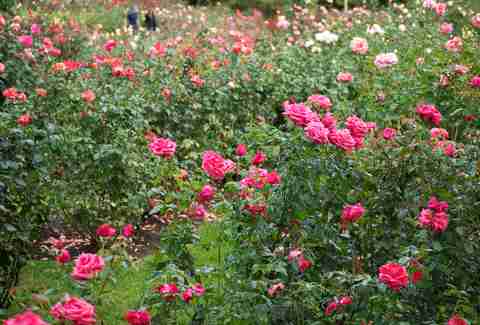 26. Smell the roses
At the International Rose Test Garden of course.
Buy into the apocryphal notion that they were used to capture sailors, as the name suggests, just for a moment.
28. Have an after-hours shot of fernet
Because your friend is the bartender.
29. Listen to Elliott Smith while it's raining
Also acceptable: The Shins. Unacceptable: Everclear.
30. Have your "art" featured in a coffee shop
Or your "journalism" on a website...
31. Visit the Oregon Museum of Science and Industry
It's fun anytime of day, but during OMSI After Dark you can drink beer.
32. Visit the largest park in city limits: Forest Park
There are plenty of running and hiking paths through Forest Park. There are far fewer at Mill Ends Park, the world's smallest park. Really.
33. Buy pot. Legally.
No need to go to a friend of a friend's basement apartment in his mom's house to score some weed. Now you can hit up one of our many classy, legal dispensaries.
34. See a local comedy show
Portland has a some great open mics, as well as a host of professional stand-up comics. Expect plenty of self-deprecation and pointed political humor.
Because you have to have a few kid-friendly destinations.
36. Judge the people in line at Voodoo Doughnut
Eat a box of donuts from one of our many great donut shops in front of the line, out of a S.A.D.-inspired fit of spite.
37. Get a tattoo
You can even get one that's vegan!
38. Declare _______ to be the next Stumptown Coffee
Which coffee shop do you smugly prefer to the rest?
39. Sneak a Starbucks when nobody's watching
We won't judge -- Frappuccinos are delicious.
40. Go on a brewery tour
Try and hit every brewery in town. Claim you can totally do it. Fail with honor.
41. Remember that the sun exists
So do flowers and full days and hope and puppies.
42. Watch porn with a crowd
Sure, Hump! Film Festival started in Seattle, but it's definitely been fully co-opted by Portland. Just don't say that to a Seattleite.
43. Sing your heart out
Don't worry, no one will realize you don't know a single word of "So Much for the Afterglow;" they're either too tipsy off Jell-O shots at Chopsticks, or too distracted by the naked woman next to you at Devils Points Stripperaoke.
44. Watch the sunrise from Mount Tabor
Where better to do some morning yoga than on an active volcano?
45. Get the hell out of town
Hit the coast, Bend, Hood River, or anywhere else, just for a day.
46. Sell your car
And buy a bike. Then sell that one and get an upgrade. Repeat yearly.
47. Day drink
Preferably during the week, and preferably at a bar with a patio. Here's a guide to doing it right.
48. Bare what you dare on a bike
Portland is home to the largest World Naked Bike Ride… in the world. Young and old alike bare it all every summer. Trust us, it's not that weird when you're in it.  
It's not haunted, but it is beautiful!
50. Bike up a freeway on-ramp
Only during Bridge Pedal, please.
Or the Chinese Garden, or the Rhododendron Garden.
He's still out there, keeping Portland weird. Tell him how much you appreciate him.
53. Bring your dog to a bar
Everyone loves dogs at bars. Don't have a dog yet? Well then...
54. Get a dog
And remember, adopt, don't buy!
55. Go to a protest
Nothing is more Portland than a little civil disobedience. It's why Bush Sr. called us "Little Beirut."
56. Bounce on the floor at Crystal Ballroom
Whether it's a live show or '80s-video dance night, the Crystal Ballroom is an essential Portland venue.
See if you can really tell the difference between 500+ different wineries' pinot noir.
58. Add something creative to the city
Artisan peanut butter? Everclear cover band? Competitive mime league? Whatever it is, just make sure it's yours.
59. Complain about transplants
Ignore the fact that you and your friends all moved here from the Midwest just last year.
Sign up here for our daily PDX email and be the first to get all the food/drink/fun Portland has to offer.