If we're being honest here, it's felt like fall in Portland for an entire month already. This is totally OK with us, as the season of fresh hops, food festivals, and pumpkin spice EVERYTHING is always a welcome respite from the dry heat that's pervasive in July and August. And besides, who's not excited to rock beanies and Pendleton shirts all day, every day? Lucky for you this coming season is stacked with rad events that are perfect excuses to leave the house looking fall AF in search of those autumnal hues. Behold: the best things to do this fall in Portland.
Now through Thursday, October 31
Bella Organic Farm
It doesn't get more "Fall in Portland" than a trip to Bella Organic Farm on Sauvie Island. Sip cider, chow down on doughnuts, cozy up to the petting zoo, bounce around on the hayride, or get the bejesus scared out of you on the haunted trail or in the self-guided corn maze that you may legitimately get lost in. Be sure to hit up the Lighthouse Bar on the way for a fantastic burger and a pint of IPA, if subsisting on caramel apples and candy corn is not exactly your thing.
Cost: Each individual activity is priced separately, but you can get an all-inclusive wristband for $19 on weekends in October
Friday, September 20-Saturday, September 21
Occidental Brewing
Occidental Brewing has quietly been brewing some of the best beer in town since their first keg tapped in 2011, and it's sad that the hype train is unlikely to stop at their lovely location next to Cathedral Park because they don't bother with 12% IIIPAs laced with lactose sugar, CBD or whatever other adjuncts are the new hotness. BS-free German beer is their game, and Oktoberfest is the one time of the year when everyone feels obliged to bask in its greatness. Spend two days ingesting fresh lager, crisp kolsch, and plenty of sausages and pretzels to soak up the booze all day long. 
Cost: Entry is free, but you're here to drink and eat, so bring cash
Friday, September 20-Sunday, September 22
Oaks Amusement Park
If confining your palate to just one brewery isn't your bag this autumn, head down to Sellwood for one of the oldest and most popular Oktoberfests in town. There'll be plenty of rickety rides for the kiddos, sandy riverfront vistas for the dogs to run wild and, of course, a ton of German beer for the legion of adults in attendance.
Cost: $6 for adults, $3 for kids and $4 for seniors
Saturday, September 21
Downtown Hood River
Harvest season bestows truckloads of fresh hops upon the Oregon beer scene each fall, and the result is some of the most crisp and vibrant beer you can acquire all year long. Hood River is already a mecca for beer geeks, so the hour-long trip to enjoy freshies from your favorite Hood River like pFriem, Ferment and Double Mountain as well as regional powerhouses like Breakside and Buoy is pretty much a no-brainer, as is the option to take the CAT bus from the Gateway Transit Center to Downtown Hood River instead of driving. 
Cost: $10 for entry without beer tickets, $15 advance/$20 day-of for entry plus a commemorative glass and five taster tickets
Friday, September 20-Saturday, September 21
St. Stanislaus Church
There's more to Polish culture than pilsners and the polonez, but this is a street festival of sorts, so beer, dancing, and food are the obvious attractions here. Fear not if polka isn't your thing -- there's all kinds of rock and folk music to be heard in the parking lot that features the accordion and the fiddle just as prominently as Weird Al Yankovic's genre of choice for spoofs and goofs on the top 40 hits. And hey, you may even hear a squeezebox version of "Old Country Road" if you're lucky.
Cost: Free to enter, but food & drink will cost ya
Friday, September 27-Saturday, September 28
Oaks Amusement Park
In case Oktoberfest wasn't enough, Oaks is putting the hook right back in you the following weekend with Fresh Hops Fest, which is an autumn experience no beer lover in Portland should ever find a reason to skip. Everything's better with fresh hops, and all your favorite breweries -- like Baerlic, Breakside and Hopworks, to name a few -- are pairing with regional hop farmers to craft truly one-of-a-kind beers you probably won't be able to drink anywhere else
Cost: Admission is free.
Ongoing
Worldwide
Getting treated like a VIP takes any beer festival, barbecue showdown, or sporting event to epic levels, and as a Marriott Bonvoy member, you'll be able to cash in on luxury experiences across the globe with points. Marriott Bonvoy offers benefits and endless experiences at more than 7,000 hotels worldwide, so whether you're into live music, Michelin-star restaurants, or box seats, you're bound to find a perk that fits your lifestyle. Of course, they have you covered on where to stay if you want to make a weekend of it, too. 
Cost: Free to join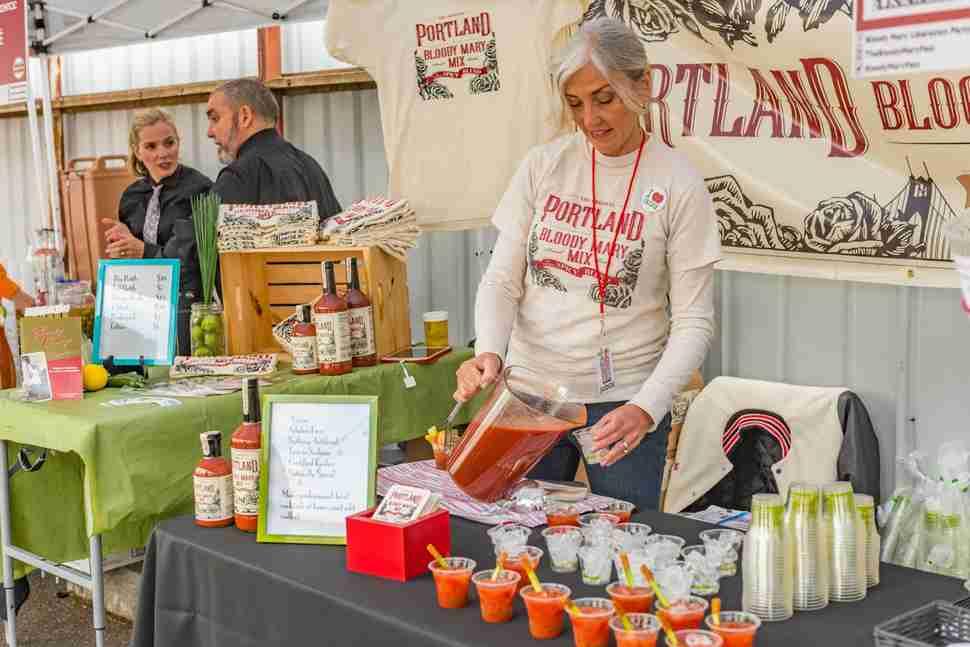 Sunday, September 29
The Redd on Salmon
Bloody Marys are everyone's favorite boozy breakfast beverage, and the time has finally come to enjoy an entire festival where that savory blend of voda, tomato juice and spices are at the star of the show. The Bloody Mary Festival features custom bloodys done up by the biggest names in brunch and beyond, with top (bar) brass from restaurants like Pok Pok. Fireside, Pine State Biscuits and Ya Hala headlining a star-studded that's sure to let loose with the juice. 
Cost: $45-$55
Wednesday, October 2-Sunday, October 6
Assorted venues
Sick of watching sad men monopolize open mics with their kvetching about Tinder, Taco Bell, and myriad other comedic veins that gave out years ago? Make your way to one of the handful of rad venues hosting the All Jane Comedy Festival, a ladies-only event that's featured top-tier talent in year's past like Andie Main, Caitlin Weierhauser, Elena C. Hayden and just about every other relevant comedienne who calls the West Coast home. 
Cost: Admission varies by event and venue
Friday, October 4-Sunday, October 6
Trinity Greek Orthodox Cathedral
If your fall festival doesn't involve street meat and dancing, why even bother? The annual Greek Festival has those things in spades, as well as a ton of other cool side hustles like a pop-up Greek nini-market, rugs, jewelry, Greek cooking classics, and enough beer to loosen the wallet enough to nudge you into going all out. 
Cost: Admission is free
Saturday, October 5
Alder Block
If you're the type of person who's made friends (or enemies!) with the cheese person at your local market because you always go buckwild on the samples, then The Wedge is the event for you. With over 70 cheesemakers on hand and all the wine, beer, and crackers you'll need to stuff it down, the only thing left to make this even heaven on earth for your average cheese addict is a Lactaid fountain and a nap station. 
Cost: Tickets are $20 in advance or $20 at the door
Saturday, October 5-Sunday, October 6
Oregon Convention Center
Whether you're a vegan, vegetarian, or a sympathetic bystander in search of the path to wokeness, there's something for everyone at Portland Vegfest. The idea of a meat-free Thanksgiving meal may be far off in the horizon, but this animal-friendly foodie fest will give you all the ammo you'll need to unload on your obstinate cousin Tevin about the virtues of giving up turkey for good, as well as delicious snacks courtesy of local purveyors of the plant-based lifestyle like Homegrown Smoker, Aviv and Hood River's very own Tofurky. 
Cost: $10 for single-day tickets, $17 for weekend passes
Friday, October 11-Sunday, October 13 and Friday, October 18-Sunday, October 20
Portland Nursery
Summer may be over, but that doesn't mean you're all out of excuses to spend hours idly wandering around Portland Nursery in search of goodness provided by Mother Earth. The apple game in the Pacific Northwest is on point, and though the majority of the most popular varieties of apples in the region come from Washington, Portland is still plenty close enough to enjoy the fruits of our neighbor to the north's labor. 
Cost: Free
Friday, October 18-Sunday, October 20
Oregon Convention Center
Usually the idea of a basement full of retro video games is enough to whip nerds of all shapes, sizes, and ages into a frenzy, but the Portland Retro Gaming Expo always goes the extra mile by offering panel discussions with some of the most interesting people from the 8-bit world and beyond. This year you'll hear from Activision co-founder David Crane, Atari 2600 programmer Tod Frye and a gaggle of other gamer icons who are famous for everything from collecting rare games to spouting off about the scene on wildly popular Youtube channels. 
Cost: $18-$45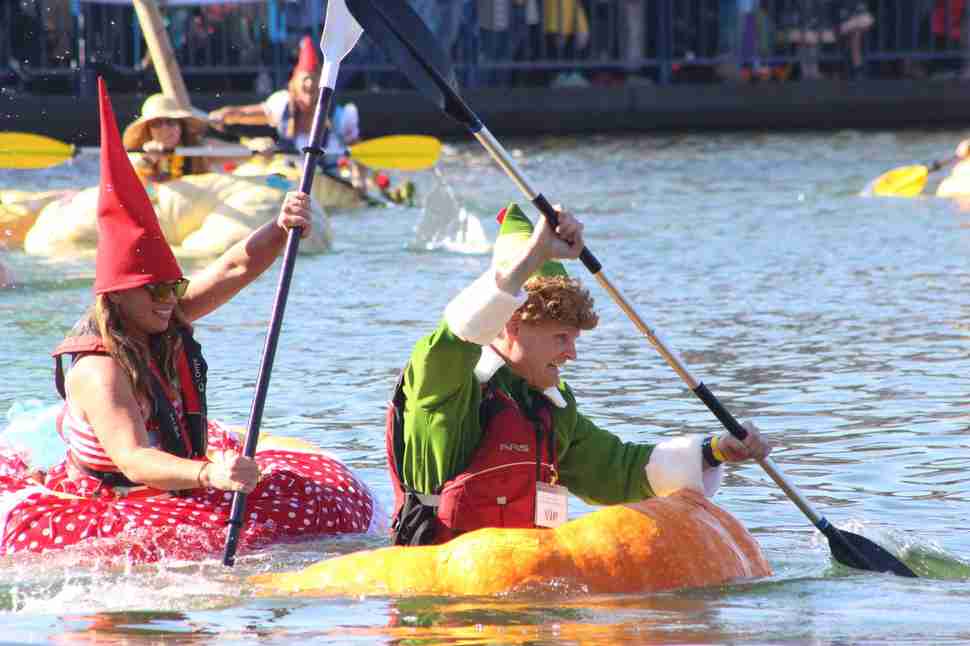 Saturday, October 19
Tualatin Lake of the Commons
Being weird for weird's sake is a crucial component of Portland's DNA, and though this famous event in which folks from all over the country turn pumpkins into nautical vessels and paddle them across a municipal pond takes place in the suburb of Tualatin, it's still very much something for Portlanders to be proud of. Besides, what's more American than powering an oversized gourd across a lake just because you can?
Cost: Free
Saturday, October 26
Rogue Eastside Pub & Pilot Brewery
Another Smashing Pumpkins tour has come and gone, yet not a single note that's come out of Billy Corgan's mouth or guitar is even a small fraction as satisfying as the physical act of smashing an actual pumpkin. Rogue Brewery knows this, and the legendary Oregon brewer will present a pumpkin smashing station at this years Killer Pumpkin Festival, which is a celebration of all things brewed with pumpkin spice and everything nice. 
Cost: Free entry with a suggested donation of $5
Saturday, October 26
Jack London Revue
Global bass music has been DJ Anjali & the Kid's forte since they hosted their first Bollywood party in 2000, and yet again they come through with a border-spanning dance party that's a refreshing change of pace from all the EDM remixes of "The Monster Mash" that populate the Halloween scene each year. Whether you're into Bhangra or Reggaeton, Anjali & the Kid got ya covered at this one.
Cost: $13
Saturday, October 26
McMenamins Crystal Ballroom
Most Portlanders have only partaken in shows at the top floor of the Crystal Ballroom, but the legendary venue has an entire "underground" system of bars and party rooms to take advantage of, and the Portland Erotic Ball is a fine way to explore the whole facility while dressed like a dominatrix with a spooky Halloween-themed drink in your hand. There'll be plenty of live music, fetish shows, and burlesque balls to make this an absolutely epic party, so ditch the kids with a babysitter and a bag of leftover candy and come on down for a kinky night on the town. 
Cost: $55 
Friday, November 8-Saturday, November 23
Revolution Hall
With seemingly every vice under the sun having been made mainstream by the proliferation of posi-culture, it should be shocking to no one that Portland is home to one of the world's largest annual DIY porn festivals. That festival is HUMP!, an almost month-long tribute to bespoke smut started by Seattle's alt-weekly LGBTQ+ icon Dan Savage, and it's absolutely where you want to be if you've spent years wondering what your neighbors are up to when they haul thousands of dollars worth of film equipment into their room when the lights are down and the doors are shut at night. 
Cost: $20-$25
Saturday, November 9
Oregon Convention Center
If beer festivals aren't bougie enough for you, the Northwest Food and Wine Festival is probably right up your alley. Seemingly every big name in the Willamette Valley wine scene will be in attendance, and beloved local restaurants like Besaw's, Blossoming Lotus, Tamala Boy and plenty more will be on hand to pair their wares with the finest vino and spirits available from the region. 
Cost: $75
Friday, November 15-Sunday, November 17
Oregon Convention Center
ComicCon has come and gone, but the spirit of animated fandom lives on with Kumoricon, which is a Pacific Northwest-based anime convention named after the Japanese word for "cloudy." The directive of the weekend is anything but, with all your favorite games, cosplayers, and manga heavyweights on display all weekend, as well as an authentic Japanese maid cafe experience alongside all the guest panels and voice actor meet-and-greets.
Cost: $60
Sign up here for our daily PDX email and be the first to get all the food/drink/fun Portland has to offer.