Mother nature has been teasing us with glimpses of summer weather for two months now, but the real deal is finally just around the corner. A slew of super-fun events are coming up, from beer festivals and Pride, to jazz concerts and baseball. Here's our roundup of the very best things to do in Portland this summer, so all you have to do is load up on sunscreen and get outside.
Recommended Video
Model, Influencer & Entrepreneur Lindsey Pelas Reveals Celebrity Pick Up Stories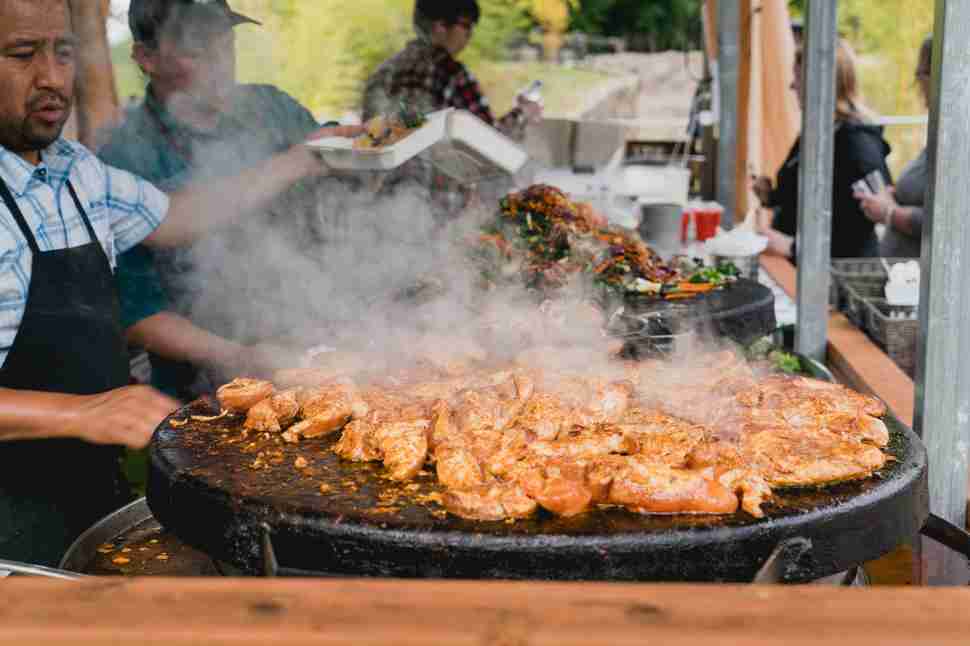 Thursday, June 13-Sunday, June 16
Loyal Legion
Oregon-centric beer bar Loyal Legion has been championing a vast array of local flavors since opening a few years back, which makes it the perfect place to cap off PDX Beer Week. This event is devoted to the smallest breweries around the state, with our funky friends at Little Beast Brewing leading the curation. That means there's a good chance you'll find a new favorite or two, amidst the sea of weird experiments that are too wild and rare to ever hit the mainstream.
Cost: Entry is free, the beer is not
Saturday, June 15-Sunday, June 16
Tom McCall Waterfront Park
PDX Pride Weekend is the perfect chance for community members and allies to celebrate the diversity that makes cities like Portland bastions for progressive attitudes. It happens to include a constellation of raging parties at bars across town too, if the big crowds of the parade or the riverfront festival are too much for you to handle.
Cost: Free
Saturday, June 15
Culmination Brewing
The beer geek superteam that assembled Culmination Brewing in 2016 could've rested on their laurels after their amazingly consistent IPAs and small-batch experiments vaulted them towards the top of the heap almost immediately, but where's the fun in that? Instead, they've been hosting events that pair their beer with things like coffee, doughnuts, and in this case, a splendid selection of cheeses and charcuterie. Be sure to pack an extra roll of Tums.
Cost: $37
Sunday, June 16
Loyal Legion
At this year's edition of Snackdown, attendees get to enjoy dishes made by local chefs from the kitchens of Ned Ludd, Shalom Y'all and others, all paired with beers brewed specially for the occasion by industry giants like pFriem and Fort George. The wrestling garb and a whole lot of yelling certainly gives the event a hint of the stuffy pageantry of The Feast, but the food does most of the talking.
Cost: $49 for ten small platters and ten 5oz pours
Friday, June 21-Sunday, September 1
Various locations
In case you missed the memo, almost every city park in and around Portland pops up a projector and screens classic movies throughout the summer. Chances are the park in your neighborhood is involved, and they may even be showing something fresh out of the second-run beer theater as well. Grab a blanket and get cozy on the lawn.
Cost: Free
Friday, June 21-Saturday, June 22
The Fields Neighborhood Park
Whether you're gluten-free, gluten-averse, or just plain sick of all the damn hops, Cider Summit NW -- part of Oregon Cider Week -- is a fantastic place to explore the burgeoning cider scene in Portland. Cider houses like California's Goat Rock and our own Happy Valley Cider will even have hop-infused ciders on hand, just in case you decide that maybe you're not yet ready to leave the beer world behind.  
Cost: $30-$40
Sunday, June 23
Westmoreland Park Casting Pond
In the fall, the Tim Taylors of the Portland area carve out pumpkins and race them across a pond in Tualatin. In the summer, the same uber-competitive tinkerers build floats out of milk cartons and race them across a casting pond right off 99E near Sellwood. It is the circle of life, and it is beautiful.
Cost: Free
Wednesday, June 26
Oregon Convention Center
Forget everything you know about sake, and maybe that time you put down a few too many sake bombs at a dingy karaoke bar too. Sake Fest PDX is like a one-stop shop for all the best Japanese rice wine concoctions under the sun, as well as sake-inspired cocktails and those Japanese rice adjunct lagers from the big boys at pFriem and Breakside.
Cost: $59
Saturday, June 29
Von Ebert Glendoveer
If you still don't know what a kriek is, put your phone or laptop down and cruise over to Cascade Brewing for a sample of what many beer geeks consider to be one of the best in the country. Once you've done that, get hyped on trying over 30 more varieties of this funky, fruity wild cherry lambic at the newest location of Von Ebert Brewing. Remember to take a bus, cab or Uber, because a lot of these beers are incredibly crushable in spite of their often high ABV.
Cost: $30-$50
Thursday, July 4-Sunday, July 7
Tom McCall Waterfront Park
For decades, the Waterfront Blues Fest has been the premiere event for fireworks -- both literal and figurative on account of all the insane guitarists present. Whether you're a hipster or an old blues junkie, acts like Robert Cray, the MarchFourth Marching Band and St. Paul & the Broken Bones are sure to excite, and the pyrotechnic display shot off from across the river at OMSI is good clean fun for all ages and persuasions.
Cost: $20-$1250
Thursday, July 4-Sunday, July 7
The Fields Neighborhood Park
Craft beer is not the first thing that comes to mind when one mentions the Pearl District, but a beer festival has been hiding at a little park in its northern end for a few years now -- and it's actually really great! Everyone from 10 Barrel to Zoiglhaus will be there, along with lowkey superstars like Upright and Rosenstadt, and hype-worthy heavyweights like Great Notion and Breakside.
Cost: $25 advance, $30 at the gate; includes 10 taster tickets
Friday, July 12-Sunday, July 14
Veneta, Oregon
Oregon Country Fair (or OCF as it's known by the dreadlocked, hula hoop-toting festival freaks who treat it like a mini Burning Man) is far too weird to effectively explain to normies who've never been. It's sort of like an arts and crafts fair in the woods, and it's sort of a place where you can let your kids paint their faces and roam free, but there's also a bunch of crunchy forest-dwellers who use it as an excuse to do psychedelics and run amok for three days. You just have to see it for yourself.
Cost: $29-$70
Saturday, July 13
Walker Stadium
Going to a Portland Pickles game is everything a minor league baseball game should be. The atmosphere is casual, the hot dogs are cheap, and the stadium is in the corner of a quiet neighborhood that used to be a tad sketchy. Games happen a few times a week all summer long, but July 13 stands out because it's when Walker Stadium hosts Picklefest. Expect live music, even more craft beer than usual and, of course, some low-stakes action on the dusty old diamond.
Cost: $12 for entry
Friday, July 19-Sunday, July 21
Cathedral Park
Even if you're not too keen on jazz music, nothing beats a sunny afternoon lounging around Cathedral Park. Consider the heady jams emanating from the stage free background music for your leisurely loafing, then maybe grab yourself a sausage and a stein of German beer next door at Occidental Brewing. Life is good in St. John's.
Cost: Free
Saturday, July 20
Under the Hawthorne Bridge
Portland's music scene is ever evolving, but PDX Pop Now pretty much stays the same. Every independent musician worth hearing rallies around a handful of stages under the Hawthorne Bridge, and the entire thing is free. Whether you're looking for the next big thing or just trying to get a finger on the pulse, this is the perfect place to do so.
Cost: Free
Wednesday, July 24-Saturday, July 27
Tom McCall Waterfront Park
By most estimations, Oregon Brewfest is the largest and longest running beer festival in Oregon. Now that Portland itself is home to around 70 breweries, this is no small feat. From the Oregon coast to deep in the high desert of the state's rugged eastern edge, anyone who's anyone in the beer industry will be here.
Cost: Entry is free, but it's $20 for an official tasting mug and 10 taster tickets
Saturday, July 27
Oregon Zoo
The Oregon Zoo has had the decency to pencil in a handful of somewhat relevant indie bands between the dad rock and legacy acts in their summer concert series, and Broken Social Scene is sure to skew the average audience age downward for just one night. The Toronto collective, which has featured Leslie Feist and Metric's Emily Haines in its storied past, is supposedly back for good this time, and their latest EP Let's Try the After (Vol. 2) is proof they've still got it after all these years.
Cost: $35-$95
Friday, August 2-Sunday, August 4
Pendarvis Farms (Happy Valley)
If NPR programmed a computer to spit out a music festival to please its contingent of 30-somethings who still care about music on the weekends, Pickathon is exactly what it would be. The three-day festival takes place on a farm in Happy Valley, and a handful of the stages are located in old barns or under the trees. It would be super crunchy if it weren't so twee (and expensive), but you won't hear anyone complaining because seeing bands like Khruangbin, Nathaniel Rateliff or the Preservation Hall Jazz Band amongst the rolling hills of Clackamas County is just so damn pleasant.
Cost: $325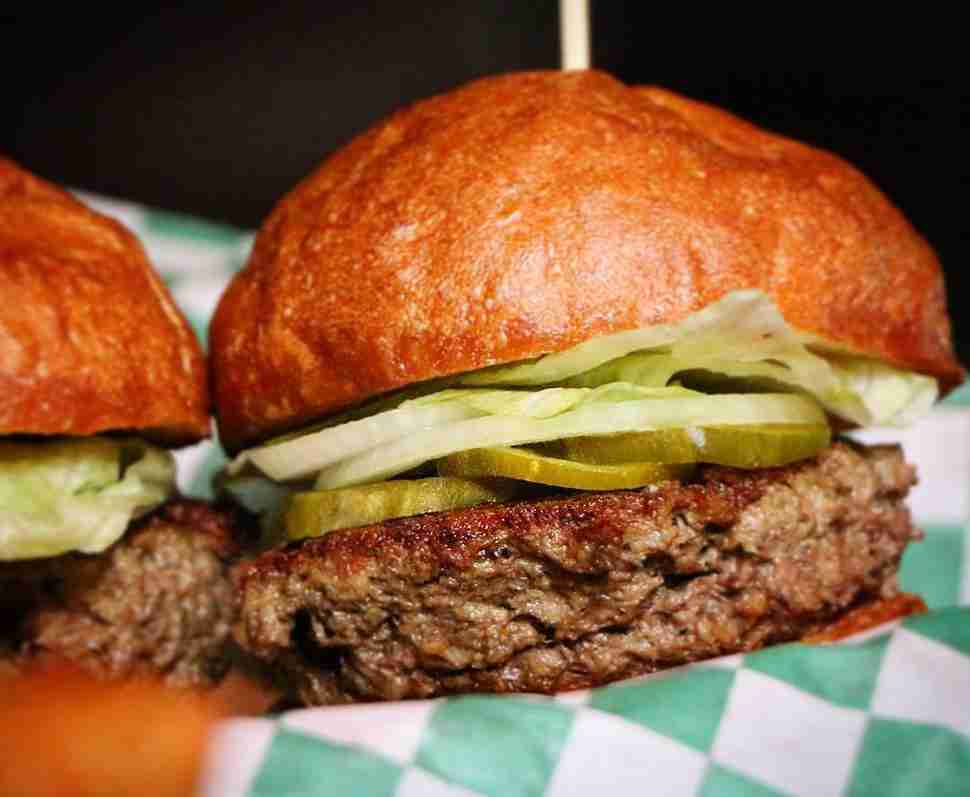 Saturday, August 10-Sunday, August 11
Holladay Park
Did you know that more and more beers these days are not vegan? The horror! There are no such worries at VegOut! Portland, where you can snack on plant-based treats courtesy of vegan vendors from all over the west coast. And if the whole thing gets to be too much, you're right by the junkfood mecca that is the food court of Lloyd Center Mall, which is a great place to hide and snack on some omnivore food where your friends won't see you.
Cost: $15-$50
Saturday, August 17
Oregon Zoo
If you've heard Kendrick Lamar's experimental sophomore opus To Pimp a Butterfly, then you've heard of Kamasi Washington. The saxophonist and band leader has delivered experimental jazz heroics to a whole new generation thanks to his work with Lamar and John Legend, as well as on his 2015 record The Epic. The opportunity to see him improvise live with the funk, psych and synth-pop elder statesman Herbie Hancock is not to be missed.
Cost: $42.50-$102.50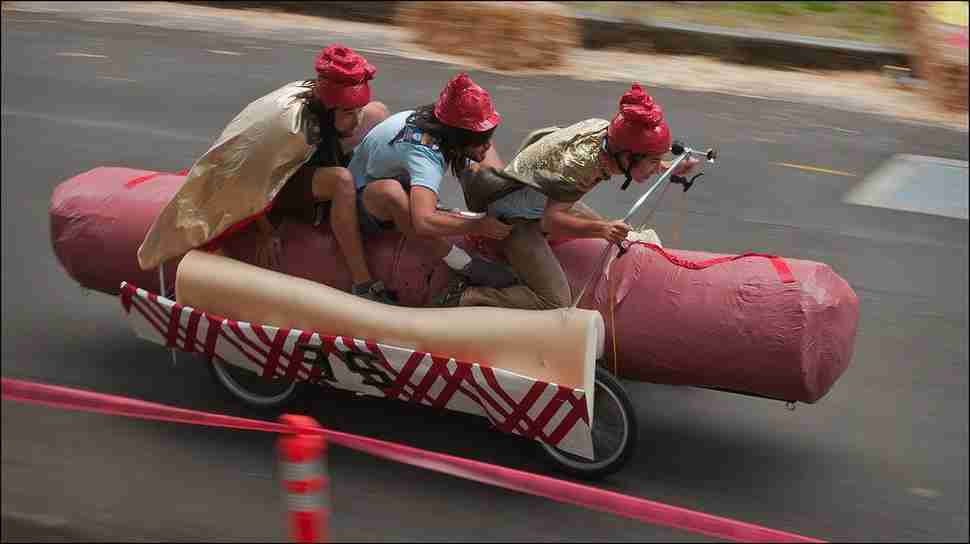 Saturday, August 17
Mt. Tabor Park
Adults in Portland love a kids' activity, as anyone who's seen this Portlandia sketch would know. Back in reality, there's the Adult Soap Box Derby, which culminates in a yearly race that's equal parts goofball cabaret and competitive geekery personified.
Cost: Free
Friday, August 23-Friday, September 2
Oregon State Fairgrounds
What better way to spend Labor Day than by driving to Salem, ingesting your body weight in fried Twinkies and watching 3 Door Down do whatever it is they get paid to do almost 20 years after they were relevant? Haterism aside, the Oregon State Fair is a judgment-free zone where even the most dyed-in-the-wool hipsters can suspend pretense and enjoy a nice big slice of 'Murica for less than their daily kombucha budget.
Cost: $8
Sign up here for our daily PDX email and be the first to get all the food/drink/fun Portland has to offer.