By Portland standards, this has been an incredibly bizarre winter. Temperatures swung wildly, snow turned to hail and then sunshine within the span of a week, and the San Francisco Bay Area actually beat us in rainfall for the first time in forever. While summer doesn't officially start until sometime around the Fourth of July, we've still got an impressive slate of excuses to escape the confines of your apartment and enjoy an outdoor party or two until the weather is more or less guaranteed to cooperate. So pack a raincoat and a fresh pair of socks just in case, because this spring is shaping up to be a jam-packed preamble to the sunny days to come.
Saturday, March 23-Monday, April 29
Wooden Shoe Tulip Farm (Woodburn)
If you follow any aspiring Portland-based photographers on Instagram, there's a good chance you've seen epic shots of an endless field of colorful tulips with Mt. Hood looming in the distance. The location of that shot is Wooden Shoe Tulip Farm, a meticulously crafted tulip farm just 45 minutes south in the farm town of Woodburn. There's a winery on site to make things interesting, and the town of Woodburn itself is a veritable Mecca of authentic Mexican food few places in Portland can touch. It's a worthwhile day trip for anyone and everyone, is what we're saying.
Cost: $5+
Sunday, March 31
White Owl Social Club
Bhangra party pros Jai Ho! have gained a reputation as Portland's foremost Bollywood entertainment unit, and their annual Holi Hai color party has emerged as one of their most popular events, billed as a trippy hybrid of Burning Man and their roving Bollywood dance parties that always pack the room.
Cost: $20-$30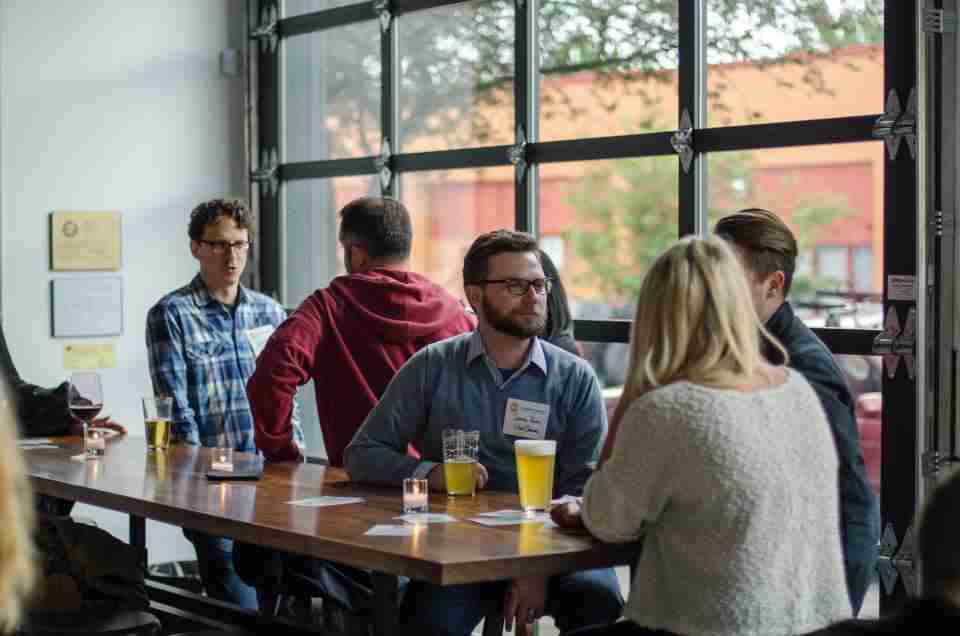 Thursday, April 4-Friday, April 5
Viking Pavilion (and other locations in downtown Portland)
Portland isn't a city so tech-y that you can't throw a rock without hitting someone with an idea for an app, but TechfestNW is doing a commendable job of pushing what industry insiders dubbed "the Silicon Forest" further in that direction each year. Show up for speaking engagements with Olympic gold medalist Angela Ruggiero or Twitter's resident gynecologist; stay for the boozy happy hours and inevitable hot takes about microdosing, high-tech cannabis and the upside of Bluetooth for your brain.
Cost: $99-$275
Friday, April 5-Sunday, April 7
Von Ebert @ Glendoveer Golf Course
Tired of big, sticky IPAs? It's high time you let your palate advance to more subtle and nuanced brews, and the annual Portland Farmhouse & Wild Ale Festival is a perfect way to dive right into the wild and crazy world of funky open fermentation ales. All the biggest names in craft will be there, including Seattle's Holy Mountain, Austin's Jester King, Tillamook's de Garde and local heroes like Little Beast, Upright and Ruse.
Cost: $25-$45
Friday, April 12
OMSI
Formerly known as the Bourbon and Bacon Fest, OMSI's Pig & Swig event is the crown jewel of the museum's popular adult-oriented (but totally PG-rated) "OMSI After Dark" series. Nosh on porky treats from local meat crafters like Olympia Provisions and Tails & Trotters while drink slingers like House Spirits Distillery and Uncle Nearest provide the hooch as you soak up all sorts of science-y knowledge through some sort of booze-induced, proximity-based osmosis. Cheers to science!
Cost: $15-$40
Friday, April 12-Saturday, April 13
Esther Short Park (Vancouver, WA)
The beer scene in and around Vancouver (Washington, obviously) is a lot like a clown car: just when you think you've seen it all, something crazy and new pops out at you. The Vancouver Brewfest is a one-stop shop to sample beers from the rapidly expanding clutch of hopmeisters across the Columbia, with breweries like 54°40′, Brothers Cascadia, Grains of Wrath and Loowit being just a few of the Washingtonians scheduled to make appearances alongside Portland-based powerhouses like Breakside, Ex Novo and Von Ebert.
Cost: $20-$35
Sunday, April 14
Start & finish at Waterfront Park
Every year, the Bridge to Brews run offered Portlanders a rare opportunity to enjoy the unbelievable views offered by the Fremont Bridge without the use of a car. The era is finally coming to an end, so if you're jonesing to snap a selfie with Mt. Hood and downtown Portland in the background while a herd of neon-clad runners whoosh by, this is your absolute last chance to do so. Enjoy a beer at the end of the slog and weep for the death of Old Portland.
Cost: $25-$69
Tuesday, April 16-Sunday, April 21
Various venues
Portland has a tenuous relationship with soul music. The city does its best to plow over every historic music venue and replace it with a Little Big Burger, but the annual Soul'd Out Music Festival heals those wounds to some degree by bringing A-list talent from multiple genres and decades to an assortment of music venues in the downtown area. This year features '80s hip-hop pioneers Eric B. & Rakim, blues legend Buddy Guy and electro-soul scientist Gramatik, as well as many, many more.
Cost: $255.50 for an all-access pass, or you can purchase tickets to shows a la carte
Friday, April 19-Sunday April 21
Portland Expo Center
You may not know this, but Portland frequently tops all manner of "kinkiest city in America" lists, so it makes plenty of sense that the aptly-named Portland Leather Alliance hosts a massive kink festival at the Expo Center every year. Boasting an art gallery, an expansive vendor gallery and over 36,000 square feet of "play space," this should be of high priority to Portland's kinksters who are trying to get out and socialize with the legion of like-minded individuals in the area.
Cost: $70-$200
Get baked and go check out some live music
Saturday, April 20
Various locations
Now that cannabis is legal in Oregon, the stigma that once surrounded this harmless, yet magical leaf, is mostly nonexistent. Myths about weed have largely been debunked, but the fact that it makes live music sound 100 times better is something that will never change. So celebrate the highest of high holidays by packing up that bong (or vape pen, or tea mug, or whatever else it is the kids use these days) and hitting the town for some mind-blowing tunes. For some Texas-fried, guitar-centric choogle, hit up Doug Fir Lounge and see White Denim. If it's heavy hesher sounds you crave, get up to Mississippi Studios for Stumpfest. Local musicians will pay homage to metal legends like Slayer and Mötorhead at the Twilight Cafe and Bar, while the soft, sweet and futuristic soul sounds of Shy Girls will be landing at the Wonder Ballroom as part of the Soul'd Out Music Festival.
Cost: Varies by show and venue
Sunday, April 28
World Trade Center
The volume of wine events in town still pales in comparison to those offering beers from across the region, but that doesn't mean the few big ones don't pack in enough goodness to fill the void. Pour Oregon celebrates a huge variety of wine from the Willamette Valley and beyond, with names like Carlton Cellars, Division Winemaking Company and Keeler Estate being some of the most well-known vineyards on offer.
Cost: $60-$100
Saturday, May 4
Oregon Convention Center
If Marie Kondo has inspired your spring cleaning spree to be particularly unkind to your most cherished possessions, a trip to the Crafty Wonderland Spring Art + Craft Market is an excellent way to re-up on all sorts of cute and kitschy trinkets. From silkscreen concert posters to hand-knit coffee cozies with anthropomorphized fir trees on them, this is the biggest and best place to support the local crafts-for-cash community.
Cost: Admission is free
Sunday, May 5
Topé at the Hoxton
Portland's rooftop bar scene has come a long way in the past few years, and Topé is guaranteed to be a hit when the weather finally starts to cooperate. Perched atop the brand new Hoxton Hotel, the third and final piece of chef Johnny Leach's miniature culinary empire on the edge of Chinatown has all the requisite Mexican fare (including a killer queso fundido and fantastic spicy margaritas) to pair with a show-stopping view of the east side of the Willamette River.
Cost: Admission is free, but you should probably order a drink or two seeing this is a bar
Friday, May 17-Sunday, May 19
Hollywood Theater
If there's two things Portlanders are obsessed with, it's bikes and movies. So the 17th annual Filmed By Bike Festival is a mashup made in heaven for anyone and everyone who loves cycling, from lycra-clad commuters to custom freak bike fanatics to whatever's left of the mid-aughts hipsters-on-fixies scene. They'll all find something to enjoy here, and it's an added bonus that it takes place at the Hollywood Theater, a lovely vintage theater that offers cheap beer, fantastic views and seats that are slightly above what one would expect from a retro filmhouse in terms of comfort and amenities.
Cost: $70 for a festival pass
Friday, May 25
Portland Art Museum
The "big tiddy goth GF" meme has thrust the idea of goth-for-the-'Gram into the public consciousness in a big way, but there's a sizeable number of self-respecting adults who have been taking the dark arts very seriously long before bored content creators thought it was funny. The Vampire's Masquerade Ball is the annual marquee event for those who devoted their lives (or at least their aesthetics) to the macabre, and there should be plenty of festive cocktails, belly dancers and aerial artists to maintain the mystique of the whole thing.
Cost: $105-$125
Friday, June 6-Saturday, June 7
Portland Expo Center
Weed has been legal in Oregon long enough that its outlaw allure has officially been cached, but that shouldn't stop cannabis connoisseurs from staying excited about all the new business- and science-related developments in the industry. The Oregon Hemp Convention is the place to network with growers, investors and anyone else who's participating in the "Green Rush" of Oregon, and the casual consumer will find plenty of products to try before they buy as well.
Cost: $20 for public admission
Sunday, June 8
Oaks Amusement Park
It's a shame that lighting a boat on fire and sending it off into the Willamette River is very illegal, because the annual Nordic Northwest Midsummer Festival would be the perfect place for such a thing to happen. Regardless, there'll be plenty of dancing, drinking and Swedish meatballs to make it worth the trip, and Oaks Park is always a blast in the summer no matter what the occasion.
Cost: Admission is free
Sign up here for our daily PDX email and be the first to get all the food/drink/fun Portland has to offer.