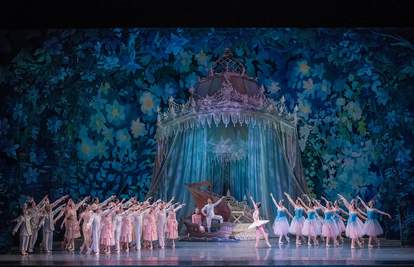 Everything You Need to Do in Portland This Winter
One can only dream this winter is as mild as the two seasons that came before it. Either way, there's plenty of awesome stuff to do in Portland to keep the mind from succumbing to couchlock, bouts of SAD, or the unshakeable urge to binge-watch The Sopranos all over again (or any of these great shows now streaming!). 
More than half of these events involve food and/or alcohol, but that's why you moved here and decided it was worth it in spite of all the rain, right? I mean, just check out all the phenomenal places that opened in 2019. Behold -- the best stuff to do this winter.
Friday, December 13 - Sunday, December 15
Oregon Convention Center
Portland has no shortage of makers and shakers who count the creation of cute little whosits and whatsits as one of many side hustles, and there's no better curator of the whole movement than Crafty Wonderland. Each year the IRL Etsy shop supplements their awesome (but tiny) brick-and-mortar shop with the Holiday Art + Craft Market: A veritable one-stop shop for anyone who'd rather line the stockings of loved ones with locally-made gifts from real humans rather than Amazon gift cards or mini bottles or Old Crow. In fact, you can send those things out way instead -- we'll make sure they go to a good home. 
Cost: Free
Nightly through Sunday, January 5
Oregon Zoo
Walking around sipping cocoa and gawking at millions of colored lights at the zoo is a time-honored holiday tradition in most cities, and Portland is certainly no different. ZooLights is a great chance for children of all ages to dive head-first into a massive expanse of whimsy which also includes train rides, visits with Santa, and a great chance to search for that pair of sunglasses you left on-site when you drank one too many glasses of wine at the Broken Social Scene concert this past summer. 
Cost: $12.95 for kids age 3-11, $17.95 for adults, plus an extra $4 for the train and $3 for the carousel
Sunday, December 15 - Sunday, December 22. Nightly except Mondays
Various locations along the Willamette and Columbia Rivers
Remember that one time your weird cousin Tevin who lives in a houseboat was accidentally set adrift while he was going hard on the Christmas decorations after drinking a few too many glasses of mulled wine? Christmas Ships is kinda like that, only done up by pros. Enjoy the slowly-moving wonder of an armada of ships decked out for the holidays on the Columbia and Willamette Rivers, and be sure to attend the Winter Solstice Party on the Milwaukie Waterfront to cap off the whole shebang.
Cost: Free
Nightly through Thursday, December 26
Keller Auditorium
The holiday season may be the only time of the year in which it's appropriate to dress up for a night out, and what better way to cap off an evening of strutting in the streets of Downtown Portland than a trip to the ballet? Until someone comes up with A Christmas Story on Ice, Tchaikovsky's The Nutcracker is as classic as Christmas stories get as far as proper theater engagements go, and the fact that it's in its 17th season under the tutelage of Oregon Ballet Theater means the revered troupe is certainly doing something right.
Cost: $29-$146
Nightly through Monday, December 30; Closed Christmas Day
The Grotto
Portland is an infamously secular city, so it's kind of inspiring to see a place like the Grotto hold the line on throwing it down for Jesus each holiday season. Religion aside, the outdoor shrine just off Northeast Sandy and 82nd is one of the coolest man-made outdoor features in town, and it really shines each winter when its caretakers deck it out and colorful lights and invite assorted choirs from across the region to sing Christmas songs while visitors gawk at its splendor. 
Cost: $6.50-$12.50
Nightly through January 4
Portland International Raceway
If you're a fan of popping some CBD edibles and cruising through the car wash with Mariah Carey's Merry Christmas turned up to 11 (and who isn't?!), then Portland International Raceway has just the holiday event for you. Each year the venerable North Portland speedway goes all-in on a holiday lights extravaganza that attendees cruise through without jumping out of their car, which is an ideal event for curmudgeons who hate the idea of standing in the cold waiting in line for shit. You get to play your own music, too, but again, anything other than Mariah Carey is 100% wrong. Your call though. 
Cost: $22-$25 per car
Now through December 29
Hood River
The tightening of the IP protections surrounding the popular children's Christmas book The Polar Express has led to a scenario in which most wintertime train rides are merely allowed to wink and nod at the idea, but that's more than enough in the case of the Hood River "Train to Christmas Town." The train departs from a historic depot in everyone's favorite beers-and-adventures town an hour east of Portland proper, and snakes its way north through a scenic expanse of snow-covered fruit farms with Mt. Hood looming in the distance. It's magic for the kiddos, and there's plenty of beer available in town both before and after the ride to maintain interest amongst adults as well!
Cost: $33.30-$69.30
Saturday, December 21
Downtown
Though it's not nearly as maligned as its New York-based counterpart, the idea of Stumptown Santacon is roughly the same: Dress up like Santa Claus and run around town drinking at a whole bunch of bars. The upside is that ticket a portion of ticket sales go towards a handful of local non-profits like P:ear, Sunshine Division and the Oregon Music Hall of Fame, so if someone gives you guff for acting like a doofus in the name of holiday cheer, you'll at least have that in the pocket of your red velvet pants.
Cost: $15-$20 for regular wristbands, $50-$75 for VIP
Saturday, December 21
Portland Saturday Market
You won't hear us complaining about the preponderance of local craft beer powerhouses, but it's high time other corners of the burgeoning booze biz in Bridgetown get some love. A great place to start is the Portland Saturday Market Holiday Spirits Fest, which is a great opportunity to sample small-batch spirits from artisan brands like Vivacity Spirits, Bull Run Distilling and 503 Distilling, to name just a few that will be on hand for one of the final Portland Saturday Market events of the year. 
Cost: Free to attend, but bring some cash to purchase a cocktail or two
Tuesday, December 31
McMenamins Crystal Ballroom
Why shell out over $50 to spend New Year's Eve at a crowded club with a DJ whose breadth of interest is limited to trap remixes of Drake when you can immerse yourself in a universe of booty-shaking bass and freaked-out funk grooves? There's never a dull moment when you're in the presence of David Sugalski, aka the Polish Ambassador. The Oakland-based DJ and electronic musician has gained a huge following in Portland on the strength of his frequent visits to the Crystal Ballroom, all of which erupt into rawkus parties fueled by Sagulski's impeccable taste and voracious appetite for soul-, R&B- and electro-based mixes that always aim to please. 
Cost: $39.50-$99.50
Tuesday, Dec 31
Wonder Ballroom
There's no such thing as a "typical" Of Montreal show, but you can probably count on the sacrifice of a throne-mounted animal-god covered in fake blood-filled balloons, an egregious amount of confetti, and wacky costumes galore at this special New Year's Eve appearance from the legendary psych-pop rockers from the same Athens, Georgia-based scene that's also given us acts like Elf Power and Neutral Milk Hotel. It might be best to leave the tuxedo at home for this one.
Cost: $25
Tuesday, Dec 31
Hilton Portland Downtown
Sometimes ya gotta say "fuck it" and throw convention to the wind in the name of a solid party. In this case, that convention is the idea that fancypants events that require cocktail attire are food-bridge-and-tunnel folk only, and that party is the Champagne Ball, a fairly straightforward evening of highbrow pleasures and dry clean-only clothing that might not get as much action as you hope. A solid mix of live bands and party-centric DJs keep the hits flowing, a buffet and complimentary champagne toast are included in the admission, and a special singles-only room is the perfect place to post up and seek out a match in a more organic fashion for a change. 
Cost: $89-$179
Tuesday, Dec 31
Curious Comedy Theater
Live comedy might not always be comfortable, but it sure as hell beats coughing up $20 to get in to a neighborhood bar for no other reason than the fact that it's New Year's Eve. Curious Comedy Theater has been a major facet of the local comedy scene since first opening its doors, and it's offering a safe haven for Portlanders who'd rather ring in the new year with light appetizers and heavy laughs than a cramped watering hole filled with over-served amateurs who only party three nights a year. 
Cost: $75
Saturday, January 25
Goose Hollow Inn
Is there any pairing that's more "Portland" than coffee and beer? At this annual event, around 20 local brewers gather to compete against one another in a beer festival environment in which java juice is the central hub of creative expression, but with a serious twist: The max ABV allowed is 7%, which means the trend of sugary, adjunct-laden imperial coffee stouts that tickle the 12% ABV mark will have to check themselves at the door. This is the kind of festival you can spend an entire day at, and as long as the bathroom line moves briskly you absolutely should. 
Cost: $25 gets you a commemorative glass and 10 taster tickets
Wednesday, January 15 - Sunday, January 19
Portland Expo Center
Whether you're a dog owner or just a lover of man's best friend, the Rose City Classic is a great way to spend the day ogling some doggos that are more polite and well-behaved than many of the humans you're friends with. The agility and obedience competitions are always a hit, but you definitely won't want to miss Meet the Breeds showcase, which is a showcase for both classic and up-and-coming dog breeds everyone is bound to be talking about. 
Cost: $10-$30
Friday, February 14 - Sunday, February 16
Multiple Locations throughout Newburg and Dundee
With its dank atmosphere and rolling hills, it's no surprise that the Willamette Valley is an excellent region for growing truffles alongside the wine grapes the region is best known for. Take the hour-long trek down Highway 99 this Valentine's Day weekend to experience a wonderland of culinary events centered around the fantastic fungus. Many events will include special wine pairings, exclusive chefs tastings, and a marketplace where local artisans will sell all things tuffle-related. 
Cost: Varies per event
Saturday, February 15
Various breweries throughout Portland
This year's edition of Zwickelmania -- a veritable SXSW of the Portland beer scene -- coincides with Oregon Craft Beer Month, which makes it a fine way to enjoy pours of exclusive one-off beers and a conversation with the brewers themselves on this one glorious day in the late winter. Everyone under the sun participates, so expect all your favorite hopheads to be on hand for this one.
Cost: Varies based on event and location
Wednesday, February 19 - Sunday, March 1
Various locations
The loss of Musicfest Northwest a few years ago was a serious bummer, but we're all about the emergence of the more niche micro-festivals that have emerged in its wake. One such festival is PDX Jazz Fest, a 12-day multi-venue event that includes names like Branford Marsalis, Thundercat, Antibalas, Ghost-Note, and David Sanborn to name just a few. 
Cost: Individual ticket prices vary by event
Saturday, February 29 - Sunday, March 1
Oregon Convention Center
Whether you're a Lego enthusiast, or simply a person with a general appreciation of the artform, Bricks Cascade is the place to be to see a wide array of dazzling uses of every kid's favorite building block. Anyone who says Minecraft threatens the very artform has clearly never seen a 70-foot reconstruction of the Titanic made from plastic bricks.
Cost: $65-$120 to compete, free for the public
Sign up here for our daily PDX email and be the first to get all the food/drink/fun Portland has to offer.
Pete Cottell is stoked to finally be in the season in which it's universally acceptable to enjoy nothing but stouts while wearing sweatpants. Follow his cozy, cofy wintertime adventures at @VanifestDestiny.