It seems like just yesterday we were screaming in line at a beer fest and watching protesters avoid becoming bugs on the windshield of an oil tanker. And while it might not look like it right now, summer's pretty much gone. Lucky for us, fall in Oregon's equally fantastic. Especially if you heed our advice and partake in these essential fall activities. The good news is, there's beer and cheese. But also evil clowns. Then more beer!
Feast and Feast some more
If you dragged your feet, you're out of luck on some of the big events and dinners… but tickets are still available for a handful of events at Feast (Sept. 17th-20th), including the Sandwich Invitational and the Grand Tasting. We've called it the best food fest in America in the past. And, let's be honest, a bunch of sandwiches from America's best chefs sounds pretty good right now. Especially with beer. Get your tickets while you can here.

Eat "healthy" at the Vegan Food & Beer Festival
Oh, sure, it's a myth that vegan food is inherently healthy, but go ahead and pretend it is for the Vegan Food & Beer Fest at Zidell Yards (Sept. 26th). It'll make you feel better about what you did at Feast. (You know what we're talking about, you monster). Also, beer. Vegan beer! So it's healthy! Tickets here.

Scream "prost" at strangers at an Oktoberfest celebration
Widmer already kicked off Oktoberfest season, but you've still got tons of options, including one at Kennedy School (Sept. 17th), Oaks Park (Sept. 24th-26th), and in your basement with a six-pack and a shitload of brats.
Get one last float in
The more stubborn you get, the colder your butt cheeks are going to be. Here are your best options for the inevitable second-summer weather blast.

Go see the Chapman swifts
It's inevitable that you're going to go watch a bunch of birds fly into a chimney. What you always forget is how cool it actually is. Oh, and it's a cheap date.

Declare "this is their year" at a Blazers preseason game
Then re-assess your situation when they play somebody who isn't the Kings. (Just kidding… this is the year!) Tickets here.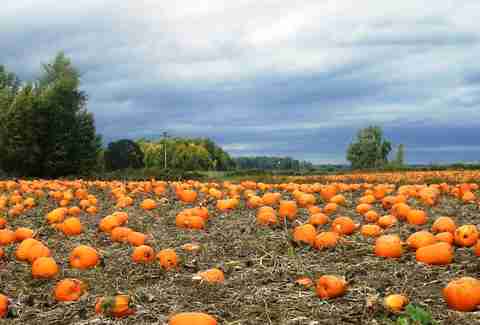 Make your annual pilgrimage to Sauvie Island
Because you need a pumpkin. And a hay ride. And cider. And the corn maze. And to pet goats that aren't chilling in a small yard next door to your house.

Buy weed! Legally!
Finally, on Oct. 1st, you can find out what the kids in the rock bands are talking about by finally smoking marijuana for the first time in your life. You might be confused by the sensations you feel. By these "munchos." Don't worry. Here's some stuff to do while you're on the reefers.

Fill up on cheese and beer at The Wedge
Of course Portland has a cheese festival (Oct. 3rd). And of course it's at the Green Dragon, one of the city's best beer bars. What do you want us to do, pair cheese with wine? We're not heathens! Also, there's wine. Heathen. Tickets here.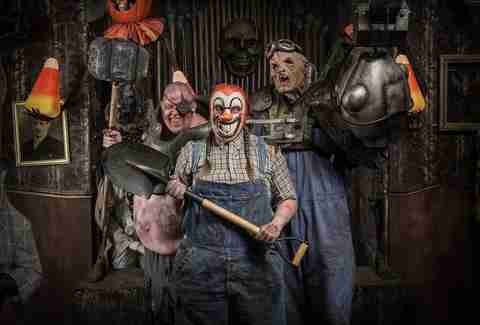 Try not to pee at Fright Town
Portland's bona fide scariest haunted house (Oct. 3rd-31st) returns to the basement of the Memorial Coliseum, with three haunted mazes full of genuine, pants-shittingly scary stuff like killer clowns, ghosts, and mysterious puddles that totally weren't you. Tickets here.

Get peachy at Peche Fest
More than 25 peach beers and ciders from throughout the country take over Saraveza on Oct. 10th for Peche Fest. There's also peach food, and ample opportunities to make jokes about Mario's girlfriend. Details here.

Hit the Fruit Loop
The area surrounding Hood River us loaded with orchards, pumpkin patches, and other excuses for a fall drive.
Spend a day or two in the Willamette Valley
It's harvest season, after all. Plus, it'll give you a chance to really rub it in the faces of friends back east when they talk about fall color tours or whatever their lame asses do while you're chilling in one of the country's greatest wine regions.

Tap your inner Fred Savage at Portland Retro Gaming Fest
The Oregon Convention Center basically becomes a gigantic free-play arcade with consoles thrown in to boot for the Retro Gaming Fest (Oct. 17th-18th). Maybe this is the day you finally beat Battletoads. Or just get laughed at by a chick in a Princess Peach dress when you beef it on the Turbo Bikes. Either way, it's a win. Details here.

Get into the spirit of the Great American Spirits Festival
It's like a beer fest. But with booze. From 40+ of the nation's best craft distillers. This year's event is one day only (Oct. 24th), and also includes throwback cocktails and bottles for sale. Time to stock the home bar. Tickets here.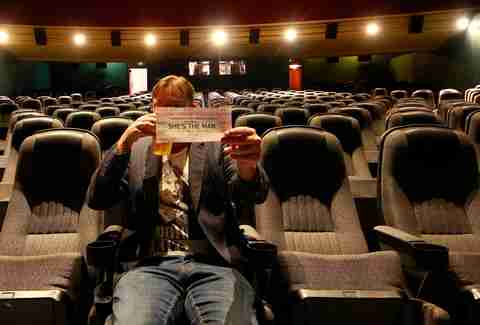 Spend a day in a Portland beer theater
We've got more than a dozen, and a double feature is a great way to pretend you're not depressed about the rain. Especially when there's beer and pizza.

Tour Belgium without leaving Portland
Bailey's BelgianFest (Nov. 16th) brings the farmhouse action with 20 Belgian-style beers from Oregon brewers who will likely have grown tired of Van Damme jokes by the time you arrive. But it never hurts to try! Details here.

Crash somebody's Thanksgiving
Either because you were too lazy to plan your own dinner, or because your flight got canceled because the weather man said it might snow sometime this winter.
Choose a side for the Civil War
Not the Captain America one. Nerd. The football one. On Nov. 27th. With the Beavers and the Ducks. Regardless of where you went to school, get extremely aggressive in your allegiances. The next day, write an apology email to your co-workers. It's an Oregon tradition.

Hug a stranger at the Holiday Ale Fest
Taking place in Pioneer Square from Dec. 2nd-6th, this is consistently among the city's best fests. Maybe it's the lights. Maybe it's cozying up under a tent, with wood-burning stoves making it extra toasty. Or maybe it's the strong-as-hell beers that dominate the roster of winter warmers. Whatever it is, you're going to hug a stranger. And it will be glorious. Tickets here.

Complain about Peacock Lane
Likely while sitting in a line of cars on Stark, waiting to get into Peacock Ln. You have to. Portlanders basically become moths when those lights go up.
Become Billy Bob Thornton at SantaCon
The date is TBA, but tradition dictates that not once, but twice a winter, you should probable dress up like Santa and join a horde of hundreds on a pub crawl throughout the city, all while drinking gin out of a Windex bottle and singing profane carols. It's tradition! Just keep your ears open for the dates.

Freak out about presents, then hit a craft fair
There's obviously somebody on your list who loves super-crafty stuff. Or somebody in another city who likes Portlandia. Or just an entire list of people you need to buy for because you were too busy hugging strangers. Fear not! The best, most unique gifts can be found at Crafty Wonderland (Dec. 12th-13th) or Saturday Market. Or just slap a bird on something... your out-of-town friends aren't tired of that shit, even if you are.
Sign up here for our daily PDX email and be the first to get all the food/drink/fun Portland has to offer.
Andy Kryza is a senior editor at Thrillist. He's totally been to the snake level of Battletoads. Twice. But nobody else saw it. Follow him to a life without meeting the Dark Queen @apkryza.