If your experience of Portland is confined to the refurbished brick buildings of the Pearl or the uber-modern mixed-use apartments on Division -- curse you, yuppies! -- then you might not not have noticed that Portland is undergoing a real housing crisis. In the past year alone, the average one-bedroom apartment rent has increased 8.7% to $1,182, according to the Portland Housing Bureau, and is undoubtedly climbing as you're reading this. Even more significant is the rise in median home sales prices, which from 2011-2014 have shot up like preteens hitting puberty to $310,000, a change of 31.91%.
That means a lot of folks -- between lamenting about the loss of the "Old Portland" they've known so well since moving here from Iowa -- are thinking about jumping ship. But where can you go to experience a Portland-esque way of life without increasingly San Francisco-esque rent? Where can you still get craft food and drink, sustainability awareness, biking vs driving megalomania, and the quintessential strangeness of the people you walk past on SE Belmont, without the skyrocketing costs? Consider Zillowing these.
Boise, ID
Average cost of one-bedroom apartment: $753
Perhaps the most obvious choice for relocation, due to its relative proximity, is our neighbor at the eastern reaches of the PNW. We've already covered what makes this city an Idahoan version of Portland, complete with respectable craft breweries, a ridiculous number of coffee shops, and outcast artists and performers who would be more than welcome at Portland's own Dante's Sinferno Cabaret. Throw in affordable homes, a fantastic restaurant scene, and immediate access to the gorgeous landscape lurking outside the city, and learning to tolerate the people whose F-150s rock truck nuts seems a lot easier.
Richmond, VA
Average cost of one-bedroom apartment: $864
The seat of the late Confederacy is also the seat of Virginia's hipster population. All within a few hours, you can grab fried plantains at Cuban-inspired Kuba Kuba, hike along the braided James River, pound a few local beers at Hardywood Park Brewery, then attempt to climb onto the monument dedicated to General Robert E. Lee and ride his horse. If you get caught, don't narc on us.
Albuquerque, NM
Average cost of one-bedroom apartment: $667
New Mexico is always curiously absent from the national conversation, but Burquenos are bent on changing that. With chile (yes, with an -e) recipes that date back centuries, a farming history of sustainability long before it was hip, and a serious craft beer industry on the rise -- Marble Brewery's Double White won a Gold Medal at the 2014 Great American Beer Festival -- you'll be entering a unique frontier of American culture. But with all this gastro talk, we can't overlook the expansive high-desert landscape and all the outdoor activities that go with it. Just like P-Town, biking in Albuquerque has a lot of traction. As do outdated references to television shows set in the city that are nothing like real life, god!
Madison, WI
Average cost of one-bedroom apartment: $983
With a robust local music scene and food carts of all cuisines, Madison may be an unwitting protégé of Portland. It's not difficult to imagine shops like The Conscious Carnivore, a local- and humane-minded butchery, being successful in our own neighborhoods. Pair that with a plethora of parks and lakes and the health-conscious Portlander will feel like they never left town. Until they have to deal with snow. Like, a lot of it.
Anchorage, AK
Average cost of one-bedroom apartment: $1,092
Before you complain about the weather and the lack of sunshine in winter, remember two things: 1) Alaska is huge, and the entire state isn't some frozen wasteland inhabited by moose-slaying misanthropes, and 2) you already live in Portland where the gray is as palpable as anywhere. For those searching for a more adventurous slant on recreation, choose this city as your next home. Glaciers surround the urban core, which is bordered by a national forest, encouraging moose to regularly stumble through your backyard and follow you to one of the many breweries in town, such as the ever-satisfying Midnight Sun.
Missoula, MT
Average cost of one-bedroom apartment: $850
We've already pointed out the quality food and drink culture that has taken root in this college town, so there's nothing else to say...
Just kidding. We know there's more to life than deep-fried food, booze, and deep-fried booze. Due in no small part to the University of Montana, the city is a haven for literature fanatics. You book-lovers who wander the maze of Powell's Bookstore will be glad to know that Missoula hosts the reputable Montana Book Festival. Go read something. And then go forth and crawl one of the country's most overlooked beer cites.
Average cost of one-bedroom apartment: $1,022
The Twin Cities boast an impressive selection of restaurants dedicated to the farm-to-table movement, a must-have if you're considering uprooting from Portland, where local ingredients are no longer a bonus, but rather expected. The obvious challenge for a newcomer in Minnesota is, of course, Winter (with a capital W, indeed). But you can get prepared by learning how to enjoy the frigid existence of urban blizzards by learning to take Winter like a Minnesotan.
Asheville, NC
Average cost of one-bedroom apartment: $1,011
No doubt Asheville has secured a reputation as a fellow weird town, united with Portland and Austin in the endless fight against bland and uninspired lifestyles. Just take a look at the Odditorium for a mashup of local music and variety freak shows. Artists, hippies, makers, cyclists, and brewers -- this is one of the nation's most notable beer cities -- live in relative harmony here. And it's no surprise that Asheville is home to the Black Mountain Museum and Arts Center, which carries on the legacy of America's most experimental, Bauhaus-influenced liberal arts college.
San Antonio, TX
Average cost of one-bedroom apartment: $847
If you need more reasons than this list of food carts to believe that San Antonio is a good alternative to Portland, then we have different priorities in life. So let's try this again. Thought you'd miss your annual sun-blazed, boozy mess of a day you call "floating" on the Sandy river? Consider these swimming holes. Add light beer, new friends, and a tube... plus a longer span of floatable months. Shenanigans will follow.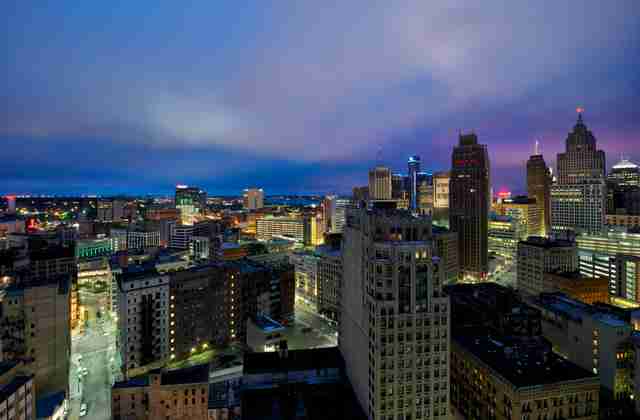 Average cost of one-bedroom apartment: $706
It's no secret that Detroit found itself in dire straits following the recession, but out of the rubble comes a new identity for the Motor City that includes these stylish establishments serving all your favorite caffeinated delights. And for those who can't live without some version of the Eastbank Esplanade, don't worry, Detroit has big plans for its riverfront, and it's already become a vibrant destination awaiting a Portlander like you to initiate the city's first World Naked Bike Ride. And remember, Portland was once in a state similar to Detroit, which is what made it a magnet for the young creative/broke set in the first place. We're using "similar" loosely, but still...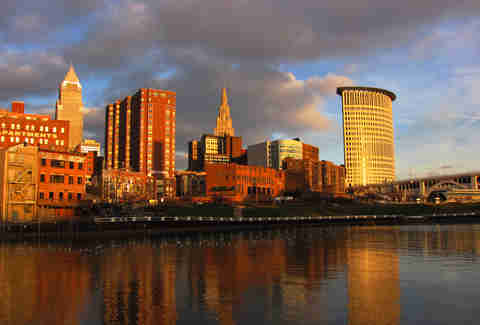 Average cost of one-bedroom apartment: $721
We know, Blazers fans might have a tough time living in the kingdom of LeBron. But Cleveland's bar scene has proven to be one of the best in the country, and when considering their heavy-hitters, you have reasons to get over yourself and sip a sumptuous cocktail. I And if you need any more reasons to consider Cleveland as a replacement home, remember that it's on the banks of kind of a big lake. Trust us, it really is Great.
Portland, ME
Average cost of one-bedroom apartment: $1,000
Yes, Portland, OR was named after Portland, ME, and perhaps there is indeed some metaphysical explanation as to why both of these cities are known for craft beer, artisan shops, and innovative chefs. Want to further investigate this mysterious connection? Our recommendation: venture to this Northeastern edge of America, eat a lobster roll, slurp an oyster, sip an Allagash white, and realize that the two Portlands are more similar than you'd expect.
Sign up here for our daily PDX email and be the first to get all the food/drink/fun Portland has to offer.
Dan Schlegel is a Portland State grad who already left his hometown of Portland once, and doesn't plan to again any time soon. Follow him to well-earned local status @ddschleg.