As Portland endures an endless barrage of normal people who threaten to level off the city's triumphantly offbeat sensibility we all know and love, there are still plenty of WTF-worthy news stories spilling forth into national consciousness from the 503.
But some of the moments of 2015 recapped below are a bit too #nottheonion for folks who prefer their Portland quirks courtesy of Fred & Carrie. Brace yourself -- if your city just celebrated the opening of a bone-broth bar, it might soon be also celebrating by drinking with dead people.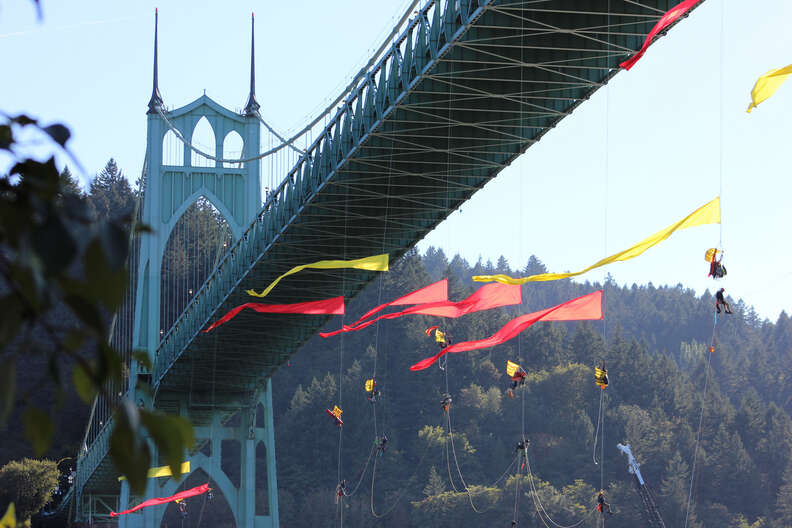 The time Greenpeace blocked a tanker through the magic of dangling
Most protests involve chanting, posters, and perhaps a drum circle or two. In Portland, a July protest intended to inhibit a Shell vessel from returning to the Arctic to drill for oil involved kayaks, streamers, and Greenpeace activists hanging from a bridge. Representatives of Postmates were unavailable for comment on whether delivering sandwiches via Ski-Doo is now in the works after this momentous event.
A bar opened as "art for art's sake"
Beyond serving alcoholic drinks -- all of which are cheekily named "untitled" -- the lines between gallery and bar are blurred in such an aggressively cute kind of way that referring to Likewise as the latter with a straight face seems downright impossible. Ask your "Artender" -- that's what they're called, and they're temporary, because they're doing Artender residencies -- for their take on the concept between Beat Happening songs, and take a shot every time they mention their salad days at Evergreen or Bard. Then sit down at the bleacher-like seating arrangement facing Hawthorne. Because you're part of the living art now.
Bone broth bars became a thing
We've loved bone broth ever since it made its debut to the culinary scene way back when it as known as "soup." Salt, Fire & Time offers up what amounts to shots of soup -- er, bone broth – with the option to mix in such exotic ingredients as meat, vegetables, and noodles (the noodles are kale). So, yup, that's soup.
Bartenders turned a used car lot into a pop-up beer bar
For a city that's proud of how little it relies on vehicles, Portlanders sure do love their parking lots. More importantly, they love turning them into actually useful things like food cart pods or, as was the case during the 2015 Craft Brewers Conference, pop-up beer bars with a digital tap readouts and a prime views of a giant Coors Light billboard. Imagine a petting zoo filled with neckbearded, cargo short-ed ex-firefighters from Orange County who cashed in their IRAs to brew IPA in their garage and you're not too far off.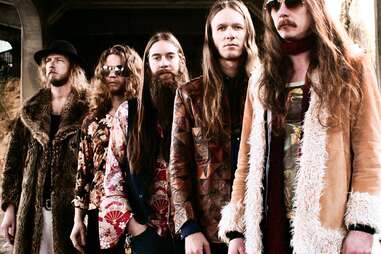 The all-white members of metal band Black Pussy refused to apologize for their name
And their white hesher dude fans who dress like extras from Dazed and Confused continue to headbang accordingly, because the tone-deaf nature of calling your band Black Pussy is completely lost on most denizens of the whitest large city in America.
The dangling of the dildos
Urban lore dictates that a pair of shoes hanging from a power line probably means a trap house is nearby, but Portland's startling lack of crack houses -- er, crack bungalows -- must have inspired a rogue dildo warehouse employee to start dangling the things anywhere and everywhere and allow us to come up with crackpot theories of their origins on our own. Hilarious, sure, but what about the children?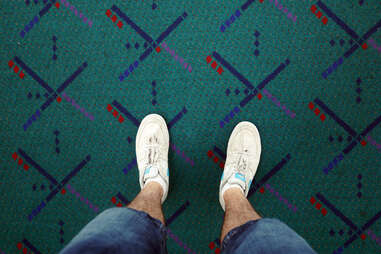 The time the PDX airport carpet was up for auction
So the carpet in your airport isn't famous? Poor you. Up until this summer, the carpet at Portland International Airport was a big deal. So much so that it's likeness has been born on to shirts, socks, coffee mugs -- you name it. And now that it's gone, what better way to cherish its memory than by owning a tattered, musty old piece of the history? Oh wait, I know -- by getting it tattooed on your back!
One vegan strip club closed, another opened
Because the man responsible for Casa Diablo couldn't stay still after it was announced that his second vegan strip club, Black Cauldron, was to be shuttered and turned into a homeless shelter, Johnny Diablo decided to open a second Casa Diablo right next to OG strip 'n' steak shack The Acropolis. They compete, you win!
We finally got a Wu-Tang pizza shop
We love PREAM in all of its unironic, golden-era-hip-hop-worshipping glory, but we can't help but lament how there's no way a place like this would ever stand a chance in Wu's stomping groups of Staten Island. Also, their menu is curiously devoid of any pizza that features fish sticks as a topping. Redman would not approve.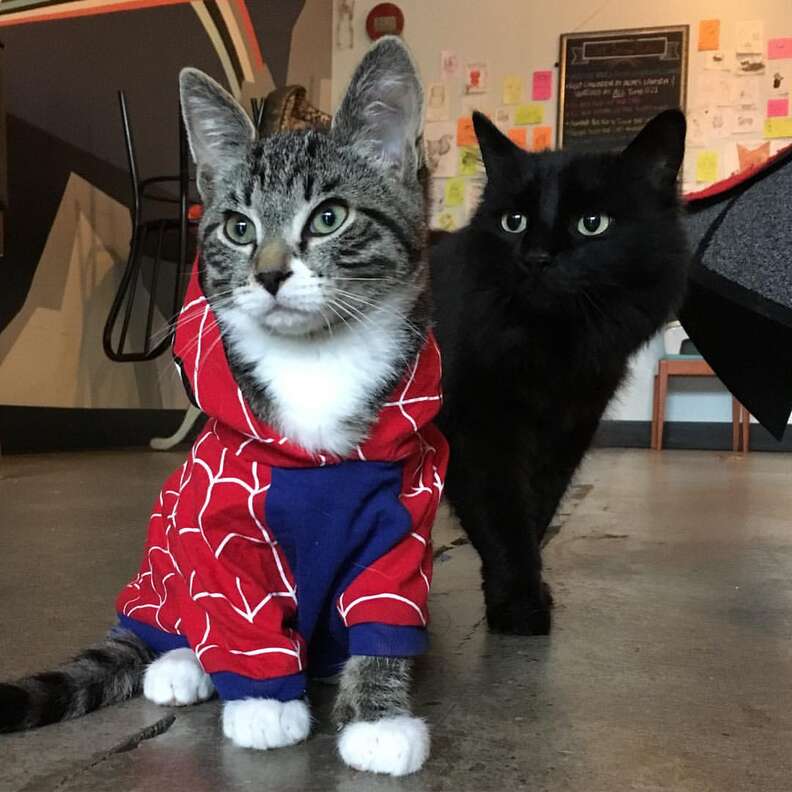 And we got a cat bar!
Though holding the distinction of having the most cat ladies per capita is a landmark victory for Portland, the opening of Purringtons -- the Pacific Northwest's first ever cat café -- is the real reason for cat people to get excited. Pet some cats, drink some beers, do some yoga, then maybe take a kitty or three home with you! No word of a pop-up selling Allegra in the parking lot, but we're sure it's in the works.
Anti-gentrification activists supported Weekend at Bernie's IRL
Portlaners love abandoned and dilapidated buildings. So when a 106-year-old Hawthorne residence was set to be destroyed to make room for condos, anti-gentrification folks rallied around said house (with goats in tow) to show solidarity with its resident squatters. Said squatters had apparently partied in the house for a while, and were allegedly doing so with the corpse of a woman who OD'ed months prior. They allegedly didn't want to report the death because they didn't want to blow up the spot.
A marketing video for a new apartment building caused seemingly endless uproar
Like we said, Old Portland sure does love its abandoned lots and buildings. So much so, in fact, that the internet collectively lost its shit when one of those concrete mixed, used apartment complexes popped up on the site of an out-of-business bank, and management made a video documenting the day-to-day of two fictional tenants that's doused in so much quirky, gut-wrenching banality that you could drizzle it over donuts and sell it at Voodoo. Apparently the answer to Portland's housing crisis is to let derelict properties go to seed rather than turn them into more housing.
"Kidless adults" paid a visit to hipster santa
We won't be so bold as to claim that Portland is the nexus of all North American "lumbersexual" trends and activity, but if we were it'd be hard to refute such a claim after spending some time at downtown's Pioneer Place mall with "hipster Santa." Portland is populated with adult adolescents who are both childless and suckers for nostalgia, so of course everyone's favorite childhood holiday icon has manifested as a bearded dude sporting the requisite combo of Pendleton sweater, Warby Parker glasses, skinny jeans, and a man-bun that would put Jared Leto to shame. Oh, and he's a real, actual, bearded old man... who probably didn't sign up for this shit.
The Portland Timbers hauled a giant log all the way to Columbus
Speaking of lumbersexuals, it may be safe to start writing the eulogy for that aesthetic now that it's been hijacked by Portland's participants in North America's fifth most popular professional sports organization. To celebrate the Timbers' victory over the Columbus Crew in the MLS Cup finals, a ceremonial log was freighted all the way to Columbus so the bearded, hilljack mascot known as Timber Joey could saw off slabs of the log and gift them to the equally grizzled-looking members of the squad. Here's to hoping a slab of the log is petrified, placed on display in Pioneer Square, and treated like a local facsimile of Ireland's Blarney Stone for locals to pee on after a wild night out in Old Town.
Analog Café started free marijuana Mondays
Local bar/venue Analog Café celebrates the statewide legalization of recreational cannabis by giving away free weed every Monday for a couple months. The local liquor control commission sends representatives to remind them they can't have people smoking it on premise. Analog moves on to a prize giveaway that involves a replica of the painting of Vigo the Carpathian from Ghostbusters 2. God bless America.
Sign up here for our daily PDX email and be the first to get all the food/drink/fun Portland has to offer.
Pete Cottell moved to Portland in 2013 with the hopes of hosting weird art projects in the many abandoned parking lots and houses of inner Southeast Portland. Follow his reluctance and disappointment at @Vanifestdestiny.