Winter in Oregon isn't all puddles, beer, and overcast cloud-induced "SAD." No, there is actually more to winter in Oregon than complaining about rain in a SE dive bar. Just getting out of the city can expose you to endless opportunities for winter adventures, whether you're looking to climb frozen waterfalls or sit in a natural hot tub. Some require tire chains. Some just a playlist with 2 Chainz to accompany the journey. Regardless, these are the best winter road trips a short(ish) distance from Portland.
Distance from Portland: 61.1 miles, 1.5-hour drive
Oregon's iconic Timberline Lodge is famous for many reasons, from hosting an axe-wielding Jack Nicholson in The Shining (exterior shots) to housing the state's most iconic bar. It's also an essential destination for everybody who has ever lived in Portland, offering up everything from skiing to snow shoeing, Snowcat rides, or just sitting in the lodge, having a cocktail and a buffet dinner while pretending you're not grossed out by the people drying their socks at the hearth. And if you don't want to do the full drive up to Timberline, well, we hear there are a few nice spots to get out and explore on the gigantic mountain.
Distance from Portland: 170 miles, 3.2-hour drive
For the "fun for the whole family" thing, Bend's Sun River and Mt. Bachelor area offers sledding and tubing. And for the active adults, there are several trails for cross-country skiing and snowshoeing. Named Mount Bachelor for a reason (it stands apart from its Three Sisters), the mountain has lots of bars, restaurants, and cafes, and getting there -- whether your route takes you through Hood or Santiam Pass -- will expose you to some of the most gorgeous winter landscapes in the Pacific Northwest.
Distance from Portland: 287 miles, 4.5-hour drive
Want an Airbnb in Leavenworth during the holidays? You might have better luck finding a unicorn with a $500 apartment in Portland. Basically, it's a Bavarian village plopped into Washington, rocking everything from a gingerbread town (which would totally make your Tinder profile complete) to ski slopes and, for the hardcore, some of the best rock climbing in the region. Plus this cozy town has got so much holiday spirit, you'll be covered in tinsel by the end of your weekend there.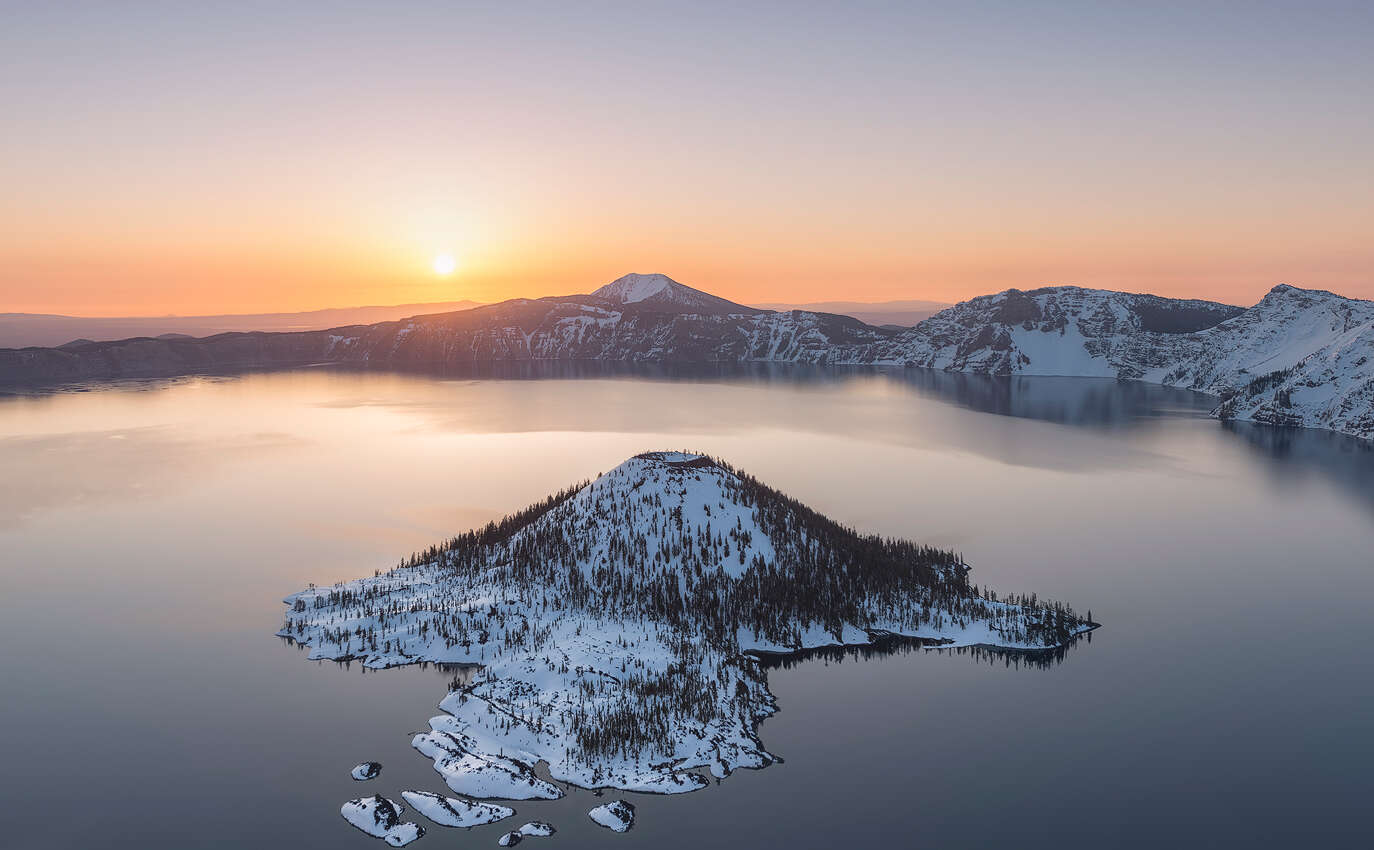 Distance from Portland: 270 miles, 4.5-hour drive
You may not be able to jump in that crystal clear blue lake in the dead of winter (the deepest in the US), but that doesn't mean you can't snowshoe around the thing. The cabins are closed for the winter, as are the campgrounds and many of the lake's other amenities, but the lake itself can't close. So grab your snowshoes or that snowmobile you have stashed in your closet and head down south for ranger-led snowshoe hikes, cross-country skiing, and snow mobiling. At least with all that snow on the ground, you won't run into those pesky, odorous PCC hikers. (I kid, they smell au naturel!)
Distance from Portland: About 300 miles, six-hour drive (depending on the ultimate destination)
The Wallowa Mountain area may not have the sparkly, twinkling string-light cuteness of Leavenworth, but it has its own special charm that's found in the form of puffy, white, mountain goats. Ok, so you'll actually have to hike up to pretty remote winter wonderland spots to actually encounter one of these adorable mountain goats, but for the really adventurous, the Wallowa Mountain area yields top-notch rewards in the form of glacial lakes, wildlife watching, and backcountry skiing.
Distance from Portland: 150 miles, three-hour drive
Belknap Hot Springs is not the closest hot spring source to Portland, but it's a more remote weekend-getaway destination that's less popular and crowded than the closer hot springs such as Bagby. With a few different pools to choose from, Belknap is open year round and can function as either the perfect romantic holiday, a family-getaway, or just a solo mission to sit in the springs as long as possible without creeping everybody out.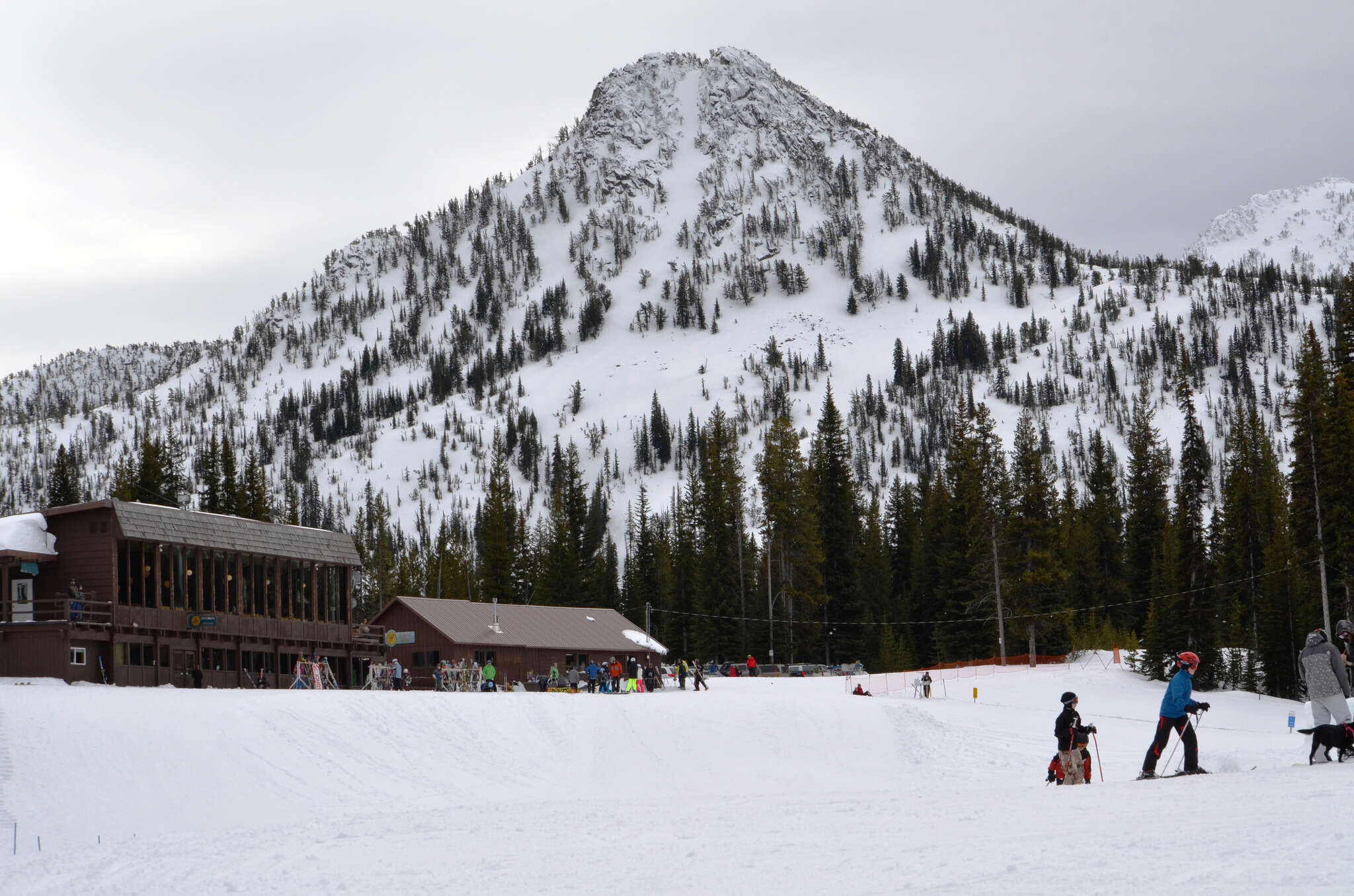 Distance from Portland: 315 miles, five-hour drive
Similar to the Wallowa Mountains, the Anthony Mountain Lakes area in Eastern Oregon has very scenic hiking trails on its snow-packed mountains. And as a bonus, these mountains also have a triple chairlift for vertical skiing, as well as well-maintained cross-country ski trails for cross-country skiing. Also a bonus? The total lack of Timberline crowds, who tend to smack you with their selfie sticks while rocketing downhill.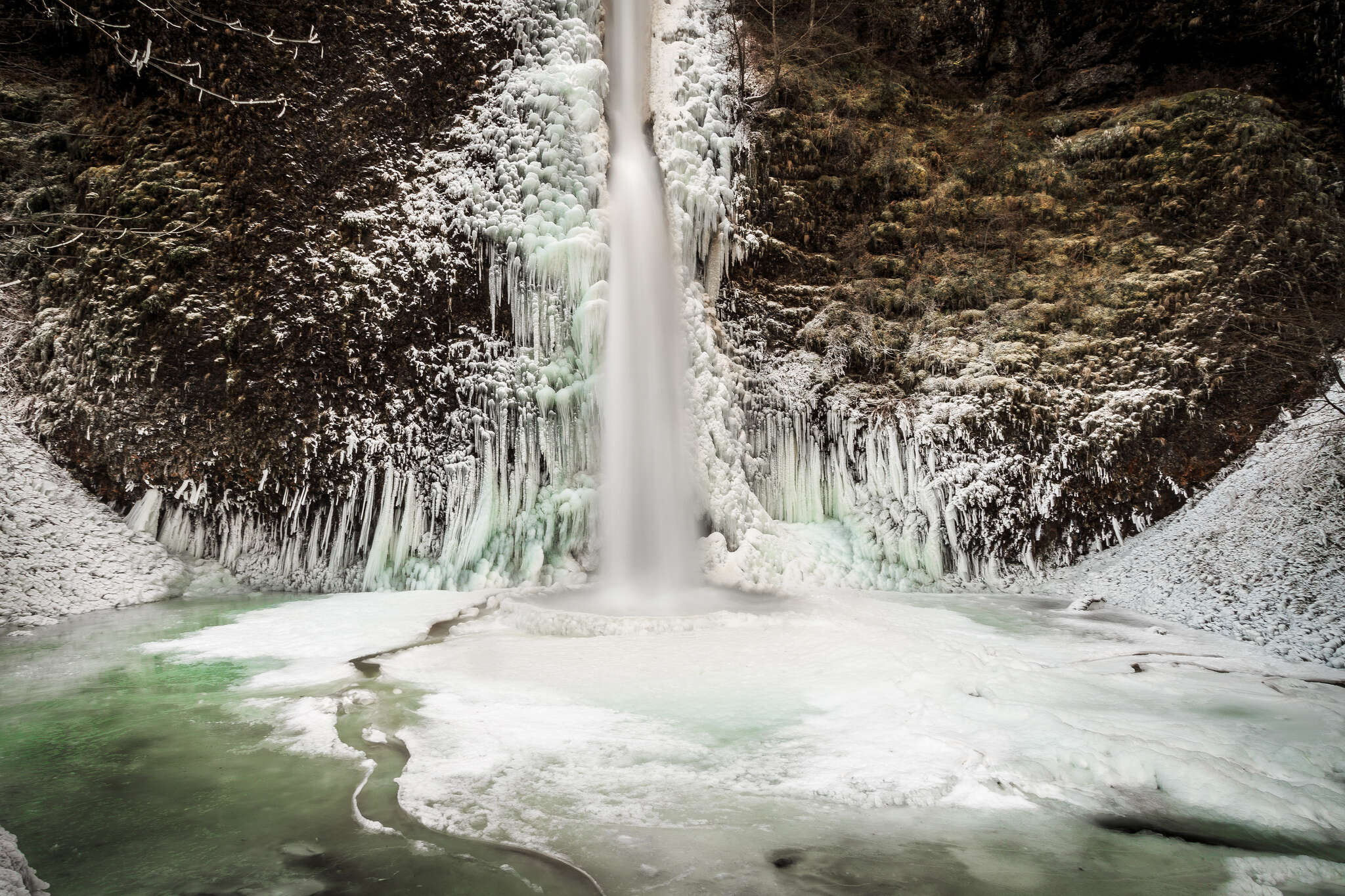 Distance from Portland: 20 miles, 30-minute drive to scenic area entrance
If you actually know someone who ice climbs waterfalls, you may be the only person in the room raising your hand. But when in Oregon, you embrace the weird. Basically all those waterfalls you stand in line to check out over the summer with your fellow gawking tourists from California freeze over in the winter, so, um, why not climb them? The Columbia River Gorge area has some popular ice climbing spots, such as Ainsworth, Horsetail Falls, and Mist Falls. Even if you're not a climber, you may want to grab some popcorn, check out the ice climbers, and just go with it.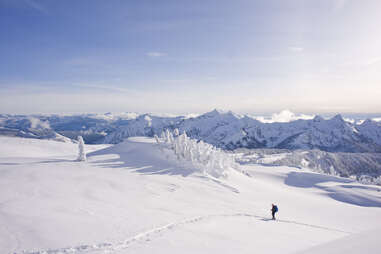 Distance from Portland: 140 miles, 2.5-hour drive
Wintertime Mount Rainier is basically summertime Mount Rainier topped with icing, also known as snow, and with a different dress code. With snowshoes bound on, you can trek the trails to Reflection and Louise Lakes in no time, and with just a smidge of an avalanche risk -- and what's a good hike without a little bit of danger? The cold, crisp air, powder-fresh snow, and clear blue skies will make the layering up worthwhile, and besides, you only really need that one layer we call a "whiskey-filled flask" to keep you warm anyways.
Distance from Portland: 100 miles, two-hour drive
Five Mile Butte is no joke. To actually camp out at this fire lookout cabin, you have to work your ass off for it. This is no drive-to-your-camp site situation. Here, you have to ski, snowmobile, or snowshoe three miles to access this 40ft-tall fire-lookout cabin. Your mama always said that nothing in life is free, and she meant it. You also have to ski/snowshoe/snowmobile your own water, food, and booze in. If there was anything ever worth slaving away for, though, this serene cabin experience would be it. So, mush!

Sign up here for our daily PDX email and be the first to get all the food/drink/fun Portland has to offer.
Michelle Udem is a Portland-based writer who absolutely did not listen to "Life is a Highway" as she wrote this piece. At all. Follow her @mudem.