Portland isn't big on chains, but even so, about 50 Starbucks and 34 McDonalds have managed to set up shop within the city limits. But Portland does love its cannabis, so it would make sense to see far more dispensaries than chain restaurants. But just how many more?
Double the number of McDonald's -- around 70? Nope.
Double the number of Starbucks -- around 100? Nope, still not enough.
What if we added all of the Starbucks and McDonald's together, then doubled it? Bingo: there are 168 cannabis dispensaries selling to recreational customers within Portland city limits. With such a staggering number, how can you possibly know which ones are the best? Well, first you go to all of them and write about it, which is what this writer did last year. Then you do it again. Check out the top 12 dispensaries in the Portland city limits.
Recommended Video
Turn Your Old Fruit Into Booze With This New Gadget
Multnomah Village/Hillside
Among the West Hills in Southwest, you'll find nothing but some of the best flower, hash, CO2 extract (for vape pens), and edibles -- all Clean Green Certified, the cannabis industry version of organic. Unlike most other shops, Calyxes is vertically integrated, meaning most everything available was grown, processed, and distributed by the same company. Here, that company is Green Bodhi, owned by John Bayes, whose cannabis consulting work has earned him a reputation as a go-to guy among growers around Oregon. All non-Green Bodhi products available -- CO2 cartridges by Evolvd and Cream of the Crop Ice Cream -- are made using Green Bodhi flower, which is also great for rosin.
Pearl District and Lloyd District
With two locations -- one in the fancy Pearl District and the other next to bike-theft central at the Convention Center -- Oregon's Finest is hard to miss. With multiple high-end strain options from growers regularly featured in all the cannabis magazines, this is an easy one-stop shop if you're Downtown. The three-pack of joints seems pricey at $40, but their potency allows them to be shared, so don't hesitate to grab those half-gram rolls before checking out. Its selection of oils is mostly top shelf, and the edibles are the state standard for packaged goodies.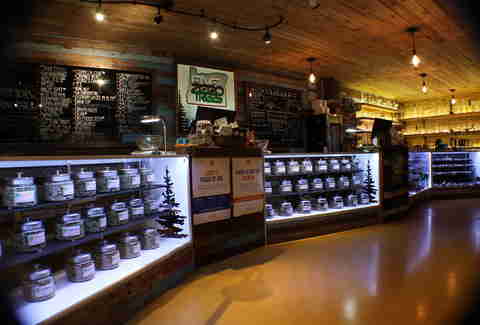 Hazelwood and Hayhurst
Stickers for this shop are everywhere: on bridges, on outhouses, on sidewalks -- pretty weird considering neither of the outposts are within walking distance of Downtown. This place once sold a 1g Oregon Lemons joint so strong it nearly knocked Tom Sizemore out before he started talking like a conspiracy theorist, pledging to call whenever he's in town for the hookup to the good stuff (true story). There's also a wide variety of strains from local growers, along with glass and other toking equipment. Grab some of whatever you need, but don't leave without a 1g monster.
Kerns
Find TreeHouse under the billboard denoting the start of the Green Mile, a collection of cannabis dispensaries on the diagonal Sandy Blvd, which stretches for many miles. But if you're looking for extracts and/or concentrates, this place is the first and only stop you'll need to make. Known for almost always having the latest extracts/concentrates, even from Southern Oregon-based growers, it's the one place that has live resin, rosin, and BHO, all from the top processors, all in stock at the same time. The flower selection ain't no slouch -- try the White Fire OG -- and the edible selection is light but mighty. Start here when you know you wanna dab but just aren't sure what.
Central Eastside
If a scientist opened a cannabis dispensary, this would be it. In this case, a weed scientist did open up a dispensary, from which the smoking crowd has benefitted greatly. Farma is the place to send anyone, whether they're 21 or 91, who doesn't know what they want. This shop's collection of high-end, in-house growers and flower from standouts Green Bodhi and Resin Ranchers means the selection hangs with the best. With thoughtful branding meant to mask the (often ugly) childproof containers required by the state, this dispensary has given us nothing that doesn't look like a gift. If you could stop at only one dispensary while you're Downtown, this should be it.
St. Johns
This family-owned shop knows what its customers are looking for. Though officially a medical dispensary that also sells to recreational customers, it doesn't hide its "let's all just get super high" attitude. Carrying some of the best moon rocks (flower dipped in oil, then rolled in kief) in town and always rocking the high-THC options, this place will get you buzzed like no other. Sure, there's glass and edibles and all that paraphernalia jazz, but the focus here is on the THC itself. Mosey here before a party to equip yourself, or stop by with a hangover. It has something to help with that, too.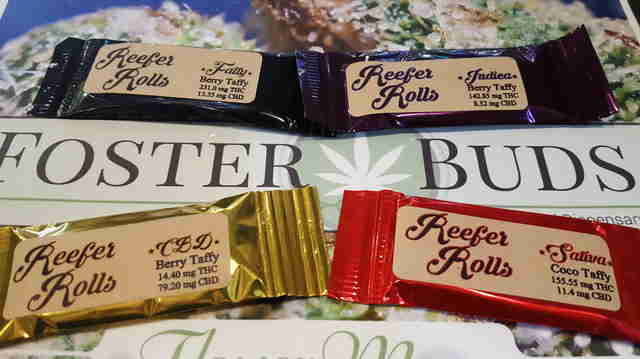 Foster-Powell
Close to the fabulously perfect stoner food pod that is the South American restaurant Portland Mercado, this shop could make the list simply because of its free ATM -- no big deal until you remember that $3 could buy a sale joint. Foster Buds sells strains from as far as Spain, complete with the terpene profile to match (try the Farmer 12-grown Y Griega with any Spanish-style cider), and there's almost never a day when something isn't on sale here. Lucid Dream comes highly recommended -- perfect for walking to the food carts and back.
Foster-Powell
As Portland's only union shop, budtenders here tend to be a little more knowledgeable, a little quicker to help, and a little more presentable than typical retail employees. Cannabis prices are more than reasonable, with discounts for pre-packaged bud less than $6/gram. Most of the value cannabis is from in-house growers Stoney Brothers. It's hard to find a better overall value for your weed budget in town.
Brooklyn
Well, it's close to the MAX Orange Line. Housed in an unfortunate location down a hill close to a busy working railyard, this shop is worth the trek. Well known for its joint rolling skills, it has everything from half-gram pre-rolls to 4.5g monsters made for sharing with a room of friends. Hand-crafted by the owner himself, Pakalolo joints come with plenty of island love. Custom options are available, though flower will have to be purchased on-site, and there's currently no pre-order system. Puff, puff, pass, baby.
Multnomah
With some of the lowest prices on concentrates, extracts, and flower in town, this storefront is worth the trek to Southwest Portland. We've seen rosin grams the price of halves ($25), diabetic-friendly and gluten-free edibles, and what feels like every infused candy made in Oregon. The owner is still heavily involved with cannabis legalization efforts, so shopping here is a vote for better laws in our toking future. The shop is on the lower level, around back.
Montavilla
Half tchotchke gift shop for those passing through Oregon, and half family-owned and -operated, this place is unique, even for Portland. In a run-down strip mall on 82nd Ave considered to be on the outskirts of Portland proper, a shop like this is easy to drive past. But what this place knows is that its clientele loves pre-packaged eighths and quarters for cheap, so head here when you're looking to stock up, but don't want to pay top dollar for every gram. Maybe buy a Portland, OR shirt while you're out there; our rapidly growing city thanks you.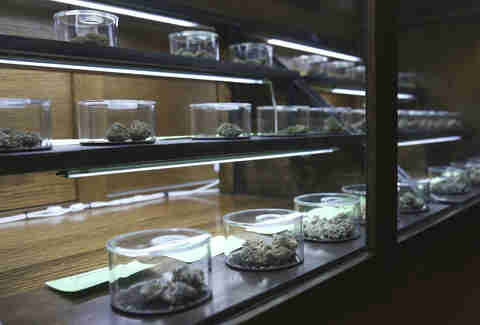 Madison South
Yeah, the exterior is ugly, and the building is in a neighborhood close to little else. But inside, you'll find vertically integrated products that look straight out of an interior design magazine. Dark wood cases with glass panels and indirect light show off row after row of top-shelf flower, hash, and concentrates, with budtenders able to explain every last millimeter of their plants. The merchandise also looks great, but bubble hash lovers may dig this place most of all -- its hash comes with easily transportable tubes that are harder to find than you'd think. You're welcome.
Sign up here for our daily PDX email and be the first to get all the food/drink/fun Portland has to offer.
Tyler Hurst once wrote a story that produced eight death threats, three client threats, one public encounter, an online impersonator, 2,000 words of insults, and five-plus months of reader reaction. Follow him to vitriol @tdhurst.