Given that it rains almost nonstop eight months of the year (Did we say eight? We meant 13! Don't move here!), Seasonal Affective Disorder is ingrained in the Portland lifestyle right alongside coffee, passive aggression, and mopey folk music. Hell, it may as well be the de facto explanation for all those things and anything else here that rubs you the wrong way.
You're essentially faced with two ways of dealing with the dampness and depression: going back to Minnesota or Ohio or wherever and reacquainting yourself with how a snow blower works, or cataloging the variety of indoor activities in which you can partake to divert your attention from the daily downpour that threatens to crush your soul the longer you stare at it. Lucky for you we've got a handful of great places to start, provided you're able to muster the strength to stop pretending you don't have an umbrella and go outside before the SADness takes hold.
Quest for the best pho
A warm bowl of chicken-noodle soup is a classic rainy day essential for six-year-olds, but you're an adult now so it's best to update your palate accordingly. Pho may as well be chicken noodle soup for adults, so a trip to a beloved spot like Hà VL, Pho Gia, or Pho Hung is a great way to begin your quest for noodle-soup perfection in Portland.
Get thrifty
Few indoor activities are more therapeutic than an afternoon of sifting through the treasure trove of other people's junk while mushy '70s AM gold plays over the PA at one of the million thrift stores in the greater Portland area. The Goodwill Outlet, aka "The Bins" is and always has been mecca for the zealous thrifter, but those who dig deep in the hinterlands of St. John's, Woodstock, and Beaverton will be rewarded for their effort with a dazzling array of quasi-luxury wares that have yet to be picked through by vintage store curators who make their living selling trucker hats and vintage porn at a 500% markup.

Star gaze and get psychedelic at OMSI
The planetarium is home to star shows that could trick your brain into thinking you're on a warm beach, but your brain can get really jacked at a laser show. While the Daft Punk edition of OMSI's popular weekend laser show is dearly missed, my pants feel funny just thinking about lasers dancing across the ceiling in sync with the greatest sleaze of the Rolling Stones catalog. Still patiently waiting for that laser Kenny Loggins show, OMSI! Get on it!

Get in touch with your inner gamer
As much as we love the free wins you get from drawing the "Dave Matthews Band" card, we're not talking about the boorish inner-miscreant you unleash every time a party inevitably descends into a heated game of Cards Against Humanity when everyone in attendance is a few beers in. We're talking about the harder stuff -- Dominion, Munchkin, or Settlers of Catan to name just a few -- all of which can be paired with an ice cold beer at either Guardian Games or The Portland Game Store. Avoid getting hostile with the home-schooled kids playing Yu-Gi-Oh! and it's basically family-friendly fun for all!

Pretend it's summer... in Montavilla
East of Mt. Tabor lies a strip of SE Stark that's home to indoor batting cages, an hourly tanning and hot tub joint, and one of our favorite discount beer theaters in town. The order in which you tackle this mini-adventure is entirely up to you, but it may be wise to hit the beer theater last, unless you're prepared to take on a pitching machine when you're full of IPAs and pizza. Speaking of beer theaters...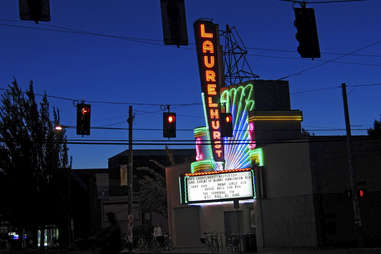 Catch up on blockbusters at beer theaters
Day-drinking and cheap movies make even more sense than peanut butter and jelly if you live in a city that rains this much. You've got many great places to choose from to get the job done. And they're cheap, so if you doze off, you can catch the next show, and it'll still be cheaper than the multiplex.

Deprive your senses by floating on
Isaac Brock, the singer and songwriter of this Modest Mouse song that's officially overplayed enough to merit a Kidz Bop remix, is a reluctant resident of Portland who would be served quite well by a 90-minute session in the largest sensory deprivation tank in the country. We can't imagine any of our readers being even half as salty as he is, but the experience is a worthwhile exercise in relaxation nonetheless.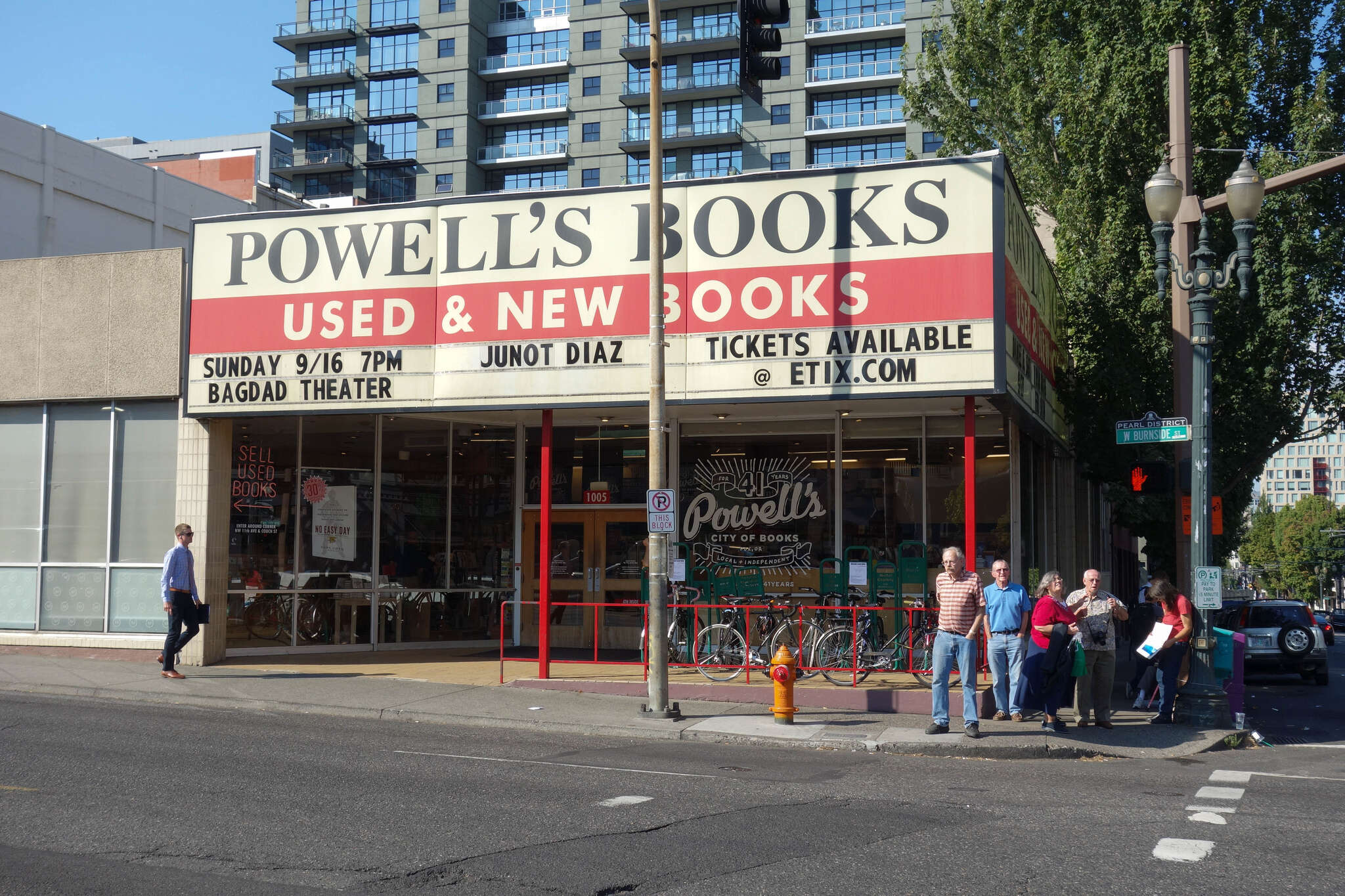 Get lost at Powell's
This iconic bookstore is finally finished with its massive remodel, which means its many aisles are once again the perfect labyrinth of literature to get lost in on those drizzly Northwestern days. Good luck escaping the place without a brainstorm or two about the novel you've been writing in your head since you moved here during the first Bush administration, but in case you want to finally put pen to paper...

Finally finish that novel you've been working on!
With resources like an amazing independent publishing press, happening cafes bustling with the literati, and an endless number of writer's groups to lean on for solidarity, there's nothing but writer's block and your shitty day job in the way of your dreams of becoming the next Jonathan Franzen.
Start an indoor garden
Thanks to newly reformed cannabis laws in the state of Oregon, hydroponic grow-ops are no longer the province of criminals with excess capital to burn. Local shops like Roots Garden Supply are in the business of getting the novice grower on their way to homespun recreational enjoyment, but for now the law says you're stuck relying on the kindness of a friend with an OMMP card to procure the clones to get you started.
Build something at ADX
That bookshelf you've been fantasizing about building out of reclaimed driftwood isn't going to build itself, but the chances of you having easy access to the planer or band saw you need to get the job done are slim. Luckily for you there's ADX, a Buckman-based community workshop that functions like a gym with power tools instead of kettle bells and dip bars. Just buy a membership for as long as you need, take a few safety classes, and boom -- you just built your own coffee table! And you didn't even lose a finger in the process!
Get some air at The Lumberyard
Whether BMX or mountain biking is your jam, getting rained out (or vibed out, in the instance of the infamous Burnside skate park) is a constant impedance to getting your kicks on two wheels in and around the city. Luckily there's The Lumberyard, and it's 42,000sqft of indoor glory, with enough ramps, rails, and Rainier to keep the most hermit-like outdoor enthusiasts stoked and (most importantly) dry all year round.
Go to an indoor water park
Oregon's lack of a tourist-friendly water park scene makes sense given how much it rains here, but the two we have direct access to in the Portland metro area -- one of which is in an aviation museum in McMinnville, the other an odd little community center in deep Southeast -- are certainly nothing to scoff at for those of us who will take any excuse we can get to dust off the bathing suit in the middle of monsoon season.
Go rock climbing... indoors
It's a known fact that 95% of Portland singles will not date you unless you either own a dog or belong to a climbing gym. Given how hard it is to find an apartment, let alone one that's cool with those pit bulls you rescued from the clutches of gutter punks outside Voodoo Doughnut, you may as well hedge your bets on getting toned and scouting the market from a perch atop a wall of man-made granite rather than becoming yet another homeless person with a dog.
Road trip to the desert
Ever wondered where you might find that gorgeous backdrop you see every girl on Tinder standing in front of in a cowboy hat and a Pendleton blanket? There's a good chance it's in the high desert of eastern Oregon, the part of the state comprised of biomes that are the exact opposite of the dampness that makes the western part of the state such a bummer. The Painted Hills and Hells Canyon are popular spots to get lost in for a few days at a time, but don't discount the Northeastern corner where you'll find the pristine Alps-like beauty of the Wallowas and beyond. Even better is that all these destinations are still within state limits, which means you can legally bring enough cannabis to make the journey as spiritual and #blessed as possible.
Drink like you're in Hawaii
For how heavy-handed the Tiki chic of this Irvington bar comes off, Hale Pele asks very little of its customers in return for a total departure from the drizzly chaos going on just outside its windows. Just order an unbelievably strong drink -- preferably the 151 Swizzle or Corpse Reviver -- and suspend disbelief as an imaginary volcano explodes on the sound system throughout the evening. Watching people avoid lighting their hair on fire when their drink comes out with flames leaping from it is always incredible, and being able to do so from an elaborately crafted replica of the kind of place you'd only find on an overpriced Sandals vacation that happens to be right down the street is even better.

Warm up at the Holiday Ale Fest
While this seasonal beer fest is technically outside, the massive tent Holiday Ale Fest organizers drape over Pioneer Courthouse Square helps the event strike that perfect balance of being outside in Oregon in the winter. As long as you're warm and dry and equipped with one of the 50+ winter ales on offer, it's easy to remember that although we kvetch endlessly about the seemingly endless rain and sadness that defines our months of "not summer" here in Portland, it's still a lot better than where you came from. If you can't be thankful of that, perhaps it's time to move on and help with the colonization of Detroit.
Sign up here for our daily PDX email and be the first to get all the food/drink/fun Portland has to offer.

Pete Cottell is a writer at Thrillist. He refuses to join a climbing gym to meet girls because he thinks woodworking is far sexier. He did not lose any fingers while building the desk he used to write this article. Follow him to year-round sunshine and happiness at @vanifestdestiny.